Ep. 55 How To Get The 30 Second Body with Adam Rosante
In today's hectic world, we all seem to be searching for the same thing: a well-balanced healthy lifestyle. This episode's guest Adam Rosante is one of America's favorite Wellness and Fitness Experts. Author of The 30 Second Body, and star of the Cosmo Body channel, Adam gives us some much-needed wisdom on the subject! Adam's motto is to eat clean, train dirty, and live hard–sounds good to us!
His unique boot camp called, The People's Bootcamp, is what put Adam on the fitness and wellness map. He was inspired while taking a tour of some devastated neighborhoods in New Orleans; he saw how in any situation people could prove that they were strong and capable. As a result, Adam was able to craft a technique that works to simultaneously rewire your mind and body. The guys discuss the humble beginnings of Adam's success and even give guidance to everyone starting their own business endeavors. Adam advises that, "Consistency is key to success."
In this interview Adam holds nothing back on his best fitness secrets found both in his boot camp classes and book The 30 Second Body. Adam tells Rob, "All I care about is helping people live happy, healthy lives—any means necessary!" This is definitely the impression he gives throughout the entire easy breezy and informational interview.
Adam Rosante's workouts consist of a series of body weight movements done for 30-second intervals at a time. He makes the plan sound energetic and simple enough for people of all fitness levels and takes us step-by-step through the right postures and stances to help optimize control in your own fitness routines. The team discusses how self-confidence and healthy rewards can totally boost any health/fitness routine, inspiring us to get on the grind.
Rob and Adam bond over their strong Italian roots, while dishing about the important social component of cooking and eating. They challenge us to really look at what we are eating, and how to easily make food fit and fun. Mainly, this interview is a window into the evident joy Adam gets from his fitness, and how we can experience it also. According to Adam the key to this joy is that, "true health is balance." Rob and Adam agree that most of the work that needs to be done when achieving our fitness goals is mental. They advise that the best things to do are 1) Figure out what works for you and 2) Keep it simple. In this interview Rob reminds us that being healthy is meant to be a reward NOT a punishment.
In order to get more intel on how to fix your mind in order to fix your body, tune into this week's episode and prepare to be inspired!
DON'T FORGET: Leave us a review and if Rob reads your e-mail on the show Naked Infusion will send you a FREE Salsa, T-shirt and tote bag!
Have any questions about your own health and fitness? Ask us on Twitter and Instagram @OpenSkyFitness with #AtOpenSky. You can also e-mail Rob@OpenSkyFitness.com or even leave us a voice memo on the right side of this page.
Rosante's Ricotta Recipe:
Ingredients:
1 qt milk
1 pint heavy cream
3 tbs vinegar
Directions:
1) Combine milk and heavy cream in a pot over medium heat on stovetop, stirring frequently.
2) As soon as the mixture comes to a rapid boil, pull it off the heat and pour in the vinegar. Give it a good stir to mix throughout.
3) Leave it to sit for at least 10 minutes. The curds will separate from the whey.
4) Line a fine mesh sieve with dampened cheesecloth and set over a large bowl.
5) Slowly pour the mixture into the sieve and let sit. The longer it sits, the more liquid will drain out and the thicker your ricotta will be.
6) When it's drained to your desired thickness, pour into a bowl.
7) Pairs incredibly well with oven roasted tomatoes and some grilled whole grain bread. Or… just eat it with a freaking spoon!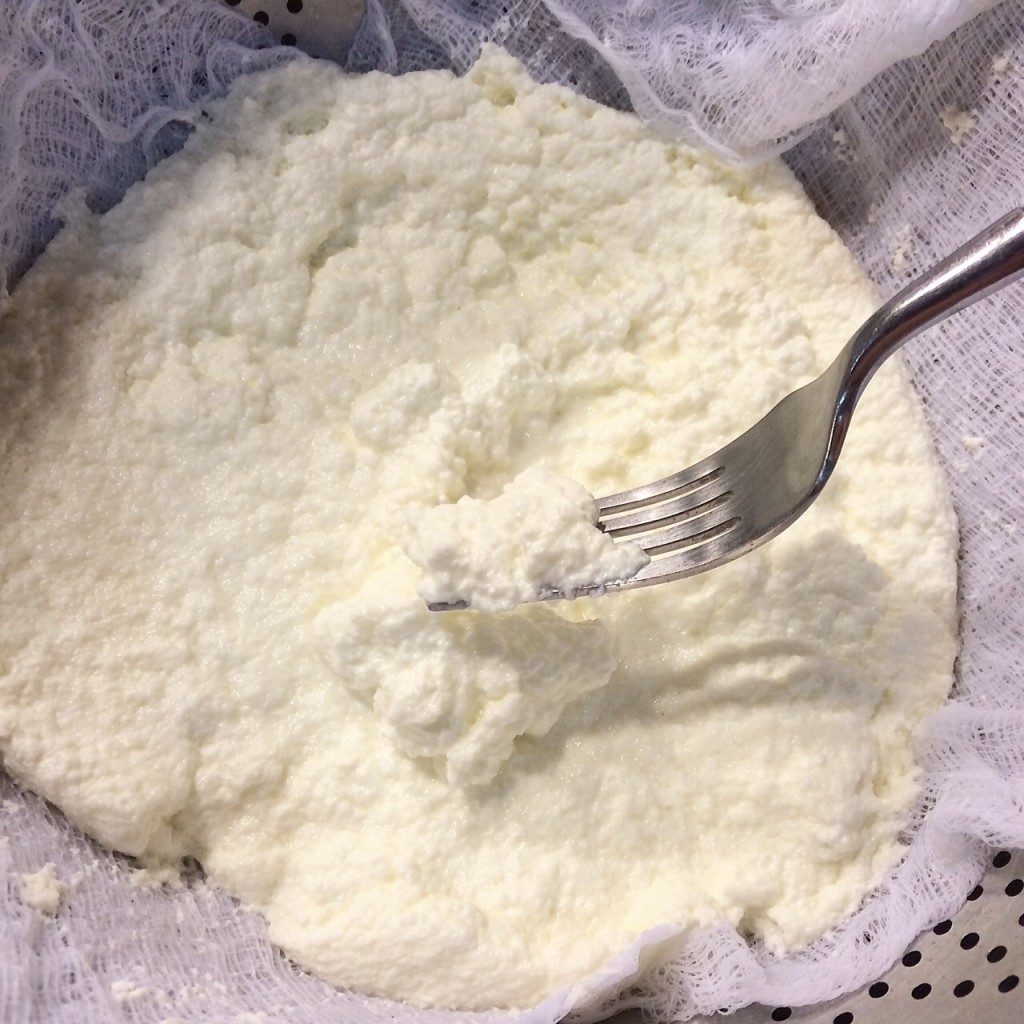 Links:
ThePeoplesBootcamp.com to register for a class in New York City