Jasmine Schmalhaus aka Jazzy Things: Easy Cooking and Gym Success – Ep. 18
Jasmine Schmalhaus aka Jazzy Things: Easy Cooking and Gym Success
Jasmine Schmalhaus (AKA Jazzy Things) joins us on today's podcast!
• Her secret to creating a healthy recipe for just about anything you crave
• How even a moron could read her cookbook and make something delicious
• If you want to succeed in the gym, you must accept failure. You only succeed if you fail. Mind blown!
Find out how Jasmine left her corporate job to create a career from thin air, doing the thing she is most passionate about. – Food!
Jeff cooks one of Jasmine's recipes, Pumpkin Chocolate Chip Protein Cakes, and stuffs his face during the entire podcast.
Jasmine admits, if she was only allowed to eat one meal for the rest of her life, it would have to be pancakes. Rob says it's is his grandmother's Pasta Fagioli. We ignore that Jeff's favorite is Crab Cakes.

What You'll Hear on the Show!
• Pre and Post Workout Foods
• Jasmine's training schedule while prepping for a show
• You must lift heavy weights to see major results
• Do you really need to use pre-workout energy drinks?
• Jasmine loves Honey-Nut Cheerios
• How do you keep your cravings in check?
• Eating the same meal every day, is very helpful for seeing results
• Competing in something is a great way to kickstart healthy habits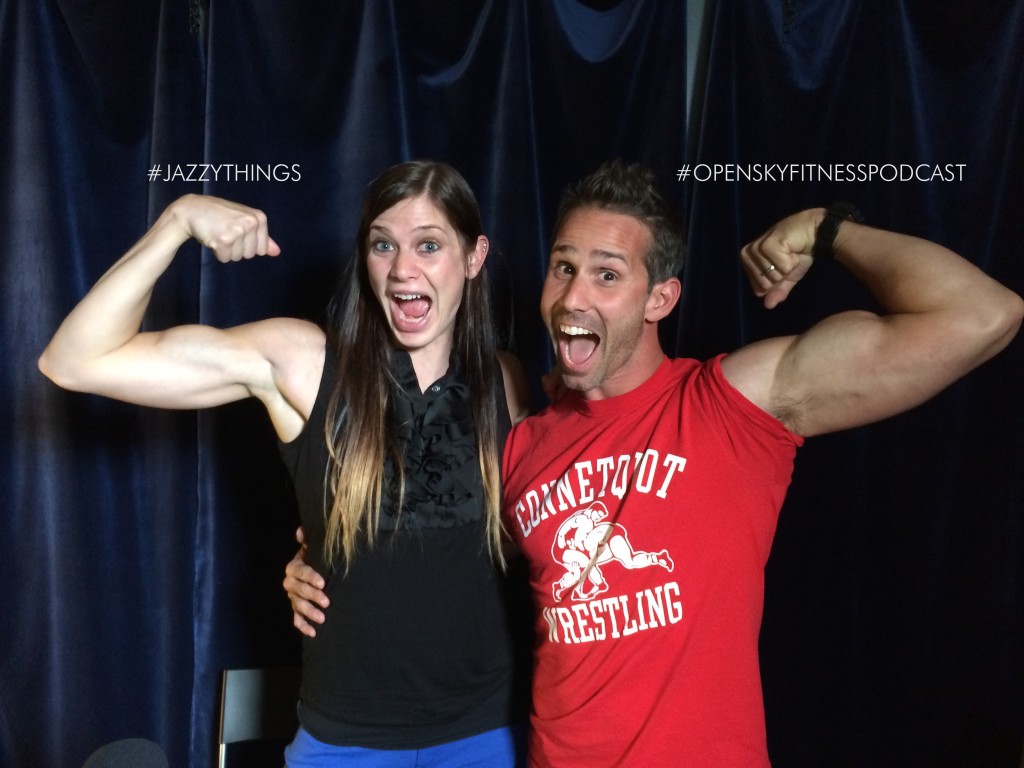 Links from Today's Show:
Jazzy Things site
Jazzy Things E-Cookbook
Instagram
Facebook
Team Heugly
NPC Physique Competition
Join The Open Sky Fitness Podcast Group!
That's right! We have a closed Open Sky Fitness Podcast group  on Facebook where you and everyone have the opportunity to talk about your health and fitness goals in a safe environment. We post workouts and start discussions about how to be strategic around finding a healthier you. Check it out!
Start Building Your Own Workouts and Meal Plan!
Download Results Tracker here!
Click To Download Home Workout Templates or text the word, "lifting," to 33444 to download the templates. 
Download the OSF Food Journal Now!
Have a Question or Review for Rob or Devon?
We love answering questions and getting feedback from you, our listener! If you have any questions to ask us, want to share a review of the show, or tell us any suggestions for guests/topics that you think would be great to have on the show, just email Rob at rob@openskyfitness.com or Devon at devon@openskyfitness.com or you can also leave us a review at www.openskyfitness.com/review, ask a question in the closed Open Sky Fitness Facebook Group and even text OSFreview to 33444 to get the link.
RESOURCES MENTIONED DURING THE SHOW:
To Download Rob's FREE workout templates click below**
Ask Rob a Question or tell him what is working for you: Email Rob@OpenSkyFitness.com
To leave a Review for Rob and the Open Sky Fitness Podcast CLICK NOW!  Ratings and reviews are extremely helpful and greatly appreciated! They do matter in the rankings of the show and I read each and every one of them.
Contact our amazing sound engineer Ryan? Send him an e-mail here: info@stellarsoundsstudio.com
Thanks for Listening!
Thanks so much for joining us again this week. Have some feedback you'd like to share? Leave a note in the comment section below!
If you enjoyed this episode, please share it using the social media buttons you see at the bottom of the post.
Do you have any questions (and would like to hear yourself on the Open Sky Fitness Podcast)? Click on the link on the right side of any page on our website that says "Send Voicemail."
And finally, don't forget to subscribe to the show on iTunes to get automatic updates. It's free!
Thanks for listening/reading Episode 18 – Jasmine Schmalhaus aka Jazzy Things: Easy Cooking and Gym Success! We hope you have gained more knowledge on how to be a healthier you.