Organic Total Body Cleanse – Review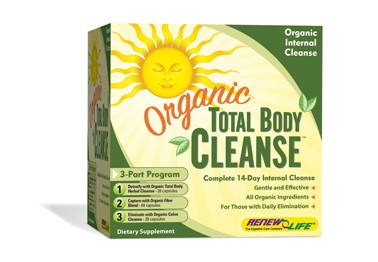 I had a chance to try out the Organic Total Body Cleanse by ReNew Life last month. It is a "Natural 14-day Total-Body Herbal Cleansing Program," broken down into 3 stages, blending only organic herbs and fiber to offer an effective colon and body cleanse with no extra ingredients to add stress to your body.
The Organic Total Body Cleanse was designed by Brenda Watson, who has written many books on nutrition and recently recorded a PBS special in late 2010, The Road to Perfect Health – Balance Your Gut, Heal Your Body, making the point that chronic disease starts with an unhealthy digestive system.
Here's how the Cleanse works. In the box you'll receive 3 different bottles of capsules:
1. Detoxify with Organic Total Body Herbal Cleanse
2. Capture with Organic Fiber Blend
3. Eliminate with Organic Colon Cleanse
You take 5 capsules in the morning and 5 capsules in the evening and that's it. There is no diet plan to follow or recommendations on food or exercise with this cleanse.
I had no trouble keeping up with this regimen. If you are someone who wants a very simple cleanse to help you kick off a healthier lifestyle then I think this is the perfect way to start.  For me, I've done two dietary cleanses in the past year or so which has provided me with better results.  This is not to say I didn't see any results with the Organic Total Body Cleanse.  I definitely found I was processing food more quickly and having more regular bowel movements and even felt a little serge in my energy levels.
All in all I think this cleanse is good for the beginner.  If you've never done a cleanse before and you're not sure what to do, this is the perfect option for you. If you are someone who does cleanses on a regular basis (two to three times a year) I'd try something a little more involved.