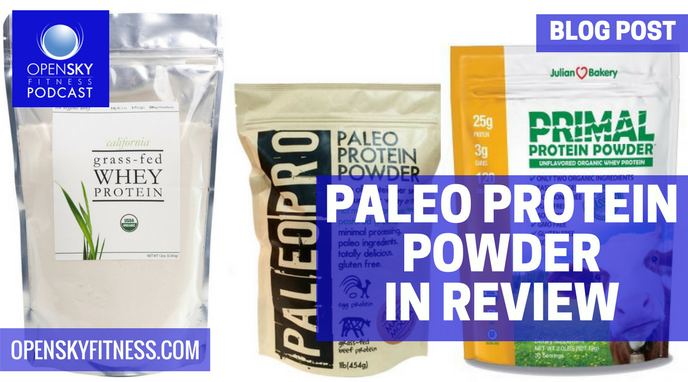 Best Paleo Protein Powder – Review
The very idea of paleo protein powder seems to be a contradiction of terms. Eating a paleo diet, by definition, is to eat the way our ancestors did. If the caveman wouldn't have recognized it, it isn't paleo. Our ancestors wouldn't have even known what protein powder is, much less have had it available to supplement their diets with.
Why Paleo Protein Powder
All that being said, we don't live the same lifestyle as the caveman. Even the most determined primal/paleo advocates live in a world extremely different than humans all those years ago.
The differences are obvious, one of them being that many people who subscribe to the paleo way of eating do workouts like crossfit. Some do weight lifting, running and pursue competitive fitness endeavors.
Our ancestors didn't exercise that way. They incorporated much more physical activity into their everyday lives in order to survive instead of relatively short bursts of intense exercise followed by a mostly sedentary lifestyle.
If you're an athlete in today's world you may find it helpful to include supplements in your diet in order to optimize performance. Humans have unique intelligence that has allowed us to evolve and improve over the years. Why not leverage the tools we've created to give us advantages our ancestors didn't have?
However, if you're following the paleo way of eating, it's important to be aware of the source of any supplement you use.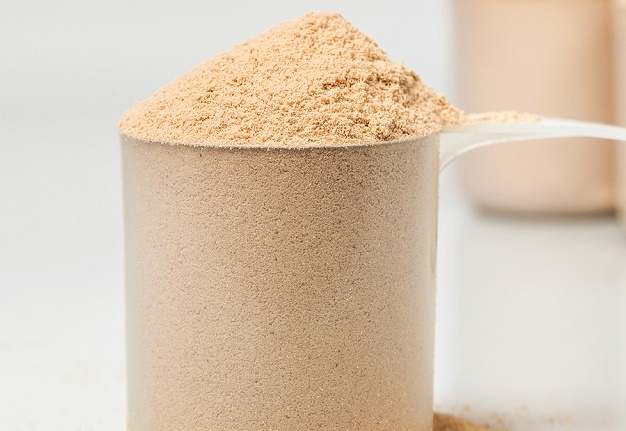 Paleo Protein Powder Defined
We explored the world of protein powders to uncover some that are paleo-friendly, and we found there are many on the market labeled as such. Here are a few important things to consider when choosing a paleo protein powder:
Many protein powders, even ones called 'paleo protein powders' are whey protein. Whey is a dairy byproduct. Dairy is not considered paleo by paleo experts. (Protein powders, by definition, would not be considered paleo either, though, which we've addressed in the previous paragraphs.)
Whey isolate, which you'll see as the primary ingredient in some protein powders, removes the lactose and leaves just the protein and amino acids. This could make the product easier to digest for people who are sensitive to dairy.
In some cases, paleo practitioners do recommend whey isolate to their clients/athletes.
Paleo protein powders (labeled as paleo or primal) are frequently actually whey or whey isolate. The paleo label is defined by the quality of the product and how it is processed. The common factors in paleo protein powder, if it's whey protein, are that it is organic, grass-fed and non denatured. Non denatured, or undenatured, means that the processing is done in a way that doesn't change the physical properties of the protein, so the amino acid compounds remain intact.
Primary alternatives to whey protein powder have traditionally been vegetarian formulas of powder using plant based protein. So if you're paleo and wanted to supplement with a protein powder, your choices were powders that were either whey (dairy) or vegetarian, neither of which conform to the paleo template.
Now we're seeing that a few companies have developed a way to produce beef protein powder or 'beef protein isolate', that isn't whey, from grass-fed cows.
Processing of beef processed isolate consists of boiling down the flesh and other tissue of the cow to produce the powder. Some of these companies have added egg protein to their product as well. This type of protein powder seems to fit the paleo diet framework much better by definition.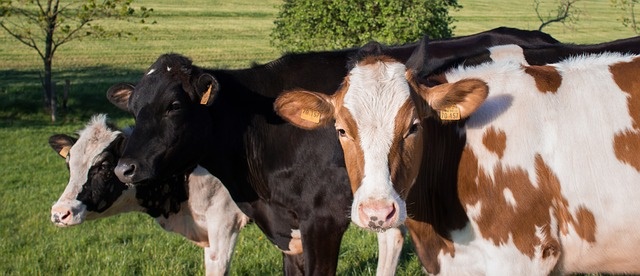 We've listed here some of the paleo protein powders we found, along with the description of what type of protein they are and where to find them. We'll begin with the products that are non-whey beef protein.
Paleo Protein Powder Reviewed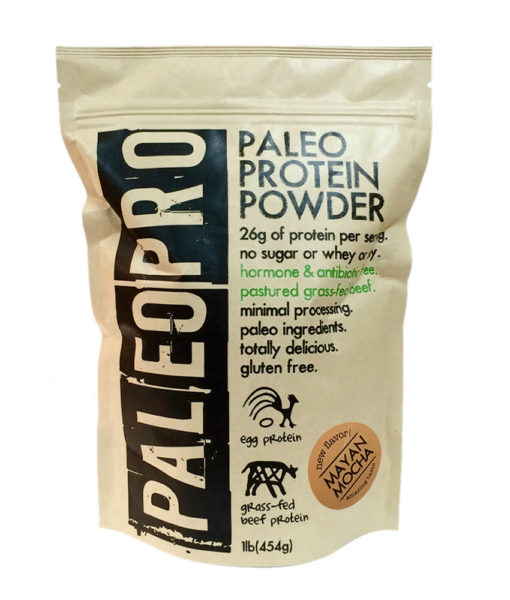 PaleoPro's paleo protein powder is one of the products made without whey. From their website: "We use Antibiotic/Hormone free Grass-Fed & Pastured Beef & Eggs that have been dried and ground into a fine, paleo protein powder." 
This protein powder comes in five flavors: cacao, vanilla, mayan mocha, banana berry, and 'plain naked' (no flavor). One serving, 120 calories, has 26 g of protein with 2 g of carbs (0 net carbs). This powder is a protein isolate, which means it's a great option for when all you need is a protein supplement, not a meal replacement.
We tried the cacao flavor and the vanilla flavor. The taste is pleasant, not too sweet, which is a good sign of a quality product without a lot of unnatural additives. When blended with water and ice, it blended well, but separated fairly quickly. When we added fruit, the separation didn't seem to happen as much.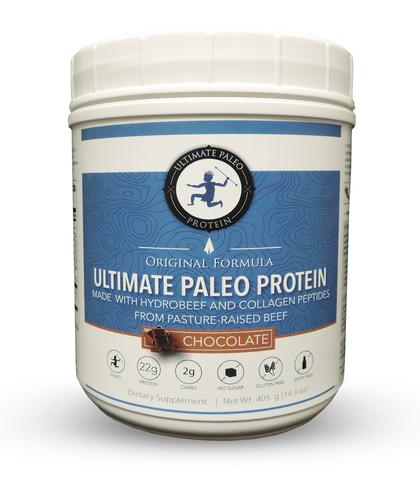 Ultimate Paleo Protein is another protein powder made without whey. They call their protein source 'HydroBEEF': "a protein derived from an infusion process of beef that preserves critical nutrients, amino acids, peptides, nucleotide fractions, vitamins and minerals." This product also includes L-Glutamine and probiotics.
At 100 calories, this paleo protein powder gives you 22 g of protein with 2 g of carbs (0 net carbs).
Of the ones we tasted, this one is our favorite based on flavor and mix-ability. We tried the chocolate flavor of this powder. It mixes well, stays mixed (no separation afterward), and has a hearty, not too sweet flavor.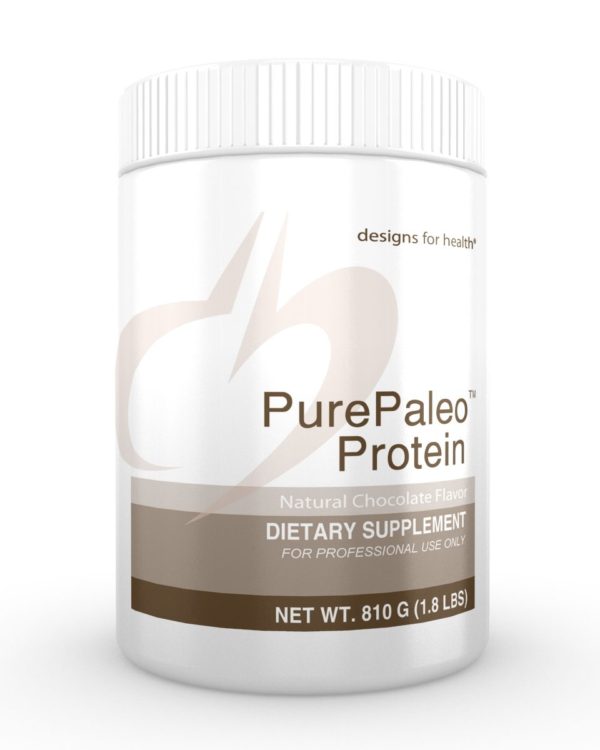 PurePaleo protein powder by Designs For Health also uses HydroBEEF. HydroBEEF is a proprietary process, and from what we can tell is only available from this company (sometimes distributed through health care practitioners) and from Ultimate Paleo Protein shown above.
As with the previous two products, this powder contains very few ingredients other than protein. This one is just HydroBEEF, some chocolate or vanilla flavors and MCT.
With 100 calories you get 21 g protein and 3 g carbs (2 net carbs).
True Nutrition Grass-Fed Beef Protein Isolate is another one made from the flesh of grass-fed cows. No whey here either! The description of the processing on True Nutrition's website is almost identical to that of Paleo Pro. Maybe these companies are on to something. 😉
We didn't taste test this one, but the makers claim great taste and mix-ability. The only ingredients in this powder are beef protein isolate and lecithin. The cool thing about this company is it lets you mix and match flavor varieties. When you purchase, you can pick from flavors like French Vanilla, Strawberry Sorbet, Banana Smoothie, Cookies 'n Cream, and many more, to mix and match and create your own blend. If you add flavors, of course, other forms of sugar-like ingredients are added.
122 calories gets you 29.2 g of protein and 0 carbs (depending on flavored/unflavored).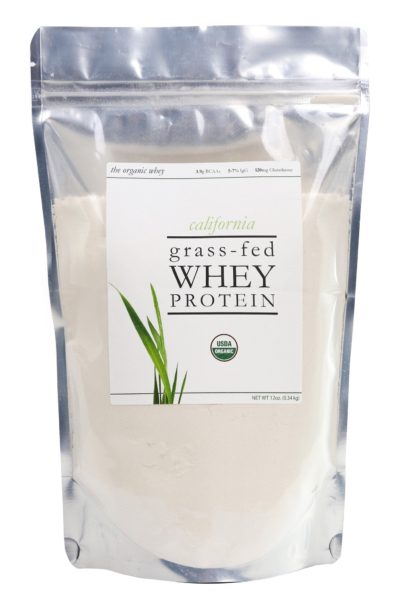 The Organic Whey Grass-Fed Organic Whey Protein is (obviously) whey, so not as 'paleo' as some of the others. Their claim of being a paleo protein powder comes from the quality of the source of the whey. From their website: "Sourced 100% from happy grass-fed cows on sustainable family farms in the USA, our whey is cold processed, non-denatured & bioactive, and made in small batches."  
There are no extra ingredients in this powder, just organic whey protein concentrate. It's flavorless. The sample we tried mixed well in a smoothie and didn't add or change the flavor of the drink.
A serving is 80 calories and gives you 16 g of protein and 2 g of carbs (1 net carb).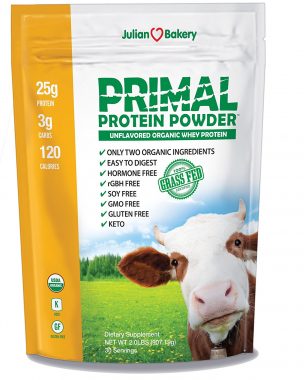 Julian Bakery Organic Primal Protein Powder is also grass-fed whey. We did not taste test this brand, but according to their website, "it's naturally sweet tasting, with no added sugar, sugar alcohols, fructose, or artificial additives."
Ingredients include only  USDA Organic Grass-Fed Non-Denatured Whey Protein, Organic Sunflower Lecithin.
One scoop gives you 120 calories, 25 g of protein and 3 g of carbs (2 net carbs).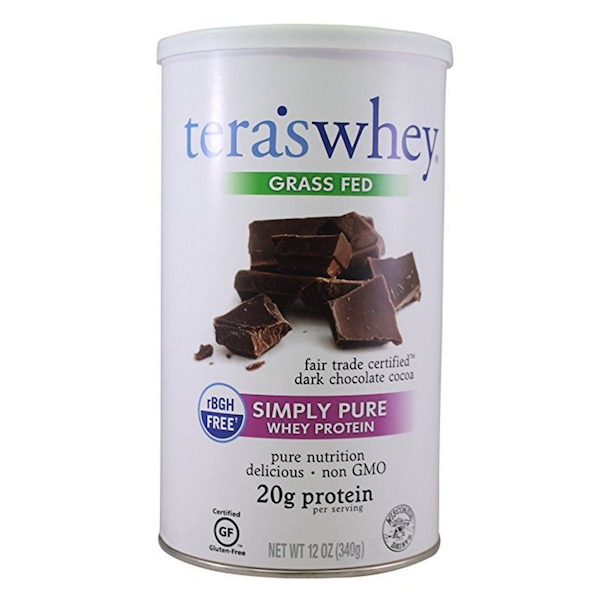 Tera's Whey Grass-Fed protein powder is one of the tastiest of the bunch. We reached out to Tera's Whey to see if they'd like to send us samples of their vanilla flavor and explained we'd be featuring them in this blog post. Unfortunately, they weren't interested in being associated with the Paleo movement, but that doesn't mean we can mention them, does it? So, if you're looking for another grass-fed whey protein that blends really well and packs 20 grams of protein per serving this might be a good choice for you.
Ingredients include rBGH free Grass-Fed Whey Protein Concentrate, organic cocoa, stevia extract and soy lecithin.
At 12 servings per container, two scoops gives you 110 calories, 20 g of protein and 5 g of carbs.
Conclusion
Choosing a paleo protein powder that's right for you might take a little trial and error experimentation. The one's we list here are go to's for us or our clients, so we can safely say you'll probably be happy with any choice you make from our list above. That said, pay attention to your body and how you're digesting. If it seems to digest well and you're noticing an improvement in performance, you're on the right path.
Please feel free to ask questions or comment below to let us know if we've left out your favorite Paleo Protein Powder.