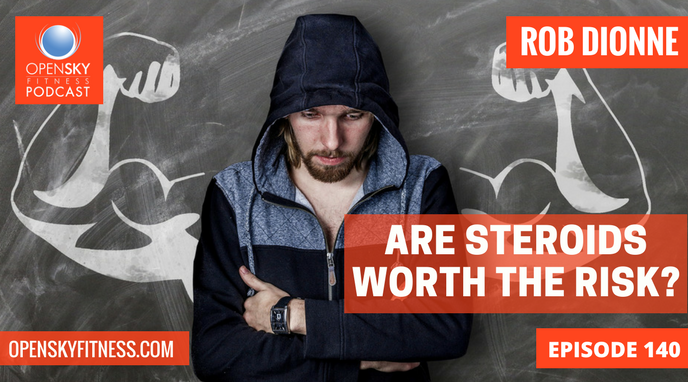 Are Steroids Worth The Risk? – Ep 140
"A little challenge that creates easy wins for you and builds momentum has a huge impact on you." – Rob Dionne on the March Madness Challenge

Making Healthy Skills A Lifestyle!
We are going to start a new challenge in March to help everyone begin creating new skills! Maybe you need an extra push to help keep your New Year Intentions or want to make better choices. The main point of this challenge is to help each other build healthy skills to a point where it becomes a lifestyle.
We'll begin on Sunday, March 5 and end on Saturday, April 1.
Each week, we'll be focusing on a different area of health and wellness using apps and tools:
Nutrition
Fitness
Mental Health
Relationships
Learn more and join this event by simply becoming a member in our closed Open Sky Fitness Facebook Group.
Pumping Iron — Documentary Trailer (1977)
 Are Steroids Worth The Risk?
"Steroids change you for life and you have to be prepared for that decision. At 19 years old, like where I was, you are not equipped to make a decision that changes your life."
On this week's episode of Open Sky Fitness, a friend of Rob's agreed to do an anonymous interview about his previous experience with taking steroids. No longer taking steroids now, he gave Rob an inside look into how he got involved in steroids, why he decided to stop taking them, and what he learned from the entire experience.
Rob and his guest also spoke about:
The emotional and physical toll of taking steroids.
Why he has to do testosterone hormone therapy.
How his body changed before, during , and after steroid use.
The negative impact of taking steroids.
What would happen if steroid use were legal.
The impact that media has on men's body image.
The cost of buying steroids.
And most importantly, how this person plans to use his experience to help other people who are going through the same situation.
Bigger Stronger Faster – Exclusive Trailer
Each Saturday at 2pm PST you can join us for our batch cooking show! Last week we made chicken salad, chicken bone broth, and two different kinds of roasted almonds: spicy roasted and chile lime roasted almonds. These two dishes and 1 snack all in just 35 minutes!
To watch and learn how to make these easy, healthy meals each Saturday, just join our Open Sky Fitness Podcast group.
Why batch cooking? It's a great way to prepare for the week by making nutritious, delicious meals in advance. In fact, this food should last you around 3-4 days!

Join The Open Sky Fitness Podcast Group!
That's right! We have a closed Open Sky Fitness Podcast group  on Facebook where you and everyone have the opportunity to talk about your health and fitness goals in a safe environment. We post workouts and start discussions about how to be strategic around finding a healthier you. Check it out!
Start Building Your Own Workouts and Meal Plan!
Download Results Tracker here!
Click To Download Home Workout Templates or text the word, "lifting," to 33444 to download the templates. 
Download the OSF Food Journal Now!
Have a Question or Review for Rob or Devon?
We love answering questions and getting feedback from you, our listener! If you have any questions to ask us, want to share a review of the show, or tell us any suggestions for guests/topics that you think would be great to have on the show, just email Rob at rob@openskyfitness.com or Devon at devon@openskyfitness.com or you can also leave us a review at www.openskyfitness.com/review, ask a question in the closed Open Sky Fitness Facebook Group and even text OSFreview to 33444 to get the link.
What You'll Hear on This Episode
00:00 Open Sky Fitness Introduction
1:15  Opening comments with Rob and Devon
3:00  March Madness Week 3: Mental Health
6:00  The Open Sky Fitness Podcast Facebook Group
11:30  How can you get enough nutritious calories during the day when you spend most of you day out of the house?
23:30  All About Steroids
24:00  When did you begin taking steroids? How old are you now?
24:26  Why did you start to take steroids?
26:00 His size before steroids vs when he took steroids to now without steroids
31:00  Did you ever face a moral dilemma before you started taking steroids?
33:00  Do you think steroids will ever become legal?
33:20  Participating in testosterone hormone replacement therapy
35:00  What types of steroids are out there? How do you take them?
36:50  Is there a limit to taking steroids? How do you know if you're taking too much?
38:00  Is there a negative impact if you take too many steroids?
43:00  Are steroids something to you can do a couple of times or is there a drop off point?
44:00  What were the side effects that your body went through?
48:00  If you could, would you go back and recommend taking steroids to your younger self? Do you regret ever taking steroids?
52:00 Do you think the media is responsible for affecting men's body image and perception of themselves?
56:30  How much did it cost you to take steroids?
58:00  How did you keep up with your steroid use?
1:00:00 When did you decide to stop using steroids?
1:02:00 Did your body take any additional hits because of steroids? Any areas such as your kidneys or liver?
1:03:00  Was it easy to find a hormone therapy doctor?
1:06:00  Did you experience any type of depression post steroid use?
1:09:00  How many people actually do steroids?
1:13:00  Does Hollywood make it easy for its actors to have access to steroids and specific trainers?
1:15:00  How was your temperament while on and off steroids?
1:16:00  What has life been like now that you're off of steroids? What difference do you feel? How long does it take until you feel like you need to take steroids again?
1:17:30  How do steroids affect your day to day life?
1:18:30  What's next in store for you?
1:21:30 Closing comments with Rob and Devon
1:25:00  Open Sky Fitness Closing
RESOURCES MENTIONED DURING THE SHOW:
To Download Rob's FREE workout templates click below**
Ask Rob a Question or tell him what is working for you: Email Rob@OpenSkyFitness.com
To leave a Review for Rob and the Open Sky Fitness Podcast CLICK NOW!  Ratings and reviews are extremely helpful and greatly appreciated! They do matter in the rankings of the show and I read each and every one of them.
Contact our amazing sound engineer Ryan? Send him an e-mail here: info@stellarsoundsstudio.com
Thanks for Listening!
Thanks so much for joining us again this week. Have some feedback you'd like to share? Leave a note in the comment section below!
If you enjoyed this episode, please share it using the social media buttons you see at the bottom of the post.
Do you have any questions (and would like to hear yourself on the Open Sky Fitness Podcast)? Click on the link on the right side of any page on our website that says "Send Voicemail."
And finally, don't forget to subscribe to the show on iTunes to get automatic updates. It's free!
Thanks for listening/reading Episode 139: 16 Fitness Hacks to Kickstart Your Health! We hope you have gained more knowledge on how to be a healthier you!