Sitting around and waiting for the gyms to reopen is no longer an option.
Who's teaching these virtual workouts?
Captain Rob Dionne is the coach for every virtual class. You can read Rob's full bio here. In short, Rob has been a personal trainer and health coach both in-person and virtually for the past 15 years. Don't let the ridiculous mustache fool you. He leads a kick ass workout, but you're gonna bust out laughing at least once per workout. If you're not having fun, you're doing it wrong. You're in good hands with Captain Rob.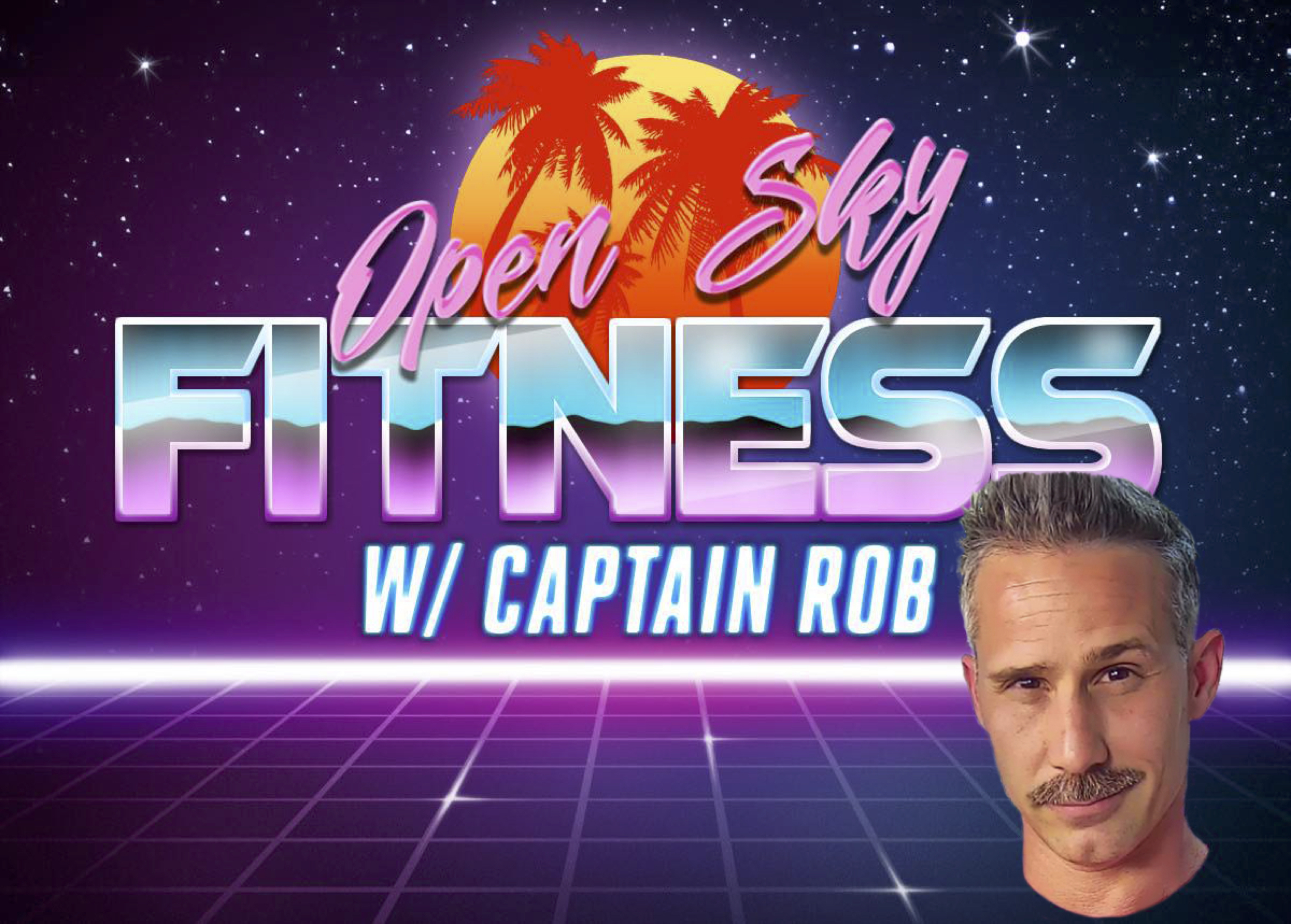 What are virtual workouts like?
Virtual workouts are very similar to working out to your favorite YouTube workout, except there's a coach watching what you're doing and helping you every step of the way.
What's the class schedule?
I promised more classes would be added after selling out, so in order to make good, I added a couple more. Take a look!
M/W/F 6AM PST - SOLD OUT
M/W/F 7AM PST - NEW - FILLING NOW
M/W/F 8AM PST - NEW - FILLING NOW
M/W/F 9AM PST - SOLD OUT
T/Th 8AM & SAT 9AM PST (4 SPOTS REMAINING)
Each class is 60 minutes in length.
Yes, there is a minimal amount of equipment required. One or two resistance bands should be enough, along with a mat. That said, the more equipment you have, the more variety available to you. Rob's really great at helping you modify exercises, if you don't have exactly what you need.
Here's a list of equipment with links to order on Amazon, if you're ready to sign up and want to have everything ready for day one.
The classes are designed to be as hard as you'd like to make it. If you're new to working out, Rob will recommend you take as many breaks as necessary at first.
If you're more advanced, you can feel free to push yourself to your limit. Don't worry, Rob's got a good eye for when you can push just a little bit harder or when he thinks you should ease back.
How many people per class?
Rob's goal is to coach, which is pretty hard to do when there are dozens of people in one class. That's why we keep our classes small. There will never be more than 10 people in a class, giving Rob the ability to coach every single participant personally.
Here'a an idea of what a class looks like.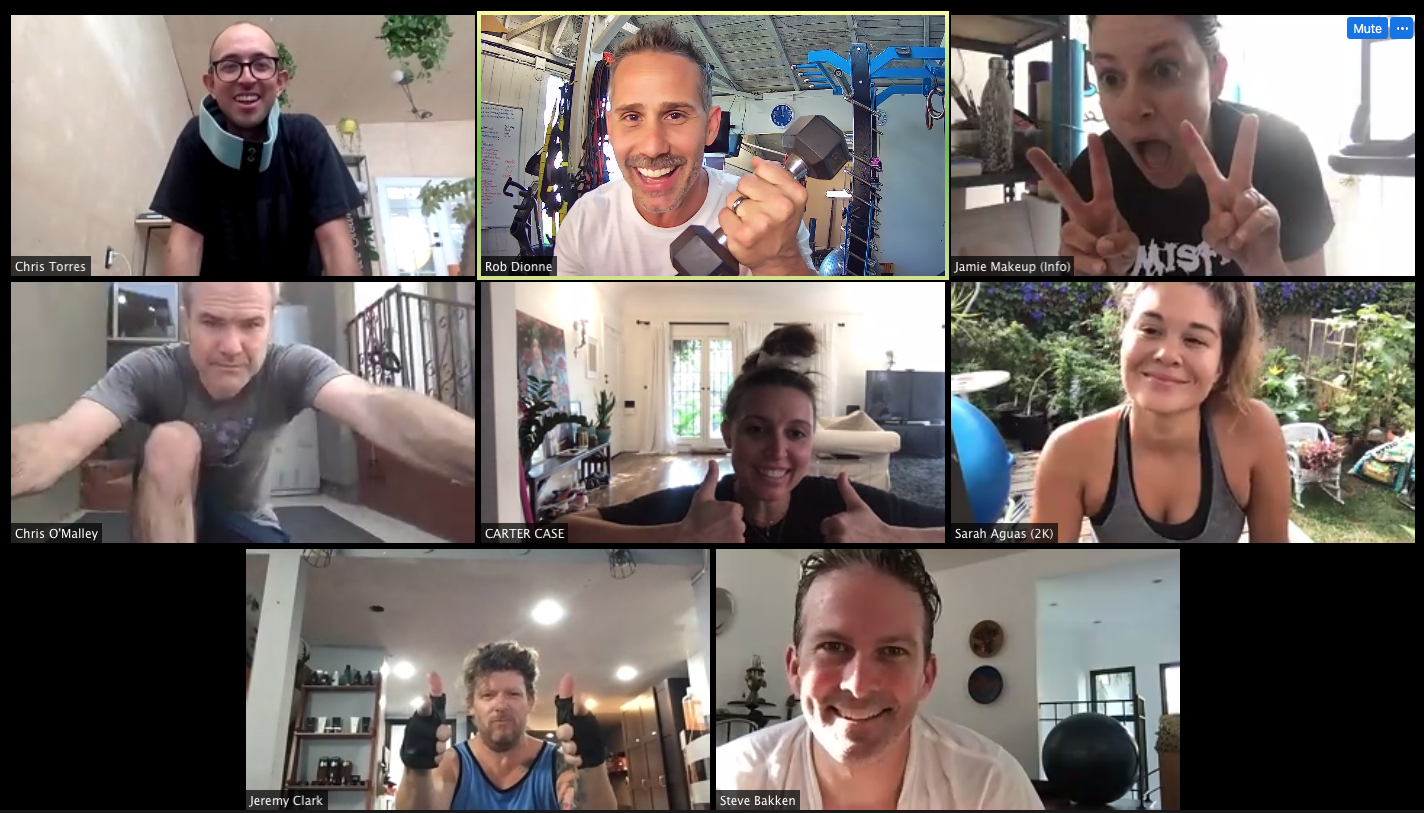 Where are the virtual classes hosted?
We like Zoom because everyone seems to be the most familiar with that platform these days.
While you don't need an account, you will need to download the software before your first class, so you're ready to rock on day one.
How much does it cost to join?
You have three options when joining our virtual classes.
1 class per week = $99/mo
2 classes per week = $185/mo
3 classes per week - $275/mo
This averages out to about $20 or less per class.
Bonus #1: All virtual classes will be recorded and available to every person signed up for classes that month, regardless of how many sessions per week you pay for. Yep, you're welcome. 🙂
Bonus #2: We'll send a PDF of every workout for you to print up and refer to during the live session or to keep in a file for future use.
What if those available class times don't work for me?
We plan on opening up more classes very soon, but until then, we have a great option for you.
For only $50/mo, we'll give you access to all the recorded workouts for the current month. That's around fourteen 60 minute workouts for only $3.50 per workout. I know, it's pretty awesome!
Can my partner or roommate join me for the workouts?
Sure. We believe building a healthy support system at home is important. Making it easier for husbands, wives, partners and roommates to workout together is fine by us, as long as you're only taking up one square in the Zoom call. Heck, bring the kids for all we care. (BTW, Rob loves getting your kids involved, so don't be afraid to bring them along)
Because we keep the classes size so small, if you'd like to take up two separate Zoom call squares, we'll have to charge for an additional membership.
Enough Questions! How do I sign up?
Choose how many classes you'd like to sign up for per week, click the link and pay.
Once you've made your payment, email rob@openskyfitness.com to get started!
How do I subscribe to the recorded workouts?
If you'd only like access to the recorded workouts so you can get you sweat on in your own time, we're happy to oblige.
Just click the button and make the PayPal payment. Once you've done so, email rob@openskyfitness.com. We'll confirm your payment and email you ASAP with access.
Bonus: We'll even throw in the PDF files for all the workouts, so you can easily keep track of your progress.
Wait, I have more questions!
If you have more questions or if you'd just like to set up a quick call with Rob to see if this class is a good option for you, please feel free to reach out.
Subject line: "Interested in virtual workouts." We'll get back to you ASAP.