The Honeymoon Is Over
I just finished Week 4 and I'm over the fun of getting starting. I'm still laughing and having a good time with Rob and Devon doing exercise and nutrition, but my weight has been stagnant at 177 pounds for two weeks and my horrible rotten stomach fat doesn't seem to be disappearing. In addition, after every workout day (3 times a week) with Rob I am completely drained of energy. I am now able to give my workout almost everything I've got because my cardio is much better, but that means that I'm ready to fall asleep at 9AM after doing a hard workout.
WATCH THE VIDEO OF WEEK 3&4 on YouTube
When I started this challenge, I was told by Rob and Devon as well as friends that there would come a time when it felt like I was working really hard, but change wasn't happening fast enough for me. One month is done. I do feel differently. I do look differently. I do think differently about how I eat and choose my food. Instead of rejoicing in my personal growth, I'm dwelling on the fact that my stomach still looks like hell.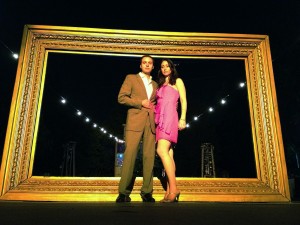 The one ray of hope was that a suit I wore two months ago fit perfectly when I attended a wedding this past Saturday night. I no longer had to wear the pants with the top button open and my belt holding the whole show up. Moreover, my friends planned the food to be super healthy so I was able to eat almost all of the hot buffet that was served for the main course. It was also really interesting as this was my first wedding where I didn't drink ANYTHING; no champagne, no beer, no mixed drinks. Nothing. By the end of the night it was like watching little kids run around who had too much sugar at a sleep over party (6 people ended up in the pool… fully clothed).
At this point, I feel that I have the right tools to keep moving forward in a positive direction, so I am just going to keep on going and let the process work its magic. I've done a lot of difficult things before, but this is probably one of the hardest. It's 90 days and the assignment is my body. "Relax," has been the best advise that I've gotten so far.
G