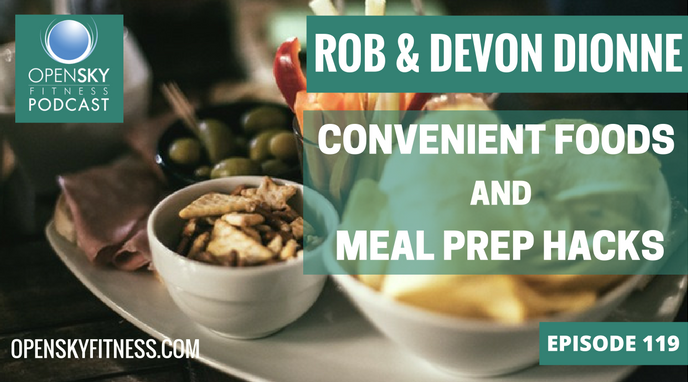 Convenient Foods and Meal Prep Hacks- Ep. 119
Join Us for a 10k Holiday Fun Run!
Devon and I will be participating in a 10k run in Santa Monica, California on Sunday, December 4th. Get in touch with us about meeting up and click here for more details.
Nutrition Month: Week 4
To live a health life, preparation is key on this wellness journey. Therefore, as part of our October Nutrition Month, this week, Devon and I are sharing our favorite convenient foods and meal prep hacks! At the end of the blog, we'll include some of our favorite recipes!
Talk about nutrition with us!
We've already been discussing nutrition and motivation tactics on the Open Sky Fitness Podcast Facebook Group. It's a great group to talk with other people about health, share tips, and encourage each other to keep living a healthy lifestyle.
Each week, we'll be discussing a different nutrition topic!
Nutrition Topics
Week 1– Which Popular Diet is Best for You?
Week 2–Kitchen Clean Out Hacks
Week 3– Nutrition Tips for Your Family
Week 4– Convenient Foods and Meal Prep Hacks
Week 5– Nutrition Tools
How Can You Motivate Your Family to Focus on Their Health?
When you want to focus on your health and wellness, it can be difficult to encourage your family to join you. Above all us, do not push them if they're not ready to be at the same place or rate as you are with your health. It can be especially hard for older people to change their set ways and habits.
Just remember to be loving. Remind them how important they are to you and how wonderful they are. 
Lead through example by starting a conversation about the healthy changes that you're making with your life and why you've decided to make those changes.
Be creative and maybe invite them for a walk or cook a healthy meal every once in awhile. However, just don't talk about health while doing a fitness activity or eating together. No talking about health, cholesterol, or weight loss because that will turn them off immediately.
If they're not ready yet to make healthy changes to their life, it's just not going to happen right now.
People have to find their own will to change and become healthier. 
How Can You Talk to Your Family Cook about Preparing Healthier Meals?
How can you nicely ask the main cook of your home (wife, husband, boyfriend, girlfriend) to cook healthier foods?
Similar to answering the first question,  show them that you love them and value them.
Begin talking to them about it by telling them how much you love that they cook for you and take care of you. You then have to open up the dialogue a bit more by sharing with them that you want to eat healthier meals.
Show them that you're serious about these new changes by looking at new recipes together or buying cook books. Bonding in the kitchen together will also help shift your relationship and how you both appreciate food over time.
What if they continue to make unhealthy meals?
Approach this with love and share your curiosity for trying out different foods!
Let them know that you appreciate the time that they took to cook something for you, but kindly let them know that it's not going to help you reach your health goals. Being gentle, tell them that you'll eat some of the meal, but because eating the entire thing won't help you with your health goals, you'll have to pair something else with it such as a vegetable.
Don't forget that you are responsible for yourself and you need to take care of you.
It's awesome that you want to get serious about your health and eat better foods! 
If they're refusing to help you in the kitchen, then you need to find another way to eat healthier foods until both of you can reach a point of understanding. Maybe volunteer to cook for both of you more often or replace unhealthy ingredients with better ones. You can check out our episode on Kitchen Clean Out Hacks.
Some of our favorite cookbooks to try out include:
 Convenient Foods & Easy Meals
The more you prepare, the better off you'll be and safeguard yourself against last minute decisions that take place when you're super hungry.
Devon and I have a great list of different, healthy convenient foods for you to eat at home or to buy in gas stations, supermarkets and more!
*Look for the recipe after our list of convenient foods!
Convenient Snacks at Home
Cheese
Hummus

*

Plain yogurt with berries, other fruit like bananas, or honey (not with artificial sugar i.e. Yoplait, GoGurt)
Guacamole dip either ready-made or homemade
Avocado wrapped with turkey slices and cucumber
Hard boiled eggs

*

Nuts/ Roasted nuts

*

Seeds

Sunflower seeds
Pumpkin seeds

Chopped vegetables with a dip i.e. hummus, guacamole, nut butter
Raw almond butter (1-2 bites to feel full)
Smoothies
 Convenient Meals at Home
When you have a busy schedule, it can be hard to fit in an hour or two of cooking at the end of your day. Here are some of our favorite meals that you can prep for and batch cook ahead of time to eat healthy during the week!
Bone broth for the perfect soup!

*

Organic pasta sauce and zucchini pasta (buy or make your own at home with a vegetable spiralizer)
Tuna salad/ chicken salad/ salmon salad on top of lettuce
Carne asada with asparagus or another vegetable on the side
Steak with spinach salad
Pre-cooked shrimp
Vegetables that are easy to cook:

Asparagus
Spinach
Zucchini
Green salad
Green peas
Convenient Snacks in the Car and While Traveling
Beef/ turkey/ salmon jerky (check ingredients for sugar and MSG)
Nuts
Check out our list of the Top 11 Paleo Energy Bars!
Convenient Foods at the Gas Station
Veggies and dip
Jerky
String cheese
Fruit
Protein bar
Water
Coffee
Hummus and crackers
Tortilla chips
Yogurt (plain yogurt or buy the kind with fruit on the bottom except you just eat the top part)
Convenient Foods from the Supermarket
Pre-made salads
Cheese and crackers
Meat and veggies form the hot food bar
Sliced meat from the deli
Pre-cut or whole fruits
Chopped veggies
Nuts
Olives
Kombucha drinks
Green health drinks
Rob & Devon's Convenient Food Recipes
Hummus
Strain and rinse off chickpeas
Add chickpeas to your food processor along with fresh lemon juice (half to whole lemon), 2 tbs olive oil, salt, garlic, 1-2 tbs of tahini, pepper.
Grind mixture until smooth
Feel free to add adobo sauce or other seasonings such as roasted peppers, curry, or more garlic for different flavors!
Quick Hard Boiled Eggs
Instead of filling your pot with water up to the very top, just add about a quarter inch of water.
Heat water until it comes to a boil.
Add the eggs and cover the top of the pot.
Simmer for 8 minutes.
Turn off the heat.

If you want your eggs to be a bit runny inside for a delicious taste, take out of the water while they're still ot.
To make sure the eggs are hard, add cold water and allow the temperature to fully harden the eggs.
A super quick and easy method to make hard boiled eggs when you don't have a lot of time!
Roasted Nuts
Oven up to 300/325 F…beat an egg white until it's frothy…take whatever seasoning you want (cinnamon sugar, cajun, chili powder, cumin curry turmeric) and whip the seasoning into the egg, add the nuts and mix them in..part on parchment paper on a pan and put in the oven for 30 minutes-45 min. The nuts should be hard and making a crackling noise as they dry out.
Turn your oven and pre-heat it up to 300-325 F.
Get a bowl and beat an egg white until it's frothy.
Add whatever seasoning you want (sugar, cinnamon, cajun, chili powder, cumin, curry, tumeric) to the egg white.
Add the nuts to the seasoned egg white mixture and mix all together.
Place the mixture on parchment paper on a pan and put in the over for 30-45 minutes.
The nuts will be ready when they're hard and you hear a crackling noise as they're drying out.
Bone Broth for the Perfect Soup!
Bone broth soup is very easy to make and perfect to have on hand when you want to make soup for any occasion or for when you're starting to feel a bit sick.
Make your own bone broth: Whole roasted chicken (free range), remove all the meat, put in the fridge, next day-put the entire carcass in a crockpot with chopped vegetables-1 onion, 2-3 celery stalks, 2 carrots, garlic, teaspoon of tumeric, tsp of salt, tsp of pepper, any other spices-bay leaf, parsley, rosemary, thyme..set to simmer over night or 24 hours.  Pour the liquid through a colander for perfect, delicious bone broth.
When you know you're starting to feel sick, you can keep it on low for days.
Beef bones take a longer time..at least 24 hours and they can last for days…don't overcook the marrow
Buy a whole roasted chicken (free-range if you can).
Remove all the meat and put everything in the fridge.
The next day, put the entire chicken carcass in a crock-pot.
Add chopped vegetables and seasonings

1 onion
2-3 celery stalks
2 carrots
garlic
1 tsp of turmeric, 1 tsp of salt, and 1 tsp of pepper.
Any other spices such as rosemary, bay leaf, parsley, thyme

Set the crock-pot to simmer and let it simmer over night or for 24 hours.
Pour the liquid in the colander for your perfect bone broth!
You can do the seem with beef bones to make a broth, but it takes much longer and at the minimum 24 hours in the crock-pot.
How to Order Healthy at a Restaurant
You're sticking to a healthy diet, but you have dinner plans coming up. What can you do to continue on with your healthy eating streak? If you have enough time, research the restaurant and find out what they have on the menu. Nothing healthy? Go for the healthiest appetizer on the menu and get something later.
Ordering off the Menu
Don't rush into ordering everything at once i.e. the appetizer, the main entree, drinks etc. Start simple with a healthy salad. If you're still hungry after you've finished, then have another look at the menu and decide if you would like to order something else.
After eating the salad, you'll probably already feel full and won't be craving to order something else or at least not a huge plate of food. A very easy and efficient hack for eating at a restaurant!
Labels to Keep in Mind and What to Avoid
Look for foods that are labeled as:
Baked
Roasted
Pan seared
Broiled Brazed
Avoid fried food and any labels such as "crispy" or "beer-battered" because those are just other words to replace "fried."
Be careful when ordering bacon because it is often deep fried and later re-fried or re-heated before it's add to your meal.
Choose the Perfect Side Dish to Complete Your Meal
When a waiter places that bread basket on your table, it can be super tempting to just grab a roll, add butter, and start eating it. To avoid extra carbs and feelings of temptation, just let your waiter know ahead of time if you don't want any bread with your meal .
When it comes to choosing your side dish, select potatoes over fries such as baked potatoes or sweet potatoes. Also always try to add a green side dish whether it's a vegetable or salad.
Start Building Your Own Workouts and Meal Plan!
Download Results Tracker here!
Click To Download Home Workout Templates or text the word, "lifting," to 33444 to download the templates. 
Download the OSF Food Journal Now!
Check Out The Brand New Open Sky Fitness Podcast Facebook Page
That's right! We've started an Open Sky Fitness Podcast group, where you and everyone will have the opportunity to talk about your health and fitness goals in a safe environment. We'll be posting workouts and starting discussions about how to be strategic around finding a healthier you. Check it out!
Have a Question or Review for Rob or Devon?
We love answering questions and getting feedback from you, our listener! If you have any questions to ask us, want to share a review of the show, or tell us any suggestions for guests/topics that you think would be great to have on the show, just email Rob at rob@openskyfitness.com or Devon at devon@openskyfitness.com or you can also leave us a review at www.openskyfitness.com/review and even text OSFreview to 33444 to get the link.
What You'll Hear on This Episode
00:00 Open Sky Fitness Introduction
1:15  Opening comments with Rob and Devon
3:00  What's happening on the 
Open Sky Fitness Podcast group
6:00  The perfect recipe for bone broth
13:00  Join us for a 10k Holiday run in Santa Monica, California!
15:50  Questions from the OSF Facebook group
17:50  How to motivate your family to care about their health and fitness?
30:00  How can you nicely ask the main cook of your home (wife, husband, boyfriend, girlfriend) to cook healthier foods?
37:35  Convenient Foods & Restaurant Nutrition
38:35  Convenient, nutritious snacks at home
55:20  Convenient meals at home
1:04:30  Convenient snacks in the car and on the go
1:08:20  Convenient foods at the gas station
1:09:20  Convenient foods from the supermarket
1:11:00  Eating tips for going out and restaurants
1:19:20  Closing comments with Rob and Devon
1:20:50 Open Sky Fitness Closing
RESOURCES MENTIONED DURING THE SHOW:
To Download Rob's FREE workout templates click below**
Ask Rob a Question or tell him what is working for you: Email Rob@OpenSkyFitness.com
To leave a Review for Rob and the Open Sky Fitness Podcast CLICK NOW!  Ratings and reviews are extremely helpful and greatly appreciated! They do matter in the rankings of the show and I read each and every one of them.
Contact our amazing sound engineer Ryan? Send him an e-mail here: info@stellarsoundsstudio.com
Thanks for Listening!
Thanks so much for joining us again this week. Have some feedback you'd like to share? Leave a note in the comment section below!
If you enjoyed this episode, please share it using the social media buttons you see at the bottom of the post.
If you have any questions (and would like to hear yourself on the Open Sky Fitness Podcast), click on the link on the right side of any page on our website that says "Send Voicemail."
And finally, don't forget to subscribe to the show on iTunes to get automatic updates. It's free!
Thanks for listening/reading Episode 119- Convenient Foods & Meal Prep Hacks! We hope you have gained more knowledge on how to be a healthier you!