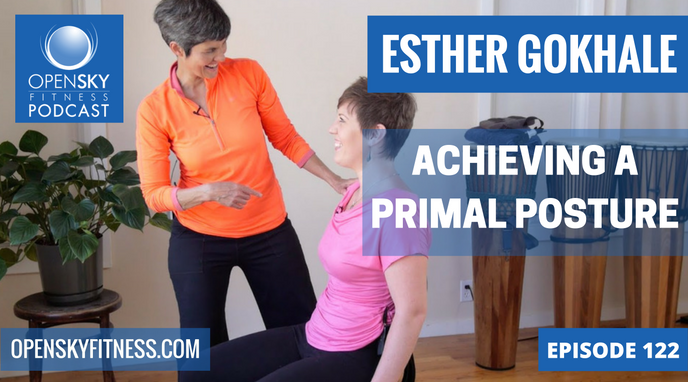 Esther Gokhale: Achieving a Primal Posture- Ep 122
Join Us for a 10k Holiday Fun Run!
Devon and I will be participating in a 10k run in Santa Monica, California on Sunday, December 4th. Get in touch with us about meeting up and click here for more details.
A Short Break from Nutrition Month
Hey everyone!
Devon was not feeling too well to record the podcast this week with me so we will be taking a break from November Nutrition Month, but we hope to continue on with it next week!
Talk about health and fitness with us!
Join us in discussing, health, fitness, nutrition and motivation tactics on the Open Sky Fitness Podcast Facebook Group. It's a great group to talk with other people about health, share tips, and encourage each other to keep living a healthy lifestyle.
Keep Track of Gut Health with a Food Journal
Last week, Devon and I talked about gut health and we received a couple of questions from the Open Sky Fitness Facebook group.
To truly understand your gut's health and why you're experiencing different problems such as gas, we recommend using a Food Journal like that one that we've created to be used. It's a great way to help you pay attention to the foods and drinks that you consume, when you consume them, and and how they make you feel later during the day.
Having a food journal is very simply if you follow these steps:
Each time you consume a food or a beverage, write down what it was and the time.
Over the next 2-5 hours, notice how your body feels. How's your energy or your mood? Do you feel gassy? Try to keep track of a pattern or trend in your diet.
Besides stomach symptoms such as gas, you may also experience other factors such as headaches. Write these down as well.
Make changes to your routine and notice if any symptoms go away. If so, you've narrowed down your diet and have found your problem.

The problem could potentially be gluten, dairy, and processed foods as these are most likely to give you gas and create other problems in the gut.

Slowly start to add back foods into your meals to help create the best diet for your gut's health.
Following a food journal and taking out specific foods in your diet may feel like a punishment, but trust me, it's not. Try to see food journaling as an experiment to help you better understand your body.
Good Posture 101 with Esther Gokhale
This week, the Posture Guru of Silicone Valley aka Esther Gokhale of the Gokhale Method, joined myself to talk about the importance of good posture.
Have you ever wondered how you can improve your back's posture at your desk or whether a standing desk would be better for you? Esther answered a ton of our questions and gave us some good, basic stretches to begin our way to healthier and stronger bodies.
Primal Posture vs. Posture Today
Unlike today, our primal ancestors were living a certain lifestyle by hunting and gathering each day. Overtime, they developed specific movements and postures fit for that lifestyle.
Now, times have changed and today we're doing different things with our bodies by sitting at a computer desk rather than squatting and bending over to do different activities like picking up sticks for firewood.
We've lost a lot of kinesthetic wisdom in first world cultures. Yet there are many cultures out there, especially in Africa, that continue to teach younger generations how to hold their posture as far as how to hold babies, work in the fields to grow and gather crops, lying down to sleep, bending over to cook etc.
All of this without fatiguing themselves and running out of breath when we're having difficulties simply bringing groceries from the car into the kitchen.
Keep in mind, learning how to have good posture is not that simple. As Esther put it, just like a language, good posture takes time and practice to learn. In order to see great improvement in your posture, hans-on assistance and coaching is usually necessary.
What's Better? A Sitting Chair or  a Standing Desk?
Both are good because we need change throughout the day, but we also need plenty of rest. If you find yourself standing all day (like older generations did when they worked and stood in factories), you will have many back and muscle pains from your poor posture.
Compared to standing, sitting also helps a person have deeper thoughts and better motor skills.
Improve Shoulder Posture
Esther's tips for good shoulder posture:
One at a time, bring one shoulder forward a little bit.
 Bring your shoulder up a little bit.
Move your shoulder back and relax.
Repeat with the other shoulder.
You will experience better circulation, breathing, and feel more comfortable overall after doing this simple exercise.
How to do Stretchsitting
Sit with your bum back in the seat.
Hinge away from the back rest.
Lengthen your back with a crunch by folding your rib cage forward.
Maintain your forward fold while slowly using your hands to push your top half and lengthen more (push on arm rest if they're there).
Hinge back towards the back rest (use a towel or the Gokhale Method chair) to help stick/hook yourself to the back of the chair.
Relax and your weight will be attached to the towel and you will have traction against the chair.
Feel free to do a shoulder roll afterwards.
You're done!
Stretch sitting can be done anywhere and at anytime. Mix things up by standing up, walking around, or do some other light stretching from time to time (every 20-30 minutes).
About Esther Gokhale
Esther Gokhale (Go-clay) has been involved in integrative therapies all her life. As a young girl growing up in India, she helped her mother, a nurse, treat abandoned babies waiting to be adopted. This early interest in healing led her to study biochemistry at Harvard and Princeton and, later, acupuncture at the San Francisco School of Oriental Medicine.
After experiencing crippling back pain during her first pregnancy and unsuccessful back surgery, Gokhale began her lifelong crusade to vanquish back pain. Her studies at the Aplomb® Institute in Paris and years of research in Brazil, India, Portugal and elsewhere led her to develop the Gokhale Method, a unique, systematic approach to help people find their bodies' way back to pain-free living.
Gokhale practiced acupuncture and taught posture, dance, and yoga in her Palo Alto wellness center for over twenty years. The Gokhale Method continues to grow as qualified Gokhale Method teachers now teach the method worldwide.
Gokhale's book, 8 Steps to a Pain-Free Back, has sold over 100,000 copies and has been translated into eight languages. In 2010, Gokhale hosted the nationally televised program Back Pain: The Primal Posture Solution (available on DVD).
Gokhale has taught at corporations such as Google, IDEO, Varian Medical Systems, and Facebook Inc. She has also presented at conferences including TEDx(Stanford), Ancestral Health Symposium, Weston Price Foundation Conference, and PrimalCon.  She continues to speak with physician groups including Stanford, PAMF, UCSF and has consulted for the trainers of the SF 49ers and several Stanford sports teams.
In May 2013, The New York Times featured Esther in an article giving her the title, "The Posture Guru of Silicon Valley".
Esther Gokhale lives on Stanford University campus where she raised three children with her husband Brian White, chairman of the Math Department.
Start Building Your Own Workouts and Meal Plan!
Download Results Tracker here!
Click To Download Home Workout Templates or text the word, "lifting," to 33444 to download the templates. 
Download the OSF Food Journal Now!
Check Out The Brand New Open Sky Fitness Podcast Facebook Page
That's right! We've started an Open Sky Fitness Podcast group, where you and everyone will have the opportunity to talk about your health and fitness goals in a safe environment. We'll be posting workouts and starting discussions about how to be strategic around finding a healthier you. Check it out!
Have a Question or Review for Rob or Devon?
We love answering questions and getting feedback from you, our listener! If you have any questions to ask us, want to share a review of the show, or tell us any suggestions for guests/topics that you think would be great to have on the show, just email Rob at rob@openskyfitness.com or Devon at devon@openskyfitness.com or you can also leave us a review at www.openskyfitness.com/review and even text OSFreview to 33444 to get the link.
What You'll Hear on This Episode
00:00 Open Sky Fitness Introduction
1:15  Opening comments with Rob
3:00 The OSF Podcast Group
6:00  Quick breakfast cups with muffin trays and tomatoes
8:30  Gut health and gas: Keep track of your nutrition with a food journal
13:45  Introduction to Esther Gokhale
15:00  How did you become the Silicone Valley Posture Guru?
16:40  What was your experience with back pain and how did you overcome it?
20:00  How do other cultures move and how did you translate that to your own posture movements?
25:23  Esther's tips for good shoulder posture
27:10  Is primal posture a trend or an awakening of our ancestor's posture?
32:30  Is it better to carry a baby on your back or on your front?
39:30  How did you carry your baby with you while cross country skiing?
43:40  How long does it take to learn how to have good posture?
48:10  Can some people learn good posture in a day?
51:40  How to do stretch sitting
57:00  What would you recommend: a sitting chair or a standing desk?
1:06:00 Closing comments with Rob
1:08:00 Open Sky Fitness Closing
RESOURCES MENTIONED DURING THE SHOW:
To Download Rob's FREE workout templates click below**
Ask Rob a Question or tell him what is working for you: Email Rob@OpenSkyFitness.com
To leave a Review for Rob and the Open Sky Fitness Podcast CLICK NOW!  Ratings and reviews are extremely helpful and greatly appreciated! They do matter in the rankings of the show and I read each and every one of them.
Contact our amazing sound engineer Ryan? Send him an e-mail here: info@stellarsoundsstudio.com
Thanks for Listening!
Thanks so much for joining us again this week. Have some feedback you'd like to share? Leave a note in the comment section below!
If you enjoyed this episode, please share it using the social media buttons you see at the bottom of the post.
If you have any questions (and would like to hear yourself on the Open Sky Fitness Podcast), click on the link on the right side of any page on our website that says "Send Voicemail."
And finally, don't forget to subscribe to the show on iTunes to get automatic updates. It's free!
Thanks for listening/reading Episode 122- Esther Gokhale: Achieving a Primal Posture- Ep 122! We hope you have gained more knowledge on how to be a healthier you!