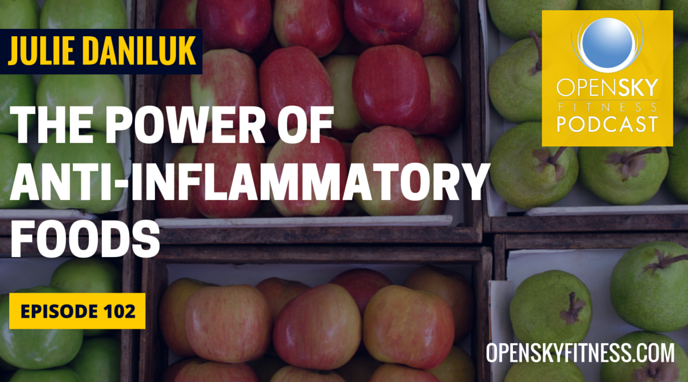 Julie Daniluk: The Power of Anti-Inflammatory Foods-Ep. 102
From time to time, we all face different struggles whether it be with exercise or food. This week, Rob and Devon share their top 5 tips to stay motivated to workout while special guest, Nutritionist Julie Daniluk explains how people with inflammation and autoimmune diseases can still eat delicious foods by eating powerful anti-inflammatory foods.
Julie has had a personal relationship with the healing power of anti-inflammatory foods ever since she was a little girl. After her mother switched her from artificial and high sugared foods to natural foods, an immediate change was noticed in her behavior and energy levels. However, this wasn't Julie's only encounter with food affecting her body in a negative way. After returning back to sugar and experiencing a horrible bout of food poisoning, Julie learned once and for all to listen to her body and began eating anti-inflammatory foods to heal it back to normal health. Continuing with these foods, Julie's health is at its best and she works hard to help other people also listen and understand their bodies for a healthier lifestyle and to appreciate the healing power of food.
About Julie Daniluk
Nutritionist Julie Daniluk, RHN hosts Healthy Gourmet on the Oprah Winfrey Network (OWN) in Canada and The Food Network in Europe, a reality cooking show that looks at the ongoing battle between taste and nutrition. Her award-winning bestseller, Meals That Heal Inflammation, has helped over 100,000 people enjoy allergy-free foods that taste great and assist the body in the healing process. Her new book, Slimming Meals That Heal, explores why inflammation causes weight gain and how anti-inflammatory superfoods shed pounds without dieting. Julie has appeared on hundreds of television and radio shows including The Dr. Oz Show and is a resident expert for The Marilyn Denis Show.
Check out more amazing recipes, nutrition tips, and her free online The Fundamentals of Anti-Inflammatory  Nutrition at
www.juliedaniluk.com. Connect with Julie on Facebook at 'Julie Daniluk' and on Instagram and Twitter @juliedaniluk
Get a Jump-Start Guidebook From Rob When You Leave a Review!
Want to learn some of Rob and Devon's top healthy recipes, favorite workouts, and tips for accomplishing goals? Leave us a review by texting OSFreview to 33444 to get a free copy of our Jump-Start Guidebook. After you text OSFreview to 33444, you will get the link to leave us a review or message. On that same text from 33444, just respond back with your email address for us to send you a free copy of our Jump-Start Guidebook. It's as simple as that!
What You'll Hear on This Episode
0:00 Open Sky Fitness Introduction
1:15  Open Sky Fitness Opening with Rob and Devon
5:55  5 Strategies to Become More Motivated
24:57  Introduction to Julie Daniluk
26:53  Julie's background story and relationship with food.
29:10  Julie's childhood switch from artificial foods to anti-inflammatory foods.
32:07  What kind of conversation would you have had with your younger self about what foods you need to eat?
35:15  What's inflammation? Julie explains.
36:40  What are the four causes of inflammation?
37:45  How do we treat inflammation with nutrition?
40:00  Why you should seek help specifically from holistic nutritionists.
41:20  Do you think the average person doesn't even realize that they're having an inflammatory response to food?
44:10 What are some tips to help people realize how food is affecting their body and mind?
50:45  What are the different autoimmune and -itis ending diseases like colitis?
54:13  How can foods like inflammation in the joints and chronic arthritis?
56:00 What about Ehlers-Danlos Syndrome or EDS and collagen?
58:00 How can people find holistic medical doctors?
1:00:20  What foods should be avoided at all costs to prevent inflammation and for anyone with autoimmune diseases?
1:06:45  What are common foods that people with inflammation and autoimmune diseases can still enjoy eating without switching them out for something healthier?
1:13:00  Are there any tests that people can take to see if they have allergies or if certain foods can cause autoimmune disease and inflammation in their body?
1:17:05  Why people should approach this diet as adding delicious, super-foods and not as something bad or disheartening.
1:20:20  Closing Remarks by Rob and Devon
1:23:30  Open Sky Fitness Closing
LINKS AND RESOURCES MENTIONED IN THIS EPISODE:
To Download Rob's FREE workout templates click below**
Ask Rob a Question or tell him what is working for you: Email Rob@OpenSkyFitness.com
To leave a Review for Rob and the Open Sky Fitness Podcast CLICK NOW!  Ratings and reviews are extremely helpful and greatly appreciated! They do matter in the rankings of the show and I read each and every one of them.
Contact our amazing sound engineer Ryan? Send him an e-mail here: info@stellarsoundsstudio.com
Thanks for Listening!
Thanks so much for joining us again this week. Have some feedback you'd like to share? Leave a note in the comment section below!
If you enjoyed this episode, please share it using the social media buttons you see at the bottom of the post.
If you have any questions (and would like to hear yourself on the Open Sky Fitness Podcast), click on the link on the right side of any page on our website that says "Send Voicemail."
And finally, don't forget to subscribe to the show on iTunes to get automatic updates. It's free!
Thanks for listening/reading Episode 102-Julie Daniluk: The Power of Anti-Inflammatory Foods. We hope you have gained more knowledge on how to be a healthier you!