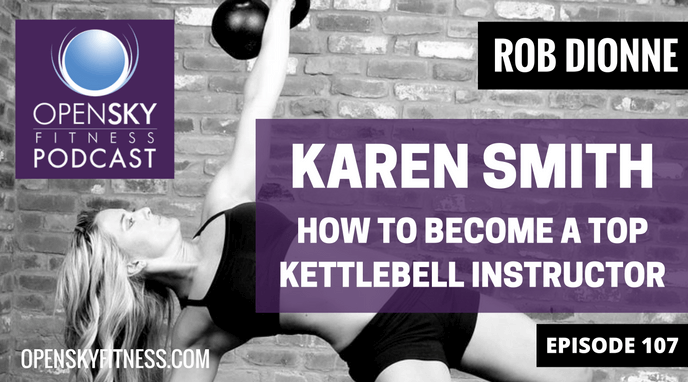 KAREN SMITH: HOW TO BECOME A TOP KETTLEBELL INSTRUCTOR-EP. 107

Are you ready for August!? Because we sure are and to kick it off we're announcing that this month is Strong People Are Awesome Month! At Open Sky Fitness, we believe that it's important to create a focus on building strength. Not just for now, but throughout our entire lifetimes. We also know that it can be difficult to get into a habit and pattern of adding strengthening exercises to your workout routine.
So throughout this month, we'll be taking the time to talk about a specific topic during each podcast that helps you build strength:
Strength Week 1: The Importance of Building Strength 
Strength Week 2: How to Build and Maximize Home Workouts
Strength Week 3: How to Build Your Own Gym Work Out
Strength Week 4: How to Balance Everything with Multiple Strategies 
Strength Week 5:  How to Use Recovery to Your Advantage
Speaking of building strength, on this week's podcast, I talked with Kettlebell Instructor, Karen Smith. We spoke about a variety of topics including how she decided to get into the fitness industry, her personal fitness journey, and some of her tips on kettlebell swing technique. It was an awesome conversation with her and we hope you enjoy listening in!
The Importance of Building Strength
Building strength and muscle is not only important to help you become more confident in your athletic ability, but it helps you to believe in yourself and build a strong body for the rest of your life. Building muscle helps you get toned an fit fast, improves your bone density, and helps develop body coordination and mechanics.
Strength building isn't just beneficial for body builders and for people who want to have large muscles. Having a strong body is beneficial for anyone and everyone. From women, teenagers to young adults, and all athletes. An athlete isn't going to perform his/her best without knowledge and understanding of how muscle training can help solidify body mechanics and alignment.
About Karen Smith
Karen is a seasoned personal trainer and strength coach who travels the world instructing and certifying individuals of all ages and fitness levels from beginners to elite US military/Law enforcement.  Karen is currently a Master Kettlebell Instructor & Chief Bodyweight Instructor with STRONGFIRST, and is an advisory board member for Girls Gone Strong.
Check Out The Brand New Open Sky Fitness Podcast Facebook Page
That's right! We've started an Open Sky Fitness Podcast group, where you and everyone will have the opportunity to talk about your health and fitness goals in a safe environment. We'll be posting workouts and starting discussions about how to be strategic around finding a healthier you. Check it out!
Get a Free Jump-Start Workout Guide 2.0 From Rob
This guidebook includes Rob and Devon's top healthy recipes, favorite workouts, and tips for accomplishing goals. Just text the word, "workout" to 44222 to get your free copy. You can also download the guidebook via your computer by visiting the Open Sky Fitness website. It's as simple as that!
Have a Question or Review for Rob or Devon?
We love answering questions and getting feedback from you, our listener! If you have any questions to ask us, a review of the show, or suggestions on guests/topics that you think would be great to have on the show, just email Rob at rob@openskyfitness.com or Devon at devon@openskyfitness.com or you can also leave us a review at www.openskyfitness.com/review and even text OSFreview to 33444 to get the link.
What You'll Hear on This Episode
0:00 Open Sky Fitness Introduction
1:15  Episode Opening with Rob and Devon
3:00  August=Strong Month!
4:40  Building strong muscles with good mindset and moving forward
18:20  How's your mood level when you work out? What do your endorphin's do to your body when you workout?
22:10  Open Sky Fitness Podcast Group!
23:50  Introduction to Karen Smith
24:40  Where did your passion for fitness come from?  What's your story?
25:50  Are you still involved with gymnastics?
27:30  When did you transition to doing more strength training and this career?
31:45  Can you explain to us who is Pavel Tsatsouline/Strong First and what is Dragon Door?
36:00 What did you take away from learning with Pavel? What has your career been like since then?
40:15  How would you describe and compare kettlebells to other standard fitness and strength training workouts?
41:05  How did you change your workout when you went from going 5-6 times a week to the gym with traditional cardio and weights to 3 times a week with kettlebells?
42:10  What is it like to get your kettlebell certification?
45:10  Does Strong First offer continued education credits?
50:15  How would you describe the use of kettlebells in the CrossFit world versus the Strong First World?
51:50  What's the difference between an American kettlebell swing and a Russian kettlebell swing?
53:45  How and where to get CrossFit certified. Karen's personal experience.
56:30  What's it like to date other trainers and people working in the fitness world?
1:01:10  Do you think that men and women should train differently at all?
1:08:40  Do you ever feel like you have to repress from being dogmatic? How do you work with your clients?
1:12:10  Different struggles that personal trainers go through.
1:16:50  How can you get in touch with Karen Smith and join one of her workshops?
1:20:40 Closing comments with Rob and Devon
1:22:10 Open Sky Fitness Closing
LINKS AND RESOURCES MENTIONED IN THIS EPISODE:
To Download Rob's FREE workout templates click below**
Ask Rob a Question or tell him what is working for you: Email Rob@OpenSkyFitness.com
To leave a Review for Rob and the Open Sky Fitness Podcast CLICK NOW!  Ratings and reviews are extremely helpful and greatly appreciated! They do matter in the rankings of the show and I read each and every one of them.
Contact our amazing sound engineer Ryan? Send him an e-mail here: info@stellarsoundsstudio.com
Thanks for Listening!
Thanks so much for joining us again this week. Have some feedback you'd like to share? Leave a note in the comment section below!
If you enjoyed this episode, please share it using the social media buttons you see at the bottom of the post.
If you have any questions (and would like to hear yourself on the Open Sky Fitness Podcast), click on the link on the right side of any page on our website that says "Send Voicemail."
And finally, don't forget to subscribe to the show on iTunes to get automatic updates. It's free!
Thanks for listening/reading Episode 107-Karen Smith: How to Become a Top Kettlebell Instructor. We hope you have gained more knowledge on how to be a healthier you!