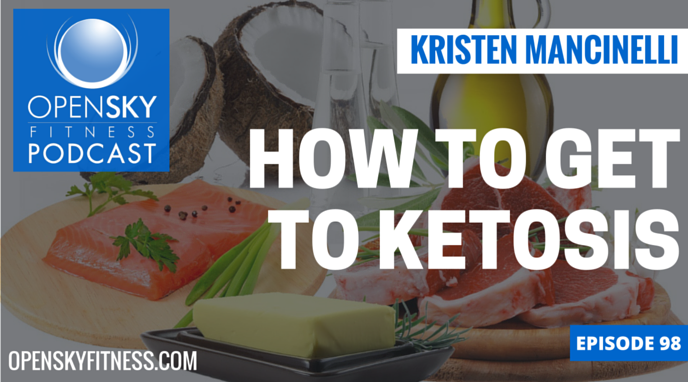 Kristen Mancinelli: How to Get to Ketosis-Ep. 98
This week, Rob and Devon talked with their friend and Ketogenic Diet expert, Kristen Mancinelli. Not only is she highly knowledgeable about Ketogenic, but Kristen also has a solid background in Paleo and has written about both diets in various publications including LIVESTRONG.ORG , Paleo magazine, and her own book, The Ketogenic Diet: A Scientifically Proven Approach to Fast, Healthy Weight Loss.
Kristen shared a lot of good information on the Open Sky Fitness podcast  this week. Share shared her own experience with the Ketogenic Diet; what it was like to reach the stage of Ketosis; how many carbs a person should take in on a daily basis; and what are the right and wrong foods to eat while on the diet.
We were also able to answer some of our listeners' questions about the topic such as: Can an athlete or active person follow a Ketogenic Diet? and Can you follow a Ketogenic Diet with a busy schedule and still try to consistently workout? Can carbs be included?
How to Approach a New Health Goal
When beginning a new diet, workout regime, or goal; the more support and positive vibes that we can get from others, the better. However, that doesn't mean that you should stop believing in yourself and only rely on others, but it's always good to have a support system as well. Devon and Kristen are actually Accountability Partners and they took some time during the podcast to shed some light on the topic and share their insight on why it's good to have an Accountability Partner to help you stay on track of your goals.
About Kristen Mancinelli
Kristen Mancinelli, MS, RDN, is a nutrition scientist and educator who is passionate about making science and health information useful for everyone. She has been an adjunct instructor in the Program in Nutrition at Columbia University and has presented at numerous professional conferences on the subject of nutrition and health. Kristen received her bachelors degree in chemistry from NYU and a master of science in public health and nutrition from Columbia University. Currently in Los Angeles, Kristen counsels individuals in weight loss and prevention of chronic disease at UCLA, and writes frequently for popular media on the subjects of paleo and low-carb dieting, and the role of the food environment in shaping individual food choices.
Have a Question for Rob or Devon?
We love answering questions and getting feedback from you, our listener! If you have any questions to ask us or suggestions on guests/topics that you think would be great to have on the show, just email Rob at rob@openskyfitness.com or leave us a review at www.openskyfitness.com/review.
Free Book Giveaway!
We're giving away a copy of The 30-Second Body: Eat Clean. Train Dirty. Live Hard by Adam Rosante.
To enter the book giveaway, just complete the following steps:
Go to our show notes and click on the review link (openskyfitness.com/review) or  get started via your phone by texting OSFreview to 33444 to get the link.
Leave us a review.
Take a screen shot of what you wrote in the review.
Email that screen shot along with your mailing address to Rob (rob@openskyfitness.com).
We'll enter your name in a drawing and randomly select the winner.
Good luck!
What You'll Hear on This Episode
0:00 Open Sky Fitness Introduction
1:15  Opening Remarks by Rob, Devon, and Kristen
3:20  The benefits of having an Accountability Partner in your life to help you with your goals.
8:06  What is the Ketogenic Diet?
10:20  What is the number of carbs per day that a person should intake? How does it vary at different ages?
12:45  How do you know if you are in Ketosis?
13:55  What is the ratio of  fats to carbs to proteins for a Ketogenic Diet?
15:20  Can an athlete or active person follow a Ketogenic Diet?
16:45  Can you follow a Ketogenic Diet with a busy schedule and still try to consistently workout? Can carbs be included?
25:10  Is there a certain amount of time that we should be spending in Ketosis? A maximum amount of time?
26:40  Are there some people that have more problems with losing weight than others while on the Ketogenic Diet?
34:20  What are some examples of fats and carbs to eat during a Ketogenic Diet?
41:05  What is a piece of fruit as far as carb counting for the Ketogenic Diet? For nuts and cheese? For fish and meats? For vegetables? For oils and creams?
49:00  Online calculators and apps to track your progress with the Ketogenic Diet.
49:40  How to evaluate your progress with the Ketogenic Diet.
56:00 Closing Remarks by Rob and Devon
56:10  Open Sky Fitness Closing
LINKS AND RESOURCES MENTIONED IN THIS EPISODE:
To Download Rob's FREE workout templates click below**
Ask Rob a Question or tell him what is working for you: Email Rob@OpenSkyFitness.com
To leave a Review for Rob and the Open Sky Fitness Podcast CLICK NOW!  Ratings and reviews are extremely helpful and greatly appreciated! They do matter in the rankings of the show and I read each and every one of them.
Contact our amazing sound engineer Ryan? Send him an e-mail here: info@stellarsoundsstudio.com
Thanks for Listening!
Thanks so much for joining us again this week. Have some feedback you'd like to share? Leave a note in the comment section below!
If you enjoyed this episode, please share it using the social media buttons you see at the bottom of the post.
If you have any questions (and would like to hear yourself on the Open Sky Fitness Podcast), click on the link on the right side of any page on our website that says "Send Voicemail."
And finally, don't forget to subscribe to the show on iTunes to get automatic updates. It's free!
Thanks for listening/reading Episode 98-Kristen Mancinelli: How to Get to Ketosis.  We hope you have gained more knowledge on how to be a healthier you!