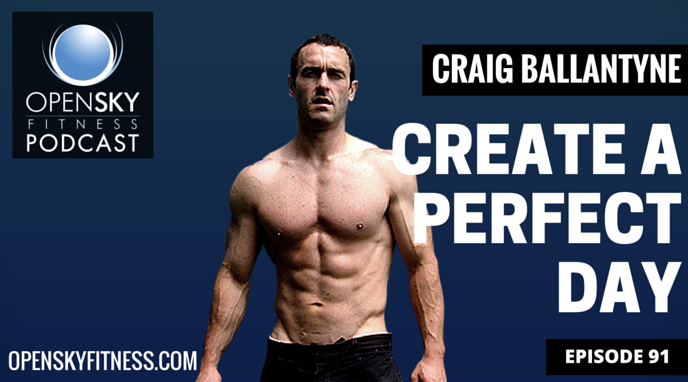 Craig Ballantyne: Create a Perfect Day- EP. 91
Do you ever feel that the days goes by and you spend all your time on what needs to "get done" but have no time left for the things that you feel are actually important.  In this week's podcast, Craig Ballantyne, author of the "The Perfect Day Formula", will transform you by helping you to discover what is truly important and how to create an empowering and healthful life.
First, host Rob Dionne, and his wife, Devon Dionne, discuss clean eating and how the 80/20 rule can either be a tool towards a balanced life or used as an excuse to prevent you from achieving what you truly desire.   Then, fitness expert to Men's Health Magazine and co-owner of EarlyToRise.com, Craig Ballantyne gives you simple steps on how to find a sense of internal freedom.
Having once been admitted into the hospital for debilitating anxiety attacks, Craig realized he need a huge change in his world.  Once he found a sense of internal peace,  he wanted to share and bring his knowledge to others.  You will learn the skills of how to organize your day and your thoughts to help ease and calm that anxious voice in your head.  Ahhh, that sounds nice doesn't it?  Create a perfect day!
What You'll Hear on This Episode
0:00    Open Sky Fitness Introduction
1:13      Opening Remarks
3:29     Clean Eating and 80/20 Rule
4:15      What is clean eating
7:22     Proper application 80/20
14:50   How consciousness applies to goals and weight loss.
16:10    Who is the 80/20 rule meant for?
23:26   Interview with Craig Ballantyne
26:45    Craig's path to "The Perfect Day Formula"
28:30   The three Stages of "the formula"
31:00    Stage 1: Control your morning
32:40    Following rules leads to health and internal freedom
37:35    Stage 2:  Coping
42:00   Changing habits to be congruent with what you want?
46:23    The benefits of Brain Dumping and scheduling
49:47    Craig's personal path to dealing with his debilitating anxiety
53:40    The 5 Pillars of Transformation
58:40    A day with Craig Ballantyne
1:03:10  Craig's favorite indulgences and what matters most
1:04:42  Where to find Craig
1:05:56  Closing Remarks
1:07:21  Open Sky Fitness Closing
LINKS AND RESOURCES MENTIONED IN THIS EPISODE:
Pick up Craig's Book: The Perfect Day Formula
Do you want more intense coaching from Craig?  The Perfect Day Formula Kit:
Find Craig on Twitter:  Twitter.com/CraigBallantyne
To Download Rob's FREE workout templates click below**
Download Templates
Ask Rob a Question or tell him what is working for you: Email Rob@OpenSkyFitness.com
To leave a Review for Rob and the Open Sky Fitness Podcast CLICK NOW!  Ratings and reviews are extremely helpful and greatly appreciated! They do matter in the rankings of the show, and I read each and every one of them.
Contact our amazing sound engineer Ryan? Send him an e-mail here: info@stellarsoundsstudio.com
Thanks for Listening!
Thanks so much for joining us again this week. Have some feedback you'd like to share? Leave a note in the comment section below!
If you enjoyed this episode, please share it using the social media buttons you see at the bottom of the post.
If you have any questions (and would like to hear yourself on the Open Sky Fitness Podcast), click on the link on the right side of any page on our website that says "Send Voicemail."
And finally, don't forget to subscribe to the show on iTunes to get automatic updates. It's free!
Thanks for listening/reading Episode 91: Creating a Perfect Day.  We hope you have gained more knowledge on how to be a healthier you!