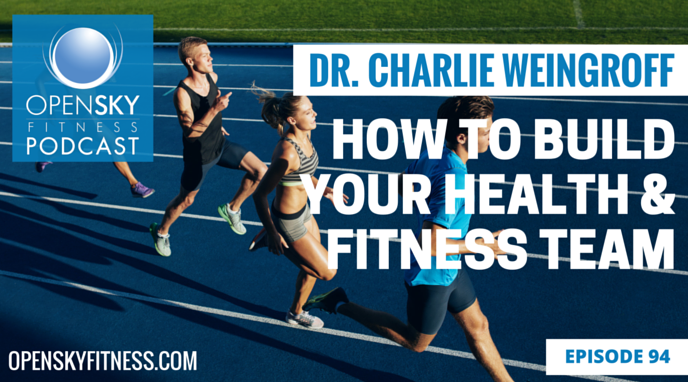 Dr. Charlie Weingroff: How to Build Your Health & Fitness Team-Ep. 94
How do you build your health and fitness team?
A Guide to Good Gym Etiquette
On this week's podcast episode, Rob and Devon discussed good gym etiquette such as how to keep the gym organized and clean; how to work in and share equipment with follow gym users; and how to show respect and share space so that people feel comfortable. Whether you're new to the gym, a regular, or even an employee/personal trainer at a gym, these are all good tips to ensure that everyone can have a good workout in a great environment.
How to Find the Best Health Help
What path do you go down to find a great doctor, physical therapist, or chiropractor for your client or patient? Sometimes our pains, aches, and mobility issues can be something much more serious and the easiest option is often not the best option. Charlie shares his advice on how crucial it is to seek out different outsources to help treat your patient's medical issue and who to go to first. One of our listeners recently asked Rob about her hip's iliade bursitis and Charlie used it as a great example of what he recommends we should do to find the best help.
How to Properly Examine Physical Health
Our guest of the week on the Open Sky Fitness podcast is world-renowned Physical Therapist, Certified Athletic Trainer, and a Certified Strength and Conditioning Specialist, Dr. Charlie Weingroff. We had a super interesting conversation with Charlie about his experience as a physical therapist and his different viewpoints on how to properly examine your mobility and movement for any physical problems.
We talked about different  possible sources such as Charlie's DVD, Training=Rehab, Rehab=Training as an example of how a person can continue training with rehab techniques; the Functional Movement Screening and how to take advantage of the program; and more importantly, how to find the best medical help and create the best team of health and fitness experts.
About Dr. Charlie Weingroff
Charlie is currently a Physical Therapist and Strength & Conditioning Coach at Drive 495 in Manhattan, NY and Fit For Life in Marlboro, NJ. He also is a member of the Nike Executive Performance Council and serves as the Physical Performance Lead and Head Strength & Conditioning Coach for the Canadian Men's National Basketball Team. Prior to returning to his home of NJ, he was the Director of Physical Performance and Resiliency and Lead Physical Therapist for the United States Marines Corps Special Operations Command in Camp Lejeune, NC. He graduated from Ursinus College with a degree in Exercise and Sports Science in 1996, and went on to earn an MSPT in 1999 and DPT in 2010 from the University of Medicine and Dentistry of New Jersey.
Currently Charlie is available to treat, train, and consult at Drive495 in Manhattan, NYC and Fit For Life in Marlboro, NJ. Charlie often teaches and speaks internationally and consults regularly with Nike, the Roddick-Grunberg Tennis Academy, Perform Better, and Equinox Fitness Clubs.
Charlie is single and lives in NJ with his dog, Rumble. You're welcome to email him at charlie@charlieweingroff.com with questions for the Q&A section, to offer a comment, or to discuss a potential workshop at your facility.
Free Book Giveaway!
Since our book raffle for the copies of Sleep Smarter: 21 Essential Strategies to Sleep Your Way to A Better Body, Better Health, and Bigger Success by Shawn Stevenson was such a success, we're going to have another book raffle for Joel Harper's book, Mind Your Body: 4 Weeks to a Leaner, Healthier Life! Joel is Dr. Oz's personal trainer and has also trained many other celebrity elites including Olympic athletes, movie stars, and super models. We have one copy of this book so the very first person to do the following steps will get the copy:
Go to our show notes and click on the review link (openskyfitness.com/review).

Leave us a review.

Take a screen shot of what you wrote in the review.

Email the screen shot along with your mailing address to Rob (rob@openskyfitness.com).
Good luck!
What You'll Hear on This Episode
0:00 Open Sky Fitness Introduction
1:15  Opening Remarks by Rob and Devon
2:25 A new book giveaway for Mind Your Body: 4 Weeks to a Leaner, Healthier Life
7:06 Gym Etiquette Tips: How to approach the gym
23:38  Intro to Dr. Charlie Weingroff
25:15  Have you always had a strong presence in the world of strength fitness?
30:45 Were you always interested in working in the field of physical therapy? How did you get into this career?
37:45  Charlie explains his Training=Rehab, Rehab=Training program. How can I train when I'm in pain?
46:10  Is it a good idea to do both the first and second course of Functional Movement Screening?
50:35  What are the most common problems for people who have poor mechanics? How can people improve their technique with the Functional Movement Screening?
56:30 Sometimes your pain can be something medically very serious and you can't deny it.
58:35  Why it's important to understand what your qualification process is in order to be able to move to the next fitness step.
1:00:30  Why it's a personal trainer's duty to help a client seek out another professional for mobility issues. Why it's a professional's duty to outsource medical help for their clients.
1:03:30  Listener's questions: What can I do to improve my hip's iliade bursitis? What is Charlie's recommendation?
1:16:55  What's the best route to take to find a doctor, physical therapist, or chiropractor?
1:22:15  How to get in touch with Charlie Weingroff and Drive 495.
1:24:34 Closing Remarks by Rob and Devon
1:26:44  Open Sky Fitness Closings
LINKS AND RESOURCES MENTIONED IN THIS EPISODE:
Contact Charlie at charlie@charlieweingroff.com
Learn more about Charlie and Training=Rehab, Rehab=Training on his website: http://charlieweingroff.com/
Find Charlie on Twitter:  https://twitter.com/cwagon75
Learn more about Drive 495: http://driveclubs.com/ 
Learn more about Joel Haper's book: Mind Your Body: 4 Weeks to a Leaner, Healthier Life
To Download Rob's FREE workout templates click below**
Ask Rob a Question or tell him what is working for you: Email Rob@OpenSkyFitness.com
To leave a Review for Rob and the Open Sky Fitness Podcast CLICK NOW!  Ratings and reviews are extremely helpful and greatly appreciated! They do matter in the rankings of the show and I read each and every one of them.
Contact our amazing sound engineer Ryan? Send him an e-mail here: info@stellarsoundsstudio.com
Thanks for Listening!
Thanks so much for joining us again this week. Have some feedback you'd like to share? Leave a note in the comment section below!
If you enjoyed this episode, please share it using the social media buttons you see at the bottom of the post.
If you have any questions (and would like to hear yourself on the Open Sky Fitness Podcast), click on the link on the right side of any page on our website that says "Send Voicemail."
And finally, don't forget to subscribe to the show on iTunes to get automatic updates. It's free!
Thanks for listening/reading Episode 94: Dr. Charlie Weingroff-How to Build Your Health & Fitness Team. We hope you have gained more knowledge on how to be a healthier you!