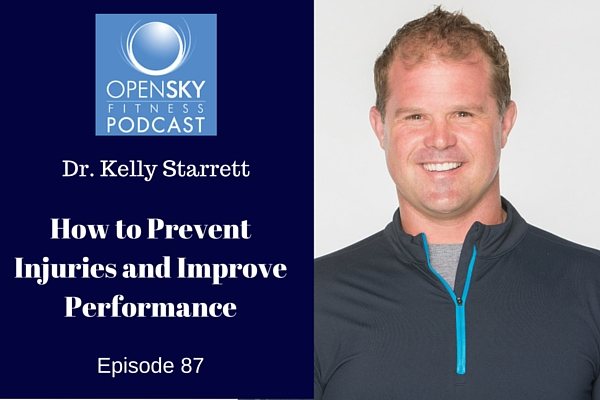 Dr. Kelly Starrett: How to Prevent Injuries and Improve Performance – Ep. 87

Coming to you this week on Open Sky Fitness, you´ll get to know Dr. Kelly Starrett who is one of the founders of Mobility| WOD along with his wife, Juliet. He is also the author of both New York Times and Wall Street Journal bestseller, Becoming a Supple Leopard. He has also written Ready to Run and has an upcoming release of his latest book, Deskbound.
Easy Ways to Prevent Injuries and Improve Performance
Rob, Devon, and Kelly start of the show by discussing the natural occurrences of "normal accidents" in every day life such as lacking the right vitamins, nutrition, or technique when working out. By paying close attention,  we can take advantage of these "normal accident" patterns to learn about how to improve our individual athletic performance.
The conversation delves deeper into specific areas of nutrition, evaluation, and different cycles to help us be conscience of what we do everyday and how to apply little life changes to overcome any problem areas.
Is Icing a Good Way to Treat an Injury?
Later on they discuss the idea of whether or not icing is a good way to treat an injury or swelling and what  methods are available to better treat and prevent either pf them. The podcast closes off on why we should all be sitting less and standing more and what can do to change it.
About Dr. Kelly Starrett
When he´s not teaching us a thing or two about human performance and mobility, Kelly is also a coach and physical therapist and leads a Crossfit Movement & Mobility Trainer course. He has also been a guest lecturer at the American Physical Therapy Association annual convention, Google, the Perform Better Summit, the Special Operations Medical Association annual conference, police departments, and elite military groups nationwide.
Kelly received his Doctor of Physical Therapy in 2007 from Samuel Merritt College in Oakland, California. He currently  continues to focus on performance-based Orthopedic Sports Medicine with an emphasis on returning athletes to elite level sport and performance along with managing his own physical therapy practice at San Francisco CrossFit.
Kelly and his wife, Juliet, are also the creators of StandUpKids.org to educate teachers, parents, and donors about the importance of children spending more time standing up and being active rather sitting down during class hours. The organization raises money to bring standing desks to all public school children.
What you will hear in this episode:
00:00 Open Sky Fitness Introduction
01:12  Introduction to Dr. Kelly Starrett
05:25  Where does a start working with top athletes?
07:40  The Normal Accidents theory by Dr. Charles Perrow
08:20  The importance of Vitamin D.
09:00 Assuming natural errors every day and noticing patterns.
09:55  How to take advantage of data and patterns to improve your workout.
11:11 Applying noticed changes and patterns to the health of younger generations. The importance of standing vs. sitting for children.
12:00  What is best for human function? What is recommended for recovering and preventing pain while optimizing athletic performance?
13:45  The importance of precision nutrition.
14:10  The gateways to top performance.
15:12  Evaluating physical practice and limitations.
16:50  The problem of wanting to fix all of your health problems in one day.
17:45  The Adaptation Cycle and how to apply it to yourself.
19:15  How to incorporate non-exercise activity such as breathing practice, meditation, walking and standing during your day and before formal exercise.
22:40  Why daily physical activity includes training, but isn´t exclusive to only training.
24:00  Learning to be conscience about what you do during the day.
26:00  How can we easily identify our different health benchmarks?
26:45  Pulling back to take a look at our current health status.
27:27  Is there a difference between the average and the top athletes that you work with?
28:25  Should we always be in pain when working out?
29:45  How to be more conscience of what you are doing during a workout for better athletic performance
33:38  How do we create a workout lifestyle to prevent injuries and improve performance?
36:28  Can people be more conscience about what they are doing for their health on their own or do they need a coach?
39:00  Is icing the best remedy for injuries?
41:49  Systematic Cold Immersion vs. Icing an injury
43:00  What can you do in place of icing to help an injuring or swelling?
47:09  What can athletes do to help swelling if they spend a lot of time sitting during the day?
48:20  Why humans are not designed for sitting in chairs.
51:00  Where to go for more help similar to M| WOD?
55:19  Closing Remarks by Rob
57:24  Open Sky Fitness Closing
LINKS AND RESOURCES MENTIONED IN THIS EPISODE:
If you want to learn more about Dr. Kelly Starrett and Mobility WOD, go to:
MobilityWOD.com
To learn more about how to order Dr. Kelly Starrett´s books and products mentioned on the show, go to: 
MobilityWOD.com/Shop/ 
To learn more about the theory and book, Normal Accidents by Dr. Charles Perrow, go to: https://en.wikipedia.org/wiki/Normal_Accidents 
To learn more about the organization, Stand Up Kids, go to:                    http://standupkids.org/our-story/
To Download Rob's FREE workout templates click below
Download Templates
Ask Rob a Question or tell him what is working for you: Email Rob@OpenSkyFitness.com
To leave a Review for Rob and the Open Sky Fitness Podcast CLICK NOW!
Contact our amazing sound engineer Ryan? Send him an e-mail here: info@stellarsoundsstudio.com
Thanks for Listening!
Thanks so much for joining us again this week. Have some feedback you'd like to share? Leave a note in the comment section below!
If you enjoyed this episode, please share it using the social media buttons you see at the bottom of the post.
Also if you are interested in getting some free Naked Infusions Salsa, T-shirts or tote bags please leave an honest review for The Open Sky Fitness Podcast on iTunes! Ratings and reviews are extremely helpful and greatly appreciated! They do matter in the rankings of the show, and I read each and every one of them.
If you have any questions (and would like to hear yourself on the Open Sky Fitness Podcast), click on the link on the right side of any page on our website that says "Send Voicemail."
And finally, don't forget to subscribe to the show on iTunes to get automatic updates. It's free!
Thanks for listening/reading Episode 87: How to Prevent Injuries and Improve Performance.  We hope you have gained more knowledge on how to be a healthier you!