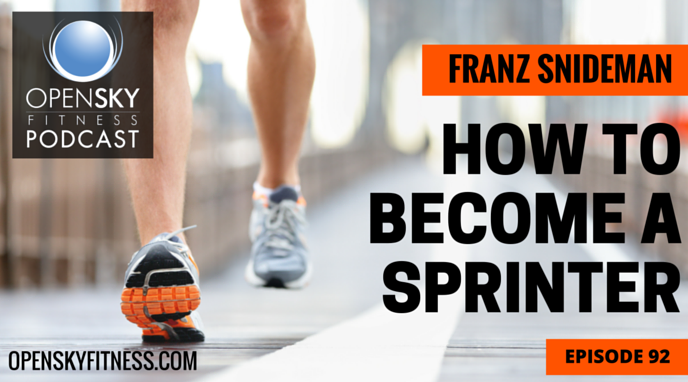 Franz Snideman: How to Become a Sprinter-Ep. 92
To become a sprinter, sometimes you have to start with the basics. Today, Rob talked to Franz Snideman who is a former collegiate sprinter and the co-owner of Revolution Fitness. Franz believes that sprinting is key to becoming healthier and stronger.
Tips to Become a Sprinter
Franz is an expert at running and sprinting for beginners and shared his tips and insights with us on the show including:
How properly learn how to run.
Where to go when you run.
What running shoe is best for you to wear.
How fast you should sprint on speed days
It was a really fascinating conversation and Franz told us how and why crawling, sprinting, and marching exercises are great for not only fitness purposes, but to improve the function of the brain as well. Whether you've been running for years or are eager to get started, this episode will really help benefit your fitness.
About Franz Snideman
Franz has also authored and edited several books, as well as produced a series of training DVD's. Drawing on his passion in healthy living, athleticism, knowledge and appreciation of human development, anatomy and personal experience, he co-developed the dynamic Primal Speed System as well as Primal Move Velocity.
Franz believes in the fundamental importance of educating and coaching his clients in safe, healthy and holistic athleticism. Coupled with impeccable attention to detail, bio-mechanical understanding and skill in accommodating and adapting training regimes to support and enhance individual's unique abilities and needs, he is personal coach to clients and professional athletes. He lectures internationally, driven to share his knowledge and skill, theoretically and practically.
Franz is a Senior Strength Matters Kettlebell Instructor, Ground Force National Instructor, former Collegiate Sprinter and International Lecturer. He is a student of nutrition, Neuro-Muscular Therapy, Primal Move Kids and Corrective High Performance Exercise Kinesiology.
Free Book Giveaway
On the Open Sky Fitness podcast we talk a lot about getting a good night's rest and one of our favorite sources is the book, Sleep Smarter: 21 Proven Tips to Sleep Your Way To a Better Body, Better Health and Bigger Success by Shawn Stevenson. Rob begins the show discussing three great tips from Shawn's book. If you like what you hear and want to learn more about how to sleep smarter, we're giving away three of his books in a raffle to USA listeners. Just leave us a review, take a screen shot of it, and send it to Rob with your home address. 
What You'll Hear on This Episode
0:00 Open Sky Fitness Introduction
1:13  Opening Remarks
1:55  Tips on How to Sleep Better from Sleep Smarter: 21 Proven Tips to Sleep Your Way To a Better Body, Better Health and Bigger Success by Shawn Stevenson.                          
7:08  How to decrease your coffee intake to be naturally energized .                                                       
8:40  Train your body to know that it's nighttime to sleep better. 
11:00 How alcohol takes a toll on your sleep cycle and how to ease off of it.
15:30  Introduction to Franz Snideman
16:20  How Franz got involved in athletics and running as a child, high school and beyond.
20:15  Work on speed continuously to become fast.
23:12  The mechanics and learning benefits of sprinting for your body and brain.
26:46  The body types of endurance and sprinter runners: how to burn fat and gain lean muscle.
29:28  The importance of the cross crawl exercise and how it triggers brain function in children and adults.
31:20  How crawling can help a person become a faster runner.
33:05  How to do a good march or crawl for better sprinting and health benefits.
38:05  How to stay within your base of support to become a better runner.
40:30  Why do we have to train to learn how to run?
41:35  Franz's tips on what exercises to do to learn how to run.
42:30  Why sprinting can be really good for distance runners.
44:25   How often should someone be sprinting? What should my workout look like?
48:05 Why you should not run at 100% on your speed workout day.
48:40 How to do a tempo workout for longer sprinting days.
50:17  How to properly include sprinting  or fast activity into your workout for weight loss.
51:40  How to do a running A's exercise to learn how to properly run.
53:55  Where's the best place to run for beginners?
56:41  What type of shoes should runners wear?
59:35  How can people maximize their fitness results with nutrition?
1:09:58  Primal Speed and Sprinting Course: Learn how to sprint and improve other skills with Franz
1:12:21  Closing Remarks by Rob
1:13:30  Open Sky Fitness Closings
LINKS AND RESOURCES MENTIONED IN THIS EPISODE:
Check out Shawn's book: Sleep Smarter: 21 Proven Tips to Sleep Your Way To a Better Body, Better Health and Bigger Success
Do you want to learn more about Franz's sprinting training?:  Primal Speed and Sprinting Course:
Find Franz on Twitter:  Twitter.com/franzsnideman
To Download Rob's FREE workout templates click below**
Download Templates
Ask Rob a Question or tell him what is working for you: Email Rob@OpenSkyFitness.com
To leave a Review for Rob and the Open Sky Fitness Podcast CLICK NOW!  Ratings and reviews are extremely helpful and greatly appreciated! They do matter in the rankings of the show and I read each and every one of them.
Contact our amazing sound engineer Ryan? Send him an e-mail here: info@stellarsoundsstudio.com
Thanks for Listening!
Thanks so much for joining us again this week. Have some feedback you'd like to share? Leave a note in the comment section below!
If you enjoyed this episode, please share it using the social media buttons you see at the bottom of the post.
If you have any questions (and would like to hear yourself on the Open Sky Fitness Podcast), click on the link on the right side of any page on our website that says "Send Voicemail."
And finally, don't forget to subscribe to the show on iTunes to get automatic updates. It's free!
Thanks for listening/reading Episode 92: How to Become a Sprinter.  We hope you have gained more knowledge on how to be a healthier you!