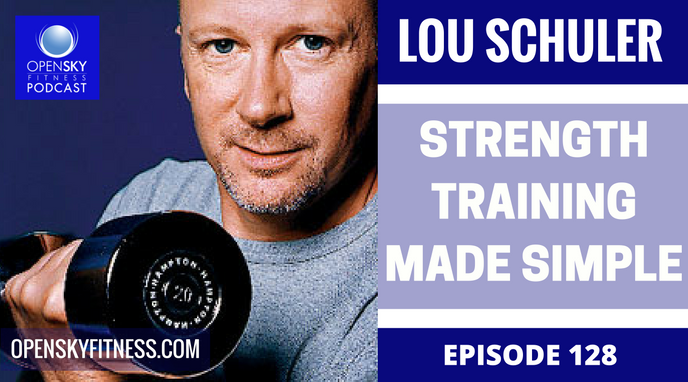 Lou Schuler: Strength Training Made Simple-Ep 128
Join The Open Sky Fitness Podcast Facebook Page!
That's right! We have an Open Sky Fitness Podcast group where you and everyone will have the opportunity to talk about your health and fitness goals in a safe environment. We'll be posting workouts and starting discussions about how to be strategic around finding a healthier you. Check it out!
 Your Health and Wellness This Week:
Strength Training & Self-Care
On this week's episode of Open Sky Fitness, award-winning journalist,  certified strength and conditioning specialist, and author, Lou Schuler, spoke to Rob about his career and life experiences about getting fit and staying fit for life. Lou has had a career in the fitness journey for more than 20 years and has witnessed major changes and trends in the world of health.
But before we get into the interview with Lou, Rob and Devon share some self-care topics. Learn what it means when you judge other people, how you can turn your focus back to you, and when is a good time to help other people in need.
Lou Schuler's Fitness Advice
On this episode, you'll learn what it was like for Lou to start lifting weights as a teenager with minimal sources available compared to the immense amount of information that you can find today on the Internet and in magazines.
Today, As Lou reaches 60 years of age, he's realized that his focus on strength training and fitness has shifted compared to when he was younger.
Lou currently works out about 3 days a week and focuses on core stability training and mobility training. By focusing on more isometric exercises, Lou has been able to focus on improving his balance while still staying strong, stabilizing the muscles, and avoiding joint pain.
Growing Stronger Over Time
Whether you're just beginning to strength train or you're returning to it after a break, it's important to start with the basics and progress over time.
Lou's advice is that you shouldn't feel that you need to speed up your workout to lift heavy weights or take on a Cross Fit class. Don't do anything intense until you've mastered the basic movements.
Back to the Basics of Strength Training
Even if you've been lifting for years, going back to basics with a program that includes completing 2 sets of 12 repetitions can be fatiguing because your body has changed over time and it's not used to doing this exercise.
Staying Strong for Life
When we're young, and especially if we're involved in sports, we can feel unstoppable. It's a great sensation to feel like you're unbreakable and don't have any limits when it comes to pushing your body's limits. On the other hand, not matter what our age is, we all need to take care of our body's health for life
Athletes try to lift more than they can really handle and that's where injury comes into play.
As we age, just like Lou, different types of strength training and balancing exercises come into play. At some point in our lives, we begin to prioritize exercises that help us to stabilize our body and condition the muscle to help reduce any type of future injury. If an injury should occur, we want to make sure that our body is strong enough that we can recover quickly.
Staying Healthy With Age
"There is no turning back the clock. I'll never get back the body that I used to have when I was 30, 40, or even 50. There's just no way." – Lou Schuler
A lot of people may believe that they can have this same body forever by taking a special pill, but we have to realize that our bodies will age and we cannot workout at the gym in the same matter that we did when we were younger.
As we get older, it can be discouraging to think about everything that our bodies used to be able to do when we were younger that we cannot do now. However, the best thing about gaining experience with fitness and strength training over time is that we know our bodies better than we did before. Now we can suspect when an injury might come up, we know when to slow down, and we recognize when we've reached our limits.
We just have to treat our bodies well over time and take care of it the best we can through fitness and nutrition.
 About Lou Schuler
Lou Schuler is an award-winning journalist, a certified strength and conditioning specialist, a contributing editor to Men's Health magazine (you can find most of my articles here), and author or coauthor of many popular books about diet and strength training.
Lou's latest book, Strong, came out November 10, 2015. He and Alwyn Cosgrove wrote it as a follow-up to The New Rules of Lifting for Women, which is by far the most influential of the five books in the New Rules of Lifting series.
Lou also wrote The Lean Muscle Diet with Alan Aragon, which came out in December 2014, along with The Book of Muscle (with Ian King), The Home Workout Bible (with Mike Mejia and many other contributors), and The Testosterone Advantage Plan (with Jeff Volek, Mike Mejia, and Adam Campbell).
Lou recently self-published his first novel, Saints Alive, and he is a coauthor of How to Get Published: Writing Domination in the Fitness Industry, which he wrote with Sean Hyson and John Romaniello for all the trainers and nutritionists who've asked him over the years how to break into his field.
What You'll Hear on This Episode
00:00 Open Sky Fitness Introduction
1:15  Opening comments with Rob and Devon
4:00 Judging others and what that says about you
11:00 Taking the opportunity to focus on yourself
13:00  Being proactive and eating healthy during the holiday season
21:00 Introduction to Lou Schuler
21:30  Lou's book series: The New Rules of Lifting
27:00  Men & Women: What's the potential for gaining muscle? What programs can they do?
29:30 How much should we lift to gain upper body strength?
31:30  Different fitness programs for different reasons
32:30  Lou's background
36:10 What sources were you relying on for fitness advice when you were a teenager? How did you learn how to lift?
39:00  How did you become a journalist for fitness articles?
42:30  Where is the best place to start for strength training basics? What should we focus on?
49:00 The state of mind as we age and how we see fitness
52:50  How has your fitness regime changed over the last 20 years?
56:40 The mentality around fitness and strength training for athletes
58:00 At 60 years, what is your workout like?
1:03:00 What do you do when you get bored with lifting?
1:11:00 What is your style of eating?
1:13:40  How can people get in touch with you?
1:15:00  Closing comments with Rob and Devon
1:16:35  Open Sky Fitness Closing
RESOURCES MENTIONED DURING THE SHOW:
To Download Rob's FREE workout templates click below**
Ask Rob a Question or tell him what is working for you: Email Rob@OpenSkyFitness.com
To leave a Review for Rob and the Open Sky Fitness Podcast CLICK NOW!  Ratings and reviews are extremely helpful and greatly appreciated! They do matter in the rankings of the show and I read each and every one of them.
Contact our amazing sound engineer Ryan? Send him an e-mail here: info@stellarsoundsstudio.com
Thanks for Listening!
Thanks so much for joining us again this week. Have some feedback you'd like to share? Leave a note in the comment section below!
If you enjoyed this episode, please share it using the social media buttons you see at the bottom of the post.
Do you have any questions (and would like to hear yourself on the Open Sky Fitness Podcast)? Click on the link on the right side of any page on our website that says "Send Voicemail."
And finally, don't forget to subscribe to the show on iTunes to get automatic updates. It's free!
Thanks for listening/reading Episode 128- Strength Training Made Simple with Lou Schuler! We hope you have gained more knowledge on how to be a healthier you!