Nina Teicholz: The Big Fat Surprise – Ep. 13
The Big Fat Surprise of Nutrition
Meet Nina Teicholz, author of The Big Fat Surprise: Why Butter, Meat and Cheese Belong in a Healthy Diet. Nina is an investigative reporter who dove into the history of the low-fat diet craze and made some frightening, yet amazing discoveries. Turns out saturated fat is good for us!
It turns out there was one man, Ansel Keys, who lead the crusade to fight heart disease in the 1950's. He believed saturated fat was the root cause of atherosclerosis, by raising the level of cholesterol in the blood. Keys conducted a famous study, The Seven Countries Study, that proved people living on a low-fat diet were less likely to have heart attacks. This study blazed the trail for the modern American diet, better known as the USDA Food Pyramid. What we didn't find out until years later is that there were actually 22 countries in Keys Seven Country Study, but he chose not to include the other 15 that didn't support his hypothesis. He basically cherry picked the data that best supported his hypothesis. Oops!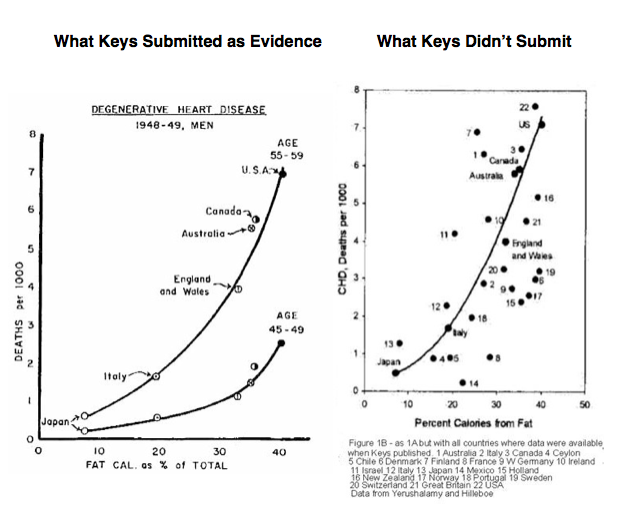 Nutrition in the USA
The best part of all of this, is that the American Heart Association (AHA) took what Keys told them as fact and started advising the US public to start eating a low-fat diet. Well, since then, things have certainly taken a turn, and the US population has grown fatter and much more unhealthy in the last 60 years.
This is all just the tip of the iceberg. Teicholz did her research to find out if there is actually any studies done to support the low-fat diet hypothesis. To the contrary, she found just the opposite. Eating a high-fat, low-carb is much more healthy.
What You'll Hear on the Show
This is just a taste of the things we talk about in the hour long interview. Nina also tells use why cholestarol is not an indicator of heart disease, how we jumped the gun when it comes to including woman and children in the low-fat diet and what foods you should be avoiding at all costs.
Here's how you can pick up Nina's book, The Big Fat Surprise: Why Butter, Meat and Cheese Belong in a Healthy Diet. You can also download her book on Audible, if you're too busy to sit and read. If you're interested in reading the article that sparked my attention, check out this post in the Wall Street Journal.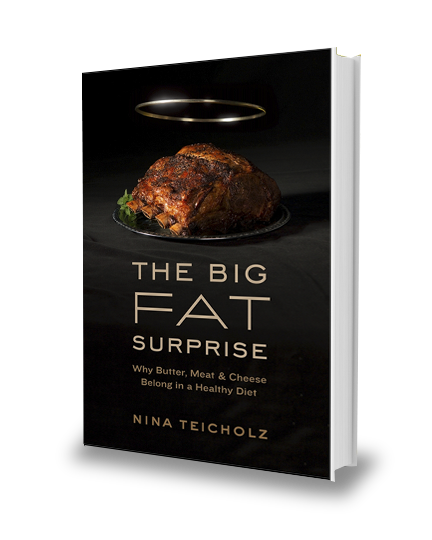 If you enjoy this interview and the content we're providing, please like leave us a review on iTunes and like us on Facebook, Twitter and Instagram!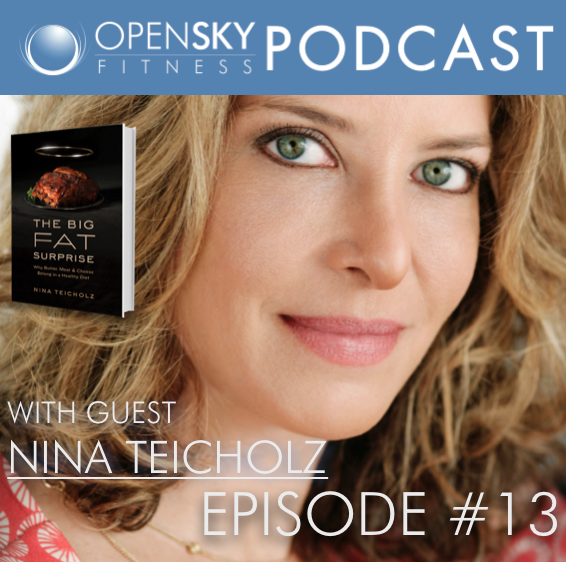 Join The Open Sky Fitness Podcast Group!
That's right! We have a closed Open Sky Fitness Podcast group  on Facebook where you and everyone have the opportunity to talk about your health and fitness goals in a safe environment. We post workouts and start discussions about how to be strategic around finding a healthier you. Check it out!
Start Building Your Own Workouts and Meal Plan!
Download Results Tracker here!
Click To Download Home Workout Templates or text the word, "lifting," to 33444 to download the templates. 
Download the OSF Food Journal Now!
Have a Question or Review for Rob or Devon?
We love answering questions and getting feedback from you, our listener! If you have any questions to ask us, want to share a review of the show, or tell us any suggestions for guests/topics that you think would be great to have on the show, just email Rob at rob@openskyfitness.com or Devon at devon@openskyfitness.com or you can also leave us a review at www.openskyfitness.com/review, ask a question in the closed Open Sky Fitness Facebook Group and even text OSFreview to 33444 to get the link.
RESOURCES MENTIONED DURING THE SHOW:
To Download Rob's FREE workout templates click below**
Ask Rob a Question or tell him what is working for you: Email Rob@OpenSkyFitness.com
To leave a Review for Rob and the Open Sky Fitness Podcast CLICK NOW!  Ratings and reviews are extremely helpful and greatly appreciated! They do matter in the rankings of the show and I read each and every one of them.
Contact our amazing sound engineer Ryan? Send him an e-mail here: info@stellarsoundsstudio.com
Thanks for Listening!
Thanks so much for joining us again this week. Have some feedback you'd like to share? Leave a note in the comment section below!
If you enjoyed this episode, please share it using the social media buttons you see at the bottom of the post.
Do you have any questions (and would like to hear yourself on the Open Sky Fitness Podcast)? Click on the link on the right side of any page on our website that says "Send Voicemail."
And finally, don't forget to subscribe to the show on iTunes to get automatic updates. It's free!
Thanks for listening/reading Episode 13 – Nina Teicholz: The Big Fat Surprise! We hope you have gained more knowledge on how to be a healthier you.