How to Build Your Own Workout Program – Ep. 59
How to Build Your Own Workout Program
One of the hardest parts about going to the gym for most people is they don't know what to do once they get there.
The latest Open Sky Fitness Podcast will help you with that problem. Rob & Ryan discuss the in's and out's of creating your own personal workout program, by providing templates and a list of over 60 exercises you can easily plug in and get started today.
We discuss the 6 major muscle groups that should be included in order to maximize your time. Because let's face it, nobody wants to spend one minute more than they need to in the gym. Unless of course that's your thing. That's cool, let your gym freak flag fly. 🙂
Once you determine how many days a week you can hit the gym, it's all about designing a weekly workout split that will help you reach your goals. We provide that!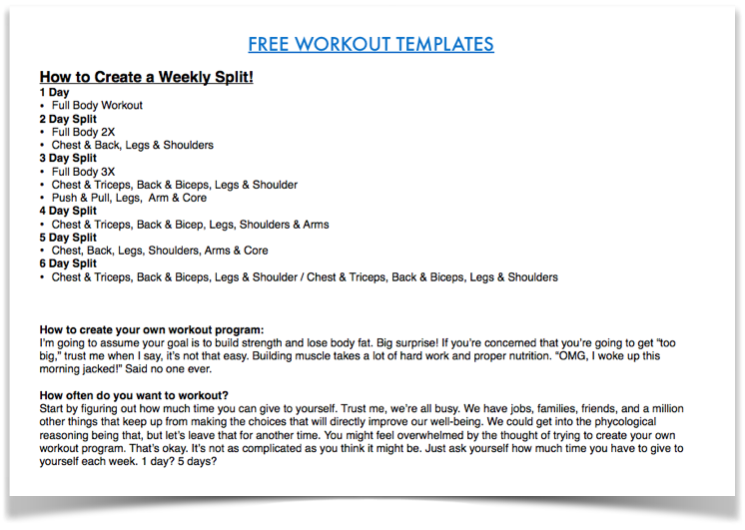 As you can see from the sample above, we have a large variety of programs you can choose from!
In this Episode, You'll Learn:
How to squeeze a workout routine into your busy schedule
The right amount of sets you need to do for each exercise
What's the best rep range?
The difference between Pushing & Pulling muscle groups
Proper amount of rest time needed between sets
Getting results by forcing your body to adapt
New exercises you may never have thought of
Thanks for Listening!
Thanks so much for joining us again this week. Have some feedback you'd like to share? Leave a note in the comment section below!
If you enjoyed this episode, please share it using the social media buttons you see at the bottom of the post. Also, please leave an honest review for The Open Sky Fitness Podcast on iTunes! Ratings and reviews are extremely helpful and greatly appreciated! They do matter in the rankings of the show, and I read each and every one of them.
If you have any questions (and would like to hear yourself on the Open Sky Fitness Podcast), click on the link on the right side of any page on our website that says "Send Voicemail."
And finally, don't forget to subscribe to the show on iTunes to get automatic updates. It's free! Download Templates