First Month Building Muscle – The Workout
As I mentioned in my last post, I started gaining muscle mass after I finished the Malibu Triathlon in September.  Here's a pic of a friend and I just before the race. Triathlon training is 6 days a week of cardio with one or two days of weight lifting.  It's hard to hold onto any real muscle mass when your burning so many calories each day biking, swimming and/or running.  Even though I was very lean(probably 5% body fat), I still felt weak in my upper body and wanted to have move size.  I needed to make a significant change, but I didn't have a goal associated with it to light a fire under my butt and get me motivated. Then one day, a trainer friend Jim Ridarsick at In Training Gym suggest I compete in a Men's Physique competition.  I have to admit, I thought he was nuts at first.  I thought he was talking about "Body Building" which had never interested me.
"Men's Physique is different," he said. "It's natural and it's more about symmetry and presence on stage."  I looked into it.  This was exactly what I needed!  I needed a goal that was going to push me to work hard at gaining muscle, but more importantly, challenge me to take my body to a level that it's never experienced.  I had the goal, I had the timeline and I had the want to do it.  What else did I need?  Oh yeah, I needed the "how."  How was I going to get there?  I'm sure that's why most of you are reading this post.  Just shut up Rob and tell us what you did so we can do it too.  You got it!
In September I changed my workout from 95% cardio to 95% weight training.  Yep, I flipped my workout program upside down.  I went from working out 6 days a week to 3 days a week.  Monday, Wednesday and Friday lifting with no cardio on the off days.  I would take a boxing class or go for a run once in a while if I felt like I needed to burn off some excess energy, but other then that, no cardio. For the first month I did the same workout every M-W-F.  I wanted to make sure I was increasing my strength and giving myself a day of rest in between each workout.  I made some serious increases in strength that first month.
Here's the workout:
Squats
Leg Extensions
Leg Curls
Dumbbell Pullovers
DB Incline Chest Press
Seated Cable Row
DB Chest Press
Barbell Curls
Seated DB Tricep Press
Pull Ups (Max)
Dips
Standing Calf Raise
Crunches
My goal was to complete 2 sets at 10 reps each before moving on to the next exercise, with the exception of Pull Ups which was for max reps each time.  If I succeeded, I increased my weight the next workout. If I failed, I stayed at that weight until I could complete all 10 reps.  My Squats jumped from 135 to 275. Leg Extensions: 90 to 230! DB Bench Press: 70 to 90.  I was seeing some real growth in my strength, but I wasn't gaining weight.  Why?  Well, it's like they say, Fitness Starts In The Kitchen!  Without the right food and supplements I was spinning my wheels. I needed to change the way I was eating to help my body build and repair itself.  It was time to make some changes to my nutrition, but I'll let you know about that in my next post.
If you'd like a PDF of this workout or have any questions, leave a comment or shoot me an email at rob@openskyfitness.com.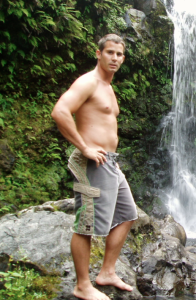 Me on my honeymoon in 2008 at 186 pounds.  I wasn't working out at the time. This was me holding in my gut for the camera!