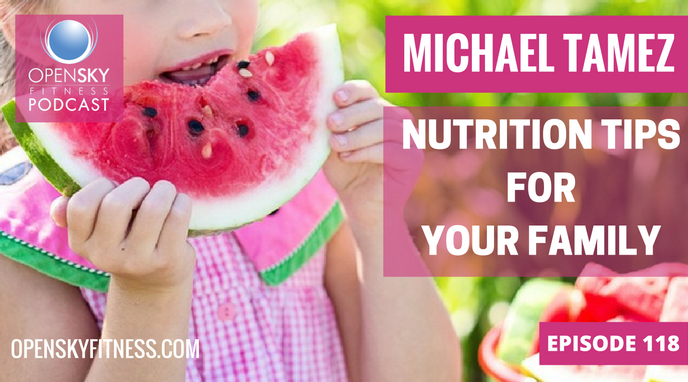 Michael Tamez: Nutrition Tips For Your Family- Ep 118
Deciding to make a change towards turning your life around by eating better, exercising more, and becoming an overall healthier you can be liberating, but also challenging.
A health journey is much easier when there is someone there to support you each day.
But what do you do if the people closest to you aren't 100% with you for your health goals? How can your family and relationships continue to grow when you want to make significant life changes?
What can you do to help your loved ones eat better too? Where do you even begin talking to them about living a healthier life?
As part of our October Nutrition Month, this week, Wellness Author and Health Coach, Michael Tamez, joins Devon and I as we share our favorite nutrition tips for the family.
Have a specific question about nutrition?
If you have any specific questions or concerns about nutrition, contact us by email at rob@openskyfitness.com and devon@openskyfitness.com.
Talk about nutrition with us!
We've already been discussing nutrition and motivation tactics on the Open Sky Fitness Podcast Facebook Group. It's a great group to talk with other people about health, share tips, and encourage each other to keep living a healthy lifestyle. Click here to join the conversation: https://www.facebook.com/groups/1794246394138633/
Each week, we'll be discussing a different nutrition topic in the following order:
Nutrition Topics
Week 1– Which Popular Diet is Best for You?
Week 2–Kitchen Clean Out Hacks
Week 3– Nutrition Tips for Your Family
Week 4– Convenient Foods and Meal Prep Hacks
Week 5– Nutrition Tools
Egg Nutrition: Is There a Big Difference?
Devon and I love receiving and answering questions from our listeners and this week we received a question via our Open Sky Fitness Podcast Facebook Group about egg nutrition.
So, does the size and color of the egg/yolk make a huge difference as far as how healthy it is to eat?
To begin, the egg color really depends on the breed of the chicken. If you notice that the eggs you buy are larger than other eggs, they most likely came from an older chicken. Why does this happen? As a chicken ages, they lay different sized throughout their life from small (younger chicken) to large (older chicken). As far as quality though, size doesn't matter as much as the color of the yolk.
The egg's yolk will vary in color depending on the living environment that is provided for the chicken. If a chicken is kept inside all the time, in a cage, and with limited light, then the yolk will be lighter. If a chicken is naturally raised and allowed to be outside in the sun (Vitamin D!) and to eat better food such as bugs to receive real natural nutrients, the yolk will be darker.
To conclude, if the yolk is darker, it's better for you to eat that compared to light colored yolk.
To listen to the entire explanation, start listening to the podcast at the 7:15 mark. 
"Your Process Is Your Result"
Throughout your health journey, there will but a lots of ups and downs. You may feel discouraged at times, but just remember that "the process is the result." Sometimes we don't see consistent results in our health and fitness. Maybe you lose 4 pounds in a month, but the next month you only drop 2 more pounds. Don't give up just yet.
Devon and I are here to tell you that it's okay that you don't see consistent patterns as you work towards your health goal. Life happens and it's filled with different surprises, new events, and sometimes difficult challenges. Pick yourself back up and continue on your health journey.
Your health process will lead you to the result you want. 
How to Begin a Healthy Journey as a Family
"(The source of our health struggles) is not the physical weight that we hold onto for years or for months. It's the mental and emotional poisons that weigh us down. These poisons are heavier than physical weight on our bodies."- Michael Tamez
To begin your own health journey, you have to find the reason why you desire this change in your life. Changing your health does not only focus on the physical aspect, but the mental and emotional parts too.
We're all on a health journey and conquering our health struggles is not as simple as just changing our diet. To really begin this journey, we need to find the source of the problem within ourselves.  And in that moment, that's when we may really need our family's support. To really connect with your family or close loved one about your desire to live healthy, talk to them.
Have a heart-to-heart discussion about what is happening internally and why you want their support during your health journey.
What if Your Family is Not Concerned about a Healthy Lifestyle?
If your family is unsupportive, don't get angry or frustrated. Rather than arguing about it, ask them questions about their health, thoughts, and needs. Don't attack or blame anyone because that will create anger and frustration in your relationship with them.
Everyone is on their own health journey and that includes the members of your entire family. Don't force your family to be on the same health journey as you or to start their own if they're not ready for it yet.
What else can you do? Approach the discussion with love. Ask them what they need for their own health and what they want too.
The Family That Cooks Together, Bonds Together
There are several, simple ways to incorporate healthy food and relationship bonding at the same time with your family.
Cook dinner together and share tasks so that everyone takes part in creating the meal. Cooking creates interactions and a deeper presence within each other's lives.
Have a sports fan in the family? Bond over sporting events by making a snack together such as an avocado dip for chips.
How to Get Kids Interested in Nutritious Foods
Make food a learning experience for children. The easiest way to do this is to allow them to help in the process of creating the food and/or meal.
Ask them to help you with simple tasks like making a salad dressing. Not only will they begin to love cooking because you're allowing them to be part of the process, but they'll be more interested in healthier foods too.
Start a family vegetable garden in the backyard. Your kids and the rest of the family will be so happy and eager to eat a salad that grew because of their hard work!
Food is another great way to teach children how nutritious foods help our bodies grow and become strong. There are many available images out there that demonstrate the correlation of foods to body parts and how they look so similar.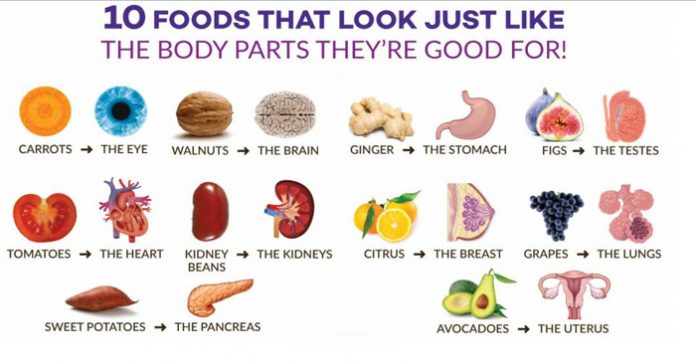 Source: http://www.dietoflife.com/amazing-foods-resemble-body-parts-beneficial/ 
About Michael Tamez
Michael Tamez is an Institute for Integrative Nutrition (IIN) Holistic Health Coach, a certified Reiki and Kahuna energy healing practitioner, and is listed on the national board for the American Association of Drugless Practitioners (AADP).
Michael's personal health transformation journey began when was 13 years old. During that time, he was
was obese, had severe sleep apnea, high blood pressure, gum disease, and resentment for himself. By transforming his relationship with food, Michael was able to reverse all of those conditions. All of his life changes led him to write the book, Transformative Nutrition: The Ultimate Guide to Healthy and Balanced Living
Michael's education has equipped him with extensive knowledge in holistic nutrition, health coaching, exercise/fitness support, and preventive health. His number one goal is to be in his client's corner, supporting them along their journey to making lifestyle changes that produce real and lasting results. To read Michael's entire life story, click here.
Start Building Your Own Workouts and Meal Plan!
Download Results Tracker here!
Click To Download Home Workout Templates or text the word, "lifting," to 33444 to download the templates. 
Download the OSF Food Journal Now!
Check Out The Brand New Open Sky Fitness Podcast Facebook Page
That's right! We've started an Open Sky Fitness Podcast group, where you and everyone will have the opportunity to talk about your health and fitness goals in a safe environment. We'll be posting workouts and starting discussions about how to be strategic around finding a healthier you. Check it out!
Have a Question or Review for Rob or Devon?
We love answering questions and getting feedback from you, our listener! If you have any questions to ask us, want to share a review of the show, or tell us any suggestions for guests/topics that you think would be great to have on the show, just email Rob at rob@openskyfitness.com or Devon at devon@openskyfitness.com or you can also leave us a review at www.openskyfitness.com/review and even text OSFreview to 33444 to get the link.
What You'll Hear on This Episode
0:00 Open Sky Fitness Introduction
1:15  Opening comments with Rob and Devon
7:15  Why are some eggs so large? What do the different labels for eggs mean?
13:15  Introduction to Michael Tamez
14:25  How did your health journey begin?
18:00  What was your wake-up call? What internal conversation did you have with yourself?
19:40  What is sleep apnea and what can happen to the body?
21:50  Who can have sleep apnea?
24:00  When did you have your revolution to change your life?
27:30  How would you recommend someone taking a look at their past and healing from it? How do we let go of traumatizing events?
33:15  How can you get your entire family on board to help your health journey?
37:40  Take Vitamin L: Love in your daily life
39:45  How to start the health journey with your family: Don't force it
42:20  How to get everyone in the kitchen and bond together.
44:00  How can women connect with their boyfriends and men in the kitchen?
52:00  Why overeating is so common in the US.
55:30  Michael's way of eating
56:10  How to get kids interested in eating healthy foods
1:05:00  How to tell what foods aren't good for children's bodies. What signs to look for.
1:08:00  How to connect with Michael Tamez
1:13:45  Closing comments with Rob and Devon
1:16:25 Open Sky Fitness Closing
RESOURCES MENTIONED DURING THE SHOW:
To Download Rob's FREE workout templates click below**
Ask Rob a Question or tell him what is working for you: Email Rob@OpenSkyFitness.com
To leave a Review for Rob and the Open Sky Fitness Podcast CLICK NOW!  Ratings and reviews are extremely helpful and greatly appreciated! They do matter in the rankings of the show and I read each and every one of them.
Contact our amazing sound engineer Ryan? Send him an e-mail here: info@stellarsoundsstudio.com
Thanks for Listening!
Thanks so much for joining us again this week. Have some feedback you'd like to share? Leave a note in the comment section below!
If you enjoyed this episode, please share it using the social media buttons you see at the bottom of the post.
If you have any questions (and would like to hear yourself on the Open Sky Fitness Podcast), click on the link on the right side of any page on our website that says "Send Voicemail."
And finally, don't forget to subscribe to the show on iTunes to get automatic updates. It's free!
Thanks for listening/reading Episode 118-Nutrition Tips for Your Family! We hope you have gained more knowledge on how to be a healthier you!