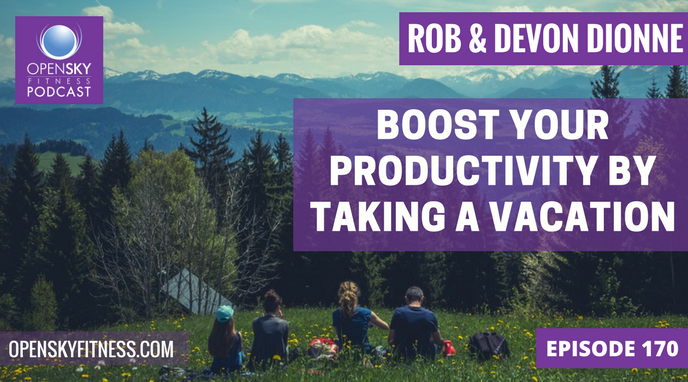 Boost Your Productivity by Taking a Vacation – Ep. 170
"Taking a vacation and breaking the pattern will actually makes us much more happier, less depressed and help us feel like we're living a much more fulfilling life." – Devon Dionne
Devon and I were recently inspired by a friend of ours to talk about the importance of taking vacations for the sake of our health and relationships. After learning that this friend hadn't taken a decent vacation in about 6 years and was experiencing anxiety attacks due to stressful events, we wanted to share how you can take a well-deserved (short or long vacation), what are the awesome benefits of taking some time off, and why you shouldn't feel afraid to treat yourself to a little bit of TLC and R & R.
Leaving for vacation at least once a year is good, but a person's health can really be affected if they don't go on vacation for several years.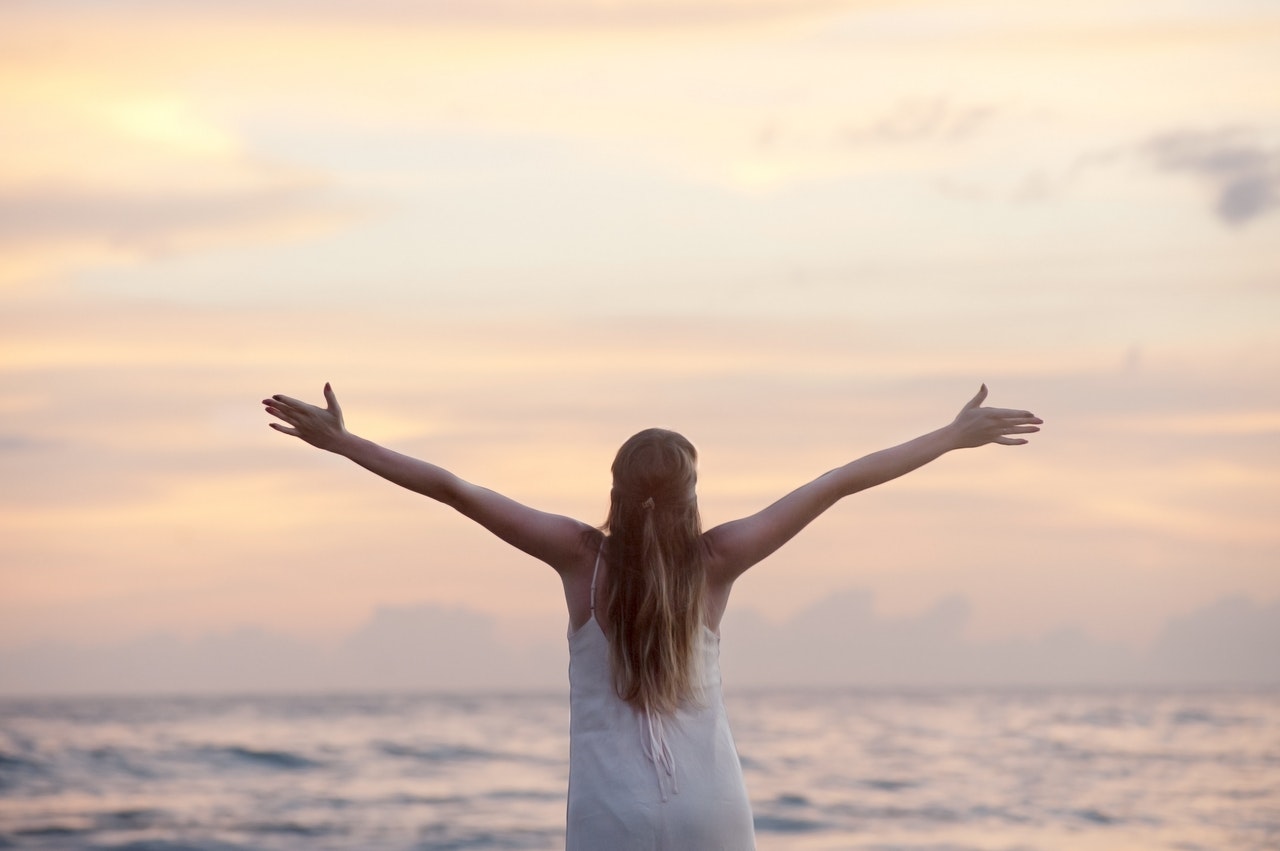 Why Americans Don't Go on Vacation
55% of Americans who do have paid vacation time don't even take all of the days that are offered to them.
Americans go on fewer vacations than any other productive country in the world. Even if employers will pay for vacation time, many of us still refuse to take advantage of this great opportunity to get out of the office and spend some quality time with ourselves or family.
Many times we decide to not take a vacation out of fear. 
We may instantly think of hard-working Baby Boomers, but Millennials actually have the most amount of fears. In fact, many of them can't even tear themselves away from their work computer and emails to enjoy their vacation.
Some of these anxious thoughts include:
There will be piles of work to do when they return.
Feel like no one else can do their job.
The company will be greatly affected if they're not present.
Cannot financially afford it.
Believe taking time off is harder the more you grow up in the company.
Think they need to show complete dedication to the company.
Stressed that their boss is watching their every move.
Afraid of being replaces by someone else.
Be More Productive by Getting Out of the Office
Despite all of our fears, we're actually creating a ton of value by getting out of the office when we leave for vacation or attend important events. 
Some career benefits include:
Coming back super energized.
Feeling more motivated at work.
Having a relaxed and cleared mind.
Experiencing less stress.
Getting an immediate boost in the immune system.
Having an easier time coming up with new ideas.
Being offered more raises and promotions.
Yes! You read that last line correctly! It was found that people who take more vacation days are more likely to be offered more raises and promotions. One reason for this is that a vacation can help improve creativity and that is a highly sought after skill by employers.
Where to Invade Next Official Trailer 1 (2016) – Michael Moore Documentary HD
How Vacations Affect Our Relationships
"We're working to have a good life with the people that we love and we often forget that. We think that life is all about making money and it's really not." – Devon Dionne
People who don't take any vacation time feel like they have no time for anything and that includes family events, spending time with friends, attending life events or even going to something at their child's school like a play or concert.
They feel like they're victims of their work life and cannot take time off for other events.
If something is important to you, you should go and not let work get in your way. Otherwise, we miss out on important events and this can greatly affect our relationships.
We don't need to plan a long, extravagant trip to get the full benefits. Even just going somewhere within a 2 hour drive for a mini-vacation can  help boost your relationships. Simply talking about the trip and planning it can really motivate you and give you something to loo forward to in the future.
How to Plan a Vacation
"Do something that's little bit different than what you normally do and get outside your comfort zone. That's going to create the memories that you'll always remember and that you'll share with other people." – Rob Dionne
People who plan their vacation are happier in every category of their life. Knowing that you're going on vacation is going to make you happier. Better yet, planning and going on an active vacation can help you create a bigger bond with everyone that you're with compared to just lounging at the pool or spending the entire time at a spa. Your vacation can include hiking, camping, meditation, or site-seeing for example.
Rob & Devon's Top Vacation Tips
Be prepared for anything
Set up an email message to let people know you're on vacation
Pack early on
Make lists of things you'll need to have a check list before you go
Don't bring too much cash with you because there are ATMs everywhere
Avoid sketchy areas
Don't pack too much and leave room in your bag for souvenirs
Take lots of pictures to remember the moments
Do something fun with those photos like make an album
"Start saving your money for the things you really want. If you're spending all your money on Starbucks coffee, it won't get you anywhere." – Rob and Devon Dionne
Check Out our New Sponsor – ButcherBox!
ButcherBox delivers 100% grass-fed beef, free range organic chicken and heritage breed pork directly to your door. Think of them as the neighborhood butcher for modern America.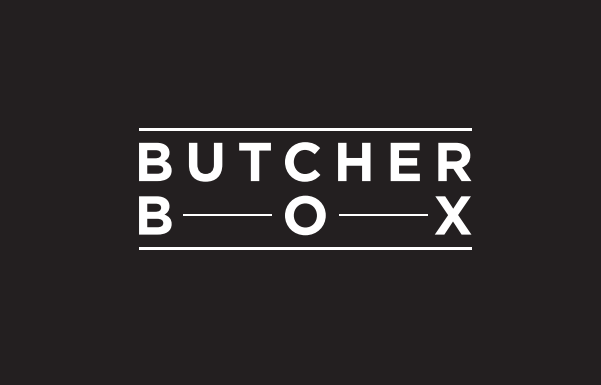 Join The Open Sky Fitness Podcast Group!
That's right! We have a closed Open Sky Fitness Podcast group on Facebook where you and everyone have the opportunity to talk about your health and fitness goals in a safe environment. We post workouts and start discussions about how to be strategic around finding a healthier you. Check it out!
Start Building Your Own Workouts and Meal Plan!
Download Results Tracker here!
Click To Download Home Workout Templates or text the word, "lifting," to 33444 to download the templates. 
Download the OSF Food Journal Now!
Have a Question or Review for Rob or Devon?
We love answering questions and getting feedback from you, our listener! If you have any questions to ask us, want to share a review of the show, or tell us any suggestions for guests/topics that you think would be great to have on the show, just email Rob at rob@openskyfitness.com or Devon at devon@openskyfitness.com or you can also leave us a review at www.openskyfitness.com/review, ask a question in the closed Open Sky Fitness Facebook Group and even text OSFreview to 33444 to get the link.
What You'll Hear on This Episode
00:00 Open Sky Fitness Introduction
1:15  Opening comments with Rob and Devon
3:40 Check out last week's episode – Episode 169 with Pat Flynn: Get Fit with a Generalist Mindset
4:05  Today's discussion: why taking a vacation can be just the thing you need to get more stuff done
5:00  Join a great health and wellness community with the Open Sky Fitness Facebook Group!
5:20 Learn about our new 8 Week Body Weight & Meal Plan Challenge
7:00  Meet our New Sponsor – ButcherBox
9:20  Benefits of Vacations
11:00  Vacations Around the World – How the USA compares to everywhere else
14:00  Why we should go on vacation at least twice a year
17:30  Reasons why Americans don't take advantage of vacation time
21:00  Living by a 4 Hour Work Week
23:00  Creating value at work by taking a vacation
28:00  How not taking a vacation affects your work and relationships
35:00  Benefits from going on vacation
38:30  How does going on a vacation affect our health?
42:55  How to have a successful vacation
46:00  Rob and Devon's Tips on Vacation
53:30  How to afford a vacation
59:50  Economical reasons why you should take a vacation
1:01:10  Closing comments with Rob and Devon
1:03:10 Open Sky Fitness Closing
RESOURCES MENTIONED DURING THE SHOW:
Get Fit with Free Downloads!
To Download Rob's FREE workout templates click below**
Ask Rob a Question or tell him what is working for you: Email Rob@OpenSkyFitness.com
Support This Podcast
To leave a Review for Rob and the Open Sky Fitness Podcast CLICK NOW!  Ratings and reviews are extremely helpful and greatly appreciated! They do matter in the rankings of the show and I read each and every one of them.
Contact our amazing sound engineer Ryan? Send him an e-mail here: info@stellarsoundsstudio.com
Thanks for Listening!
Thanks so much for joining us again this week. Have some feedback you'd like to share? Leave a note in the comment section below!
If you enjoyed this episode, please share it using the social media buttons you see at the bottom of the post.
Do you have any questions (and would like to hear yourself on the Open Sky Fitness Podcast)? Click on the link on the right side of any page on our website that says "Send Voicemail."
And finally, don't forget to subscribe to the show on iTunes to get automatic updates. It's free!
Thanks for listening/reading Episode 170 – Boost Your Productivity by Taking a Vacation! We hope you have gained more knowledge on how to be a healthier you.