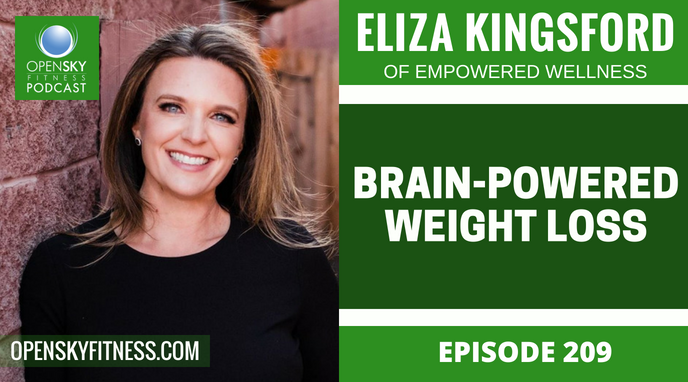 Brain-Powered Weight Loss with Eliza Kingsford – Ep. 209
We get messages from all over and throughout our entire lives about who we are and what we should be like. Whether it's from the media, family, friends, peer groups, classmates, movies, or TV, we're constantly bombarded with being told that our bodies need to look a certain way in order to be accepted by society.
When we feel out of control, we feel like the only thing we have control over is our bodies.
This week, we have an amazing interview for you with licensed psychotherapist, Founder of Empowered Wellness, Executive Director of Wellspring Camps, and author of Brain-Powered Weight Loss, Eliza Kingsford.
As you listen, Eliza shares the common relationships that we have with food through coping mechanisms, comfort foods, celebrations, or addictions. Then, she shares the actions we can take today to improve how we see food, ourselves, and our relationship with others
Exercises you can begin today to shift your mindset about yourself and your relationship with food:
Awareness
Find a Replacement
Consistency
Have an Intention or "Why"
Mindfulness
Repetitive Action
Brain-Powered Weight Loss
Get your copy of Brain-Powered Weight Loss by Eliza Kingsford here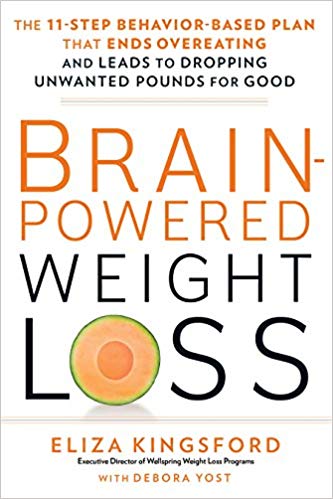 Losing weight and successfully maintaining it over the long term is not as much about what you put in your stomach; it's more about what's happening in the brain. In Brain-Powered Weight Loss, psychotherapist and weight management expert Eliza Kingsford shows that more than 90 percent of people who go on diet programs (even healthy ones) fail or eventually regain because they have a dysfunctional relationship with food. Changing this relationship by changing the way you think about and behave around food is what it takes to permanently achieve weight-loss success.
Kingsford's 11-step first-of-its-kind program enlists dozens of mind-altering and behavior-changing exercises and techniques and shows you how to:
• Identify and reverse the conscious and unconscious thinking errors and food triggers that lead to the behaviors that drive our food decisions.
• Let go of the mindset of going on or off a diet in favor of a conscious quest to pursue a lifestyle of healthy eating and everyday activity—one that can last forever.
• Successfully use what Kingsford calls "dealing skills" to outsmart high-risk situations, tame stressful times, and prevent an eating "slip" from leading to a setback or all-out binge.
• Find out if you have what emerging research shows is an addiction to certain high-fat and sugar-added, processed foods that can be as powerful as addiction to cigarettes and narcotics.
• Design a personal healthy eating program built on Kingsford's 10 Principles of Healthy Eating.
Wellspring Camps Is A Life Changing Experience
About Eliza Kingsford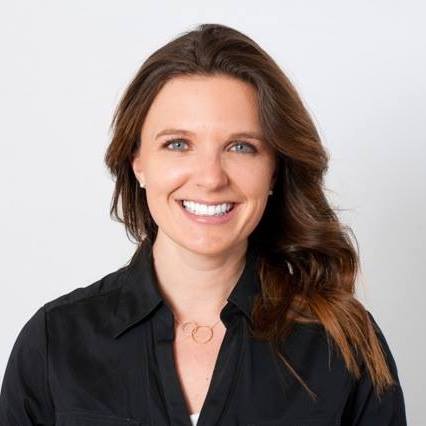 Eliza Kingsford is a Licensed Psychotherapist specializing in weight management, eating disorders and body image. Eliza is executive director of Wellspring Camps for teens and young adults, which follows the same holistic weight loss approach outlined in her new Brain-Powered Weight Loss book. She is also a certified personal trainer, group fitness instructor, and a long-time athlete. Eliza became passionate about combining therapeutic intervention, nutrition, and exercise early on in her graduate studies at the University of Colorado. An experienced speaker and presenter, Eliza has appeared on various television shows (Dr. Phil, Dr. Drew, and Dr. Oz), at national conferences and workshops, and in various publications.
What You'll Hear on This Episode
00:00 Open Sky Fitness Introduction
1:15  Opening comments with Rob and Devon
1:30 Check out last week's show: OSF 208 – 8 Steps to Losing 65 Pounds with Jim Sydnor 
3:00 About today's episode with Open Sky Fitness Podcast Group on Facebook member, Jim Sydnor
3:40 What psychoanalysis is and how it can benefit our lives and relationships.
7:00 Sign up for our upcoming new  Sky Fit Challenge that starts on July 16!
9:00 Get ready for interviews with some of our Sky Fit Challenge members this week!
10:00 Introduction to Eliza Kingsford
11:15 What drew her in to study the relationships we have with food and why we spend so much time thinking about food.
13:30 How our childhood experiences can lead us to see food in a different way and shape our relationship with it as we move into adulthood.
14:30 What happens when we rely on comfort foods in order to cope with difficult moments.
18:00 How she came up with the title for her book, Brain-Powered Weight Loss.
20:00 How she's helping people change their relationship with food through therapy, meditation, and replacing old thoughts with new ones.
21:50 Why words like 'diet' or 'weight loss' are so taboo these days.
24:00 What people are truly looking for when they want to lose weight.
26:40 What might be happening in our lives to believe that weight loss is the only way to make us feel better.
31:00 Can we move from one obsession or addiction to another throughout our entire lives?
32:20 The concept of healthy obsession and how it can help us live healthier lives.
35:20 The differences between addiction and obsessively focusing on health.
37:00 What it takes to get to the point when you're really ready to start focusing on your health.
38:00 Step 3 of her 11 Step Program – Identify your Thinking Errors and Food Triggers.
39:10 Ten cognitive disorders that lead to wanted eating.
40:30 Over-generalization: What it is and how it affects our thinking.
41:50 Mental Filtering: Why we only focus on the negative when there are a lot of positives.
44:20 Why we disqualify the positive in our lives.
47:55 Jumping to conclusions: Why they're hazardous to our thinking.
49:20 Maximizing what we do wrong and minimizing what we do well.
51:00 Why we allow our emotions to dictate who we are and how we can shift our mindset to experience a different feeling.
52:50 Exercises you can begin today to shift your mindset about yourself and your relationship with food.
1:00:00 Final comments with Rob and Devon.
1:01:00 Open Sky Fitness Closing
RESOURCES MENTIONED DURING THE SHOW:
SAVE YOUR SPOT FOR THE
8 WEEK SKY FIT CHALLENGE IN JULY!
Join us for our next 8 Week Sky Fit Challenge that will start on July 16!
The challenge consists of:
8 Weeks of Equipment Free Bodyweight Workouts in 20 minutes or less. (No gym membership required)
SIMPLE Whole Food Meal Plan w/Tasty Recipe Cookbook Featuring 60+ recipes!
Foolproof Schedule so you know EXACTLY what you're supposed to do every day.
Access to our New Private Facebook Group – Sky Fit Challenge Group to share your progress with everyone as well as receive support and be held accountable.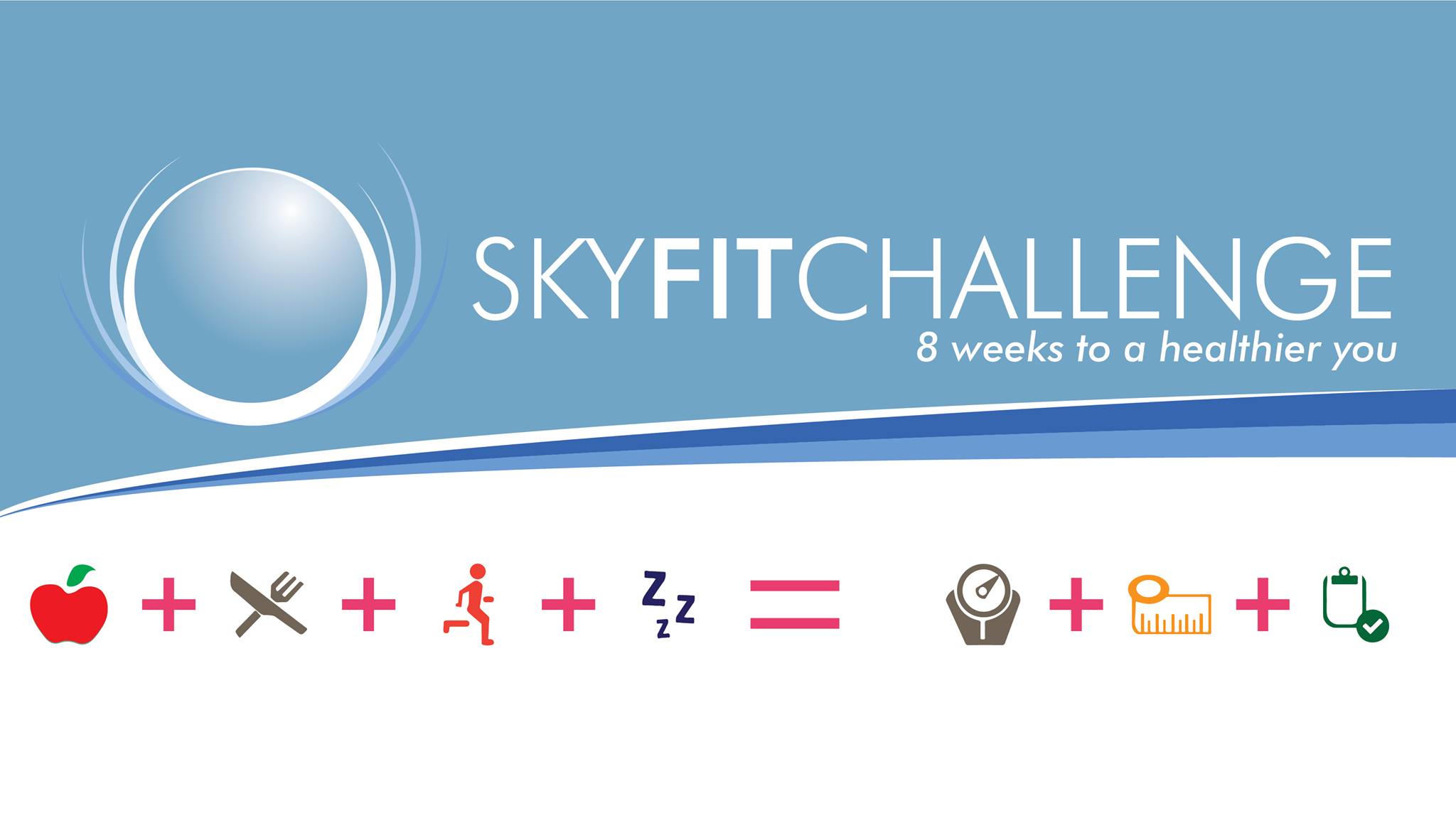 Join Our FREE 7 Day Paleo Rest
Simply go to 7DayPaleoReset.com to sign up now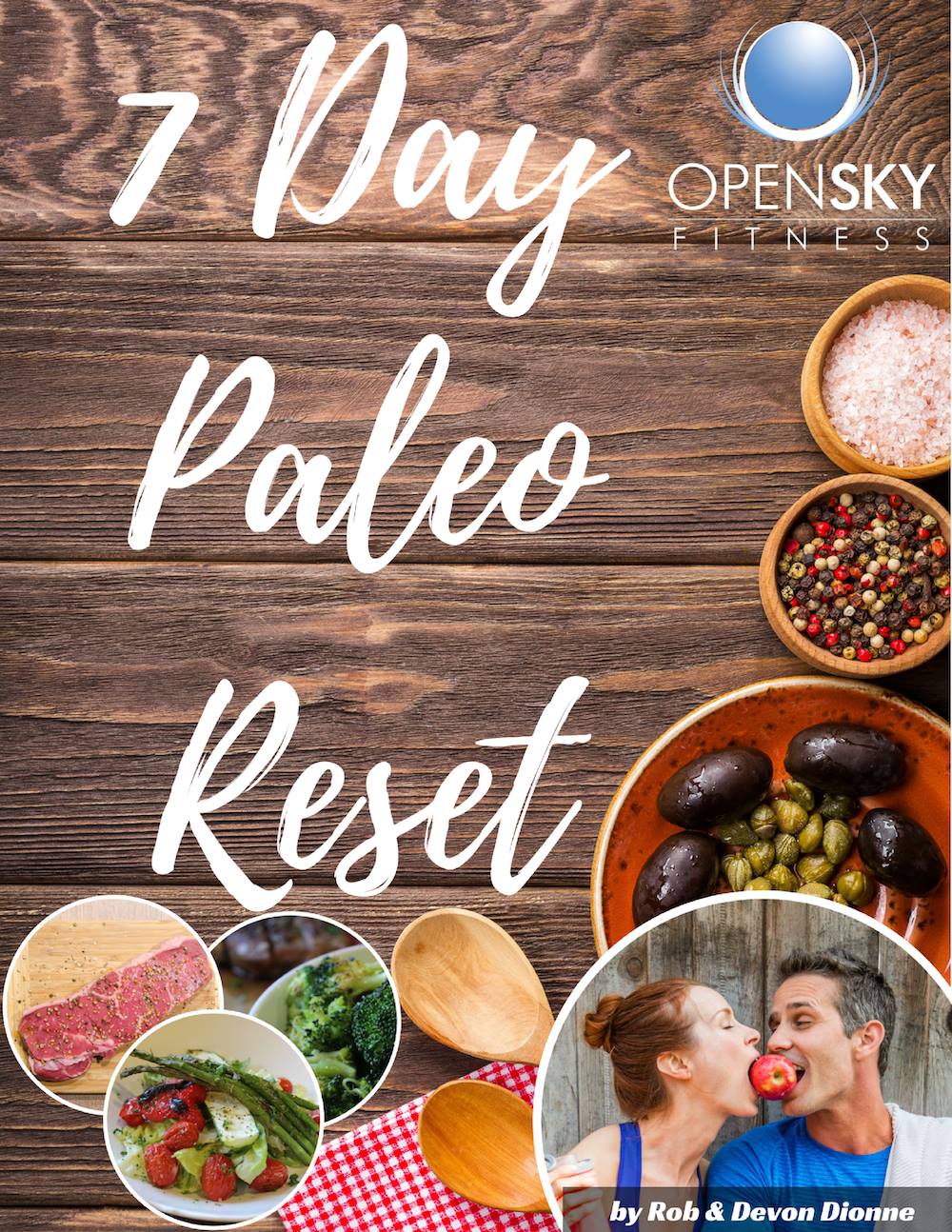 One of the best things you can do for your mind and body in your mission to get healthier is to focus on your nutrition. That's why we're allowing people to sign up now to join us for our next Free 7 Day Paleo Rest! It's all done via Facebook so no annoying emails that will fill up your inbox.
As part of the 7 Day Paleo Reset, we will provide you with:
Introduction to what the Paleo Diet is all about
7 Day guide to easy Paleo recipes
What batch cooking is and how to incorporate that into your lifestyle
Various content resources including generational eating habits, the importance of building a wellness community, and how to begin a new healthy lifestyle.
How to make an impact on your life and life a life full of wellness.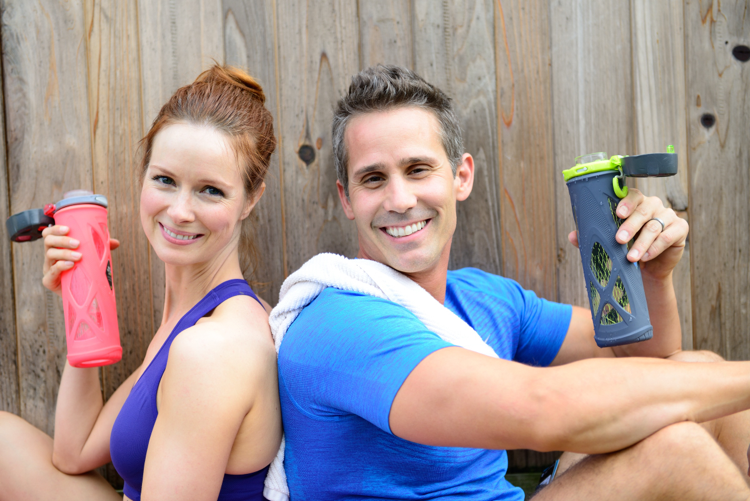 Look Out For Our Upcoming
Throw Back Thursday Podcast Episodes!
We'll be releasing new podcasts episodes on Thursdays that discuss previous episodes we've done, but we need your help! Go to the  Open Sky Fitness Facebook Group and tell us what your favorite episodes are. Then, Devon and I will re-listen to that episode, pick out the best parts and share even more insights on the topic.
We won't just be regurgitating the same information over again. Since we began this podcast, there's so much more information out their on health, nutrition, fitness, and personal wellness. So, each Thursday we'll really just be going deeper into your favorite topics!
Claim Your FREE Bacon + $10 Off
With Our Sponsor – ButcherBox
That's right! By listening to the Open Sky Fitness Podcast, you get the chance to get a free order of bacon plus $10 off your first ButcherBox purchase!!
ButcherBox delivers 100% grass-fed beef, free-range organic chicken, and heritage breed pork directly to your door. Think of them as the neighborhood butcher for modern America.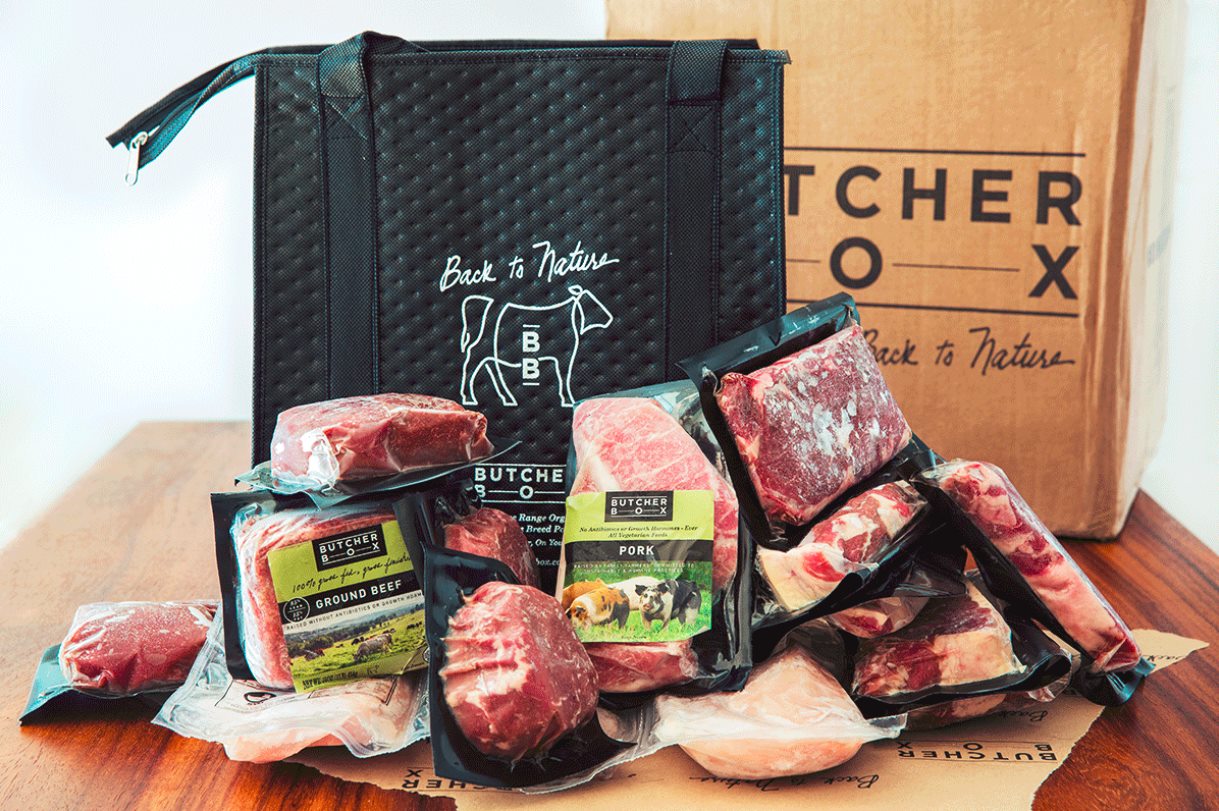 Join The Open Sky Fitness Podcast Group!
That's right! We have a closed Open Sky Fitness Podcast group on Facebook where you and everyone have the opportunity to talk about your health and fitness goals in a safe environment. We post workouts and start discussions about how to be strategic about finding a healthier you. Check it out!
Start Building Your Own Workouts and Meal Plan!
Download Results Tracker here!
Click To Download Home Workout Templates or text the word, "lifting," to 33444 to download the templates. 
Download the OSF Food Journal Now!
Have a Question or Review for Rob or Devon?
We love answering questions and getting feedback from you, our listener! If you have any questions to ask us, want to share a review of the show, or tell us any suggestions for guests/topics that you think would be great to have on the show, just email Rob at rob@openskyfitness.com or Devon at devon@openskyfitness.com or you can also leave us a review at www.openskyfitness.com/review, ask a question in the closed Open Sky Fitness Facebook Group and even text OSFreview to 33444 to get the link.
Get Fit with Free Downloads!
To Download Rob's FREE workout templates click below**
Ask Rob a Question or tell him what is working for you: Email Rob@OpenSkyFitness.com
Support This Podcast
To leave a Review for Rob and the Open Sky Fitness Podcast CLICK NOW!  Ratings and reviews are extremely helpful and greatly appreciated! They do matter in the rankings of the show and I read each and every one of them.
Contact our amazing sound engineer Ryan? Send him an e-mail here: info@stellarsoundsstudio.com
Thanks for Listening!
Thanks so much for joining us again this week. Have some feedback you'd like to share? Leave a note in the comment section below!
If you enjoyed this episode, please share it using the social media buttons you see at the bottom of the post.
Do you have any questions (and would like to hear yourself on the Open Sky Fitness Podcast)? Click on the link on the right side of any page on our website that says "Send Voicemail."
And finally, don't forget to subscribe to the show on iTunes to get automatic updates. It's free!
Thanks for listening/reading episode 209 – Brain-Powered Weight Loss with Eliza Kingsford! We hope you have gained more knowledge on how to be a healthier you.