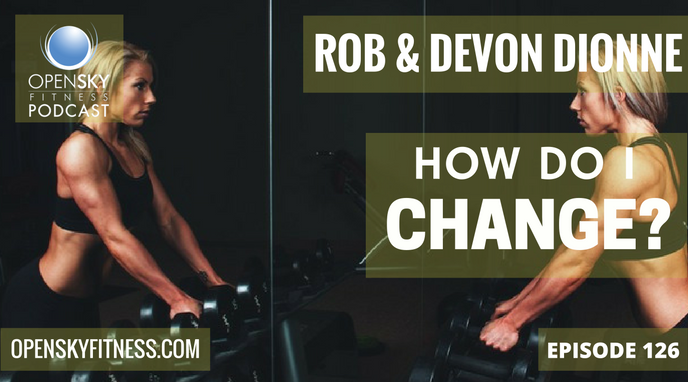 Change Your Life with Healthy Habits
"The intention is not the goal. The intention has to be the thought process behind the goal. Your intention should always include being joyful; especially when we're talking about health and improving your life. We often forget that this is a gift that we're giving to ourselves. Being healthy has nothing to do with anyone but ourselves." – Rob Dionne
Last week, Rob and Devon discussed how the power of intention can help navigate our health and wellness in the direction that we want to go. It can be difficult to change our ways because we're often looking for that quick fix to drop weight and be healthy for a short amount of time before going back to our old ways.
Fortunately, it's really not that hard to become healthier. You just have to make changes, be persistent, and have patience. 
A healthy lifestyle is truly a gift to ourselves and we can enjoy the process by taking in each moment and achievement.  We don't have to be hard on ourselves to see our health improve. We just have to swap our unhealthy habits for healthier ones. In fact, if we follow the 80/20 rule, 80% of our health benefits happen just because we make a 20% effort to change our ways on purpose.
This week, Rob and Devon share the same healthy habit tips that they tell their clients. With these easy health hacks, you can start implementing changes today to build a stronger, healthier body.
How Can I Begin to Change?
"We like to try to change everything at once and that's what most people do when they start a diet plan. This is why they end up crashing and burning because they try to go from 0 to 100 overnight. It's impossible to do that." – Rob Dionne
Let's face it, we're used to instant gratification, but we need to have patience if we want to get healthy the right way. When we follow the route to being healthy, all we have to do is just focus on 1-3 changes each week.
If we try to do too much at once like suddenly trying out a Ketogenic Diet, it can be too much on us and we're likely to quit and fall back into our old habits.
If we focus on even just one change instead of changing everything we do, all of the pressure and anxiety easily goes away.
It may sound too good to be true, but focusing on just even one task can provide a long-term benefit your health, relationships, well-being, internal thoughts, career, and more.
Take each week at a time to focus on 1-3 changes. You can choose to focus on just 1 very difficult task for the week OR maybe have 1-2 easy tasks and than the third is intermediate.
Change Your Nutrition
Weeks 1-2: Food Journal and More Water
The very first two things that both Rob and Devon recommend that their clients do if they want to eat better is to keep a food journal and to begin drinking more water.
Even before they meet with Rob and Devon, each client fills out their 3-day food journal. Not only does this it help you keep track of your diet, but also your emotions, hunger levels, moods, physical changes, and digestion. This will really help you recognize which foods may be affect your mind and body.
In addition to adding a food journal, add more water to your diet during the first or secondweek.
You should try to drink around 80-100 ounces each week. To help keep track and motivate you to drink more water compared to coffee, soda, energy drinks etc., place 5 rubber bands at the bottom of your water bottle. Every time you drink a full 20 ounces, move one of the rubber bands to the top of the bottle.
Week 3: Add in Non-Starchy Vegetables
When you want to change your lifestyle, focus on adding healthy habits and not taking anything away. Because you're so focused on creating healthy habits, you're not focusing on other things.
To make these healthy habits part of your new lifestyle, you have to add and add more things until there's no more room for any of your past bad habits.  These habits might include drinking too much coffee and soda or eating too much process food for example.
During the third week, Rob and Devon's clients begin to focus on eating better foods for their diet by beginning with non-starchy vegetables such as:
Broccoli
Asparagus
Cauliflower
Onions
Peppers
Artichokes
Eggplant
Heart of palm/Palmito
Snow peas
Celery
Radishes
Mushrooms
If you're not used to adding vegetables to your diet, begin by just adding one non-starchy vegetable to your daily diet and increase the amount of vegetables over time. Try to get to the point where you're eating non-starchy vegetables with each meal or 4-6 servings per day.
If you're not a big fan of vegetables nor fruits, take a daily multi-vitamin or supplements to ensure you're getting all the nutrition that your body needs.
Week 4: Add in Protein
During the 4th week of you health makeover, add in 1 source of protein a day:
Beef (grass-fed if possible)
Fish
Chicken
Pork
Eggs
Beans
Quinoa
Broccoli
Week 5: Add in Healthy Fats
During the 5th week, top off you diet by adding healthy fats:
Fish oil
High fat fish like Salmon
Avocados
Avocado oil
Coconut oil
Nuts
By the end of your 5th week, you should have implemented all of the following changes:
Keeping a food journal
Drinking 80-100 ounces of water each week
Eating non-starchy vegetables
Eating protein
Eating healthy fats
Life Changes with Exercise
Once you have a hold on nutrition, make exercise a habit to add to your daily week. Again, you want to take small steps. There's no rush to begin training for a marathon right off the bat.
Before you hit the gym, focus on exercising at home by building your own home workout. Even just taking a ten minute walk every day during the week can be life changing.
Once you've created a home workout for yourself, do that once a week. Then two the next week, then 3 HIIT workouts the following week.
Before you know it, the next step will be to look for a gym to go to!
Implementing Lifestyle Changes
To fully implement your new lifestyle changes and commit yourself to them, write it all on paper.
For example, you can write down what your intentions are, what your schedule is, or what healthy habit you want to add this week all in your fitness journal.
Create a schedule for everything: when you sleep, wake up , cook dinner, have meetings, and even time to relax. Use your time to relax to think about what you're grateful for, mediate, or write in your thoughts in your journal. These tasks can help put you in the right mindset to focus on the positive rather than the negative and prepare you to take on a new day.
If you want someone to be there with you each step of the way, ask a friend to be your accountability partner and to help you keep in check with yourself.
Start Building Your Own Workouts and Meal Plan!
Download Results Tracker here!
Click To Download Home Workout Templates or text the word, "lifting," to 33444 to download the templates. 
Download the OSF Food Journal Now!
Check Out The Brand New Open Sky Fitness Podcast Facebook Page
That's right! We've started an Open Sky Fitness Podcast group, where you and everyone will have the opportunity to talk about your health and fitness goals in a safe environment. We'll be posting workouts and starting discussions about how to be strategic around finding a healthier you. Check it out!
Have a Question or Review for Rob or Devon?
We love answering questions and getting feedback from you, our listener! If you have any questions to ask us, want to share a review of the show, or tell us any suggestions for guests/topics that you think would be great to have on the show, just email Rob at rob@openskyfitness.com or Devon at devon@openskyfitness.com or you can also leave us a review at www.openskyfitness.com/review and even text OSFreview to 33444 to get the link.
What You'll Hear on This Episode
00:00 Open Sky Fitness Introduction
1:15  Opening comments with Rob and Devon
10:20  How do I change?
16:00 It's okay not to focus on everything at once.
18:30  Don't forget to have intentions to follow through with your new, healthy habits
20:20  How to change your nutrition
25:10 Constantly add things in, don't take things out
26:00  Weekly nutrition add-ins
33:20  Life changes with exercise
36:00  Implementing lifestyle changes
41:00  Closing comments with Rob and Devon
48:20  Open Sky Fitness Closing
RESOURCES MENTIONED DURING THE SHOW:
To Download Rob's FREE workout templates click below**
Ask Rob a Question or tell him what is working for you: Email Rob@OpenSkyFitness.com
To leave a Review for Rob and the Open Sky Fitness Podcast CLICK NOW!  Ratings and reviews are extremely helpful and greatly appreciated! They do matter in the rankings of the show and I read each and every one of them.
Contact our amazing sound engineer Ryan? Send him an e-mail here: info@stellarsoundsstudio.com
Thanks for Listening!
Thanks so much for joining us again this week. Have some feedback you'd like to share? Leave a note in the comment section below!
If you enjoyed this episode, please share it using the social media buttons you see at the bottom of the post.
If you have any questions (and would like to hear yourself on the Open Sky Fitness Podcast), click on the link on the right side of any page on our website that says "Send Voicemail."
And finally, don't forget to subscribe to the show on iTunes to get automatic updates. It's free!
Thanks for listening/reading Episode 126- How Do I Change? We hope you have gained more knowledge on how to be a healthier you!
googlef7286f8ed680d335