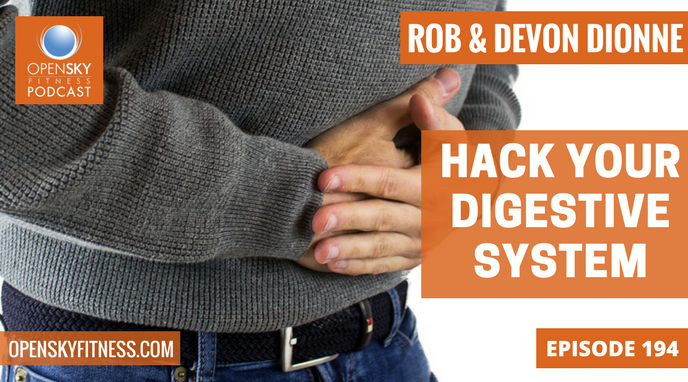 Hack Your Digestive System – Ep. 194
Learn all about probiotics, enzymes, hydrochloric acid (HCl) and why they're important for our digestive system. – Naturally through foods or with supplementation.
On this week's episode, we are giving our full attention to the digestive system and teaching you all that you need to know about it and how to take care of it. By the end of this episode, you will be fully equipped with the knowledge of how different foods can negatively affect your gut and what you can do to both heal and support your gut back to good health.
By taking a close look at probiotics, enzymes, and hydrochloric acid (HCl), we will cover the following areas:
Finding the root cause of your gut problem
Your diet – nutritious foods that will support your natural gut microbiome
Supplements that will help your body heal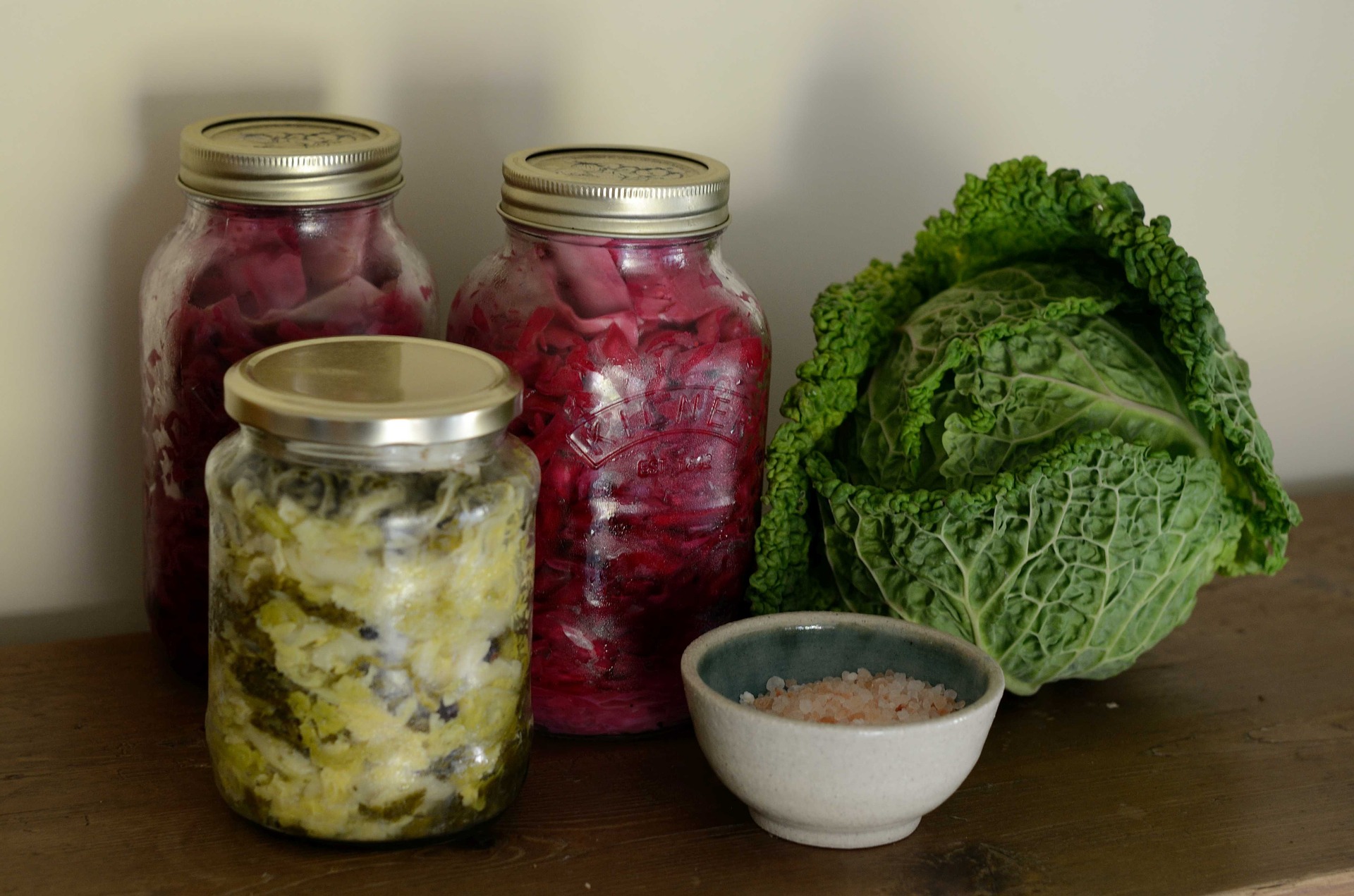 Questions to Ask Yourself About Your Gut
If you believe you're experiencing gut health issues, ask yourself these questions:
Is your body absorbing the food?
How is your body breaking down the food?
What changes are you noticing after starting to follow a healthier diet?
Many gut problems occur simply because of high stress. However, if you're experiencing the following health issues, you should seek a doctor for further assistance:
Gut infections (parasites, bacterial infections, SIBO),
Gut dysbiosis
Hormone dysfunction
Thyroid problems
Autoimmune disease
If you think you may have a gut infection or dysbiosis, you should go see a doctor and have a stool test done.
Signs of Digestion Problems
Even if you've been eating super healthy or are following a specific way of eating such as a Paleo, Keto, or Whole Foods Diet, for example, signs that you have digestion problems include:
Heartburn
Acid reflux
A sour stomach
Gas
Bloating
Ulcers
Undigested food in your stool
Constipation
Diarrhea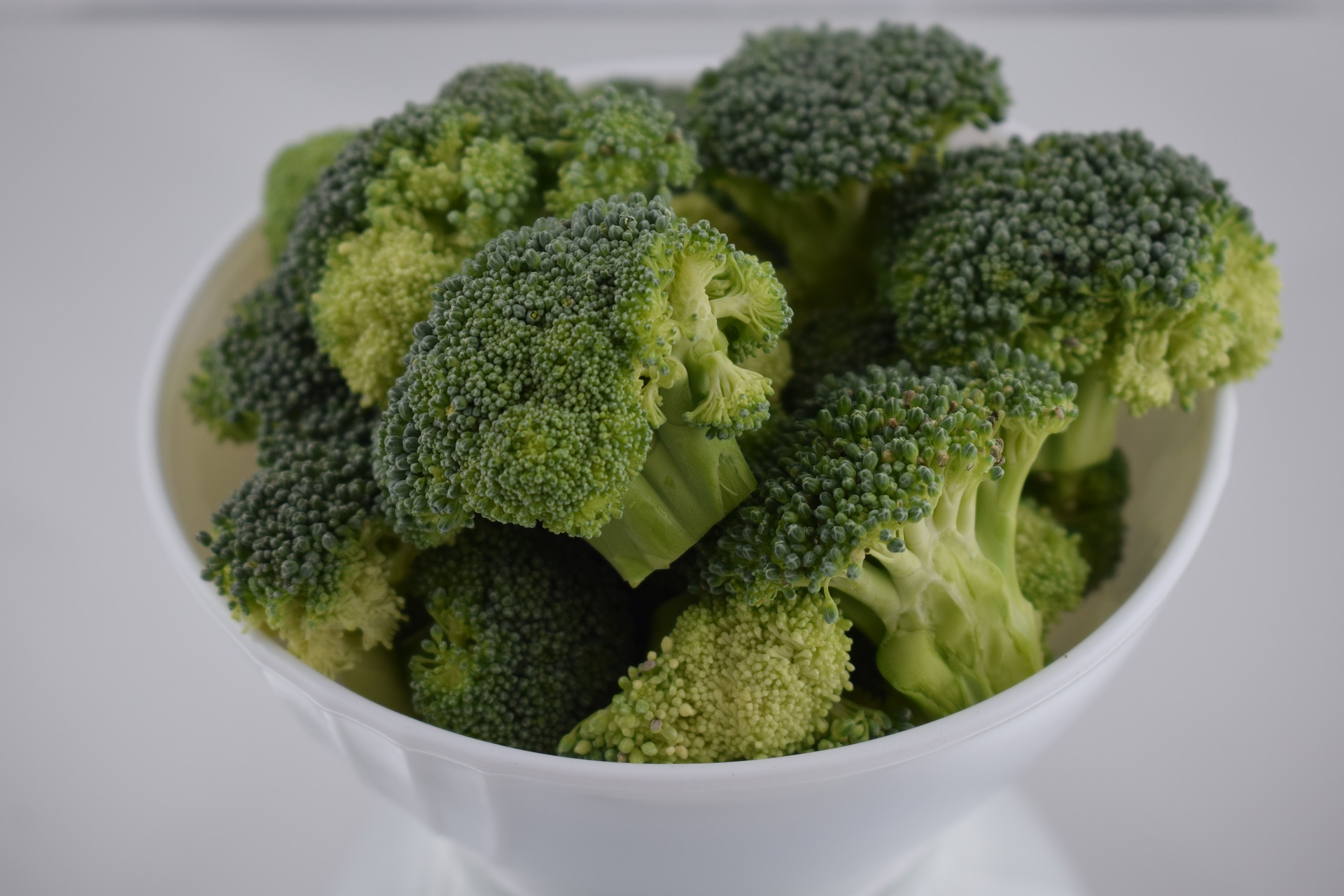 Probiotics, Enzymes, and Hydrochloric Acid
Probiotics and Prebiotics Sources
Probiotics are the healthy bacteria and good gut flora that help you break down and absorb your food. Plus, they help your immune system become and stay strong.
Prebiotics feed on the food and help break it down even more so that it's easier for you to digest.
Foods that are high in probiotics include onions, artichokes, asparagus, or fermented foods such as sauerkraut, kombucha, and kefir.
"Buy the probiotics that have to be stored in the refrigerator; not the ones stored on the shelves. Otherwise, you could be buying a dead probiotic supplement." – Devon Dionne
Enzyme Sources
Natural enzymes are created in the pancreas and they help to break down the food in your stomach.
Eating raw vegetables or partially cooked vegetables are good because they naturally have all these great enzymes for your body. You don't have to eat all raw foods, but a good combination of both raw and cooked vegetables on a consistent basis is a good mix.
Raw broccoli can be hard on the stomach if you have gut problems so it's actually better if you eat them cooked and add supplements if necessary.
Foods that are enzyme inhibitors and stop the enzymes from being able to break down food in the body include grains, soybean, and beans.
Hydrochloric Acid Sources
Hydrochloric acid (HCl) is the acid in your gut that helps to regulate the pH levels in the digestive system. Without the proper amount of stomach acid, your body wouldn't be able to digest your food as well.
Prilosec OTC Picnic Commercial with Larry the Cable Guy
SAVE YOUR SPOT FOR THE
8 WEEK SKY FIT CHALLENGE IN APRIL!
Get on our waiting list to sign up for our next 8 Week Sky Fit Challenge that will start on April 23, 2018!
The challenge consists of:
8 Weeks of Equipment Free Bodyweight Workouts in 20 minutes or less. (No gym membership required)
SIMPLE Whole Food Meal Plan w/Tasty Recipe Cookbook Featuring 60+ recipes!
Foolproof Schedule so you know EXACTLY what you're supposed to do every day.
Access to our New Private Facebook Group – Sky Fit Challenge Group to share your progress with everyone as well as receive support and be held accountable.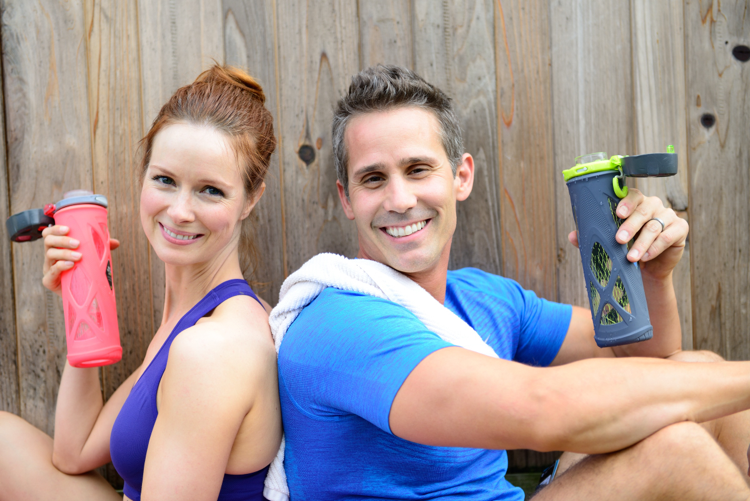 Look Out For Our Upcoming
Throw Back Thursday Podcast Episodes!
We'll be releasing new podcasts episodes on Thursdays that discuss previous episodes we've done, but we need your help! Go to the  Open Sky Fitness Facebook Group and tell us what your favorite episodes are. Then, Devon and I will re-listen to that episode, pick out the best parts and share even more insights on the topic.
We won't just be regurgitating the same information over again. Since we began this podcast, there's so much more information out their on health, nutrition, fitness, and personal wellness. So, each Thursday we'll really just be going deeper into your favorite topics!
Claim Your FREE Bacon + $10 Off
With Our Sponsor – ButcherBox
That's right! By listening to the Open Sky Fitness Podcast, you get the chance to get a free order of bacon plus $10 off your first ButcherBox purchase!!
ButcherBox delivers 100% grass-fed beef, free-range organic chicken, and heritage breed pork directly to your door. Think of them as the neighborhood butcher for modern America.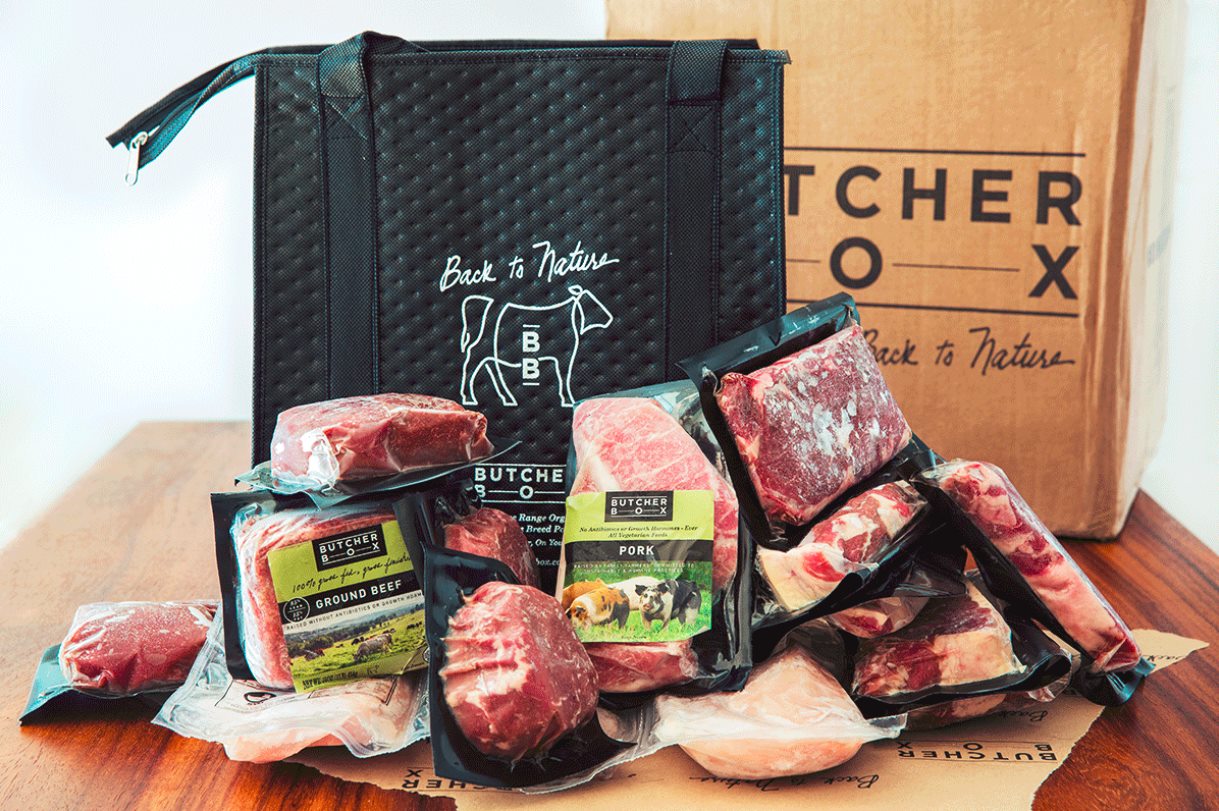 Join The Open Sky Fitness Podcast Group!
That's right! We have a closed Open Sky Fitness Podcast group on Facebook where you and everyone have the opportunity to talk about your health and fitness goals in a safe environment. We post workouts and start discussions about how to be strategic about finding a healthier you. Check it out!
Start Building Your Own Workouts and Meal Plan!
Download Results Tracker here!
Click To Download Home Workout Templates or text the word, "lifting," to 33444 to download the templates. 
Download the OSF Food Journal Now!
Have a Question or Review for Rob or Devon?
We love answering questions and getting feedback from you, our listener! If you have any questions to ask us, want to share a review of the show, or tell us any suggestions for guests/topics that you think would be great to have on the show, just email Rob at rob@openskyfitness.com or Devon at devon@openskyfitness.com or you can also leave us a review at www.openskyfitness.com/review, ask a question in the closed Open Sky Fitness Facebook Group and even text OSFreview to 33444 to get the link.
What You'll Hear on This Episode
00:00 Open Sky Fitness Introduction
1:15  Opening comments with Rob and Devon
1:30 Check out last week's show: OSF 193 with Sue Hitzmann: Uncovering the Origin of Our Pain
3:30 About our topic on this week's show!
4:00 Join us for our current SFC Transition Period before our next full Sky Fit Challenge this April!!
4:50 Check out our 4-week Transition Challenge NOW before the next SFC.
8:00 Signs that you're not digesting properly.
9:00 Possible deficiencies in how you're digesting your food and how to heal them.
12:30  The difference between a probiotic, enzyme, and HCl.
13:00 All about Probiotics and Prebiotics
13:40 Natural enzymes in the body- All about them and their benefits.
15:15 Hydrochloric acid (HCl) and how it regulates your pH levels.
15:50 Diving deeper into probiotics, prebiotics, enzymes, and HCl.
16:30  What happens to our body if we have a lack of probiotics? What are some other great sources?
18:40 Benefits of probiotics and supplements; especially if you have Crohn's Disease, diabetes, or are obese.
23:00 Why not all probiotics are created equal – breaking them down into 3 parts: genius, species, and strain.
24:00 How to choose the best probiotic supplement for your needs.
27:00 The best nutrition fully packed with probiotics.
31:00 The best source of milk including raw milk for our digestion.
34:40 Apple cider probiotics – easy add to any dish.
35:30 What probiotic supplements to buy and how to store them so they stay fresh and alive.
37:30 Devon's experience with Lyme Disease and how she naturally healed from it.
42:00 Signs your body can benefit from enzyme supplements to help break down your food.
45:00 What happens to the body when we're in fight or flight mode, as we age, or deal with immense stress.
46:30 The natural digestive enzymes that the body provides us.
47:30 Our stool's health and what they're telling us about our gut's health.
49:30  Different types of digestive enzymes that can be found naturally in food and great supplements to try.
51:30 The best types of enzyme supplements to look out for.
54:00 How many servings and when should you start to take a digestive enzyme supplement?
54:40 Foods that are enzyme inhibitors and keep you from properly breaking down foods.
59:30 Hydrochloric acid (HCl) and why it's so beneficial to control stomach acid and pH levels.
1:01:30 What antacids like TUMs actually do and why you should avoid them.
1:03:30 Which foods HCl helps the body to break down and absorb.
1:05:30 Why you should be careful with taking an HCl supplement since it is acid.
1:05:50 Why anti-inflammatory drugs like aspirin or ibuprofen mixed with HCl is a horrible combination.
1:06:10 What to do if you have a history of stomach ulcers or gastritis.
1:06:50 How to take an HCl supplement and what to take with it.
1:07:30 Natural supplements to help heal your stomach.
1:08:20 The benefits of zinc and how the increase it in your diet or with supplements.
1:11:00 Closing comments with Rob and Devon
1:11:30 Join our Open Sky Fitness Podcast Group on Facebook
1:12:00 Sign up for our next Sky Fit Challenge 
1:13:00 Open Sky Fitness Closing
RESOURCES MENTIONED DURING THE SHOW:
Get Fit with Free Downloads!
To Download Rob's FREE workout templates click below**
Ask Rob a Question or tell him what is working for you: Email Rob@OpenSkyFitness.com
Support This Podcast
To leave a Review for Rob and the Open Sky Fitness Podcast CLICK NOW!  Ratings and reviews are extremely helpful and greatly appreciated! They do matter in the rankings of the show and I read each and every one of them.
Contact our amazing sound engineer Ryan? Send him an e-mail here: info@stellarsoundsstudio.com
Thanks for Listening!
Thanks so much for joining us again this week. Have some feedback you'd like to share? Leave a note in the comment section below!
If you enjoyed this episode, please share it using the social media buttons you see at the bottom of the post.
Do you have any questions (and would like to hear yourself on the Open Sky Fitness Podcast)? Click on the link on the right side of any page on our website that says "Send Voicemail."
And finally, don't forget to subscribe to the show on iTunes to get automatic updates. It's free!
Thanks for listening/reading Episode 194 – Hack Your Digestive System! We hope you have gained more knowledge on how to be a healthier you.