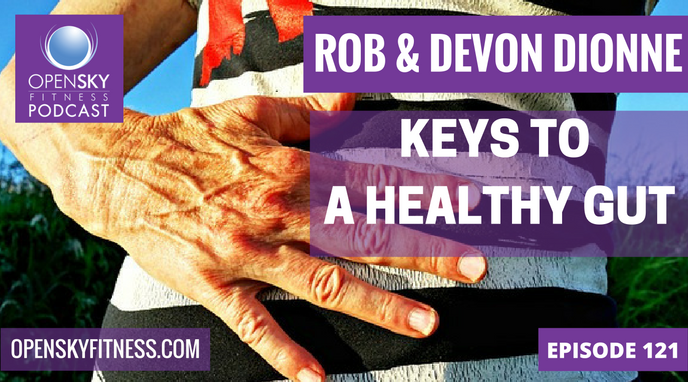 Keys To A Healthy Gut-Ep 121
Join Us for a 10k Holiday Fun Run!
Devon and I will be participating in a 10k run in Santa Monica, California on Sunday, December 4th. Get in touch with us about meeting up and click here for more details.
November Nutrition Month: Week 5
"Gut symptoms like constant gas and acid reflux is your body's way of telling you that something is wrong down there. So if you just ignore these symptoms or cover it up with a medication like Tums or Prilosec, you're completely ignoring your body telling you that it needs help."- Devon Dionne
This week, Devon and I will be sharing key tips to having and maintaining a healthy gut! There is so much to cover that we're just going to talk about the basics today.
Having a healthy gut is vital for the rest of your body's health, but fortunately it is also easy to heal it as well with the right combination of food, supplements, or medicine that your body needs.
Talk about nutrition with us!
We've already been discussing nutrition and motivation tactics on the Open Sky Fitness Podcast Facebook Group. It's a great group to talk with other people about health, share tips, and encourage each other to keep living a healthy lifestyle.
Each week, we'll be discussing a different nutrition topic!
Nutrition Topics
October:
Week 1– Which Popular Diet is Best for You?
Week 2–Kitchen Clean Out Hacks
Week 3– Nutrition Tips for Your Family
Week 4– Convenient Foods and Meal Prep Hacks
November:
Week 5– How to Hack Your Diet: Carb Cycling and Fasting
Week 6– Keys To A Healthy Gut
Week 7– Hot Topics: Sugar and Gluten
The Importance of a Healthy Gut
The gut is so much more important that we give credit to it. In fact, the digestive system basically acts like a second brain because it's a sensory organ.
There's a reason why we have English sayings such as:
A gut feeling
Butterflies in my stomach
Feeling sick to my stomach
The reason is because there is a direct correlation between our gut and our emotions and moods.
What's in the Gut?
In the gut system alone, there are 10x more microbial cells than human cells in the body. The majority of that is healthy bacteria aka Probiotics unless you are suffering from poor digestion or an autoimmune system disease.
Healthy probiotics are so important for our body for so many different reasons:
Breaks down the food that are body cannot break down.
Produces vitamins that our bodies cannot receive from food alone.
Feeds on sugars during a fermentation cycle and produces vitamins and nutrients for our bodies.
However, our bad gut bacteria can also create gas and inflammation as well in the digestive system. If you have imbalanced bacteria, you could suffer from inflammation.
How to Spot an Unhealthy Gut
On average, around 30-40% of people complain about digestion problems on a regular basis. They think it's normal to have stomach problems, but it truly is not.
Any constant symptoms of even gas and acid reflux are trying to tell you that there is something wrong with your body's health and you need to start paying attention to it.
You can spot a healthy gut, by paying attention to your bowel movements. A healthy gut means having 1 to 2 bowel movements a day and the stool should be long, dark brown, and floating compared to sinking to the bottom. If you're constipated, you may need to intake more water, vegetables, magnesium, and fiber.
Any signs of bloating at any age is another sign of an unhealthy gut. If you notice a baby's stomach is bloated, it could mean that there is something in the formula that is upsetting the digestive system.
Heal a Leaky Gut
One sure way that your guy is unhealthy is if it's leaky. Unfortunately the signs may not be super obvious, but there are many ways to combat it. Your body is designed to heal and you can reverse a leaky gut and other stomach issues with the following tactics:
Add Fiber
Fiber is so important for your gut's health and bowel movements. Once it is in your stomach, it helps begin a fermentation process that assists with digesting your food and pushing it through the body.
Your body cannot absorb fiber, but there are many sources of both soluble and insoluble fiber elements:
Vegetables

Sweet Potatoes
Potatoes
Yucca
Celery
Leave out Sugar and Gluten
Sugar and gluten are BIG issues when it comes to gut health. Having a heavy gluten/sugar diet can lead to a leaky gut or autoimmune disease.
If you're constantly eating food that has been sprayed with pesticide or foods that include artificial coloring and flavoring, or preservatives and drinking from non-BPA plastic bottles, this poor diet will start to break down the gut lining and create holes in it.
A leaky gut can then develop into an autoimmune disease such as:
Hashimoto's Disease
Celiac
Multiple Sclerosis
Diabetes Type 1
Rheumatoid Arthritis
Inflammatory Bowel Disease
Irritable Bowel Syndrome
Parkinsons
Cancer
Heart Disease
Alzheimer's
Avoid Possible Hidden Dangers
Sometimes the medicine that is supposed to help us can cause the most damage. Be sure to talk in detail with your doctor about the following:
Antibiotics
Birth Control Pills
Anti Inflammatory Drugs
Mood Disorders Caused by Your Gut
Studies have shown that people with depressive disorders have an alarming high amount of harmful gut bacteria. High cortisol levels that cause stress could be the cause of harmful gut bacteria. Also, if a person is eating large amounts of processed, zero-nutritious foods, that can trigger an autoimmune response and impact your emotional health as well.
Food can really impact our energy and mood. If you consistently eat bad food, your mind and body will be in a consistent slouch. Before you allow your body to adapt to feeling that way, you should change your diet and replace unhealthy food with nutritious, natural, real foods.
Improve Your Gut Health
Stick to Simple Foods
To improve your gut health, the first thing to do is to clean up your diet by eating simple, basic foods. As mentioned before, get rid of any toxins such as:
Sugar
Gluten
Artifical flavoring labels
Natural flavoring labels
Strict Dairy Exceptions
If you don't have a dairy problem, you can eat yogurt and kefir such as products from Lifeway Kefir.
Eat Fermentable Fibers
Your diet should include fiber that can help your body with the fermentation cycle:
Sweet Potatoes
Yams
Yucca
Sauerkraut
Kimchi
A couple of bites of sauerkraut is actually great to eat before every meal to help!
Supplements to Heal Your Gut
Some great supplements and other food sources that can help heal your gut include:
Apple Cider Vinegar: Rather than using a product like Tums to combat stomach acid, the problem might be that your body NEEDS stomach acid and it's low. Vinegar can help give you more stomach acid to digest food.
Hydrochloric Acid (HCl)-Similar to apple cider vinegar, some people might actually need this to help create more stomach acid rather than suppress it like Tums. You should be under a doctor's supervision for this and it's only for extreme stomach problems.
Bone broth: Amino acids from the collagen help to reverse the damage in your stomach.
Probiotics: ingesting healthy bacteria
Prebiotics: ingesting the food that your gut bacteria eats
How Long Will it Take Your Gut to Heal?
Depending on your case, you may have to stick to a very basic diet for an amount of time that could be anywhere from 6 months to several years.
Once you're feeling better or your doctor has permitted you to do so, add different foods to your diet and see what affects your stomach.
Unfortunately for some people, they have to live a strict diet for the rest of their lives, but it is a very small percentile of the population.
Devon's Experience Healing Her Own Lyme Disease
In order to help heal her body and be rid of Lyme Disease, Devon had to follow a very strict, clean Paleo diet for 6 months. During that time, she did not consume any sugar nor alcohol and had to take a high number of supplements each day to heal herself.
Start Building Your Own Workouts and Meal Plan!
Download Results Tracker here!
Click To Download Home Workout Templates or text the word, "lifting," to 33444 to download the templates. 
Download the OSF Food Journal Now!
Check Out The Brand New Open Sky Fitness Podcast Facebook Page
That's right! We've started an Open Sky Fitness Podcast group, where you and everyone will have the opportunity to talk about your health and fitness goals in a safe environment. We'll be posting workouts and starting discussions about how to be strategic around finding a healthier you. Check it out!
Have a Question or Review for Rob or Devon?
We love answering questions and getting feedback from you, our listener! If you have any questions to ask us, want to share a review of the show, or tell us any suggestions for guests/topics that you think would be great to have on the show, just email Rob at rob@openskyfitness.com or Devon at devon@openskyfitness.com or you can also leave us a review at www.openskyfitness.com/review and even text OSFreview to 33444 to get the link.
What You'll Hear on This Episode
00:00 Open Sky Fitness Introduction
1:15  Opening comments with Rob and Devon
2:10  100 Members in the OSF Podcast Facebook Group!!
7:30 Let's talk about gut health!
10:00 Signs of an unhealthy gut
14:00  What's in the gut? Why is bacteria so important?
17:00  How science is helping people with their gut health
22:00  Leaky gut symptoms
29:50  Mood disorders caused by your gut's health
34:00  Adjusting your diet to heal your gut health
38:00  Devon's experience healing her own Lyme Disease
39:45  What you can do to heal your gut
41:50 Combating against parasites
42:50 Supplements and aids to improve gut health
52:00  Closing comments with Rob and Devon
54:00 Open Sky Fitness Closing
RESOURCES MENTIONED DURING THE SHOW:
To Download Rob's FREE workout templates click below**
Ask Rob a Question or tell him what is working for you: Email Rob@OpenSkyFitness.com
To leave a Review for Rob and the Open Sky Fitness Podcast CLICK NOW!  Ratings and reviews are extremely helpful and greatly appreciated! They do matter in the rankings of the show and I read each and every one of them.
Contact our amazing sound engineer Ryan? Send him an e-mail here: info@stellarsoundsstudio.com
Thanks for Listening!
Thanks so much for joining us again this week. Have some feedback you'd like to share? Leave a note in the comment section below!
If you enjoyed this episode, please share it using the social media buttons you see at the bottom of the post.
If you have any questions (and would like to hear yourself on the Open Sky Fitness Podcast), click on the link on the right side of any page on our website that says "Send Voicemail."
And finally, don't forget to subscribe to the show on iTunes to get automatic updates. It's free!
Thanks for listening/reading Episode 121- Keys To A Healthy Gut! We hope you have gained more knowledge on how to be a healthier you!