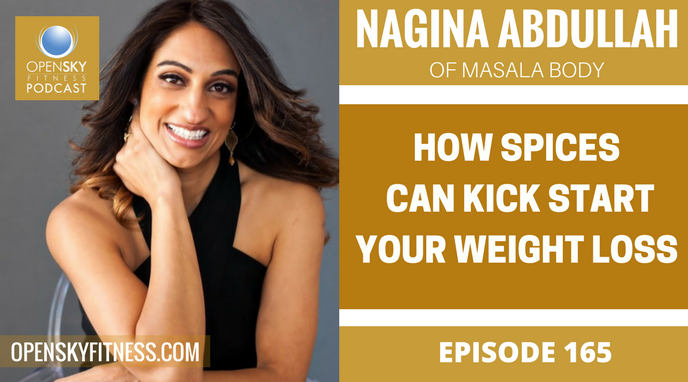 Nagina Abdullah: How Spices Can Kick Start Your Weight Loss – Ep. 165
Spice Up Your Life with New Recipes!
"I turned by health around by first focusing on food because that alone is 80% weight loss. Focusing on nutrition helped me to make the largest impact on my health." – Nagina Abdullah
 From breakfast to dessert, send us your favorite healthy recipes in the Open Sky Fitness Facebook Group
We thought it would be a fun idea to gather all of our favorite recipes simply for the sake of sharing them with each other. We won't be selling this book of recipes. Rather, we just want to compile a list of them to share with each other.
All you have to do is:
Choose your favorite recipes
Send it to us in the Facebook group and include:

The source where you found the recipe i.e. book, online, magazine
A couple of sentences about yourself.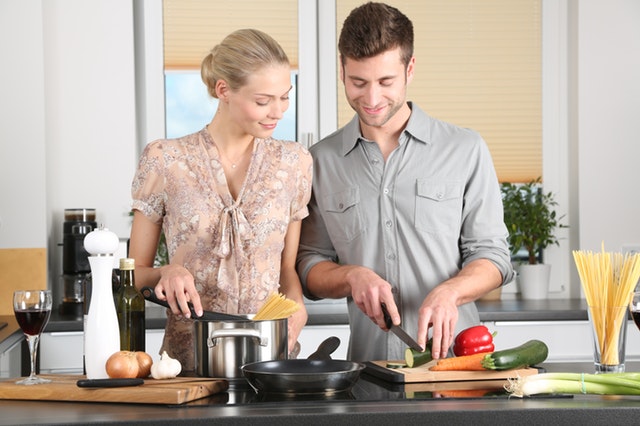 Improve Your Health With 3 Simple Spices
"I realized that I needed to make a shift right away because the mom that I wanted to be was not the mom that I was that day with no energy, back pain, and feeling lethargic. I knew that my kids were going to need more energy from me." – Nagina Abudllah on why she decided to change her life around.
In this episode, I had an awesome conversation with the mind behind Masala Body, Nagina Abdullah. We talked all about her health transformation as a busy mom and holding down a full-time career. How did she do it? By first focusing on following a nutritious diet and then hitting the gym to add strength training to her schedule.
The biggest takeaway that I took from our interview was the fact that spice can have such a positive impact on our overall health. We talked about three spices that I'm sure are already stored in your kitchen cabinet:
Since she began her own health fitness journey, Nagina has seen drastic results and is now sharing her success with the world. Through Masala Body, she's helping busy, ambitious women from all over to lose weight through the power of spices as well as meal planning.
At the beginning of this episode, Devon and I also shared some of our favorite foods and recipes for pre-workout and workout to give you an extra boost.
Bonus Gift from Nagina!!!
Visit MasalaBody.com/OpenSkyFitness to get special bonus from Nagina herself. To all of our Open Sky Fitness Podcast listeners, she's providing us with a Sweet Spice Cheat Sheet and a Recipe E-Book with 7 Spicy Recipes to Spice Off 7 Pounds!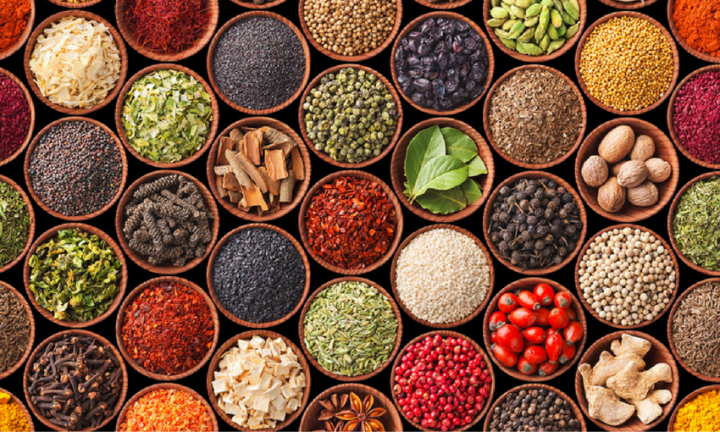 Weight Loss Hacks with Simple Spices
"Spices ease the process for eating healthy, losing weight, or gaining muscle. It just makes it easier." – Nagina Abdullah
Cinnamon – The Sweet Spice
With cinnamon, you can cheat your way to skinny with this sweet spice.
According to Nagina, cinnamon is great for morning or afternoon slumps to give you some stabilized energy and reduce your blood sugar.
Add 1/4 teaspoon of cinnamon to smoothies or sprinkle some on top of coffee or tea. You don't need a ton to experience its full effect.
Turmeric – The ancient, wonder spice
Not only has turmeric been around forever, but it's also a great weight loss hack. You can reduce inflammation in the body by just adding 1/2 to 1 teaspoon throughout the day to give yourself the full benefits.
It's good to mix with black pepper because it dramatically increases the absorption of turmeric in the body by 2,000% and even more.
Consume it after a post workout because your muscles are sore and you need to relax your muscles. You can add it to eggs, smoothies, and protein shakes.
Cumin – Burn 3x as much fat
Cumin has been proven to help burn up to three times as much body weight in a person's circumference. Better yet, cumin is tasty in so many different recipes. You can added it to any fish or meat dish to give it a great smoky taste.
Nagin's favorite mix is combining cumin with sea salt, an pepper for a barbecue rub. Add some cayenne pepper for more spice. 
Cumin is also great to try in:
Hummus
Guacamole
Egg salad
Skinny Spice #1
Nagina's Meal Prep Hacks
Nagina's number one hack is to simplify your batch cooking.  You don't have to eat the same thing every day. Mix and match between several different options.
1 – Save Sunday for dishes that take a lot of time
Use Sunday or whichever free day you have to make the dish that takes the longest amount of time. However, make sometime that's also easy like 1-3 different side dishes such as a nutritious carb or something with protein.
Great side dishes can be:
Lentils
Beans
Quinoa
Eggplant
Brussel sprouts
Asparagus
Mushrooms
Roast the veggies in the oven with cumin, salt, pepper, and even cayenne if you wish. Use a slow cooker so that you can enjoy your day even more while the machine does all the work for you.
2 – Store Your Food in Glass Containers
Ditch the plastic and always store your meal prep foods in glass containers. That way your food will stay fresh for longer amounts of time.
3 – Cook easy protein during the week
If you want, marinate your protein meat (chicken, fish, pork, beef) on a Sunday so that you can cook it on a Monday.
Bake, saute, roast etc. all you want. This way, you don't have to do all of your cooking on Sunday and you can break up the process.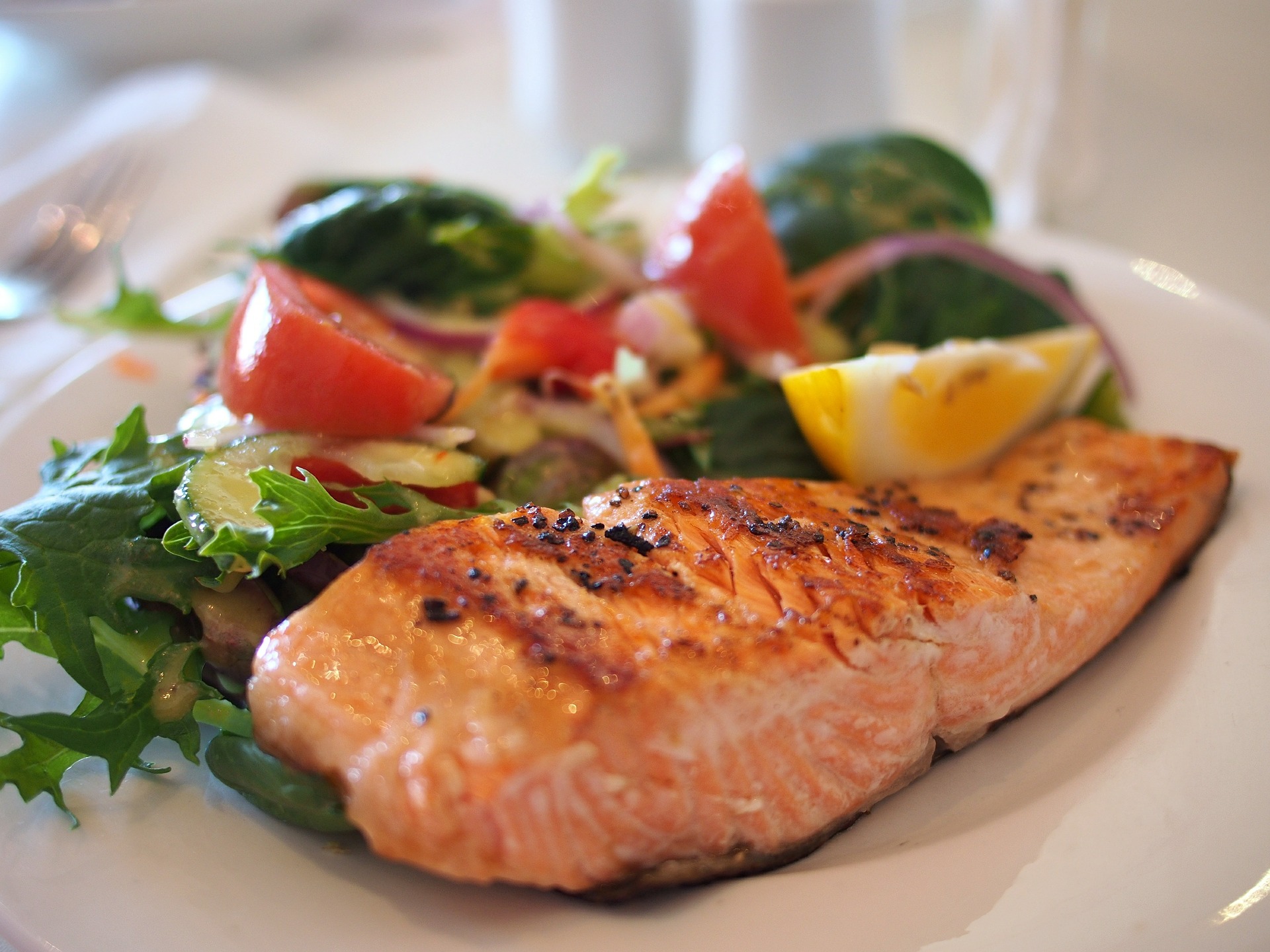 Join The Open Sky Fitness Podcast Group!
That's right! We have a closed Open Sky Fitness Podcast group on Facebook where you and everyone have the opportunity to talk about your health and fitness goals in a safe environment. We post workouts and start discussions about how to be strategic around finding a healthier you. Check it out!
Start Building Your Own Workouts and Meal Plan!
Download Results Tracker here!
Click To Download Home Workout Templates or text the word, "lifting," to 33444 to download the templates. 
Download the OSF Food Journal Now!
Have a Question or Review for Rob or Devon?
We love answering questions and getting feedback from you, our listener! If you have any questions to ask us, want to share a review of the show, or tell us any suggestions for guests/topics that you think would be great to have on the show, just email Rob at rob@openskyfitness.com or Devon at devon@openskyfitness.com or you can also leave us a review at www.openskyfitness.com/review, ask a question in the closed Open Sky Fitness Facebook Group and even text OSFreview to 33444 to get the link.
What You'll Hear on This Episode
00:00 Open Sky Fitness Introduction
1:15  Opening comments with Rob and Devon
1:50 Check out last week's episode – OSF 164 – 11 Ways to Create Structure For a Crazy Schedule
2:10  About today's episode: The strategies you can use to get your health and fitness in order when you have a busy schedule
5:00  Send us your favorite healthy recipes in the Open Sky Fitness Facebook Group
7:25  What pre-workout nutrition is good for us? What about post-workout nutrition?
20:30  Introduction to Nagina Abdullah
21:00  What is Masala Body and how did the blog get its start?
23:30  Why Nagina decided to start her program, Spice Yourself Skinny, and how it changed her life around.
28:30  What Nagina's daily life and energy was like before she focused on her health and fitness.
31:00  The logistics of how Nagina managed to cook, workout, have a full-time job, and care for her two children.
38:00  How can we properly add spices to our food?
40:50  How much protein does Nagina recommend for her clients?
42:00  The relationship between macro-nutrients and calories.
45:00  The top 3 spices to add to a diet and the benefits of each.
46:00 Cinnamon, the sweet spice
48:35  Turmeric, The ancient, wonder spice that's also a weight loss hack.
52:30  Cumin, one that can burn 3x as much fat with this spice
55:35  3 Steps to Healthy Meal Planning
1:04:40  How to connect with Nagina
1:06:20  Closing comments with Rob and Devon
1:10:35 Open Sky Fitness Closing
RESOURCES MENTIONED DURING THE SHOW:
Get Fit with Free Downloads!
To Download Rob's FREE workout templates click below**
Ask Rob a Question or tell him what is working for you: Email Rob@OpenSkyFitness.com
Support This Podcast
To leave a Review for Rob and the Open Sky Fitness Podcast CLICK NOW!  Ratings and reviews are extremely helpful and greatly appreciated! They do matter in the rankings of the show and I read each and every one of them.
Contact our amazing sound engineer Ryan? Send him an e-mail here: info@stellarsoundsstudio.com
Thanks for Listening!
Thanks so much for joining us again this week. Have some feedback you'd like to share? Leave a note in the comment section below!
If you enjoyed this episode, please share it using the social media buttons you see at the bottom of the post.
Do you have any questions (and would like to hear yourself on the Open Sky Fitness Podcast)? Click on the link on the right side of any page on our website that says "Send Voicemail."
And finally, don't forget to subscribe to the show on iTunes to get automatic updates. It's free!
Thanks for listening/reading Episode 165 with Nagina Abdullah: How Spices Can Kick Start Your Weight Loss! We hope you have gained more knowledge on how to be a healthier you.