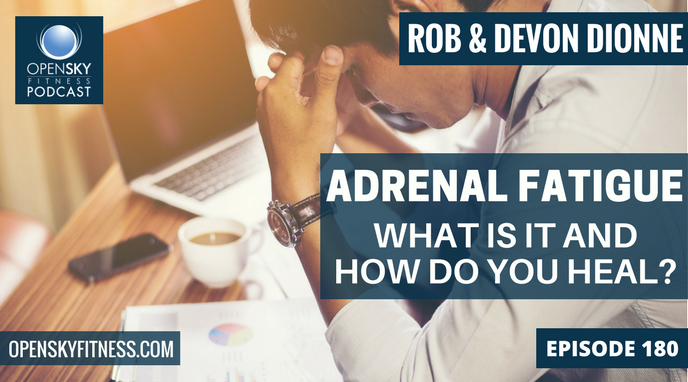 Adrenal Fatigue: What Is It and How Do You Heal? – Ep. 180
"With each new generation, things get more and more complicated with technology and we have to adjust to it. We have got to be the most stressed out society on the face of this planet with so much screen simulation, instant communication, 8-10 hour desk jobs, and multitasking all the time at work and home. " – Rob and Devon Dionne
Today's hot topic for this week's episode is adrenal fatigue. After a member of the Open Sky Fitness Facebook Group asked about it and how we can deal with it over the holidays.
The basic reason why we even experience adrenal fatigue is because we're all stressed out all the time. Stressed out by 8-10 hour jobs, raising families, being on our cell phones and constantly in communication with other people. Life used to be so much simpler when we didn't have so much stimulation from computers and cell phones.
Today we'll go over:
What adrenal fatigue really is and why we experience it.
Symptoms of adrenal fatigue
The science behind adrenal fatigue and what it has to do with our cortisol and sex hormone levels.
How light exposure including blue light from technology affects our cortisol levels.
Why hypothalamus pituitary adrenal access (HPA access) is actually a better name than adrenal fatigue.
How we can heal our minds and bodies through fitness, nutrition, and recovery.
Adrenal Fatigue Symptoms
Adrenal fatigue occurs because of a variety of symptoms of underactive set of adrenal glands. When we're exposed to chronic stress, it causes our adrenal glands to go through stages of excessively high cortisol output and then fades to a low level of cortisol output. So, basically, we experience  constant bursts and dips of energy throughout the day.
Symptoms of Adrenal Fatigue include: 
Feeling exhausted all the time
Weekend immune system
Craving salty food
Depression
Dry skin
Low blood sugar
Lack of interest in sex
Difficulty even doing daily chores
Adrenal fatigue shouldn't be confused with Addison's Disease adrenal insufficiency or underproduction of cortisol) or  Cushing Disease (overproduction of adrenal glands) and both of these are really rare.
If you run your adrenals so far, they stop functioning.
Do You Have Adrenal Fatigue?
Find Out Here
How to Heal Ourselves Through
Behavior and Lifestyle Changes
"You can't just eat and exercise your way out of adrenal problems. You need to look at your behavior and your lifestyle as the number one factor." – Devon Dionne
To make lifestyle changes today, you need to figure out what stresses you out the most: work, busy schedule, other factors? Also think about what's your perception of stress at work or at home? What are your triggers?
Let Go of Stress
There are many different ways to let go of stress by being present with what you're feeling and discovering healthy ways to treat yourself rather than carrying on with bad habits like eating a cookie to calm you down.
Meditation
Journaling
Finding time for yourself
Do something fun once a day to relieve all the pressure.
Treat yourself to a wonderful, healthy meal at your favorite restaurant or a place you want to go to.
"Instead of turning to unhealthy habits like eating junk food, you have to start creating a pattern in your life that gives you joy so that when you're stressed, you go to what makes you happy." – Rob Dionne
Sleep and Recovery
Sleep is there for you to recover from physical stress. You don't have to do a ton of exercise to make sure you're doing enough of it. Short burst workouts like HIIT are perfect whereas intense 1 hour CrossFit all the time is what you should stay away of.
To recover after a workout or physical fatigue, you can do:
Yoga
Stretching
Naps
Massages
Smooth gyrotonic
Meditation
Creating the Perfect Environment for Sleep
To get a good night's rest, there are several tricks you can do:
Black out your room at night
Turn off all electronics at least an hour before bed (no phone, TV, or computers)
Get blue light blocker sunglasses
Change the setting on your phone or computer to turn off the blue light.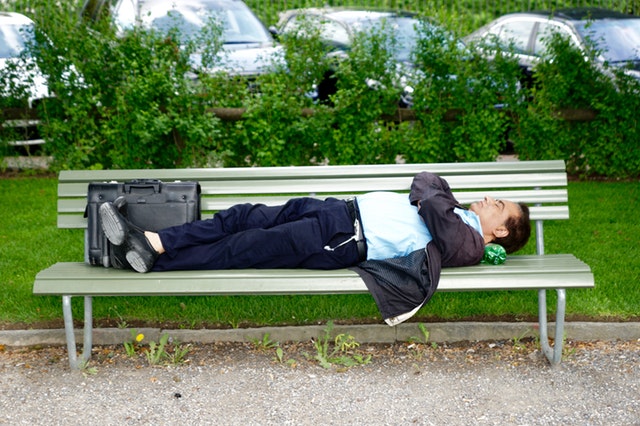 Pay Attention to Gut Health
Just having inflammatory foods can be triggering a response that is similar to adrenal fatigue by interrupting your cortisol production. Pay attention to your gut and see someone to check to see if you have parasites, SIBO, leaky gut, diverticulitis, or any infections.
Regulate your blood sugars by not eating high glycemic index foods but rather you should eat anything that can bring down inflammation and regulate stress. Following a low carb diet like Paleo and Ketogenic can do just that.
To help you follow a healthier lifestyle around food, we recommend decreasing the amount of :
Canola oil
Vegetable oil
Sugars
Starches
Grains
Alcohols
Caffeine
You should be eating healthy proteins, fats, oils, nutrient rich carbohydrates like vegetables.
You don't have to  go cold turkey with your coffee because that can be extremely difficult, but you should at least try to decrease the amount you drink; especially if you have anxiety issues because caffeine will only make it worse.
Supplements
You need to focus more on food, sleep, exercise, and your overall lifestyle before turning to supplements and herbs.
However, we do recommend the following:
Vitamin B
CoQ10
Magnesium
Fish oils
HCL
Ashwagandha mushrooms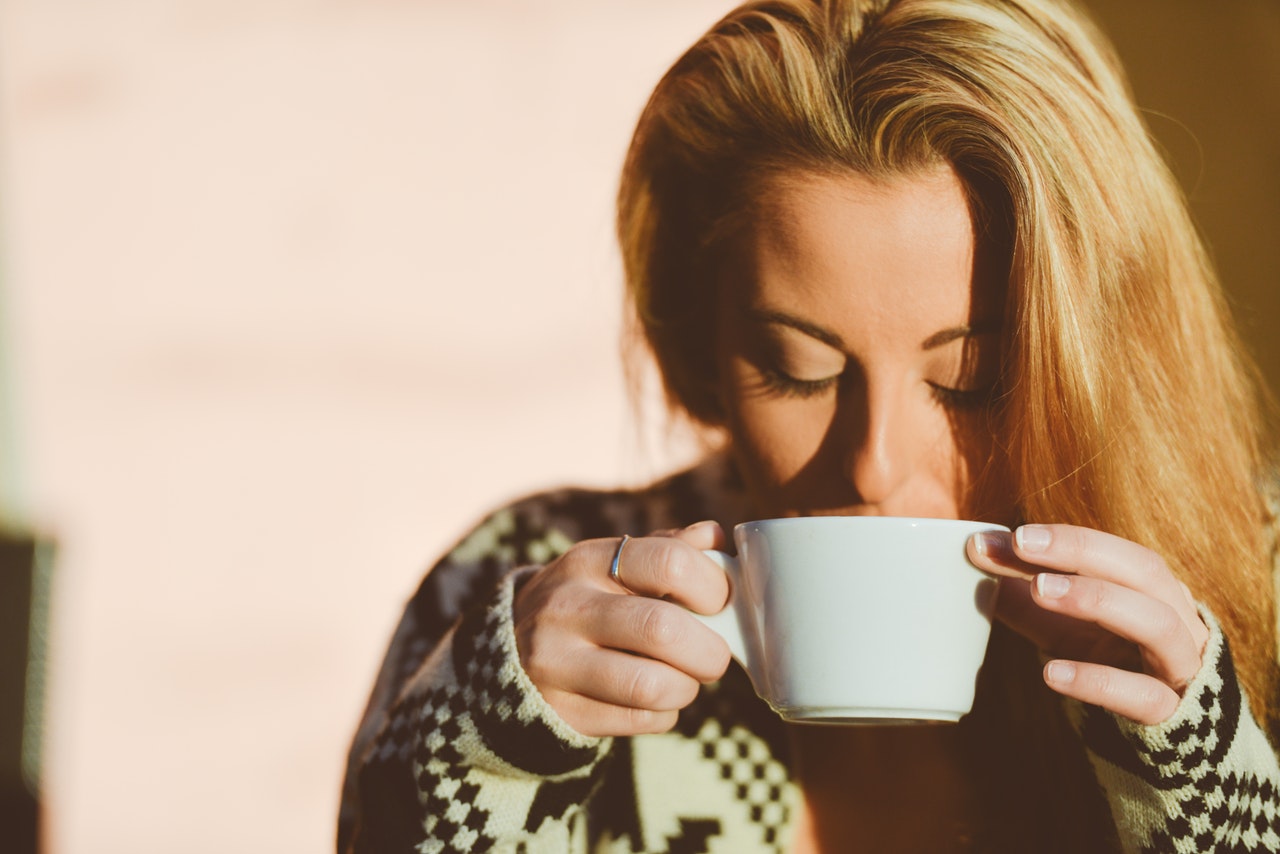 Save Your Spot for the
8 Week Sky Fit Challenge in January!
Get on our waiting list to sign up for our next 8 Week Sky Fit Challenge that will start on January 22, 2018!
The challenge consists of:
8 Weeks of Equipment Free Bodyweight Workouts in 20 minutes or less. (No gym membership required)
SIMPLE Whole Food Meal Plan w/Tasty Recipe Cookbook Featuring 60+ recipes!
Foolproof Schedule so you know EXACTLY what you're supposed to do every day.
Access to our New Private Facebook Group – Sky Fit Challenge Group to share your progress with everyone as well as receive support and be held accountable.
Claim Your FREE Bacon + $10 Off
With Our Sponsor – ButcherBox
That's right! By listening to the Open Sky Fitness Podcast, you get the chance to get a free order of bacon plus $10 off your first ButcherBox  purchase!!
ButcherBox delivers 100% grass-fed beef, free range organic chicken and heritage breed pork directly to your door. Think of them as the neighborhood butcher for modern America.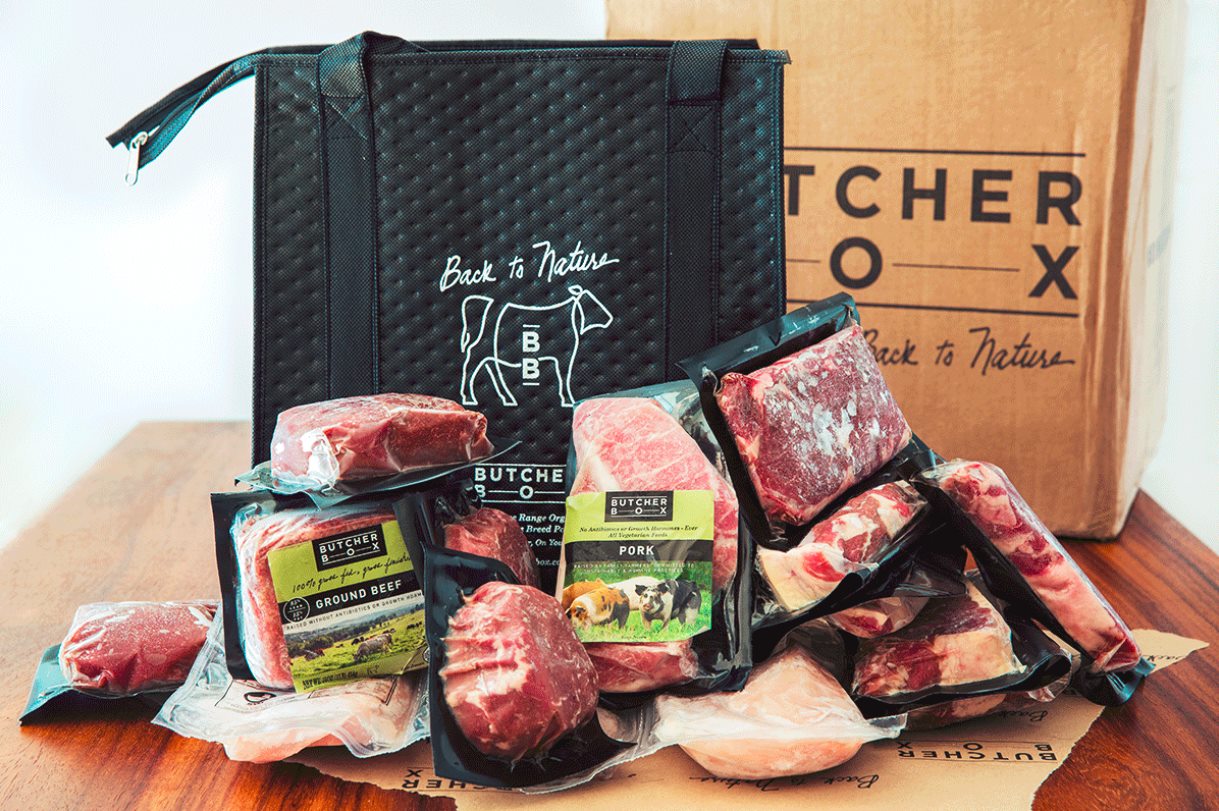 Join The Open Sky Fitness Podcast Group!
That's right! We have a closed Open Sky Fitness Podcast group on Facebook where you and everyone have the opportunity to talk about your health and fitness goals in a safe environment. We post workouts and start discussions about how to be strategic around finding a healthier you. Check it out!
Start Building Your Own Workouts and Meal Plan!
Download Results Tracker here!
Click To Download Home Workout Templates or text the word, "lifting," to 33444 to download the templates. 
Download the OSF Food Journal Now!
Have a Question or Review for Rob or Devon?
We love answering questions and getting feedback from you, our listener! If you have any questions to ask us, want to share a review of the show, or tell us any suggestions for guests/topics that you think would be great to have on the show, just email Rob at rob@openskyfitness.com or Devon at devon@openskyfitness.com or you can also leave us a review at www.openskyfitness.com/review, ask a question in the closed Open Sky Fitness Facebook Group and even text OSFreview to 33444 to get the link.
What You'll Hear on This Episode
00:00 Open Sky Fitness Introduction
1:15  Opening comments with Rob and Devon
1:30 Check out last week's show: Episode 179 with Joie Cheng on Self Love: Letting Go of Old Thoughts and Habits
2:20  Today's topic as requested by the Open Sky Fitness Facebook Group – How to deal with adrenal fatigue; especially over the holidays.
3:00  Be a part of our next 8 Week Sky Fit Challenge on January 22, 2018!
7:00  What is adrenal fatigue?
8:30 How our lives have changed with the use of technology.
9:50 What it really means to have adrenal fatigue and how we can heal from it.
14:50  What are our adrenal glands?
16:00 How our cortisol hormone works
17:00 What the medical community thinks of adrenal fatigue
19:00  How to test your cortisol levels and why there are some inaccuracies with the process.
21:00  How cortisol is produced in the body and how an interruption can affect the production from the adrenal glands to the pituitary gland.
23:00 What might be negatively affecting our bodies and how we can adapt.
26:00  Healing example: Why moving the body and stretching the hip flexors isn't the answer to fix a tense body from chronic sitting.
33:00 Why your behavior and lifestyle is the key to healing your adrenal fatigue.
34:20  How can we let go of  stress in a healthy way.
38:50  Reducing inflammatory response to adrenal fatigue
40:40  How's your gut health? Do you have infections?
44:00  What healthy foods you should be eating
45:00  How to sleep better at night.
47:10 Which exercises can help boost your energy?
48:50  How to recover form physical stress.
49:20  Supplements and herbs to take if you're dealing with adrenal fatigue
52:00  Why physique competition training can really harm your body and cause adrenal fatigue.
56:50 Closing comments with Rob and Devon
57:40 Open Sky Fitness Closing
RESOURCES MENTIONED DURING THE SHOW:
Get Fit with Free Downloads!
To Download Rob's FREE workout templates click below**
Ask Rob a Question or tell him what is working for you: Email Rob@OpenSkyFitness.com
Support This Podcast
To leave a Review for Rob and the Open Sky Fitness Podcast CLICK NOW!  Ratings and reviews are extremely helpful and greatly appreciated! They do matter in the rankings of the show and I read each and every one of them.
Contact our amazing sound engineer Ryan? Send him an e-mail here: info@stellarsoundsstudio.com
Thanks for Listening!
Thanks so much for joining us again this week. Have some feedback you'd like to share? Leave a note in the comment section below!
If you enjoyed this episode, please share it using the social media buttons you see at the bottom of the post.
Do you have any questions (and would like to hear yourself on the Open Sky Fitness Podcast)? Click on the link on the right side of any page on our website that says "Send Voicemail."
And finally, don't forget to subscribe to the show on iTunes to get automatic updates. It's free!
Thanks for listening/reading Episode 180 – Adrenal Fatigue: What Is It and How Do You Heal?! We hope you have gained more knowledge on how to be a healthier you.