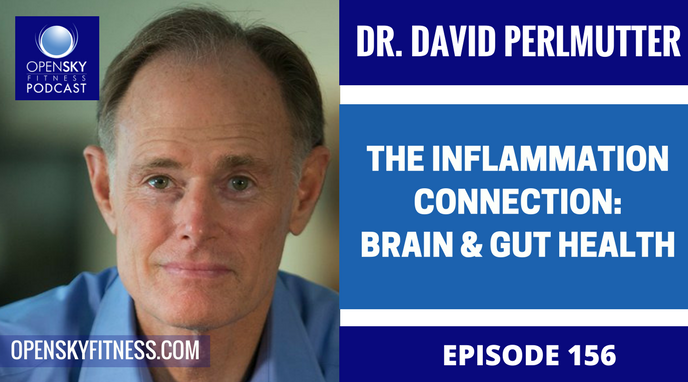 Dr. David Perlmutter: The Inflammation Connection: Brain and Gut Health – Ep. 156
How Wheat, Carbs, and Sugar
Can Negatively Affect the Brain
On this week's episode of the Open Sky Fitness Podcast, we're very excited to have Dr. David Perlmutter on the show! Dr. Perlmutter is a Board-Certified Neurologist and four-time New York Times bestselling author including Grain Brain and The Grain Brain Whole Life Plan.
With his career, Dr. Perlmutter has created a great notion in preventive medicine that relates back to the brain. With the goal to research and better understand neurological diseases, he has been able to learn what's underlying them and create programs to target the mechanisms that cause these diseases in the first place.
What You'll Hear on Today's Show
We had such a great discussion about how Dr. Perlmutter first discovered how important it was that we recognize the significance between the brain and gut connection, how foods like wheat, carbs, and sugar negatively impact our brain, and how we can take charge to live a healthy life.
The Truth About Coconut Oil
"Basically what you're looking for to be healthy, is to try to avoid inflammation. Inflammation is what causes cardiovascular disease. Reduce processed foods, sugar, and carbohydrates. Eat healthy fats like grass-fed butter and grass-fed beef as well as coconut oil." – Dr. David Perlmutter
Unfortunately, we didn't get the chance to talk to Dr. Perlmutter about the latest degrading article from USA Today about coconut oil, Coconut Oil Isn't Healthy. It's Never Been Healthy. However, Devon and I did discuss our own view of the benefits of coconut oil plus Dr. Perlmutter's from his article, Coconut Oil Unhealthy? Behind the Headlines, at the beginning of this episode. You definitely won't want to miss out on that!
The Grain Brain Lifestyle
The Root of Inflammation:
The Brain and Gut Connection
"The gut controls inflammation and inflammation is what we have to control as it relates to the brain and the brain's destiny." – Dr. David Perlmutter
Inflammation is caused by what happens in the gut. When various bacteria gets through a leaky gut, they can stimulate various immune cells to secrete chemicals which leads to inflammation. Because of poor gut health and inflammation, it can greatly harm the brain.
Besides food, there are many other factors that affect the gut and brain including:
Bacteria
Medications
Environment Toxins
Lack of Sleep
Stress
Little Exercise
All of these play an important role in the gut's health and it can explain a lot of different factors such as:
Poor Immune System
Diabetes
Celiac Disease
Autism
ADHD
Adult Obesity
The Standard American Diet Problem
Before we became farmers, we never ate wheat, carbs, or refined sugar. But then 10,000 years ago, we started to cultivate grain and it's just been a couple of hundred of years since we began to refine sugar.
These have been part of the most dramatic events that have affected the human body in the course of mankind thus far. 
Since we've introduced processed foods and sugary drinks into our diets, we've noticeably become much sicker. There was never a noted case of dementia until the early 1900s and Inuits who lived on fat such as whale blubber never had a case of cardiovascular disease until carbohydrates were introduced to them.
Even people who have slightly elevated blood sugar can experience higher levels inflammatory chemicals in the body which could lead to a person developing a disease should they eat foods with gluten or excess amounts of sugar.
Artificial Sweeteners and Obesity
Why Fat Is Good For Us
"Fat is your friend. Fat can turn off various enzymes that would otherwise make your body think that it's starving and store fat. That's what carbohydrates do by activating insulin. Insulin tells your body that winter is coming so it should make fat by increasing its intake of carbs and sugar. This, more than anything, is why so many Americans are obese." – Dr. David Perlmutter
Fat is a powerful and efficient fuel source. How? The brain alone is 60% fat and needs fatty foods to survive. Therefore, the more healthy fats we eat like coconut oil, salmon, and avocados, the healthier the brain, gut, and rest of our bodies will be.
To live healthy and ward of diseases like dementia and Alzheimer's, we should lower our carbohydrate intake, eat healthy fats, and exercise. When it comes down to it, chronic neurological diseases are actually quite preventable with the right actions.
About Dr. David Perlmutter
Dr. Perlmutter is a Board-Certified Neurologist and four-time New York Times bestselling author. He serves on the Board of Directors and is a Fellow of the American College of Nutrition.
Dr. Perlmutter received his M.D. degree from the University of Miami School of Medicine where he was awarded the Leonard G. Rowntree Research Award. He has published extensively in peer-reviewed scientific journals including Archives of Neurology, Neurosurgery, and The Journal of Applied Nutrition. In addition, he is a frequent lecturer at symposia sponsored by such medical institutions as Columbia University, Scripps Institute, New York University, and Harvard University and serves as an Associate Professor at the University of Miami Miller School of Medicine.
His books have been published in 28 languages and include Grain Brain, The Surprising Truth About Wheat, Carbs and Sugar, with over 1 million copies in print. Other New York Timesbestsellers include Brain Maker, The Grain Brain Cookbook, and his most recent book, The Grain Brain Whole Life Plan (November 2016). He has been interviewed on many nationally syndicated television programs including 20/20, Larry King Live, CNN, Fox News, Fox and Friends, The Today Show, Oprah, The Dr.Oz Show and The CBS Early Show.
He is also the recipient of numerous awards, including: the Linus Pauling Award for his innovative approaches to neurological disorders; the National Nutritional Foods Association Clinician of the Year Award; the Humanitarian of the Year award from the American College of Nutrition; the Media Award from the American College of Nutrition; and the Healthy Living Award from The Invisible Disabilities Association.
Thursday Night Live
Q & A Sessions with Rob and Devon
Each Thursday night at 7:15pm PST via the closed Open Sky Fitness Facebook Group , Devon and I will be online to answer an questions you may have about health, wellness, fitness, nutrition, lifestyle etc. Ask us anything!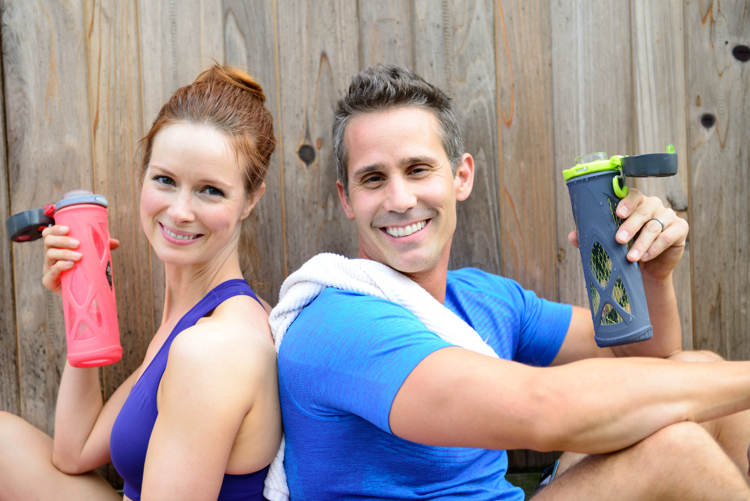 Join The Open Sky Fitness Podcast Group!
That's right! We have a closed Open Sky Fitness Podcast group  on Facebook where you and everyone have the opportunity to talk about your health and fitness goals in a safe environment. We post workouts and start discussions about how to be strategic around finding a healthier you. Check it out!
Start Building Your Own Workouts and Meal Plan!
Download Results Tracker here!
Click To Download Home Workout Templates or text the word, "lifting," to 33444 to download the templates. 
Download the OSF Food Journal Now!
Have a Question or Review for Rob or Devon?
We love answering questions and getting feedback from you, our listener! If you have any questions to ask us, want to share a review of the show, or tell us any suggestions for guests/topics that you think would be great to have on the show, just email Rob at rob@openskyfitness.com or Devon at devon@openskyfitness.com or you can also leave us a review at www.openskyfitness.com/review, ask a question in the closed Open Sky Fitness Facebook Group and even text OSFreview to 33444 to get the link.
What You'll Hear on This Episode
00:00 Open Sky Fitness Introduction
1:15  Opening comments with Rob and Devon
1:45  Recap on last week's episode OSF 155 – All You Need to Know About Sugar Substitutes
2:05  This week's guest: Dr. David Perlmutter
2:40  The benefits of coconut oil according to Dr. Perlmutter, Rob, and Devon's thoughts
11:15  Introduction to Dr. David Perlmutter
16:20  The moment Dr. Perlmutter realized that he needed to start researching the connection between food and the brain.
19:00  Where the idea behind Grain Brain came from and Dr. Perlmutter's inspiration
20:50  How our evolved diet has affected the human brain and body
23:00  For how many years back do we have data that humans have been declining because of more cases of Alzheimer's and dementia?
26:00  Taking charge and living a healthy lifestyle to help avoid diseases like Alzheimer's and dementia.
27:50  How do you communicate with other physicians about your views?
31:20  Why is it so important to understand how inflammation and gut health affect our overall health?
34:50  Why a child receives good bacteria and gut health from its mother when it is delivered through the birth canal rather than with a C-Section.
39:00  Can mother's do something to pass on healthy bacteria to their babies when they have to have a C-Section and a Vaginal birth isn't an option?
41:00  What should we be doing to eat better? Why should we be eating more fat?
45:20  Where we're going now as far as our nutrition intake compared to the 1900s.
48:00  How we can turn and turn off certain genetics via food as demonstrated by epigenetics.
49:00  The media's influence on health and nutrition information.
51:20  Is the food industry making it difficult for people who are promoting high fat diets like the Ketogenic Diet or the Paleo Diet?
56:20 What initially causes leaky gut? What are some of the symptoms that you might have from it? How can you get tested for it and how can you fix it?
1:02:00  About Dr. Perlmutter's latest book, The Grain Brain Whole Life Plan.
1:06:00 Closing comments with Rob and Devon
1:08:15 Open Sky Fitness Closing
RESOURCES MENTIONED DURING THE SHOW:
Get Fit with Free Downloads!
To Download Rob's FREE workout templates click below**
Ask Rob a Question or tell him what is working for you: Email Rob@OpenSkyFitness.com
Support This Podcast
To leave a Review for Rob and the Open Sky Fitness Podcast CLICK NOW!  Ratings and reviews are extremely helpful and greatly appreciated! They do matter in the rankings of the show and I read each and every one of them.
Contact our amazing sound engineer Ryan? Send him an e-mail here: info@stellarsoundsstudio.com
Thanks for Listening!
Thanks so much for joining us again this week. Have some feedback you'd like to share? Leave a note in the comment section below!
If you enjoyed this episode, please share it using the social media buttons you see at the bottom of the post.
Do you have any questions (and would like to hear yourself on the Open Sky Fitness Podcast)? Click on the link on the right side of any page on our website that says "Send Voicemail."
And finally, don't forget to subscribe to the show on iTunes to get automatic updates. It's free!
Thanks for listening/reading Episode 156 – Dr. David Perlmutter: The Inflammation Connection- Brain and Gut Health! We hope you have gained more knowledge on how to be a healthier you.