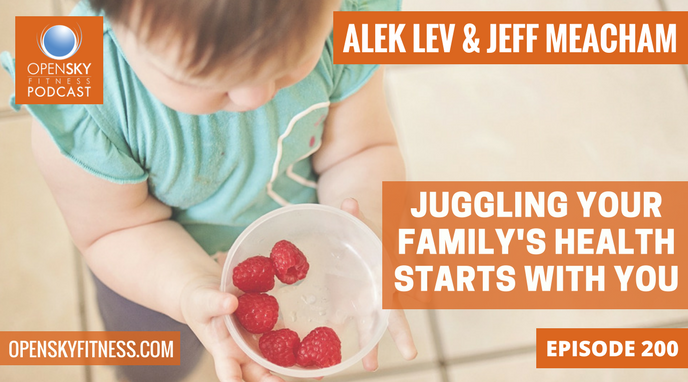 Juggling Your Family's Health Starts With You – Jeff Meacham & Alek Lev – Ep. 200
Welcome to Our 200th Episode!!!
This week, we brought back original OSF Podcast cast members, Alek Lev and Jeff Meacham back for the 200th episode! Now that Devon and I are expecting a baby girl soon, we wanted to talk to Jeff and Alek (who both have two children) about how they look after and raise their family, juggle work and home life, plus what they've learned about their own health and wellness since becoming parents.
Specifically, we'll be discussing:
How Open Sky Fitness got its start with Rob, Jeff, and Alek.
Generational Nutrition: how Jeff and Alek connect with food now compared to in the past when their parents made the rules.
The struggles they still face from time to time with nutrition.
What life is now like as parents and raising children.
How they juggle their own health and their family's health.
What they do to share their own health philosophies and encourage healthy habits with their children.
How they handle a situation if their child doesn't want to eat something or is a picky eater.
Why we shouldn't teach children to associate feeling sad or bad with junk food and sweets nor reward them with unhealthy foods.
The Edible Schoolyard Project starting in some schools.
Specific rules you can create in your household for nutrition and sleep
"With our children, my wife and I thought and talked a lot about how we would approach nutrition with them. In fact, food is a constant subject in our household." – Jeff Meacham
The Magic Pill Trailer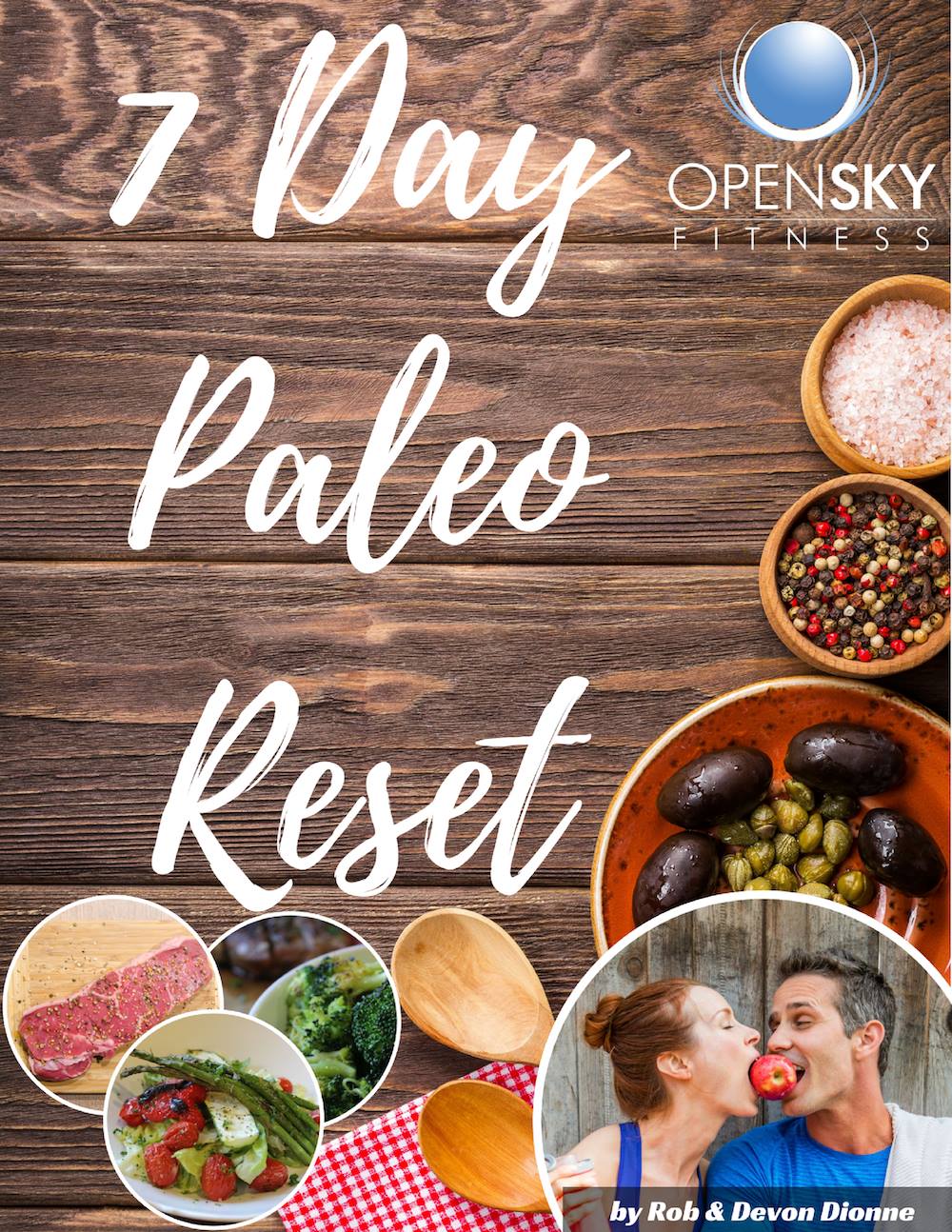 Join Our FREE 7 Day Paleo Rest
One of the best things you can do for your mind and body in your mission to get healthier is to focus on your nutrition. That's why we're allowing people to sign up now to join us for our next Free 7 Day Paleo Rest! It's all done via Facebook so no annoying emails that will fill up your inbox.
As part of the 7 Day Paleo Reset, we will provide you with:
Introduction to what the Paleo Diet is all about
7 Day guide to easy Paleo recipes
What batch cooking is and how to incorporate that into your lifestyle
Various content resources including generational eating habits, the importance of building a wellness community, and how to begin a new healthy lifestyle.
How to make an impact on your life and life a life full of wellness.
Simply go to openskyfitness.com/paleoreset. We have a website page in the works, but you can sign up to join us via this link.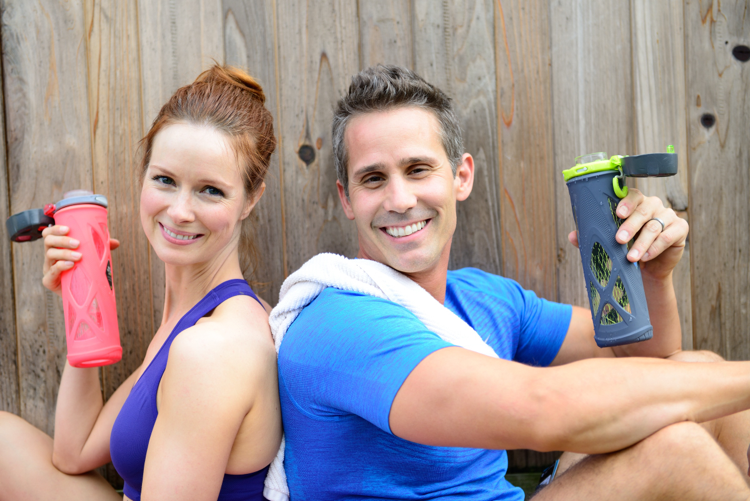 Look Out For Our Upcoming
Throw Back Thursday Podcast Episodes!
We'll be releasing new podcasts episodes on Thursdays that discuss previous episodes we've done, but we need your help! Go to the  Open Sky Fitness Facebook Group and tell us what your favorite episodes are. Then, Devon and I will re-listen to that episode, pick out the best parts and share even more insights on the topic.
We won't just be regurgitating the same information over again. Since we began this podcast, there's so much more information out their on health, nutrition, fitness, and personal wellness. So, each Thursday we'll really just be going deeper into your favorite topics!
Claim Your FREE Bacon + $10 Off
With Our Sponsor – ButcherBox
That's right! By listening to the Open Sky Fitness Podcast, you get the chance to get a free order of bacon plus $10 off your first ButcherBox purchase!!
ButcherBox delivers 100% grass-fed beef, free-range organic chicken, and heritage breed pork directly to your door. Think of them as the neighborhood butcher for modern America.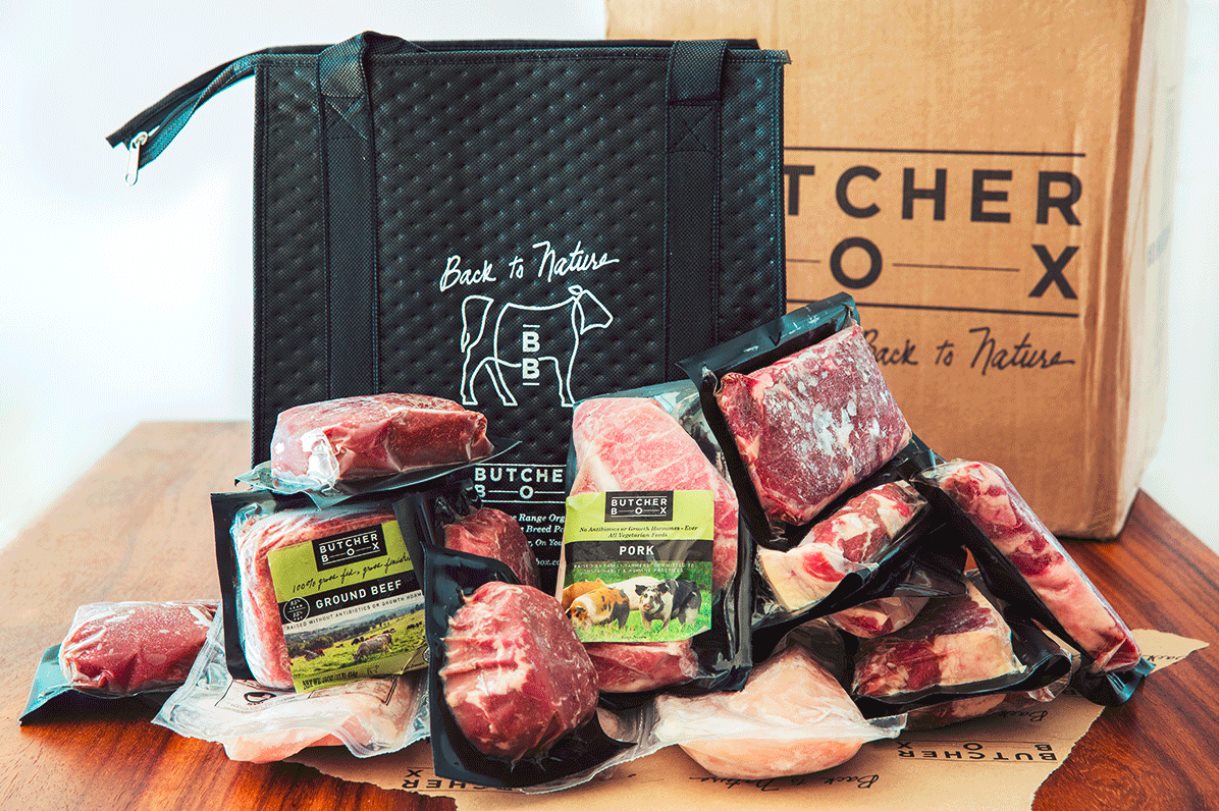 Join The Open Sky Fitness Podcast Group!
That's right! We have a closed Open Sky Fitness Podcast group on Facebook where you and everyone have the opportunity to talk about your health and fitness goals in a safe environment. We post workouts and start discussions about how to be strategic about finding a healthier you. Check it out!
Start Building Your Own Workouts and Meal Plan!
Download Results Tracker here!
Click To Download Home Workout Templates or text the word, "lifting," to 33444 to download the templates. 
Download the OSF Food Journal Now!
Have a Question or Review for Rob or Devon?
We love answering questions and getting feedback from you, our listener! If you have any questions to ask us, want to share a review of the show, or tell us any suggestions for guests/topics that you think would be great to have on the show, just email Rob at rob@openskyfitness.com or Devon at devon@openskyfitness.com or you can also leave us a review at www.openskyfitness.com/review, ask a question in the closed Open Sky Fitness Facebook Group and even text OSFreview to 33444 to get the link.
What You'll Hear on This Episode
00:00 Open Sky Fitness Introduction
1:15  Opening comments with Rob and Devon
1:30 Check out last week's show: OSF 199 with Robert Sikes – Ketogenic Lifestyle: How to Start and Maintain It
5:00 About our show today with returning original OSF cast members, Jeff and Alek!
7:00 Please leave us an iTunes review! Head on over to openskyfitness.com/review to do it!
8:30 Welcome to our 200th episode!!!
9:10 The origin story of the Open Sky Fitness Podcast
17:20 Devon and Rob's nutrition growing up with their families and what their concerned about with their child's nutrition.
18:00 After they had children, did Jeff and Alek's focus on nutrition change?
20:00 A typical day for Jeff and Alek with helping their kids eat healthy.
27:00 Their favorite places to eat, grocery stores, and delivery options.
28:30 Alek and his families' battles with sugar and how they try to balance it out.
30:00 Is it better to completely keep sugar away from your children? Is it beneficial to completely keep junk food out of your house?
31:00 Specific rules you can create in your household for nutrition and sleep.
32:50 What to do if your child is a picky eater or says they're full after just a couple of bites.
37:35 How Alek and Jeff's focus on nutrition and being healthy has changed since becoming fathers.
41:30 Personal guidelines that they live by to set their own standards of being healthy.
45:30 Inflammatory foods you should avoid.
50:00 How to get started on sleep training your children and how it compares to nutrition training.
54:30 The Edible Schoolyard Project starting in some schools.
55:00 Whether or not they spent time in the kitchen helping their parents prepare meals.
57:00 The eating habits that stayed with them from a very young age and their various connections with food.
1:01:20 Why we shouldn't teach children to associate feeling sad or bad with junk food and sweets nor reward them with unhealthy foods.
1:05:00 What they've learned from the Open Sky Fitness podcast.
1:06:10 Why you don't need any more than 10 recipes ready to go in order to eat healthy.
1:08:00 What the Sky Fit Challenge is all about and how it can help you focus on your health.
1:12:00 Check out our sponsor and get your grass-fed meat from ButcherBox
1:17:20 How has having kids impacted their relationships with their wives? Strengthened it? Impacted it? In what way?
1:25:00 Final tips and advice from Alek and Jeff about parenting.
1:29:50 Closing comments with Rob and Devon
1:34:00 Open Sky Fitness Closing
RESOURCES MENTIONED DURING THE SHOW:
Get Fit with Free Downloads!
To Download Rob's FREE workout templates click below**
Ask Rob a Question or tell him what is working for you: Email Rob@OpenSkyFitness.com
Support This Podcast
To leave a Review for Rob and the Open Sky Fitness Podcast CLICK NOW!  Ratings and reviews are extremely helpful and greatly appreciated! They do matter in the rankings of the show and I read each and every one of them.
Contact our amazing sound engineer Ryan? Send him an e-mail here: info@stellarsoundsstudio.com
Thanks for Listening!
Thanks so much for joining us again this week. Have some feedback you'd like to share? Leave a note in the comment section below!
If you enjoyed this episode, please share it using the social media buttons you see at the bottom of the post.
Do you have any questions (and would like to hear yourself on the Open Sky Fitness Podcast)? Click on the link on the right side of any page on our website that says "Send Voicemail."
And finally, don't forget to subscribe to the show on iTunes to get automatic updates. It's free!
Thanks for listening/reading episode 200 – Parenting and Nutrition: Creating Healthy Habits For Life with Jeff Meacham & Alek Lev! We hope you have gained more knowledge on how to be a healthier you.