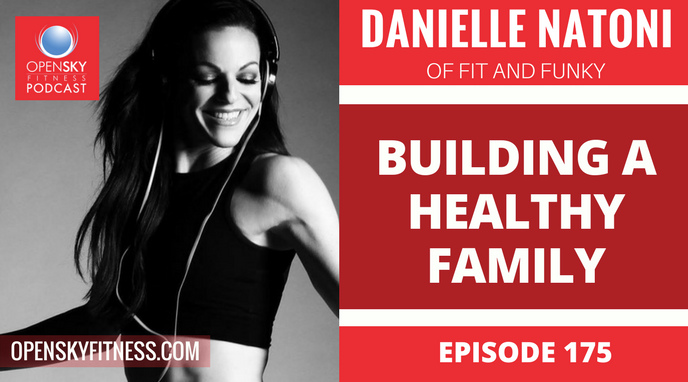 Danielle Natoni: Building a Healthy Family – Ep. 175
This week, I had a blast talking to Danielle Natoni of Fit and Funky! Danielle is a former 5th grade math teacher who decided to change her to career by becoming a full-time fitness professional as a Beachbody Coach in 2012.
Danielle is also a mom and a wife who knows that in order to help others and be the best that we can be, we have to put ourselves (including our own health and wellness) first. By putting ourselves first and making that a priority, we can truly have it all as well as be fit, funky, and full of life.
Family Health:
Accepting Each Other's Desires
Thanks to her family's very healthy and active lifestyle, Danielle grew up loving to move and dance. On Sundays, they'd even go down to her hometown's gym for Family Day.
However, her parents eventually lost interest in their own personal health and wellness. Wanting to help remind them of who they once were, she realized that it was no easy task because we cannot simply make people change their ways.
We can't be responsible for the choices that other people make and the lives they lead so we just have to "bless and release" them. By "bless and release," we accept that this is who they are and we aren't going to be able to change how they want to live.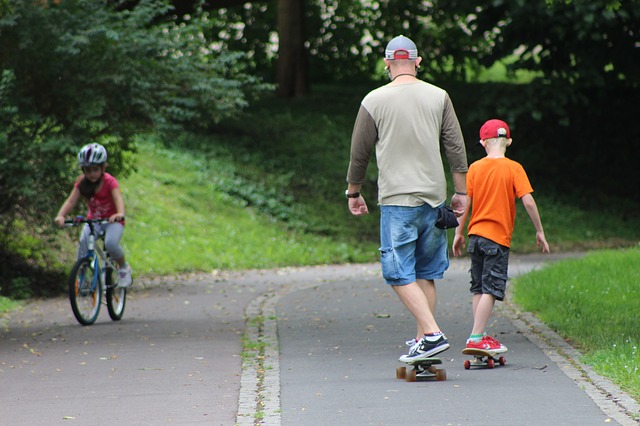 Become The Healthiest Version of You
"If your spouse isn't going to make those healthy changes with you, then you have to continue to do so for yourself even it means doing it without them and keep making those changes with your diet and lifestyle." – Danielle Natoni
As a couple, look for opportunities to be better together with your partner or spouse. Dig deep and ask yourself questions about your relationship:
Are you communicating with each other?
What problems exist in your relationship?
Why do you want to get healthy?
During the interview, Danielle came up with an excellent point: How is re-focusing your life to live a healthier lifestyle any different than moving to another place for your spouse's job? It takes a lot of communication and that's hard to do. A lot of people don't want to talk about making changes, but we have to meet each other half way.
If you want to make a lifestyle change, it may call for an uncomfortable conversation and you have to be okay with that. It's all part of the process of trying to improve your health and wellness whether on your own or with your partner. 
"Life happens outside of your comfort zone." – Danielle Natoni
4 Minute Total Body Workout-Bikini Body
Danielle's Top Productive Habits
"The only way to fail in life is to settle for less than what you're capable of." – Danielle Natoni
During the show, Danielle listed off all of her favorite methods for being productive:
Being consistent every day
Showing up for the important things in life
Always pushing forward
Getting super scheduled and organized
Keeping a To Do List with the Things app
Diving into personal development
Living life to the fullest
Danielle's Weekly Exercises
Danielle loves to workout at least 6 days a week for less than an hour each time. Even on her rest day she'll go and take a 30 minute walk or doing some yoga to get fresh air, spend time with family, and elevate stress.
Her workouts aren't complicated; they're really quite simple. She loves to do body weight workouts that include many different variations to get the most out of each exercise. Danielle also loves to do different modifications because if anything, modifications have actually helped her to get into the best shape of her life.
Her ideal workout includes:
Push ups
Plank
Plyometrics
Jump related moves
Squats
Lunges
"You come first. You cannot constantly put yourself last because then you'll always give the people in your life your worst , but if you put yourself first, everybody in your life will always get the best of you." – Danielle Natoni
Check Out our New Sponsor – ButcherBox!
ButcherBox delivers 100% grass-fed beef, free range organic chicken and heritage breed pork directly to your door. Think of them as the neighborhood butcher for modern America.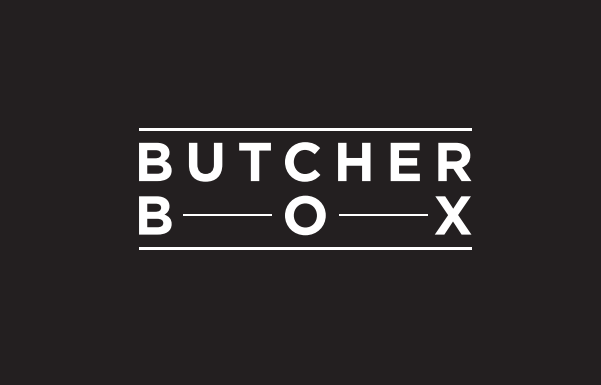 Save Your Spot for the
8 Week Sky Fit Challenge
It's never too early to sign up for our next 8 Week Sky Fit Challenge that will happen in January 2018!
The challenge consists of:
8 Weeks of Equipment Free Bodyweight Workouts in 20 minutes or less. (No gym membership required)
SIMPLE Whole Food Meal Plan w/Tasty Recipe Cookbook Featuring 60+ recipes!
Foolproof Schedule so you know EXACTLY what you're supposed to do every day.
Access to our New Private Facebook Group – Sky Fit Challenge Group to share your progress with everyone as well as receive support and be held accountable.
Join The Open Sky Fitness Podcast Group!
That's right! We have a closed Open Sky Fitness Podcast group on Facebook where you and everyone have the opportunity to talk about your health and fitness goals in a safe environment. We post workouts and start discussions about how to be strategic around finding a healthier you. Check it out!
Start Building Your Own Workouts and Meal Plan!
Download Results Tracker here!
Click To Download Home Workout Templates or text the word, "lifting," to 33444 to download the templates. 
Download the OSF Food Journal Now!
Have a Question or Review for Rob or Devon?
We love answering questions and getting feedback from you, our listener! If you have any questions to ask us, want to share a review of the show, or tell us any suggestions for guests/topics that you think would be great to have on the show, just email Rob at rob@openskyfitness.com or Devon at devon@openskyfitness.com or you can also leave us a review at www.openskyfitness.com/review, ask a question in the closed Open Sky Fitness Facebook Group and even text OSFreview to 33444 to get the link.
What You'll Hear on This Episode
00:00 Open Sky Fitness Introduction
1:15  Opening comments with Rob and Devon
1:30 Check out last week's episode – Episode 174 – Sustainable Agriculture vs Industrial Farming: How Our Choices Impact the World
1:50 Today's topic with Danielle Natoni
5:20 Check out our new sponsor – ButcherBox
6:50  How to heal your herniated disc by being proactive with physical therapy and other methods.
13:30  Reach out to us via Facebook to ask questions and seek help.
15:30  Introduction to Danielle Natoni
17:00  Danielle's background story about health and fitness.
24:00  Being the healthiest you can be for your spouse and family
27:30  The average person in life and what they're missing from their lifestyle.
33:20  How Danielle went from being a 5th grade math teacher to a fitness leader.
38:00  How Beachbody really helped her with the transition from teacher to fitness trainer.
41:30  What productive habits has Danielle created for herself?
50:20  How can you keep up with fitness while traveling?
52:00  How often Danielle exercises everyday and for how long.
57:00 What nutrition means to Danielle
1:02:10  What would Danielle pick – low or high intensity workouts?
1:05:00  Danielle's best piece of advice
1:07:00 Closing comments with Rob and Devon
1:08:00  Join The Open Sky Fitness Podcast Group on Facebook
1:08:15  Eat more sustainable meats with our sponsor,  ButcherBox
1:09:10 Open Sky Fitness Closing
RESOURCES MENTIONED DURING THE SHOW:
Get Fit with Free Downloads!
To Download Rob's FREE workout templates click below**
Ask Rob a Question or tell him what is working for you: Email Rob@OpenSkyFitness.com
Support This Podcast
To leave a Review for Rob and the Open Sky Fitness Podcast CLICK NOW!  Ratings and reviews are extremely helpful and greatly appreciated! They do matter in the rankings of the show and I read each and every one of them.
Contact our amazing sound engineer Ryan? Send him an e-mail here: info@stellarsoundsstudio.com
Thanks for Listening!
Thanks so much for joining us again this week. Have some feedback you'd like to share? Leave a note in the comment section below!
If you enjoyed this episode, please share it using the social media buttons you see at the bottom of the post.
Do you have any questions (and would like to hear yourself on the Open Sky Fitness Podcast)? Click on the link on the right side of any page on our website that says "Send Voicemail."
And finally, don't forget to subscribe to the show on iTunes to get automatic updates. It's free!
Thanks for listening/reading Episode 175 with Danielle Natoni – Building a Healthy Family! We hope you have gained more knowledge on how to be a healthier you.