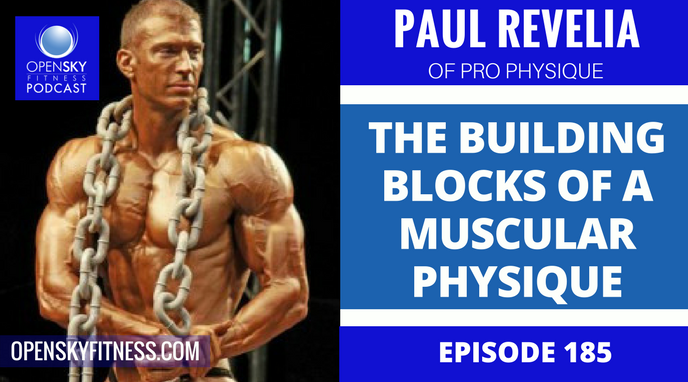 Paul Revelia: The Building Blocks of a Muscular Physique – Ep. 185
"A lot of people believe that if they're going to compete in a fitness competition, that means they have to take drugs. However, that doesn't necessarily have to be the case. There are a lot of drug tested shows out there, but there are also a lot of drug-free trainers and competitors that don't want to get involved in that lifestyle." – Rob Dionne
How does someone compete as a natural body builder?
We asked our awesome Open Sky Fitness Facebook Group what topics they were interested in learning more about and they responded that they wanted to know what it's like to work with high end personal trainers.
So, this week, we have the Owner of the online coaching company, Pro Physique Inc., Natural Pro Builder, Show Promoter, and Host of The Redefine Healthy Radio Podcast, Paul Revelia sharing how he got into natural body building, how he's helped clients prepare and compete and even answered some questions that our Facebook group members submitted.
Devon and I also took time at the beginning of the show to answer another questions from the OSF Facebook group: Are plastic Tupperware containers bad for us? What about BPA, BPS, and BPF? 
Building a Natural Muscular Physique
"If you enjoy fitness and you want to get motivated, set a date to either do a fitness photo shoot or a competition." – Paul Revelia
If there's one way to get motivated to work out, it's deciding to take part in a fitness competition. However, there are a lot of changes your body will have to go through and you have to be on point with your fitness and nutrition.
Paul covered a ton of different topics to help you get a head start on training for your next fitness competition and how you can become a body builder.
In this episode, you'll learn:
Why it's difficult to get the body builder look without actually focusing on competing.
What concerns people over 55 should have when trying to get down to 10% body fat and maintaining it.
Why sodium intake is very important for people who compete.
How to manage your hunger according to your eating habits.
The key to creating a great meal to stay energized and avoid hunger.
What fat burners are and how they benefit body builders.
"If you decide to to train for a fitness competition, you have to realize that there might have to be a sacrifice of lifestyle that the average person isn't willing to give up." – Rob Dionne
Getting Shredded and What to Expect
Starting for Beginners: Flexible Dieting, Tracking Macronutrients
"When you can start to learn what's in food, you can actually become more aware of your eating habits; good or bad. My goal as a coach is to teach people the skills they need to stay fit and survive for the rest of their lives without having to track their food." – Paul Revelia
When Paul first begins to work with a new client, he looks at their diet and asks them to track what they eat and drink in a food journal for 1 week.
A lot of people might feel intimated that he's going to know what they eat, how much, and how often. However, you shouldn't change what you eat in the first week because all it's doing is allowing Paul as well as other trainers to know what you like and your food habits. We're just collecting data; simple as that.
Then, in the following week, you can start to make dieting changes during the building phase. This includes:
Learning how to be a flexible dieter
Adding more calories to your meals
A new training protocol, non-linear periodization, to train each body part twice a week.
Flexible dieting is basically an exchange system. For example, chicken is a very healthy food, but if you don't want to eat it, you can exchange it for something else that still has the same amount of protein and fat such as turkey or fish.
You can track your macronutrients by using websites, charts, and apps such as:
"Competing in body building changed my life for the better a million different times and in a million different ways." – Paul Revelia 
Getting Shredded What To Expect | Female
Look Out For Our Upcoming
Throw Back Thursday Podcast Episodes!
We'll be releasing new podcasts episodes on Thursdays that discuss previous episodes we've done, but we need your help! Go to the  Open Sky Fitness Facebook Group and tell us what your favorite episodes are. Then, Devon and I will re-listen to that episode, pick out the best parts and share even more insights on the topic.
We won't just be regurgitating the same information over again. Since we began this podcast, there's so much more information out their on health, nutrition, fitness, and personal wellness. So, each Thursday we'll really just be going deeper into your favorite topics!
Claim Your FREE Bacon + $10 Off
With Our Sponsor – ButcherBox
That's right! By listening to the Open Sky Fitness Podcast, you get the chance to get a free order of bacon plus $10 off your first ButcherBox  purchase!!
ButcherBox delivers 100% grass-fed beef, free range organic chicken and heritage breed pork directly to your door. Think of them as the neighborhood butcher for modern America.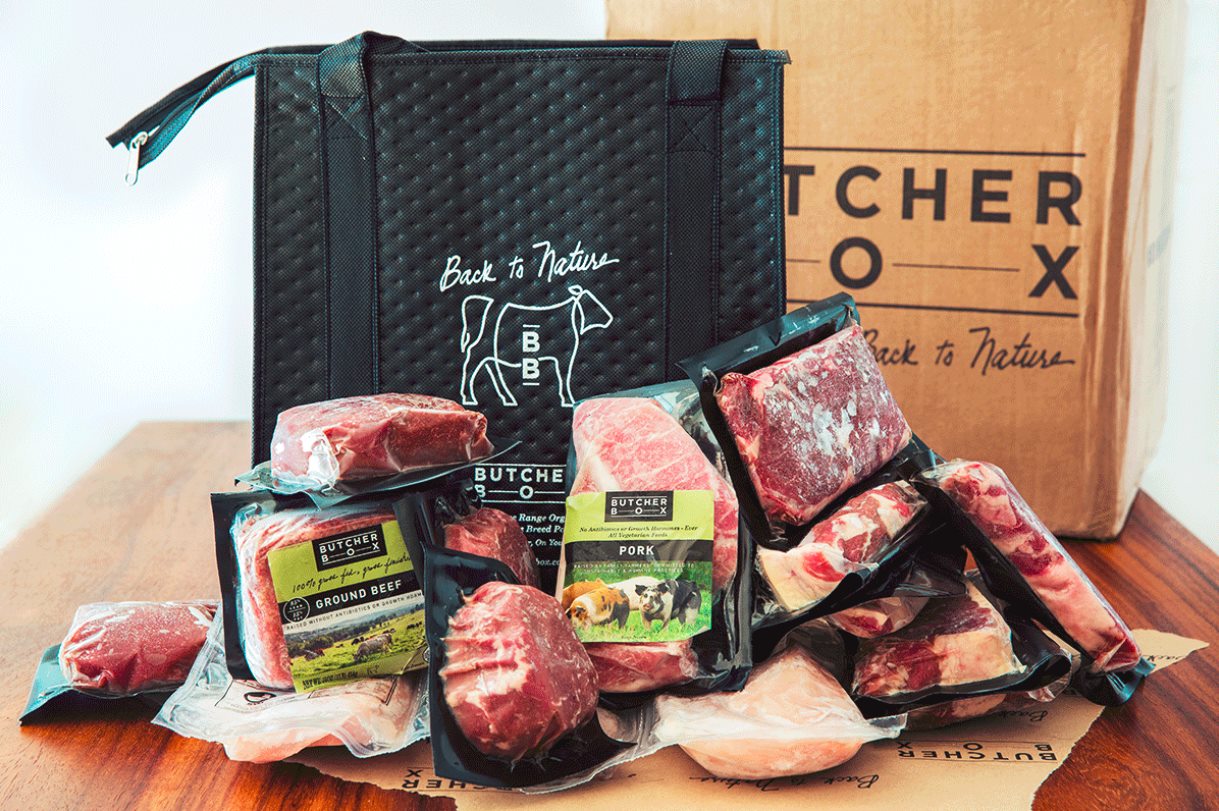 Join The Open Sky Fitness Podcast Group!
That's right! We have a closed Open Sky Fitness Podcast group on Facebook where you and everyone have the opportunity to talk about your health and fitness goals in a safe environment. We post workouts and start discussions about how to be strategic around finding a healthier you. Check it out!
Start Building Your Own Workouts and Meal Plan!
Download Results Tracker here!
Click To Download Home Workout Templates or text the word, "lifting," to 33444 to download the templates. 
Download the OSF Food Journal Now!
Have a Question or Review for Rob or Devon?
We love answering questions and getting feedback from you, our listener! If you have any questions to ask us, want to share a review of the show, or tell us any suggestions for guests/topics that you think would be great to have on the show, just email Rob at rob@openskyfitness.com or Devon at devon@openskyfitness.com or you can also leave us a review at www.openskyfitness.com/review, ask a question in the closed Open Sky Fitness Facebook Group and even text OSFreview to 33444 to get the link.
What You'll Hear on This Episode
00:00 Open Sky Fitness Introduction
1:15  Opening comments with Rob and Devon
1:30 Check out last week's show –  OSF 184 – Periodization: Creating A Strategy For Your Next Fitness Challenge
1:50 Check out our #TBT podcast series for the month of January!
2:20 Today's guest – Natural Body Builder and Owner of Pro Physique, Paul Revelia
4:30 Question from The Open Sky Fitness Podcast Group on Facebook: Are plastic Tupperware containers bad for us? What about BPA, BPS, and BPF?
22:10  Introduction to Paul Revelia
23:00  How Paul became interested in body building; especially natural body building and how that helped him get fit and healthy.
25:00 Both Paul's and Rob's experience training for and participating in a fitness competition plus why other people decide to do it as well.
31:00  The Building Blocks to Competing in a Fitness Competition
34:40 Flexible dieting and how to incorporate macronutrients.
36:00 How Paul became a body builder as an ectomorph through natural body building.
38:00 Paul's journey towards becoming a personal body builder trainer and working with different clients.
41:40  Why you shouldn't set your price so low that people don't want to hire you.
43:30 What can clients expect from Paul – how specific is he and what kind of personalized program does he create?
45:30 What's the difference between working with competitors and average people?
50:00 What nutrition adjustments can people make? How can we track macronutrients?
56:00 How people transition from working with Paul as a Coach to asking him to help them be accountable.
58:40  Can you get the body building look without actually competing?
1:03:00 Is sodium good or bad for body building?
1:05:30  Paul's hunger management tips for contest preparation.
1:08:00 What concerns people over 55 should have when trying to get down to 10% body fat and maintaining it.
1:11:00  Closing comments with Rob and Devon
1:14:00 Join our The Open Sky Fitness Podcast Group on Facebook!
1:14:15  Open Sky Fitness Closing
RESOURCES MENTIONED DURING THE SHOW:
Get Fit with Free Downloads!
To Download Rob's FREE workout templates click below**
Ask Rob a Question or tell him what is working for you: Email Rob@OpenSkyFitness.com
Support This Podcast
To leave a Review for Rob and the Open Sky Fitness Podcast CLICK NOW!  Ratings and reviews are extremely helpful and greatly appreciated! They do matter in the rankings of the show and I read each and every one of them.
Contact our amazing sound engineer Ryan? Send him an e-mail here: info@stellarsoundsstudio.com
Thanks for Listening!
Thanks so much for joining us again this week. Have some feedback you'd like to share? Leave a note in the comment section below!
If you enjoyed this episode, please share it using the social media buttons you see at the bottom of the post.
Do you have any questions (and would like to hear yourself on the Open Sky Fitness Podcast)? Click on the link on the right side of any page on our website that says "Send Voicemail."
And finally, don't forget to subscribe to the show on iTunes to get automatic updates. It's free!
Thanks for listening/reading Episode 185 with Paul Revelia: The Building Blocks of a Muscular Physique! We hope you have gained more knowledge on how to be a healthier you.