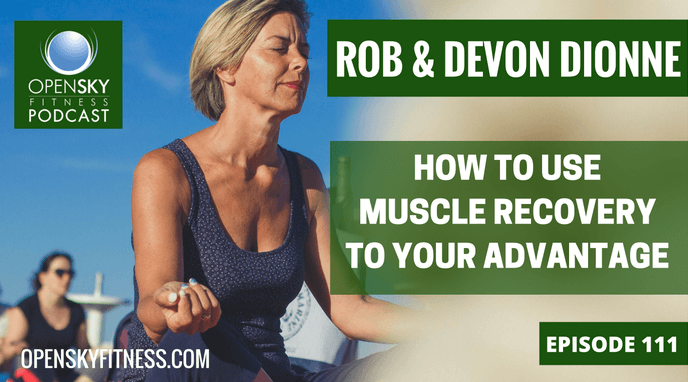 How to Use Muscle Recovery to Your Advantage-Ep. 111
Leave us a review on iTunes! or text OSFreview to 33444 to get the link
Download Results Tracker here!
Click To Download Home Workout Templates or text the word, "lifting," to 33444 to download the templates.
This final week, Devon and I are sharing with you How to Use Muscle Recovery to Your Advantage! It's so hard to believe that this is the last week of Strong People Are Awesome Month on the podcast! We hope you enjoyed this month of advice on how you can become a stronger, healthier you!
At Open Sky Fitness, we believe that it's important to create a focus on building strength. Not just for now, but throughout our entire lifetimes. We also know that it can be difficult to get into a habit and pattern of adding strength training exercises to your workout routine.
We hope you were able to takeaway something from our podcasts this month that will help you create healthier habits. As a recap, here are all of the different strength topics that we covered this month:
Strength Week 1: The Importance of Building Strength 
Strength Week 2: How to Build and Maximize Home Workouts
Strength Week 3: How to Build Your Own Gym Workout
Strength Week 4: How to Balance Strength Training with Multiple Strategies
Strength Week 5:  How to Use Recovery to Your Advantage
Not only is it important to build strength in the gym, but it's important to take the time to recover afterwards.
This week, Devon and I will explain how to recover after a workout, why you build strong muscles as you recover, how to properly stretch to keep your muscles engaged, and how to recover with good sleep and nutrition.
We also have a lot of information and advice to share about the common injuries that happen in your neck, back, and shoulders and how to heal them.
If your injury is chronic and painful, it's best to go see a doctor for an MRI. Then, you and your doctor or chiropractor will really know what is going on with your body and how to recover from your injury.
We also took some time to answer questions from our listeners: How to heal hip pain from running? AND How can you improve your athletic ability when you've hit a plateau?
How to Recover Muscles After A Workout
Your muscles don't begin to get stronger until you've allowed them to rest during the recovery stage. Therefore, how you'll recover your muscles after a workout depends on what kind of workout you've done. The more intense the workout, the more time your body will need for muscle recovery to build strength.
As a rule of thumb, you should give your body 48-72 hours to recover before your next strength workout. 
Muscle Recovery for Building Muscle
If your goal is to build muscle, you should rest for longer periods of time during both the workout itself and after you've left the gym. lifting heavy weights can be difficult so make sure you have a personal trainer or spotter with you so they can help!
If you're spending a lot of time focusing on one part of the body such as your chest, you may need 72 hours to a full week to recover and do another chest day.
If you enjoy intense lifting days to build muscle, just focus on one area of the body each day i.e. Monday is chest day, Tuesday is leg day, Wednesday is arm day and so on.
How to Recover After Powerlifting?
When it comes to power lifting, a lot of people will only do about 1-3 reps with maximum weight and wait around 10 minutes between each rep. Depending on the intensity of your workout, you may need a long recovery time when you leave the gym.
How to Recover Muscle if Your Goal is Endurance
If your goal is to build endurance rather than muscle, use lighter weights or do a machine circuit. Between each set, take about 15 seconds recover before you move on to the next exercise.
An endurance workout will allow you to work different muscles in one day since you're not lifting as much weight. Feel free to recover for just 48 hours when it comes to less weight.
Click here for Rob's circuit workout: http://openskyfitness.com/first-month-building-muscle-the-workout/
The Difference Between Passive and Isometric Stretching
Unfortunately, passive stretching won't do too much for you when it comes to muscle recovery. What you should be focusing on doing instead is isometric stretching.
Isometric stretching is an active stretch because you engage the muscle while you're stretching.
Isometric stretching can easily be added to your weekly workout and as part of the recovery phrase. Consider doing yoga, dance, or gyrotonic pilates.
Rollers for self myofascial stretches or a professional massage to work out any kinks and sore areas are also very helpful.
How Can Nutrition Help Your Muscles Recover?
If you're new to strength training, you don't have to take a protein shake after a workout unless you're busy right and you need to consume something quickly.
If you do have time to eat a meal or snack, focus on eating real, not processed food. Eat food with good nutrients such as fruits and vegetables. Stay to the outside aisles of your grocery story where all the natural foods are located. Anything in the inner aisle is usually processed and full of hidden, unhealthy sugars.
Other ingredients that are great for muscle recovery or inflammation are turmeric and ginger. Try adding turmeric to coffee and ginger to tea or a Thai meal.
Some supplements you can also try include fish oil, magnesium, MSM, and Vitamin D
Click To Download Home Workout Templates or text the word, "lifting," to 33444 to download the templates.
Download Results Tracker here!
Check Out The Brand New Open Sky Fitness Podcast Facebook Page
That's right! We've started an Open Sky Fitness Podcast group, where you and everyone will have the opportunity to talk about your health and fitness goals in a safe environment. We'll be posting workouts and starting discussions about how to be strategic around finding a healthier you. Check it out!
Have a Question or Review for Rob or Devon?
We love answering questions and getting feedback from you, our listener! If you have any questions to ask us, a review of the show, or suggestions on guests/topics that you think would be great to have on the show, just email Rob at rob@openskyfitness.com or Devon at devon@openskyfitness.com or you can also leave us a review at www.openskyfitness.com/review and even text OSFreview to 33444 to get the link.
What You'll Hear on This Episode
0:00 Open Sky Fitness Introduction
1:15  Episode Opening with Rob and Devon
2:40  What is recovery?
5:20  How to build muscle with recovery
9:10  How to recover muscles if your goal is to build endurance.
11:00 How to recover once you're completely done with your weight lifting workout.
16:05  All about injury prevention
17:35  How to prevent common back injuries and recover muscles
26:00  What are some imbalances that could be happening because of neck pain?
28:00  How to prevent and recover lower back injury
33:00  Why strength training is vital for a healthy body and preventing pain.
35:45  What exercises to do to build a strong back.
37:45  How to deal with and prevent shoulder injuries
47:15  Tools and tips to strengthen your body and prevent injuries with self massage and self myofascial release
52:00 When to stretch and what kind of stretches to do for muscle recovery
59:00 How to recover when you sleep.
1:01:30  Nutrition: When do I need to take my protein shakes?
1:03:20  How can nutrition help decrease inflammation?
1:04:20  How to help muscular pain with gels, creams, supplements, and oils.
1:09:50  How to heal hip pain from running?
1:16:00  How can you improve your athletic ability when you've hit a plateau?
1:22:30  Closing comments with Rob and Devon
1:23:50  Open Sky Fitness Closing
LINKS AND RESOURCES MENTIONED IN THIS EPISODE:
To Download Rob's FREE workout templates click below**
Ask Rob a Question or tell him what is working for you: Email Rob@OpenSkyFitness.com
To leave a Review for Rob and the Open Sky Fitness Podcast CLICK NOW!  Ratings and reviews are extremely helpful and greatly appreciated! They do matter in the rankings of the show and I read each and every one of them.
Contact our amazing sound engineer Ryan? Send him an e-mail here: info@stellarsoundsstudio.com
Thanks for Listening!
Thanks so much for joining us again this week. Have some feedback you'd like to share? Leave a note in the comment section below!
If you enjoyed this episode, please share it using the social media buttons you see at the bottom of the post.
If you have any questions (and would like to hear yourself on the Open Sky Fitness Podcast), click on the link on the right side of any page on our website that says "Send Voicemail."
And finally, don't forget to subscribe to the show on iTunes to get automatic updates. It's free!
Thanks for listening/reading Episode 111-How to Use Muscle Recovery to Your Advantage.  We hope you have gained more knowledge on how to be a healthier you!