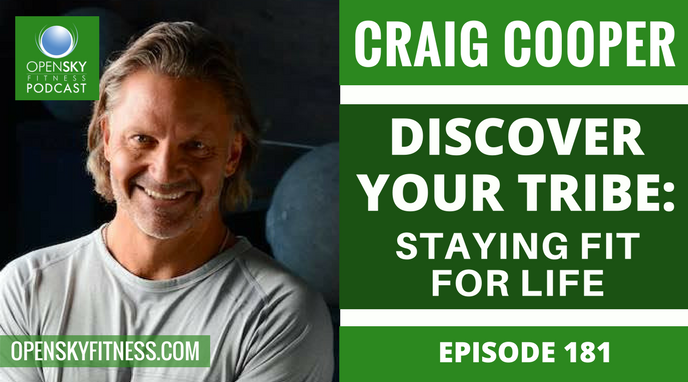 Craig Cooper: Discover Your Tribe – Staying Fit For Life | Episode 181
"Loneliness equates with the same metabolic health disorders that come from obesity or smoking. Loneliness is as much of a public health issue as an emotional health issue." – Craig Cooper
This week on the Open Sky Fitness Podcast we had Author, Venture Capitalist, TV Host, and Advocate for 40+ Men's Health, Craig Cooper, join us to talk about his latest book, Your New Prime, how to find your health and wellness tribe, as well as a ton of other great topics such as:
The importance of building relationships for the sake of good health.
How Craig became so involved in the world of health and wellness after several health scares as a child.
The health care industry today and why we're currently on our own to prevent ourselves from getting sick.
How we can follow an active lifestyle while working in a large cooperation or multinational company which can come with lots of stress and demanding work hours.
What Craig does to stay healthy and keep in shape.
As the year is coming to an end, Devon and I also took a moment to talk about the importance of slowing down and reflecting on 2017. In the opening segment, we provide you with some questions to help you discover whether or not you met your personal goals as far as health, relationships, and adventures. More on that at the end of this blog post!
Look Out For Our Upcoming
Take Back Thursday Podcast Episodes!
We'll be releasing new podcasts episodes on Thursdays that discuss previous episodes we've done, but we need your help! Go to the  Open Sky Fitness Facebook Group and tell us what your favorite episodes are. Then, Devon and I will re-listen to that episode, pick out the best parts and share even more insights on the topic.
We won't just be regurgitating the same information over again. Since we began this podcast, there's so much more information out their on health, nutrition, fitness, and personal wellness. So, each Thursday we'll really just be going deeper into your favorite topics.
Your New Prime by Craig Cooper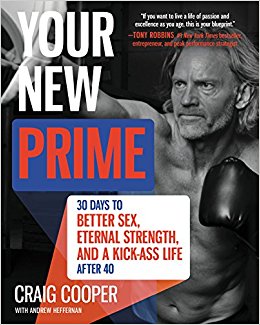 Feel great and perform at your best in the boardroom, weight room, bedroom, and beyond with this indispensable health and wellness guide: Your New Prime debunks current thinking about men's health and shows how every man can continue to operate at his peak at any age.
Getting older may be inevitable, but in Your New Prime, serial entrepreneur and men's health expert Craig Cooper shows men that they don't have to accept the "natural" aging process.
Based on the latest scientific research and Cooper's personal experience warding off diabetes, preventing cancer, and naturally increasing his own testosterone, Your New Prime is a comprehensive guide to the questions every man has as he ages. Tailored specifically for the "New Primers," men forty years old and up, the book covers a wide range of vital topics—from improving sexual health and the impact of decreasing testosterone to proper nutrition, preventing memory loss, surviving the "mid-life crisis," and achieving peak physical fitness.
Your New Prime provides an indispensable 30-day program designed to help you lose weight, boost energy, and transform eating habits. Divided into easy-to-navigate sections, the book also contains essential information about how to influence "epigenetic" traits and reverse the effects of aging, while quizzes, audits, charts, tables, and callouts help readers determine and address their specific personal needs.
Practical, honest, and vitally informative, Your New Prime details a lifelong strategy for maximum health—and will help any man perform his best, no matter what his age.
Going It Alone vs. Being In A Tribe
"If you treated your health like your do your job or business, then your health would be so much better than where it is now." – Rob Dionne
Many of us have this mentality that if we try to go it alone, then that makes us weak. It means that we're no longer in charge of our decisions or even the alpha male if we discover new friendships or build bonds with other people that can help our lives in someway. However, finding your tribe can significantly change your life for the better.
Discovering your tribe will help you live the life you want. If you want to be inspired to workout and stay healthy, find those people. Unfortunately, you might have to restructure your friendships in order to help you reach your own personal goals.
It might seem difficult or strange, but don't stay too close to people who are just going to hold you back i.e. the people who want to eat junk food, go out partying, or just like to make bad decisions; it's as simple as that.
Change Your Environment
"To discover your tribe and improve your life, you're going to want to change and have the intention to follow through with that decision." – Craig Cooper
In modern society, change can be hard. We have the desire to get healthier, but maybe we don't know where to start or something is holding us back. One moment, we see a super ripped guy or a very skinny woman on the cover of a magazine and then next thing we know, sitcoms and the "Dad Bod" look is telling us that it's okay to be overweight.
When we take a look at the world around us, it can be confusing to know what's acceptable and not acceptable to society. That's when we have to shut off the noise and stop listening what other people want us to do.
What do you want to do? Where do you see your health 10 years from now? How you live today will affect your personal world tomorrow. 
The best way to do a good job at work, be there for others, and to provide for your family is to look after yourself first. You can't do much for others unless you're taking care of yourself. Don't lose site of your health just because your partner wants you to spend less time at the gym or because the latest trends say you need to follow a certain diet or have a specific appearance to be accepted by others.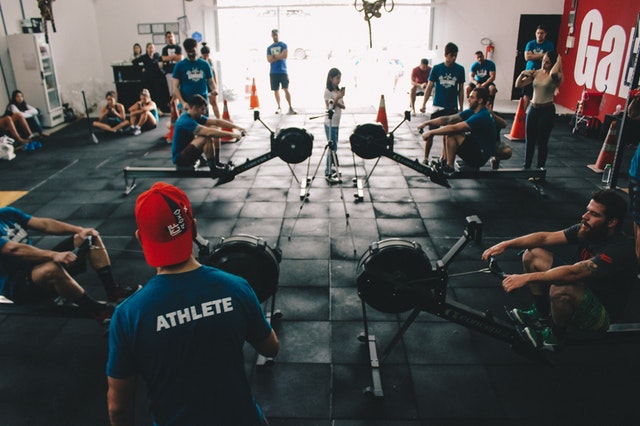 How Craig Cooper Stays Healthy
"Sure, I'm on this genetic tightrope, but I have the power to decide which way I'm going to fall epigenetically.  Your genes are not your destiny." – Craig Cooper
Craig may have been born with numerous health problems and had many scares growing up where he needed immediate medical attention, but he hasn't allowed that to control his life. He knows that what he does today can help him get to where he wants to be health-wise in the future.
How is your nutrition affecting your gut health? Are you tired and sluggish? Do you work out enough? What's your diet like according to your food journal? Are you drinking enough water or is it mostly caffeine?
Get to the bottom of your health issues by discovering which bad habits are holding you back from being the healthiest that you can be. Depending on what you eat, you could be turning on or off certain genes that can lead to different health issues.
Here are some of the habits Craig has incorporated into his life to stay fit, energized, and healthy:
Cuts back on all long endurance exercise to increase shorter workouts like HIIT.
Uses disposable sand bags when he travels to do lunges, shoulder presses, and even carries them up stairs to keep in shape.
Body weight workouts without or with little equipment.
Maintains his fitness regime consistently so he doesn't fall back into old habits.
Practices intermittent fasting regularly by not eating from 6pm until 2pm the next day.
Doesn't eat dairy, eggs, or low amounts of chicken as a preventive measure for prostate cancer.
Follows a seafood diet (sardines, salmon) regularly with lots of vegetables including broccoli, cauliflower, and spinach or avocado and fatty oils.
Uncovering Your New Prime
Looking Back on 2017
What goals did you have for 2017? Did you make any improvements or fall short? What were your intentions? What do you have planned for 2018? Begin by looking at your health, relationships, and adventures to help you begin reflect on 2017 and what you would like to do differently for 2018.
Health
Even if you weren't consistent with your goals, what good came from this year? Reflect on the new habits you began to follow and what progress came from all of it. Any accomplishment you made this year is a huge deal and something you should be really proud of.
If you did avoid any goals you wanted to reach this year, why didn't you attempt to complete? What held you back this year?
Relationships
Is this the relationship you want to be in? Have you worked on the things you wanted to improve to build a better work relationship or friendship?
Before you can have a good relationship with other people, you might need to give yourself some more self-care and self-love to ensure you have a great relationship with yourself first.
Adventures
Have you taken any risks this year? What memories will you hold onto from 2017? One of the biggest things you can do to grow in your relationships with other people, is to take adventures together.
About Craig Cooper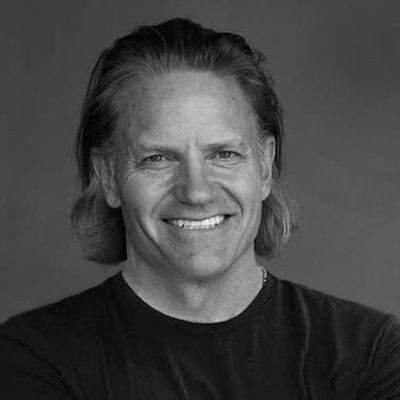 Craig Cooper is a 54 year old serial entrepreneur, venture capitalist, author, and TV host. He was the co-founder of Boost Mobile (USA), the Managing Director and Head of Venture Capital at Saban Ventures, and a founding Partner in the Softbank Capital Technology Fund. His venture capital funds together have raised over 800M and were early investors in many leading digital media companies including The Huffington Post, Buzzfeed, xAD, Associated Content, and Buddy Media.
He was the co-host of the CNBC outdoor investment show "Adventure Capitalists" and is the Founder of CooperativeHealth, a digital media company focused on men's health. He also recently led the strategic development and restructuring of Lionsgate Entertainment's fitness and wellness media group. He is the Managing Partner of The Action Fund, and is a board member of IQ Medical Corporation, which develops therapeutic products for foot and ankle disorders.
He is also on the advisory board of the Cognitive Health Institute which focuses on developing stem cell therapies for Alzheimer's and other cognitive diseases. He is a contributing expert on men's health to The Huffington Post as well as a Special Advisor to ROAR and ROAR Asia Pacific. He is also on the advisory board of Men's Healthmagazine in both the USA and Australia and is an "Ambassador" for both the global men's health foundation – "Movember" and 2XU performance sportswear. He is also a "brand evangelist" for OuterKnown and The North Face.
Save Your Spot For The
8 Week Sky Fit Challenge In January!
Get on our waiting list to sign up for our next 8 Week Sky Fit Challenge that will start on January 22, 2018!
The challenge consists of:
8 Weeks of Equipment Free Bodyweight Workouts in 20 minutes or less. (No gym membership required)
SIMPLE Whole Food Meal Plan w/Tasty Recipe Cookbook Featuring 60+ recipes!
Foolproof Schedule so you know EXACTLY what you're supposed to do every day.
Access to our New Private Facebook Group – Sky Fit Challenge Group to share your progress with everyone as well as receive support and be held accountable.
Claim Your FREE Bacon + $10 Off
With Our Sponsor – ButcherBox
That's right! By listening to the Open Sky Fitness Podcast, you get the chance to get a free order of bacon plus $10 off your first ButcherBox  purchase!!
ButcherBox delivers 100% grass-fed beef, free range organic chicken and heritage breed pork directly to your door. Think of them as the neighborhood butcher for modern America.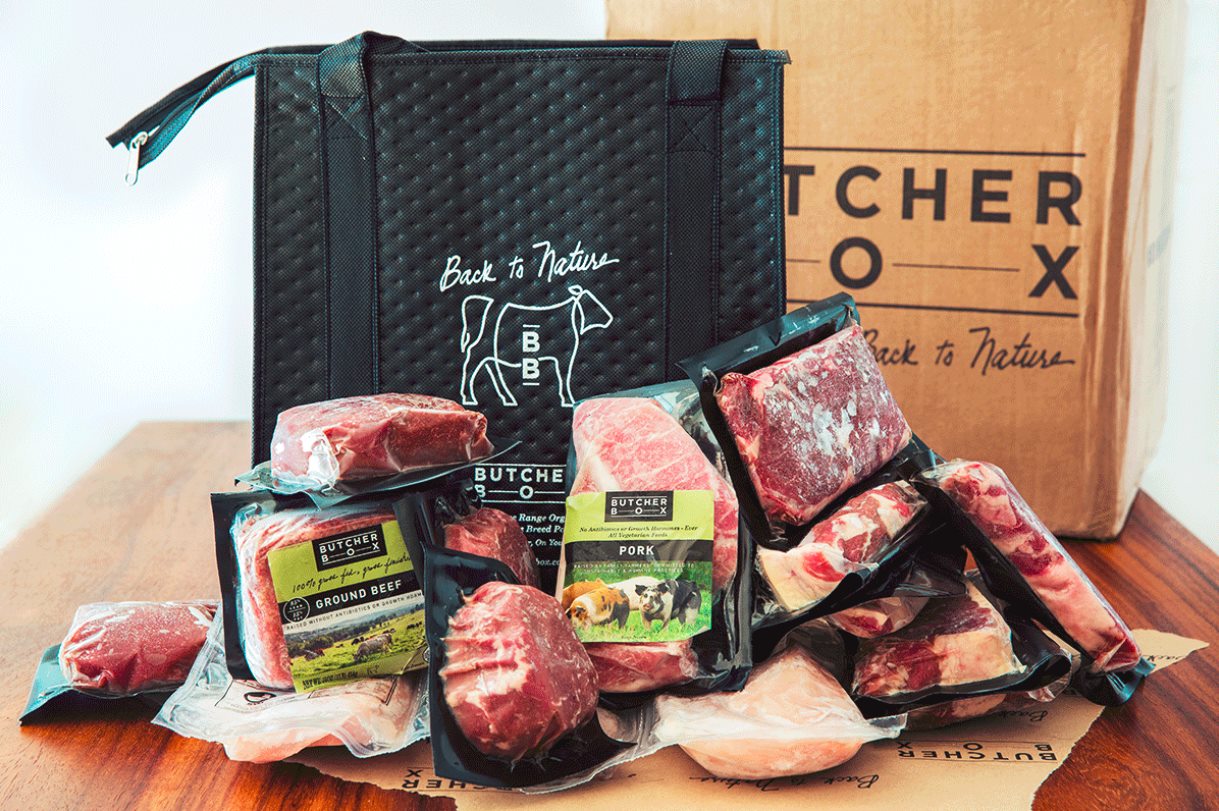 Join The Open Sky Fitness Podcast Group!
That's right! We have a closed Open Sky Fitness Podcast group on Facebook where you and everyone have the opportunity to talk about your health and fitness goals in a safe environment. We post workouts and start discussions about how to be strategic around finding a healthier you. Check it out!
Start Building Your Own Workouts and Meal Plan!
Download Results Tracker here!
Click To Download Home Workout Templates or text the word, "lifting," to 33444 to download the templates. 
Download the OSF Food Journal Now!
Have a Question or Review for Rob or Devon?
We love answering questions and getting feedback from you, our listener! If you have any questions to ask us, want to share a review of the show, or tell us any suggestions for guests/topics that you think would be great to have on the show, just email Rob at rob@openskyfitness.com or Devon at devon@openskyfitness.com or you can also leave us a review at www.openskyfitness.com/review, ask a question in the closed Open Sky Fitness Facebook Group and even text OSFreview to 33444 to get the link.
What You'll Hear on This Episode
00:00 Open Sky Fitness Introduction
1:15  Opening comments with Rob and Devon
2:30 Check out last week's show – OSF 180 – Adrenal Fatige: What Is It and How Do You Heal?
3:20  About today's guest – Craig Cooper
5:30  Looking back at 2017 as we move into 2018
7:30  3 aspects of life to take a moment to think about: health, relationships, and adventure
16:00  Our Upcoming Take Back Thursday Podcast Episodes
17:30  Be a part of our next 8 Week Sky Fit Challenge on January 22, 2018!
19:30  Introduction to Craig Cooper
21:00 Why females are the main drivers for men getting healthier and helping the men in their life change.
22:30  The importance of males building relationships for the sake of good health.
24:00  How to actively procure your tribe in person and not online.
28:00  Are we better on our own or should we be working in more partnerships?
31:00  How Craig became so involved in the world of health and wellness after several health scares as a child.
34:40  What Craig is doing to help other people improve their health as his personal mission.
40:00  The health care industry today and why we're currently on our own to prevent ourselves from getting sick.
43:00  How can we follow an active lifestyle when working in a cooperation lifestyle?
46:30  What steps can we take to change our environment?
51:00  Why we should avoid the images that magazines are portraying.
54:30  What Craig does to stay healthy and keep in shape.
1:10:00 Modern medicine and why we've been taught to believe that anything can easily be fixed when that's so false.
1:15:00  What can help men increase and maintain their testosterone levels through a naturopathic approach.
1:24:15 Closing comments with Rob and Devon
1:25:50 Open Sky Fitness Closing
RESOURCES MENTIONED DURING THE SHOW:
Get Fit with Free Downloads!
To Download Rob's FREE workout templates click below**
Ask Rob a Question or tell him what is working for you: Email Rob@OpenSkyFitness.com
Support This Podcast
To leave a Review for Rob and the Open Sky Fitness Podcast CLICK NOW!  Ratings and reviews are extremely helpful and greatly appreciated! They do matter in the rankings of the show and I read each and every one of them.
Contact our amazing sound engineer Ryan? Send him an e-mail here: info@stellarsoundsstudio.com
Thanks for Listening!
Thanks so much for joining us again this week. Have some feedback you'd like to share? Leave a note in the comment section below!
If you enjoyed this episode, please share it using the social media buttons you see at the bottom of the post.
Do you have any questions (and would like to hear yourself on the Open Sky Fitness Podcast)? Click on the link on the right side of any page on our website that says "Send Voicemail."
And finally, don't forget to subscribe to the show on iTunes to get automatic updates. It's free!
Thanks for listening/reading Episode 181 – Craig Cooper: Discover Your Tribe – Staying Fit For Life! We hope you have gained more knowledge on how to be a healthier you.