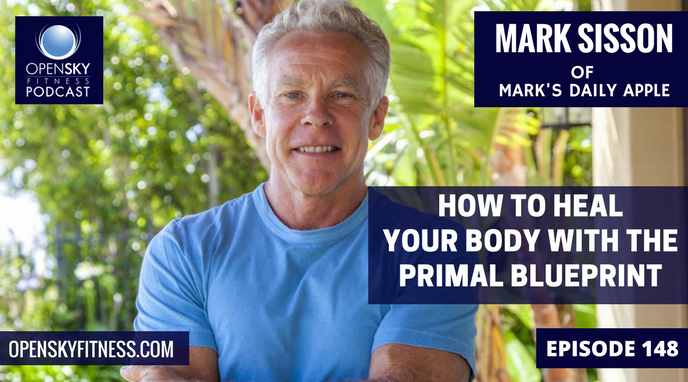 Mark Sisson: How to Heal Your Body with the Primal Blueprint.- Ep. 148
Living the Primal Blueprint Lifestyle
On this week's episode of the Open Sky Fitness Podcast, the incredible and inspirational Mark Sisson joined us to share his personal stories around health and wellness plus advice on living healthy through Primal Blueprint.
Mark is the originator of the Primal Blueprint, best-selling author of several books including The New Primal Blueprint and Primal Endurance, founder and blogger of Mark's Daily Apple, and creator of Primal Kitchen and the latest Primal Kitchen Restaurant chain.
I had such a great conversation with him and he answered quite a few of the questions that some of our members of the closed Open Sky Fitness Facebook group had for him.
We talked about nutrition, fitness, endurance training, and the growth of Mark's various businesses and projects.
What's the Difference Between Primal and Paleo Diets?
"You don't have to be Celiac to have grains negatively impact your health. People's lives can dramatically change when they cut out the sugars, the grains, and the industrial seed oils. Their inflammation goes down, they lose weight, and they can get off their medications." – Mark Sisson on the power of cutting out unhealthy foods from our diets. 
Primal and Paleo diets seem to be converging, but there are still some differences between the two. According to Mark, Paleo seems to be more restrictive compared to Primal. The Primal diet is friendlier as it allows:
Some dairy products

Ghee
Grass-fed cow products
Raw milk
Certain cheeses

Wine and other alcohol
Some saturated fats are okay
The Primal Blueprint 21-Day Transformation
First Steps to Eating Healthy
"The first step to eating healthier is to recognize that sugar is just really toxic. The less sugar we can consume in a lifetime, the better off we'll be in the long end." – Mark Sisson  
To begin to eat healthier, the best thing you can cut from your diet are artificial sugars that are hidden in various foods and drinks such as:
Sweetened tea
Smoothies from fast foods places like Jamba Juice
Refined carbohydrates in processed foods
Industrial seed oils:

Corn oil
Soybean oil
Canola oil
Endurance vs Sprint: What's the Best Way to Get in Shape?
It might seem rational that the longer you work out for, the more weight you'll burn, correct? Not likely.
According to Mark, long-distance training is not the best way to manage your weight and it can actually harm your joints because you're doing a repetitive movement for such a long time.
Because workouts like HIIT and sprinting are such explosive actions that easily help you get your heart rate up, your body experiences enough acute stress that you end up building muscle and losing weight. 
This doesn't make that you have to give up endurance training as your go-to workout, it just mains that make you should mix up your workout to include more HIIT or sprints to help avoid injury or chronic stress.
About Mark Sisson
Health and fitness expert Mark Sisson is the bestselling author of The Primal Blueprint and several other Primal Blueprint-branded books, and one of the leading voices of the burgeoning Evolutionary Health Movement. His blog, MarksDailyApple.com, has paved the way for Primal enthusiasts to challenge conventional wisdom's diet and exercise principles and take personal responsibility for their health and well-being.
From its humble – and controversial – beginnings in 2006, Mark's Daily Apple has grown into one of the highest-ranked health information resources on the Internet, with some 3 million unique visitors each month. Mark, 62, has a BA in biology from Williams College and is a former world-class endurance athlete, with a 2:18 marathon and a fourth-place finish in the Hawaii Ironman World Triathlon Championships to his credit.
Today, Mark directs his competitive energies into high-stakes Ultimate Frisbee tournaments against competitors decades younger. Besides blogging daily, Mark conducts seminars on the Primal Blueprint way of life and hosted 9 multi-day total immersion retreats called PrimalCon at locations across America and in Mexico from 2010-2014.
He operates Primal Blueprint Publishing in Malibu, CA, publishing his own titles as well as work from other authors promoting ancestral health principles. Mark is married to Carrie and they have two children.
Get Your Own Open Sky Fitness Apparel!
For a limited time, Devon and I will be taking orders for Open Sky Fitness apparel in our online OSF Store. We have sweatshirts, tanks, and T-shirts for men and women. Get yours today!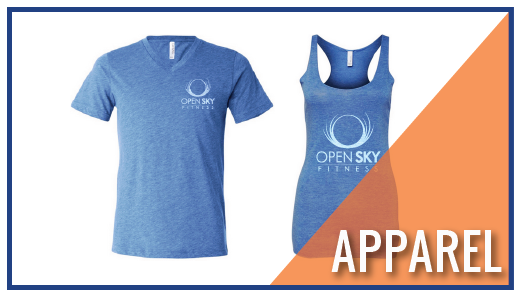 Join The Open Sky Fitness Podcast Group!
That's right! We have a closed Open Sky Fitness Podcast group  on Facebook where you and everyone have the opportunity to talk about your health and fitness goals in a safe environment. We post workouts and start discussions about how to be strategic around finding a healthier you. Check it out!
Start Building Your Own Workouts and Meal Plan!
Download Results Tracker here!
Click To Download Home Workout Templates or text the word, "lifting," to 33444 to download the templates. 
Download the OSF Food Journal Now!
Have a Question or Review for Rob or Devon?
We love answering questions and getting feedback from you, our listener! If you have any questions to ask us, want to share a review of the show, or tell us any suggestions for guests/topics that you think would be great to have on the show, just email Rob at rob@openskyfitness.com or Devon at devon@openskyfitness.com or you can also leave us a review at www.openskyfitness.com/review, ask a question in the closed Open Sky Fitness Facebook Group and even text OSFreview to 33444 to get the link.
What You'll Hear on This Episode
00:00 Open Sky Fitness Introduction
1:15  Opening comments with Rob and Devon
4:10  Get your own Open Sky Fitness apparel for this week only!
6:20 What's the best way to restore electrolytes naturally (no Gatorade) after an intense workout?
13:40  Introduction to Mark Sisson.
14:10  The secret to walking across a slackline.
17:15  The beginning of Mark's Daily Apple blog website.
20:00 How Mark's Daily Apple has grown and what it offers to its readers.
23:00  Mark's first book, The Primal Blueprint and how Mark began his business.
26:00  How does Paleo nutrition connect with being Primal?
28:00 What's acceptable in the Paleo Diet and what's not?
30:40 Is there a proper way to prepare legumes compared to what other people would do?
33:00  What do you do to find the best information on nutrition?
36:50  The value of looking at different types of nutrition from Paleo to Vegan to Vegetarian in order to help your individual health.
37:40  Mark's beginning as an endurance athlete who was following a high-carb diet and how that affected his health and wellness.
40:00  The power of good nutrition and cutting out the bad foods.
42:00  Rob's own transition to starting to eat healthy foods.
42:55  What are some baby steps to get started on eating healthier foods.
 45:20 Mark's advice for those who over-train or do long-distance cardio as a means to manage their weight.
48:00  How to burn body fat at the gym
53:00  How can you tell when your body actually needs carbs vs. your body is craving for carbs.
57:30  The best workout to help you lose weight.
1:01:15  What should a week of workouts look like for a person?
1:05:10 Facebook question: Are their vital nutrients, minerals, and vitamins that the Primal Diet doesn't provide if you properly follow it?
1:08:50  Facebook question: When will Primal Kitchen products be coming to outlets in the UK?
1:11:00  Upcoming Primal Kitchen restaurant openings
1:12:35 Closing comments with Rob and Devon
1:16:00 Open Sky Fitness Closing
RESOURCES MENTIONED DURING THE SHOW:
To Download Rob's FREE workout templates click below**
Ask Rob a Question or tell him what is working for you: Email Rob@OpenSkyFitness.com
To leave a Review for Rob and the Open Sky Fitness Podcast CLICK NOW!  Ratings and reviews are extremely helpful and greatly appreciated! They do matter in the rankings of the show and I read each and every one of them.
Contact our amazing sound engineer Ryan? Send him an e-mail here: info@stellarsoundsstudio.com
Thanks for Listening!
Thanks so much for joining us again this week. Have some feedback you'd like to share? Leave a note in the comment section below!
If you enjoyed this episode, please share it using the social media buttons you see at the bottom of the post.
Do you have any questions (and would like to hear yourself on the Open Sky Fitness Podcast)? Click on the link on the right side of any page on our website that says "Send Voicemail."
And finally, don't forget to subscribe to the show on iTunes to get automatic updates. It's free!
Thanks for listening/reading Episode 148 with Mark Sisson: How to Heal Your Body with the Primal Blueprint! We hope you have gained more knowledge on how to be a healthier you