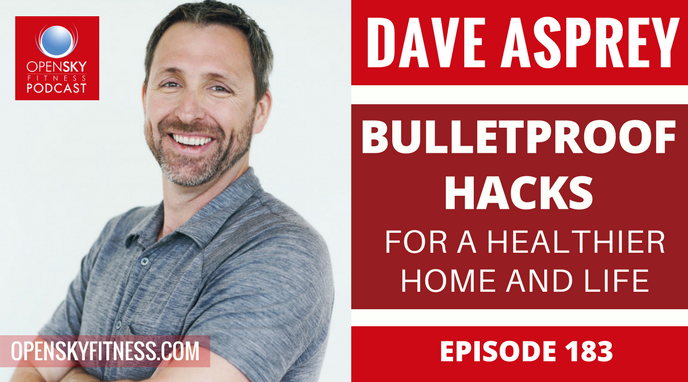 Dave Asprey: Bulletproof Hacks for a Healthier Home and Life – Ep. 183
"In the end, after all of the research and self experiments, it all comes down to the fact that the system which powers your body is also the system that controls your sleep, emotions, cognitive function, hormone levels, whether or not you'll get a disease and frankly it controls your willpower. That system isn't you; it's a distributed network of a quadrillion ancient bacteria that are embedded inside your cells." – Dave Asprey
This week on the Open Sky Fitness Podcast, the CEO and Founder of Bulletproof , Dave Asprey, joined us to talk about his early days as an investor and entrepreneur, how to hack your home and life for better health, his take on coconut oil, and so much more great insights on how to bulletproof your wellness.
Not only is Dave leading the way for Bulletproof Coffee, but he is also a Biohacker, Host of the Bulletproof Radio Podcast, Best-Selling Author of The Bulletproof Diet and Head Strong, Organizer of the Bulletproof Conference, and also the Founder of many other service organizations, businesses, and productions including:
Biohack Your Life
"Things that make bacteria weak will also make us weak and it's scary how easy it is to kill bacteria. You can use trace amounts of chemicals like bleach or the ancient enemies, mold and fungus, to destroy bacteria." – Dave Asprey
Dave has just such a wealth of information and I can't wait to share it with you all. We had a great discussion about how sneaky factors like junky blue or LED lights and toxic mold in your home can be a factor of why you feel ill, don't have a ton of energy, and are experiencing brain fog.
As you listen to this week's episode, Dave shares:
Why half of us under 40 aren't making enough energy to sustain us throughout the day.
How mold and fungus can weaken our minds and bodies.
Why healthy bacteria and mitochondria are vital for our wellness.
How technology can lead to brain fog and make us restless.
What we can do to prevent disease and early aging.
Why being healthy doesn't have to be expensive and easy hacks we can use every day.
Get Your Free Bulletproof Diet Roadmap
Discover which foods are toxic and suspicious so that you can ditch them and eat more Bulletproof approved meals and snacks all day long.
Simply click here to download your Free Bulletproof Diet Roadmap
Let Go of Old Tech Habits
"You can absolutely control how your cells make energy, how much energy they make, and what you do with it." – Dave Asprey
A main cause of why we experience such horrible brain fog and fatigue these days is because of how we use technology. Picking up on bad tech habits and living with them every day is hurting the health of our natural mitochondria.
Fortunately, we can easily hack our devices to instantly feel more focused and energized by taking the following actions:
Avoid junk light i.e. bright LED and blue light.
Be weary of WiFi routers the wireless connections around you.
Keep your phone on airplane mode when you don't need them such as while you're asleep.
Get into rest and recovery mode before bed by staying away from screens.
"You're not going to be able to get rid of everything from junk lighting to mold and that's okay. Just do your best to set your environment up to support your energy systems so that you're not exhausted at the end of the day." – Dave Asprey
How Dave Gets Energized
When you're feeling run down, it's time to start paying attention to several factors. Dave highly advises that we start to look at our diet and then follow these steps:
Pay attention to what you're eating and improve your habits with either The Bulletproof Diet or Head Strong books.
Stop eating the foods that make you weak i.e. sugars, beans, or even some forms of dairy.
Focus on foods that give you energy such as healthy fat and Ketogenic foods.
Consider possibly following a cyclical Ketosis lifestyle if it's right for your body.
Drink Bulletproof Coffee which is clean coffee with no mold and toxins.
Blend your Bulletproof Coffee with grass-fed butter, not milk.
Take at least a teaspoon of Bulletproof Brain Octane Oil as well to raise the amount of ketones, gain more energy, and burn more fat.
If you have stomach issues with butter in your Bulletproof Coffee, you can switch to ghee with your teaspoon of Brain Octane Oil.
How to Make Bulletproof® Coffee with Dave Asprey
About Dave Asprey
Dave Asprey, founder of Bulletproof and author of New York Times bestseller The Bulletproof Diet, is a Silicon Valley investor and technology entrepreneur who spent two decades and over $1 Million to hack his own biology.
Dave lost 100 pounds without counting calories or excessive exercise, used techniques to upgrade his brain and lift his IQ by 20 points, and lowered his biological age while learning to sleep more efficiently in less time. Learning to do these seemingly impossible things transformed him into a better entrepreneur, a better husband, and a better father.
Dave is the creator of the widely popular Bulletproof Coffee, host of the #1 health podcast, Bulletproof Radio, and author of the New York Times bestselling books, The Bulletproof Diet and Head Strong.  Through his work Dave provides information, techniques, and keys to taking control of and improving your biochemistry, your body and your mind so they work in unison, helping you execute at levels far beyond what you'd expect, without burning out, getting sick, or allowing stress to control your decisions.
Look Out For Our Upcoming
Throw Back Thursday Podcast Episodes!
We'll be releasing new podcasts episodes on Thursdays that discuss previous episodes we've done, but we need your help! Go to the  Open Sky Fitness Facebook Group and tell us what your favorite episodes are. Then, Devon and I will re-listen to that episode, pick out the best parts and share even more insights on the topic.
We won't just be regurgitating the same information over again. Since we began this podcast, there's so much more information out their on health, nutrition, fitness, and personal wellness. So, each Thursday we'll really just be going deeper into your favorite topics!
Save Your Spot For The
8 Week Sky Fit Challenge In January!
Get on our waiting list to sign up for our next 8 Week Sky Fit Challenge that will start on January 22, 2018!
The challenge consists of:
8 Weeks of Equipment Free Bodyweight Workouts in 20 minutes or less. (No gym membership required)
SIMPLE Whole Food Meal Plan w/Tasty Recipe Cookbook Featuring 60+ recipes!
Foolproof Schedule so you know EXACTLY what you're supposed to do every day.
Access to our New Private Facebook Group – Sky Fit Challenge Group to share your progress with everyone as well as receive support and be held accountable.
Claim Your FREE Bacon + $10 Off
With Our Sponsor – ButcherBox
That's right! By listening to the Open Sky Fitness Podcast, you get the chance to get a free order of bacon plus $10 off your first ButcherBox  purchase!!
ButcherBox delivers 100% grass-fed beef, free range organic chicken and heritage breed pork directly to your door. Think of them as the neighborhood butcher for modern America.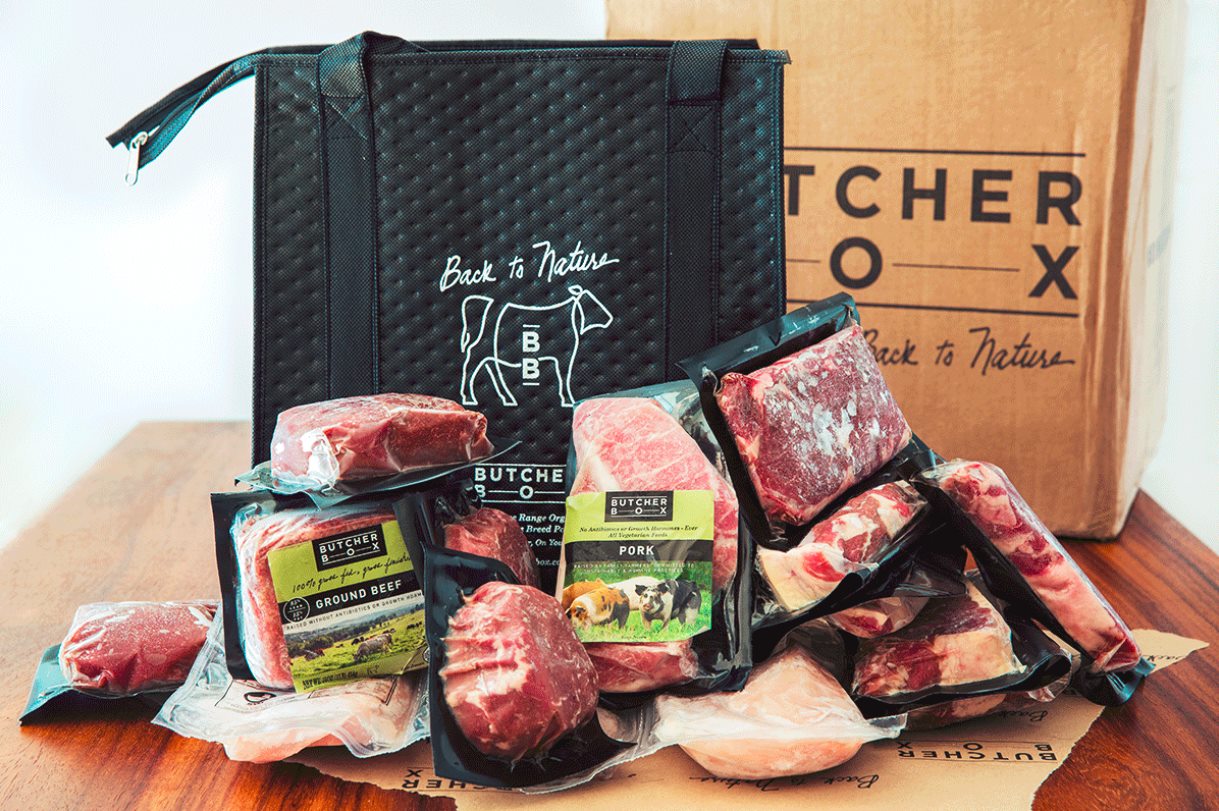 Join The Open Sky Fitness Podcast Group!
That's right! We have a closed Open Sky Fitness Podcast group on Facebook where you and everyone have the opportunity to talk about your health and fitness goals in a safe environment. We post workouts and start discussions about how to be strategic around finding a healthier you. Check it out!
Start Building Your Own Workouts and Meal Plan!
Download Results Tracker here!
Click To Download Home Workout Templates or text the word, "lifting," to 33444 to download the templates. 
Download the OSF Food Journal Now!
Have a Question or Review for Rob or Devon?
We love answering questions and getting feedback from you, our listener! If you have any questions to ask us, want to share a review of the show, or tell us any suggestions for guests/topics that you think would be great to have on the show, just email Rob at rob@openskyfitness.com or Devon at devon@openskyfitness.com or you can also leave us a review at www.openskyfitness.com/review, ask a question in the closed Open Sky Fitness Facebook Group and even text OSFreview to 33444 to get the link.
What You'll Hear on This Episode
00:00 Open Sky Fitness Introduction
1:15  Opening comments with Rob and Devon
1:30 Check out last week's show – OSF 182 – How A Strong Community Can Save Your Life
1:40 Check out our brand new Throw Back Thursday Podcast series!
2:20 This week's episode with Bulletproof Founder and CEO, Dave Asprey
3:00  Be a part of our next 8 Week Sky Fit Challenge on January 22, 2018 to kick off the New Year!
5:50  Introduction to Dave Asprey
6:50 Dave's NY Times Bestselling science book, Head  Strong, and all of the information that can benefit our health and wellness.
9:20  How Dave became so interested in biohacking.
11:00  Dave's own experience with being unhealthy and researching how to get fit and lose the brain fog according to what his own individual body needed.
13:00  His experience helping to grow a company, financial decisions, and discovering that good health was what he needed to be happy.
14:30  Dave's investment in an anti-aging non profit organization.
15:00 Why bacteria is vital for health and wellness
17:00  Dave's life now with more energy and focus in his 40s compared to during his 20s.
18:00  What different factors are negatively affecting our lives.
20:40 What makes our bodies weak and how we can become stronger.
24:00 Wireless technology is useful, but it can also negatively impact our health.
26:00 The harmful affect of toxic mold to our bodies and why some people are more sensitive to it than others.
30:00  What people can do to discover and get rid of toxic mold.
31:00  Why you need to get rid of porous items like mattresses and pillows if you have a house with mold
34:40 Easy hacks to avoid and get rid of mold in your home.
36:30  How to gain back energy to fully enjoy time with your family.
 37:20  Improving your willpower to make good choices that will bring you more energy every day.
43:00  How to make the perfect cup of Bulletproof Coffee for your individual body.
49:00  How Dave takes his Bulletproof Coffee and how it has impacted his life.
52:00  Why people who drink Bulletproof Coffee end up drinking less coffee since they're not constantly craving more and more coffee.
54:30  Dave's opinion on coconut oil.
59:30  Closing comments with Rob and Devon
1:01:30 Open Sky Fitness Closing
RESOURCES MENTIONED DURING THE SHOW:
Get Fit with Free Downloads!
To Download Rob's FREE workout templates click below**
Ask Rob a Question or tell him what is working for you: Email Rob@OpenSkyFitness.com
Support This Podcast
To leave a Review for Rob and the Open Sky Fitness Podcast CLICK NOW!  Ratings and reviews are extremely helpful and greatly appreciated! They do matter in the rankings of the show and I read each and every one of them.
Contact our amazing sound engineer Ryan? Send him an e-mail here: info@stellarsoundsstudio.com
Thanks for Listening!
Thanks so much for joining us again this week. Have some feedback you'd like to share? Leave a note in the comment section below!
If you enjoyed this episode, please share it using the social media buttons you see at the bottom of the post.
Do you have any questions (and would like to hear yourself on the Open Sky Fitness Podcast)? Click on the link on the right side of any page on our website that says "Send Voicemail."
And finally, don't forget to subscribe to the show on iTunes to get automatic updates. It's free!
Thanks for listening/reading Episode 183 with Dave Asprey: Bulletproof Hacks for a Healthier Home and Life! We hope you have gained more knowledge on how to be a healthier you.