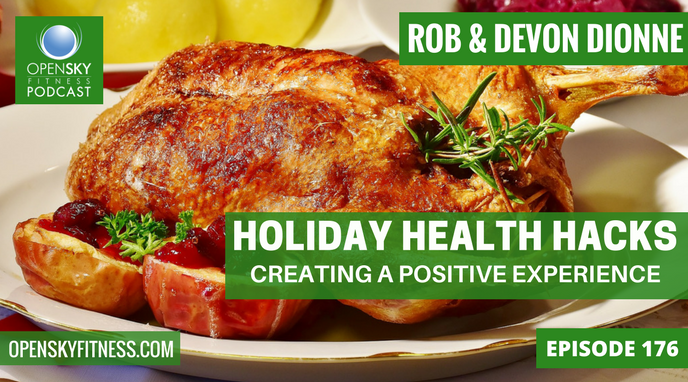 Holiday Health Hacks: Creating a Positive Experience – Ep. 176
"How you're feeling and what you're going to be eating during the holidays will be a reflection of how you feel about your family and the other people that you're around."  – Devon Dionne
With Thanksgiving coming up this week and the rest of the year-end holidays well on their way, Devon and I are sharing our best tips on how to create a positive experience for yourself this holiday season.
When it's been awhile since we've been around our families, all of these different feelings of stress and anxiety can bubble up within ourselves. This can make it extremely difficult to be positive, eat healthy, and connect with who we are as a person.
In this episode, you will learn how to:
Deal with dysfunctional and negative family members and experiences.
Create a plan on how to approach a family member or friend at a gathering plus how to recover.
Reach out for help if you're struggling with your goals or with relatives.
Eat healthy and practice mindful eating to stay on track with your nutrition goals.
Recover if you've eaten too much or overindulged on junk food and drinking.
Maintain your fitness and encourage others to also think about being healthier.
Alright, here is your game plan to have an awesome holiday and visit with your loved ones!
Dealing with Difficult Family Members
Being around family can be tough. Certain dysfunctional relatives might say something or behave in such a way that annoys you. For example, they might remind you of who you once were as a child or young adult. Now that you're a full-grown adult with lots to offer, you shouldn't let them bring you down. You know who you are as this amazing, capable person who has created their own life and you should be proud of it.
Here's how to make the most out of spending time with your family:
Don't be optimistic about things, but be realistic about what to expect from people.
Let go of expectations of other people and be present with the parts of them that you enjoy.
Make a plan and think about which family members and topics you enjoy or don't so you can plan on who to talk to.
Create one or several exit strategies to avoid any unfavorable situation.
Instead of staying at a family member's house, rent an Air BnB or stay at a hotel to avoid spending too much time with negative relatives.
Spend time with family members who are positive and make you feel good.
Planning doesn't allow you to engage with the inappropriate behavior of others, but allows you to stay calm and find your own truth. That way, you don't have to be on alert or expect the worse at all times.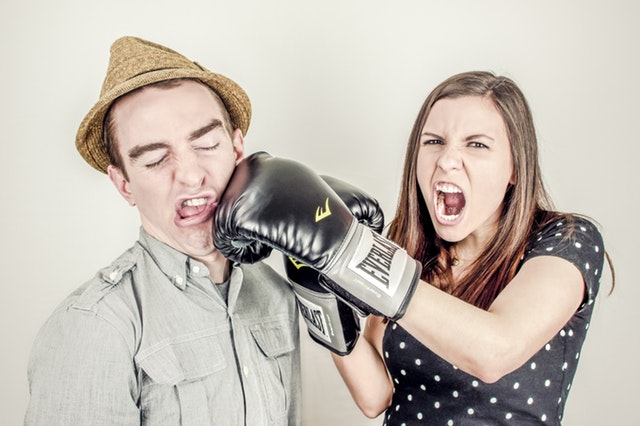 Creating Your Own Positive Experience
Now that you have a plan on how to spend time with family, it's time to focus on you and making this visit an enjoyable one.
Prepare and bring your own healthy food to bring to a party if you know your family doesn't have the same health goals as you.
Plan on being there for just a couple of hours and schedule your day tighter so you have an excuse to leave early if you feel uncomfortable.
Keep the mantra, "This is not about me, this is about them," whenever someone says something to try to bring you down.
Wait 2 seconds before responding if someone says something that upsets you.
Remember that you're an adult now and you've changed; you're no longer a child so try to be present and see both yourself and your family from a new point of view.
Stick to your truth because you don't need to prove yourself to your family. You know who you are and how much you've changed since you were a child.
Have a recovery plan for after the holidays to be able to reconnect with yourself and get your energy back.
Talk to someone such as a partner, friend, or other family member that you trust about your experience.
Write in a journal or meet with a therapist as well to help you with the emotions that you're dealing with.
"You can only change yourself. You cannot control your family in that given situation." – Devon Dionne
Focus on Your Health and Wellness Goals
Family members and friends can zap our energy, but we can do it to ourselves as well when we lose sight of our health and wellness goals. Keep these food tips in mind to ensure that you continue eating healthy during the holidays:
Don't skip meals and stay consistent with eating
Be mindful when you eat so that you can disconnect food from your emotions.
Have a healthy snack or even a meal before going to a party.
Avoid all processed sweets and desserts that are available to you from anywhere, but treat yourself to something homemade and delicious.
What are your food weaknesses? Check in with yourself and stick to just one serving or several small servings instead of binge eating.
If you're hosting, have to-go containers on hand to send people home with the leftovers.
As host, you don't have to feel obligated to cook every dish and you get to choose what to serve.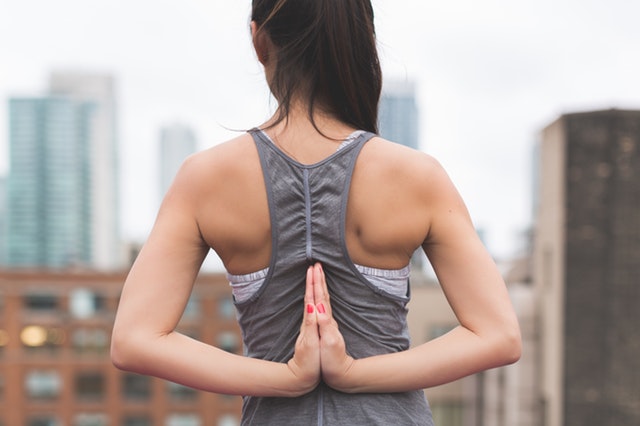 Mindful Eating Principles to Live By
To step up your mindful eating game, here are some tips to live by when you're tempted by all the food available at parties:
Become conscious of your feelings since we tend to eat or drink when we're anxious or uncomfortable.
Don't linger by the food table. Instead, take a plate to go and talk to someone to have a good conversation and avoid mindless eating.
Avoid piling food on your plate and stick to the two plate rule and just put enough on your plate

1st plate is salad and vegetables
2nd plate is meat and vegetables

Remember to thoroughly chew your food
Practice putting your fork down while you talk
Notice the physical elements of the food – the taste and texture.
Beware of what you're drinking including empty calorie drinks like cider, eggnog, and alcohol.

Start your first drink off with a glass of water and switch every other drink with water.

Stop drinking or eating heavy foods about two hours before going to bed to allow your body to digest and get a good night's sleep.

if you do over eat, just go light the next day and avoid heavy meals and alcohol.
Stay Nutritious with Supplements
If you know that your family or loved ones don't necessarily follow the healthiest diet around the holidays, you can help balance it out by taking supplements such as:
Vitamin D
Omega 3 oils
Multivitamins
High quality digestive enzymes for dairy and gluten
You can also boost your energy, feel relaxed, and get a good night's sleep with:
Maintain Your Fitness
During the holidays, it's not absolutely vital to focus on progressing your fitness. What's better is to just stay focused on maintaining it.
Here are some ideas to help:
Go for an easy 10-15 minute jog or do a quick HIIT workout.
Plan a fun, physical activity to do and invite your family to join if they want.
Ask family members or friends if they want to doing something with you like a yoga routine.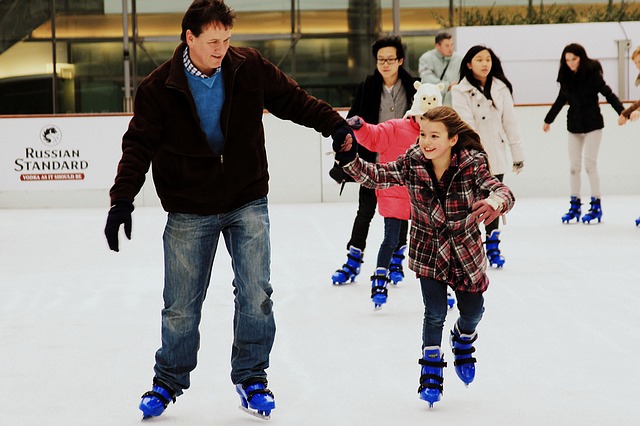 Check Out our New Sponsor – ButcherBox!
ButcherBox delivers 100% grass-fed beef, free range organic chicken and heritage breed pork directly to your door. Think of them as the neighborhood butcher for modern America.
Get $10 off plus free bacon with your first ButcherBox order!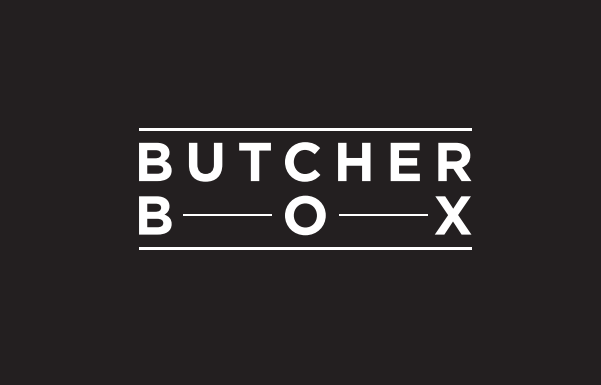 Save Your Spot for the
8 Week Sky Fit Challenge
It's never too early to sign up for our next 8 Week Sky Fit Challenge that will happen in January 2018!
The challenge consists of:
8 Weeks of Equipment Free Bodyweight Workouts in 20 minutes or less. (No gym membership required)
SIMPLE Whole Food Meal Plan w/Tasty Recipe Cookbook Featuring 60+ recipes!
Foolproof Schedule so you know EXACTLY what you're supposed to do every day.
Access to our New Private Facebook Group – Sky Fit Challenge Group to share your progress with everyone as well as receive support and be held accountable.
Join The Open Sky Fitness Podcast Group!
That's right! We have a closed Open Sky Fitness Podcast group on Facebook where you and everyone have the opportunity to talk about your health and fitness goals in a safe environment. We post workouts and start discussions about how to be strategic around finding a healthier you. Check it out!
Start Building Your Own Workouts and Meal Plan!
Download Results Tracker here!
Click To Download Home Workout Templates or text the word, "lifting," to 33444 to download the templates. 
Download the OSF Food Journal Now!
Have a Question or Review for Rob or Devon?
We love answering questions and getting feedback from you, our listener! If you have any questions to ask us, want to share a review of the show, or tell us any suggestions for guests/topics that you think would be great to have on the show, just email Rob at rob@openskyfitness.com or Devon at devon@openskyfitness.com or you can also leave us a review at www.openskyfitness.com/review, ask a question in the closed Open Sky Fitness Facebook Group and even text OSFreview to 33444 to get the link.
What You'll Hear on This Episode
00:00 Open Sky Fitness Introduction
1:15  Opening comments with Rob and Devon
1:30 Sign up to join the 8 Week Sky Fit Challenge coming up in January!
4:00 Check out last week's show with Episode 175 with Danielle Natoni: Building a Healthy Family
5:30  How to be healthy around the holidays especially with our families.
6:20  Subscribe to our podcast and take your health to the next level!
7:20 Check out our new sponsor – ButcherBox
6:50  How to heal your herniated disc by being proactive with physical therapy and other methods.
10:20 Family health and nutrition during the holidays
33:00 Allow yourself to observe what's going on at a family gathering without being personally affected by it.
35:00 5 Ways to Survive Your Next Family Gathering by playing Queen/King for a Day Game and Dysfunctional Family Bingo with friends
41:00 Other struggles over the holidays including food and exercise
49:00 Mindful eating principles to live by
1:00:45  Supplements to take to get the nutrients you need
1:07:30 Closing comments with Rob and Devon
1:08:00 Reach out to us via the The Open Sky Fitness Podcast Group on Facebook to ask questions and seek help.
1:10:00 Open Sky Fitness Closing
RESOURCES MENTIONED DURING THE SHOW:
Get Fit with Free Downloads!
To Download Rob's FREE workout templates click below**
Ask Rob a Question or tell him what is working for you: Email Rob@OpenSkyFitness.com
Support This Podcast
To leave a Review for Rob and the Open Sky Fitness Podcast CLICK NOW!  Ratings and reviews are extremely helpful and greatly appreciated! They do matter in the rankings of the show and I read each and every one of them.
Contact our amazing sound engineer Ryan? Send him an e-mail here: info@stellarsoundsstudio.com
Thanks for Listening!
Thanks so much for joining us again this week. Have some feedback you'd like to share? Leave a note in the comment section below!
If you enjoyed this episode, please share it using the social media buttons you see at the bottom of the post.
Do you have any questions (and would like to hear yourself on the Open Sky Fitness Podcast)? Click on the link on the right side of any page on our website that says "Send Voicemail."
And finally, don't forget to subscribe to the show on iTunes to get automatic updates. It's free!
Thanks for listening/reading Episode 176  Holiday Health Hacks: Creating a Positive Experience! We hope you have gained more knowledge on how to be a healthier you.