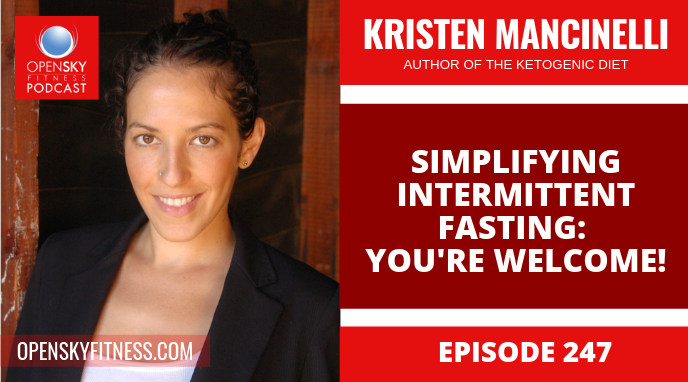 Simplifying Intermittent Fasting: You're Welcome! with Kristen Mancinelli – Ep. 247
"The most successful fasting regimen is the one that you can stick to and the one that you can organize into your life." – Kristen Mancinelli
This week, our good friend, Registered Dietitian, Consultant, and Author of The Ketogenic Diet as well as her latest book, Jump Start Ketosis, Kristen Mancinelli joins us for the third time on the podcast. With a Master's of Science degree in Public Health and Nutrition, Kristen has a wealth of information to share and this time we're specifically focusing on how to make intermittent fasting easy for anyone.
On This Episode:
Based on her latest article, 15 tips to help you succeed on your fast, Kristen will share:
The easiest way to begin intermittent fasting.
How long it takes to transition into Ketosis while on the Ketogenic Diet.
The Various triggers that we think we're hungry when we're just thirsty or detoxing from the last meal we ate.
The benefits of intermittent fasting occasionally for our health including preventing aging, increase longevity, and even possibly prevent cancer.
The importance of building your unique intermittent fasting plan around your goals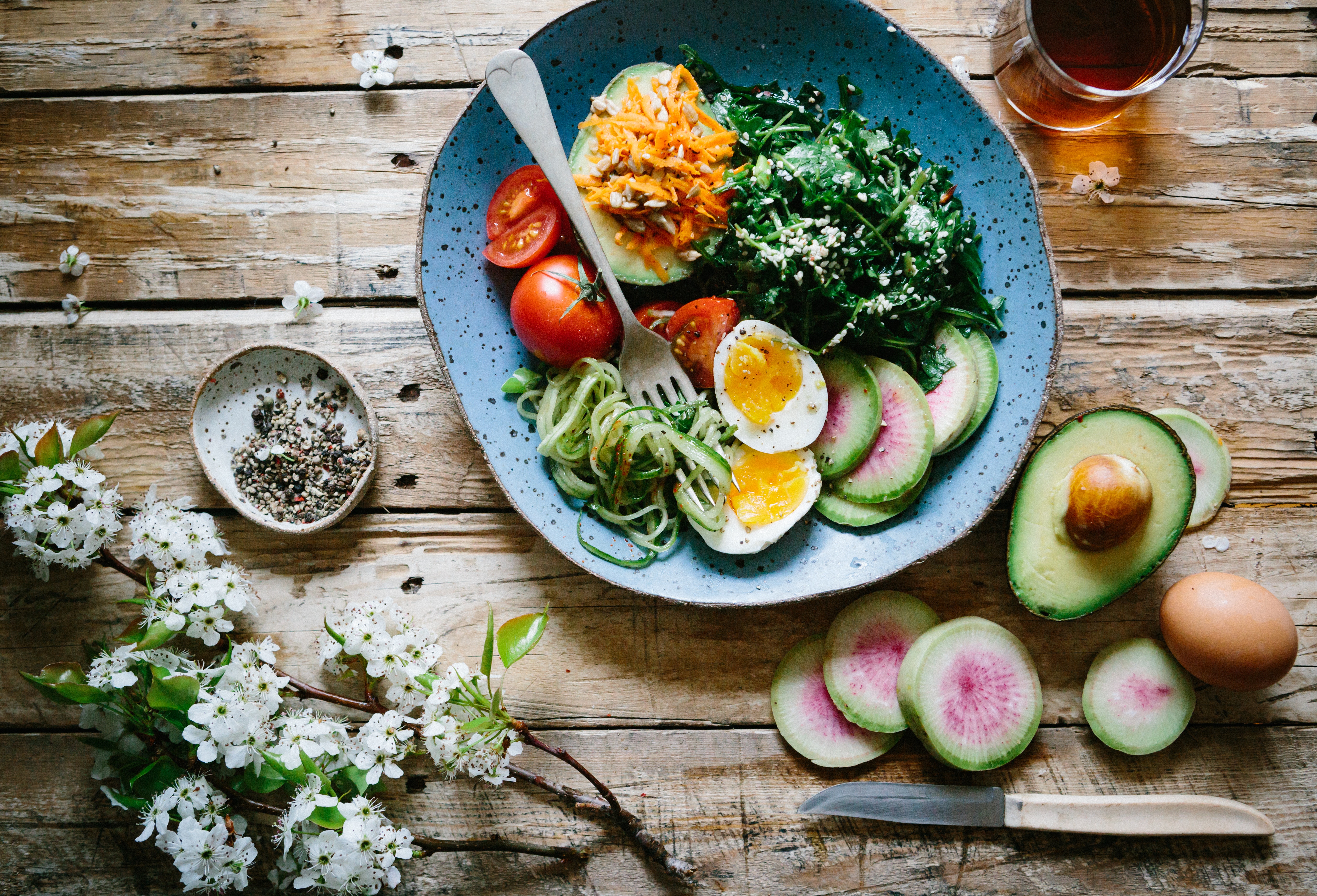 About Kristen Mancinelli
Let Us Coach You On The Podcast!
Come on the podcast and let us be your coach for an hour on the show!
We talked about this a while back but we want you, the listener, to be a guest on our show by allowing us to be your personal coaches for a 1-hour call. Your call will be featured as an actual episode on our podcast but can always keep your identity hidden by changing your name because we know that our health is everything and some things we'd like to keep to ourselves.
Here's how you sign up:
Fill out your name, email address, and message
In your message, please include:

Your goals
What obstacles you believe are standing in your way
Your expectations and how you think Devon and Rob can help you
What You'll Hear on This Episode
00:00 Open Sky Fitness Introduction
1:15  Opening comments with Rob and Devon
2:00 About our show today with Kristen Mancinelli
2:30 The importance of warming up – Rob's story this week
8:00 How to get warmed up for your workout that day.
10:30 Why the healing stops once the depression sets in –  How the body is designed to heal and we have to be proactive.
12:40 The importance of taking off time to allow your body to heal; especially with a back injury.
19:40 What intermittent fasting specifically is, common intermittent fasting mistakes, and why it's so popular right now.
21:20 What's the easiest way to do intermittent fasting? Is it calories restrictive?
22:15 Can you still have breakfast drinks like coffee or tea while intermittent fasting?
23:30 How long does it take to transition into Ketosis while on the Ketogenic Diet?
25:00 Are there benefits to do a longer fast vs. shorter fast?
26:00 Various triggers that we think we're hungry when we're just thirsty or detoxing from the last meal we ate.
26:40 Why it's okay to be hungry and you don't have to eat 3 or 5/7 smaller meals a day.
29:30 Metabolism in the fed state vs. fasted state.
31:00 Why fasting is actually much simpler than what we've been told to believe in the past.
33:00 Why any opportunities you have to fast with your schedule will be beneficial to your health
33:30 The benefits of intermittent fasting occasionally for our health including preventing aging, increase longevity, and even possibly prevent cancer.
36:00 How our insulin levels and weight are impacted by intermittent fasting.
39:00 The diet Devon followed when she had gestational diabetes.
43:30 The 15 tips to help your intermittent fasting be a success.
43:45  1) Stop researching and get started.
45:00 2) Remember that it's the length of your fasting window and not your eating window that counts.
46:05 3) Don't keep foods in the house that you might binge on.
48:30 4) Don't stuff yourself at your last meal thinking it will make fasting easier tomorrow.
51:15 5) Drink water, sparkling water, tea or coffee.
53:00 6) Be willing to wait through hunger peaks
53:40 Why it's normal that you might feel a bit jittery and energetic at the beginning of intermittent fasting which is actually great for working out and being productive.
55:50 Don't intermittent fast if you're underweight, breastfeeding, or anemic. If you have any health issues, don't do this without consulting someone first.
56:20 7) Keep busy.
57:25 8) If you break your fast, go ahead and eat to satisfaction.
59:25 9) Get comfortable with exercising while fasting.
1:02:00 The importance of building your unique intermittent fasting plan around your goals.
1:04:30 10) Focus on protein, fat, and fiber-rich foods when you eat.
1:06:30 Kristen's experience of fasting for 10 days as part of Ramadan and how she learned to importance really nourishing your body with whole foods.
1:09:50 The optimal amount of days a month people should be fasting if they want to do it.
1:12: 25 11) Avoid alcohol.
1:16:00 12) Don't over complicate your fast with lots of supplements or broth regimens.
1:19:00 13) Build a support system.
1:22:30 14) Go easy on the carbs and get most of them from non-starchy vegetables.
1:23:25 15) Give it a try for a few weeks.
1:24:55 Why intermittent fasting is not the same as the ketogenic diet.
1:25:15 Final comments with Kristen, Rob, and Devon.
1:27:15 Tune into our next Coaching Call next week and learn how to be coached on the podcast!
1:28:50 Open Sky Fitness Closing
RESOURCES MENTIONED DURING THE SHOW:
JOIN THE SKY FIT CHALLENGE!
The challenge consists of:
8 Weeks of Equipment Free Bodyweight Workouts in 20 minutes or less. (No gym membership required)
SIMPLE Whole Food Meal Plan w/Tasty Recipe Cookbook Featuring 60+ recipes!
Foolproof Schedule so you know EXACTLY what you're supposed to do every day.
Access to our New Private Facebook Group – Sky Fit Challenge Group to share your progress with everyone as well as receive support and be held accountable.
Do The FREE 7 Day Paleo Rest
Simply go to 7DayPaleoReset.com to sign up now
One of the best things you can do for your mind and body in your mission to get healthier is to focus on your nutrition. That's why we're allowing people to sign up now to join us for our next Free 7 Day Paleo Rest! It's all done via Facebook so no annoying emails that will fill up your inbox.
As part of the 7 Day Paleo Reset, we will provide you with:
Introduction to what the Paleo Diet is all about
7 Day guide to easy Paleo recipes
What batch cooking is and how to incorporate that into your lifestyle
Various content resources including generational eating habits, the importance of building a wellness community, and how to begin a new healthy lifestyle.
How to make an impact on your life and life a life full of wellness.
Look Out For Our Upcoming
Throw Back Thursday Podcast Episodes!
We'll be releasing new podcasts episodes on Thursdays that discuss previous episodes we've done, but we need your help! Go to the  Open Sky Fitness Facebook Group and tell us what your favorite episodes are. Then, Devon and I will re-listen to that episode, pick out the best parts and share even more insights on the topic.
We won't just be regurgitating the same information over again. Since we began this podcast, there's so much more information out their on health, nutrition, fitness, and personal wellness. So, each Thursday we'll really just be going deeper into your favorite topics!
Claim Your FREE Bacon + $10 Off
With Our Sponsor – ButcherBox
That's right! By listening to the Open Sky Fitness Podcast, you get the chance to get a free order of bacon plus $10 off your first ButcherBox purchase!!
ButcherBox delivers 100% grass-fed beef, free-range organic chicken, and heritage breed pork directly to your door. Think of them as the neighborhood butcher for modern America.
Join The Open Sky Fitness Podcast Group!
That's right! We have a closed Open Sky Fitness Podcast group on Facebook where you and everyone have the opportunity to talk about your health and fitness goals in a safe environment. We post workouts and start discussions about how to be strategic about finding a healthier you. Check it out!
Start Building Your Own Workouts and Meal Plan!
Download Results Tracker here!
Click To Download Home Workout Templates or text the word, "lifting," to 33444 to download the templates.
Download the OSF Food Journal Now!
Have a Question or Review for Rob or Devon?
We love answering questions and getting feedback from you, our listener! If you have any questions to ask us, want to share a review of the show, or tell us any suggestions for guests/topics that you think would be great to have on the show, just email Rob at rob@openskyfitness.com or Devon at devon@openskyfitness.com or you can also leave us a review at http://reviewourpodcast.com ask a question in the closed Open Sky Fitness Facebook Group and even text OSFreview to 33444 to get the link.
Get Fit with Free Downloads!
To Download Rob's FREE workout templates click below**
Ask Rob a Question or tell him what is working for you: Email Rob@OpenSkyFitness.com
Support This Podcast
To leave a Review for Rob and the Open Sky Fitness Podcast CLICK NOW!  Ratings and reviews are extremely helpful and greatly appreciated! They do matter in the rankings of the show and I read each and every one of them.
Contact our amazing sound engineer Ryan? Send him an e-mail here: info@stellarsoundsstudio.com
Thanks for Listening!
Thanks so much for joining us again this week. Have some feedback you'd like to share? Leave a note in the comment section below!
If you enjoyed this episode, please share it using the social media buttons you see at the bottom of the post.
Do you have any questions (and would like to hear yourself on the Open Sky Fitness Podcast)? Click on the link on the right side of any page on our website that says "Send Voicemail."
And finally, don't forget to subscribe to the show on iTunes to get automatic updates. It's free!
Thanks for listening/reading episode 247 – Simplifying Intermittent Fasting: You're Welcome! with Kristen Mancinelli!  We hope you have gained more knowledge on how to be a healthier you.