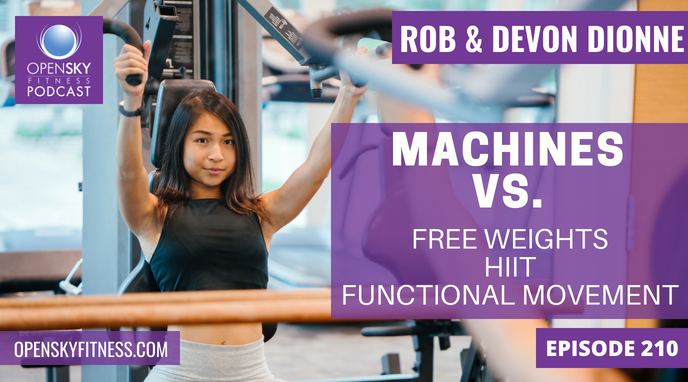 Machines vs. Free Weights, HIIT, and Functional Movement – Ep. 210
This week is an extra special episode! We've been getting a TON of questions from our Open Sky Fitness Podcast Group on Facebook about fitness and exercise. The questions people wrote need such in-depth answers from us that rather than replying to them in the group, we're answering them this week in our podcast episode.
Specifically, we'll be answering questions about:
Interval training

HIIT
Tabata
Turbulence Training
One-Minute Method

Cardio vs. Interval Training
Functional training
The 7 Primal Movements
Eccentric vs concentric vs isometric movements
Using machines vs. free weights
Intermittent fasting and nutrition
How to do a pull-up
Proper gym etiquette
How to begin lifting heavier weights
Whether you work out a lot or are just getting started at the gym, this is a great episode to learn more about different types of workouts.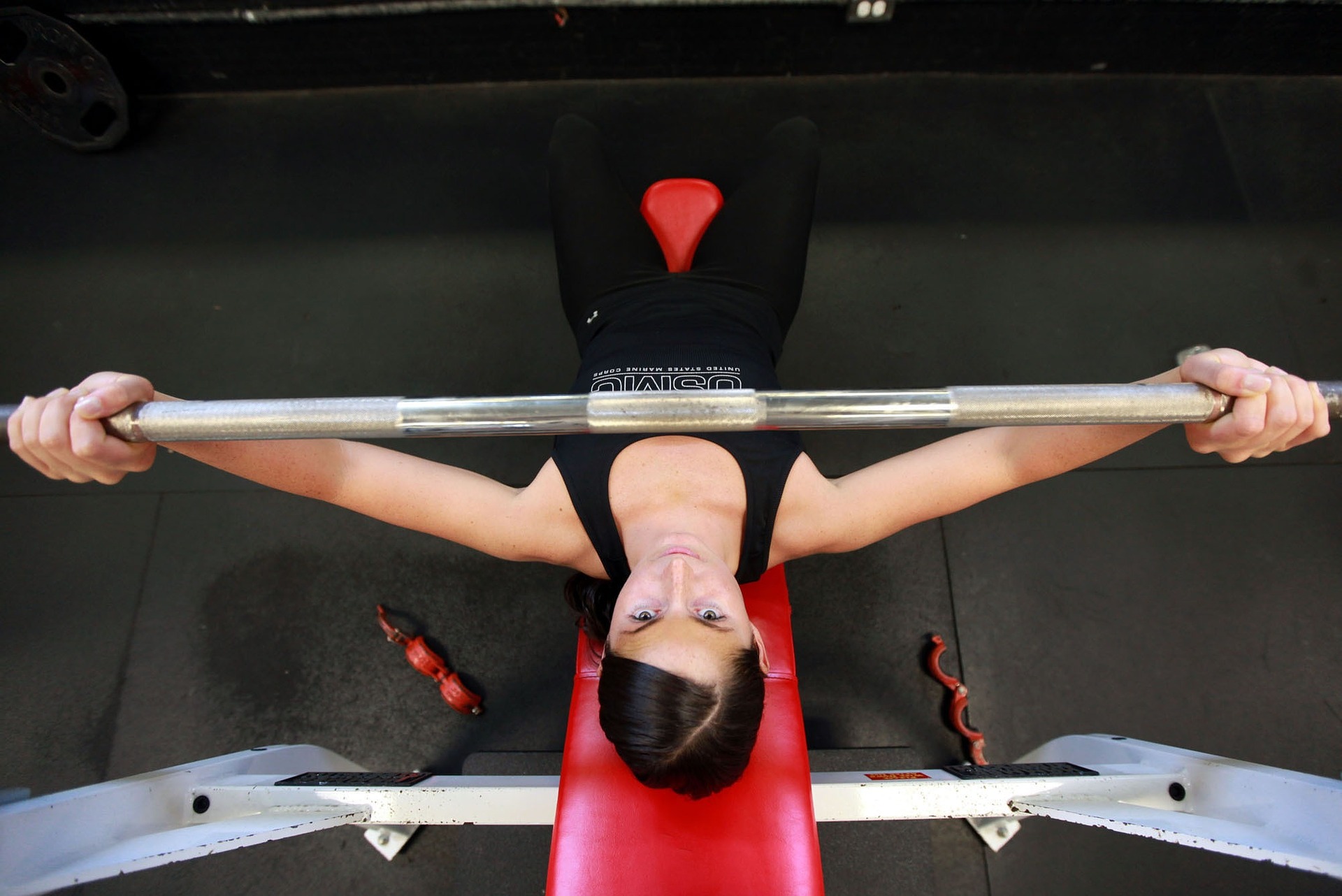 What You'll Hear on This Episode
00:00 Open Sky Fitness Introduction
1:15  Opening comments with Rob and Devon
1:30 Check out last week's show: OSF 209 – Brain-Powered Weight Loss with Eliza Kingsford
2:20 Check out our TWO BONUS EPISODES and the #TBT episode on iTunes
3:00 Remember to subscribe!
4:40 Let us know if you're still interested in the Sky Fit Challenge!
6:00 Check out our 7 Day Paleo Reset that you can do anytime!
7:00 About today's episode: Answering big questions from our Open Sky Fitness Podcast Group on Facebook
9:00 Interval Training – What are the different options as far as speed and what's good for the best fat burning? Can you do interval training while intermittent fasting?
11:30 Chest bands vs. Fitbits and wearables for monitoring your heart rate.
13:40 How to get warmed up for a HIIT training workout.
15:30 Various types of HIIT training including cardio and body weight training.
16:40 Tabata – What it is and the various benefits.
18:40 The Little Method by Dr. Jonathan Little and Dr. Martin Gibala
20:50 Turbulence Training created by Craig Ballantyne
21:40 Final decision – what HIIT method is best for you?
23:00 What foods should you be eating depending on if you do a HIIT or cardio workout that day?
23:55 Functional Training – How can we build up our pull-ups?
24:20 What Functional Training is and how it's beneficial.
26:30 The 7 Primal Movements we used as babies and how we can incorporate them into our workouts and daily lives as adults.
30:00 The benefits of working with a barbell to get in form before isolating specific movements, weight amount, and other variables.
35:30 Scaling pull-ups and how to do one.
38:30 How to use bands, machines, or boxes in assisting you with your pull-ups.
45:30 Concentric, eccentric, and isometric movements.
55:40 Time Under Tension eccentric workouts that incorporate and trigger adaptation.
53:30 Periodization workouts and how to incorporate movement into it.
54:40 Why Concentric movements are so great for athletes or focusing on specific skills.
55:30 Isometric movements like yoga and the benefits.
59:00 Lifting with machines vs. free weights.
1:01:00 Why weight lifting machines were even created in the first place.
1:03:00 How to stabilize your muscles through lifting weights over using a machine.
1:11:00 Final comments with Rob and Devon.
1:12:00 Continue the conversation and ask us more questions in The Open Sky Fitness Podcast Group on Facebook
1:13:55 Open Sky Fitness Closing
RESOURCES MENTIONED DURING THE SHOW:
JOIN THE SKY FIT CHALLENGE!
Our 8 Week Sky Fit Challenge has begun but you can still sign up or learn more about it!
The challenge consists of:
8 Weeks of Equipment Free Bodyweight Workouts in 20 minutes or less. (No gym membership required)
SIMPLE Whole Food Meal Plan w/Tasty Recipe Cookbook Featuring 60+ recipes!
Foolproof Schedule so you know EXACTLY what you're supposed to do every day.
Access to our New Private Facebook Group – Sky Fit Challenge Group to share your progress with everyone as well as receive support and be held accountable.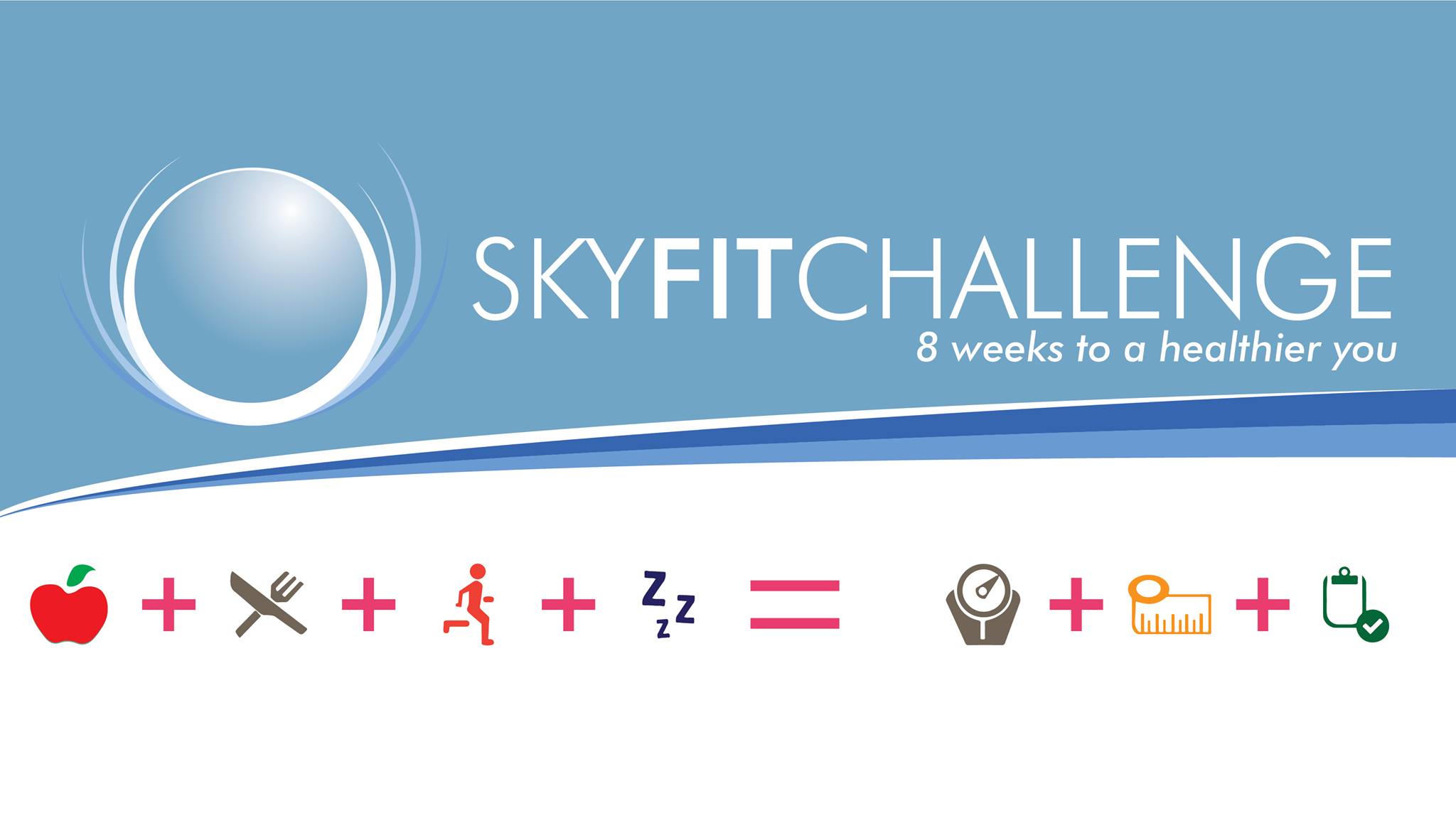 Do The FREE 7 Day Paleo Rest
Simply go to 7DayPaleoReset.com to sign up now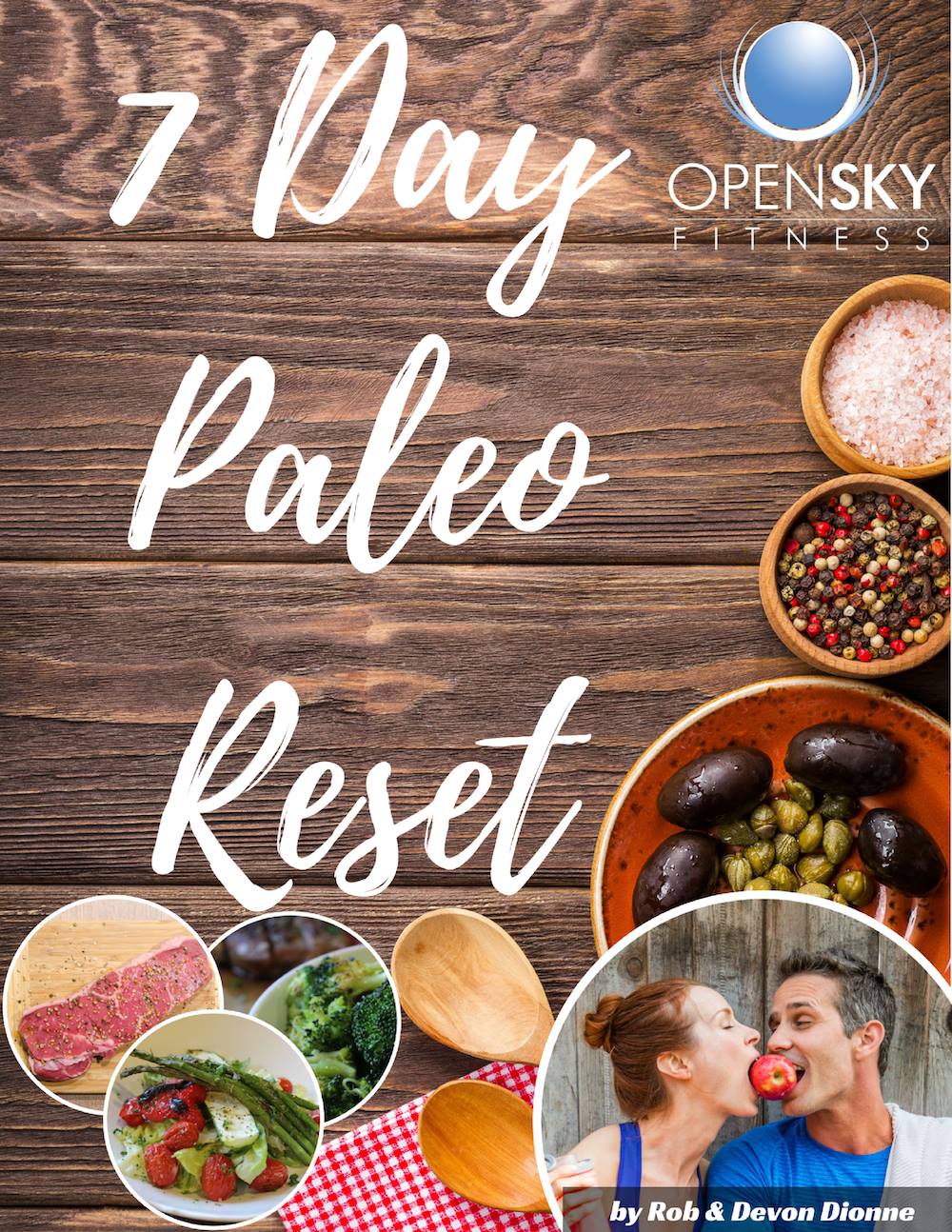 One of the best things you can do for your mind and body in your mission to get healthier is to focus on your nutrition. That's why we're allowing people to sign up now to join us for our next Free 7 Day Paleo Rest! It's all done via Facebook so no annoying emails that will fill up your inbox.
As part of the 7 Day Paleo Reset, we will provide you with:
Introduction to what the Paleo Diet is all about
7 Day guide to easy Paleo recipes
What batch cooking is and how to incorporate that into your lifestyle
Various content resources including generational eating habits, the importance of building a wellness community, and how to begin a new healthy lifestyle.
How to make an impact on your life and life a life full of wellness.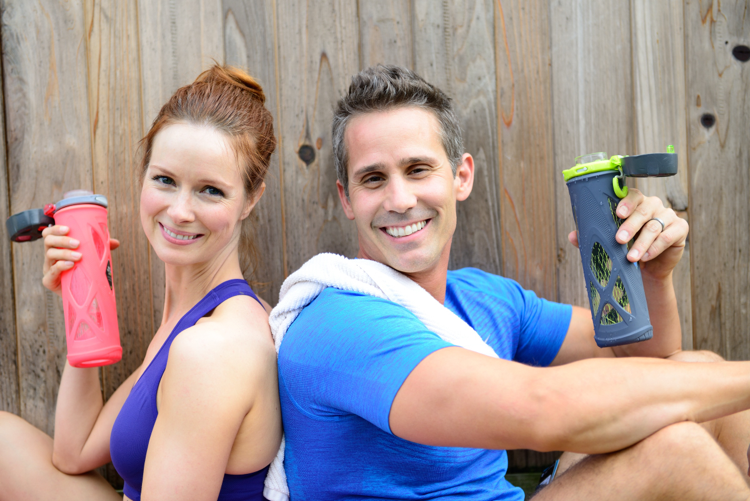 Look Out For Our Upcoming
Throw Back Thursday Podcast Episodes!
We'll be releasing new podcasts episodes on Thursdays that discuss previous episodes we've done, but we need your help! Go to the  Open Sky Fitness Facebook Group and tell us what your favorite episodes are. Then, Devon and I will re-listen to that episode, pick out the best parts and share even more insights on the topic.
We won't just be regurgitating the same information over again. Since we began this podcast, there's so much more information out their on health, nutrition, fitness, and personal wellness. So, each Thursday we'll really just be going deeper into your favorite topics!
Claim Your FREE Bacon + $10 Off
With Our Sponsor – ButcherBox
That's right! By listening to the Open Sky Fitness Podcast, you get the chance to get a free order of bacon plus $10 off your first ButcherBox purchase!!
ButcherBox delivers 100% grass-fed beef, free-range organic chicken, and heritage breed pork directly to your door. Think of them as the neighborhood butcher for modern America.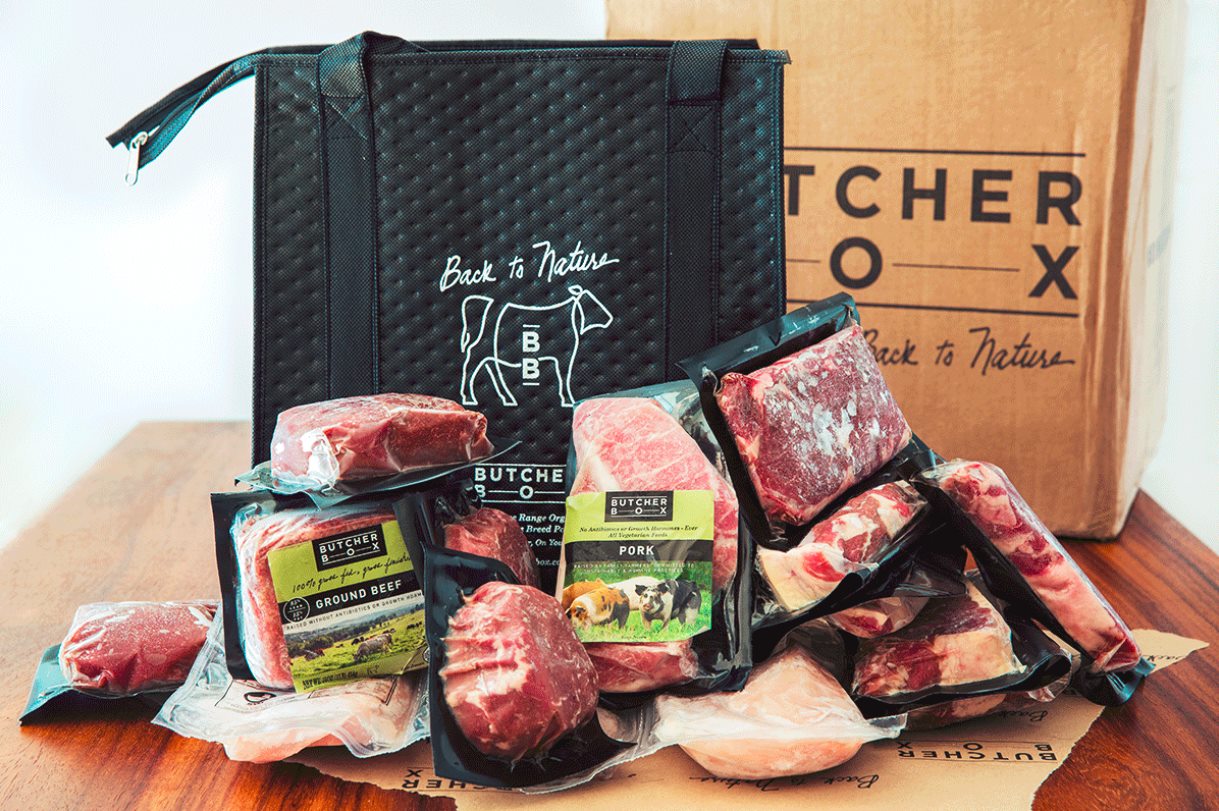 Join The Open Sky Fitness Podcast Group!
That's right! We have a closed Open Sky Fitness Podcast group on Facebook where you and everyone have the opportunity to talk about your health and fitness goals in a safe environment. We post workouts and start discussions about how to be strategic about finding a healthier you. Check it out!
Start Building Your Own Workouts and Meal Plan!
Download Results Tracker here!
Click To Download Home Workout Templates or text the word, "lifting," to 33444 to download the templates. 
Download the OSF Food Journal Now!
Have a Question or Review for Rob or Devon?
We love answering questions and getting feedback from you, our listener! If you have any questions to ask us, want to share a review of the show, or tell us any suggestions for guests/topics that you think would be great to have on the show, just email Rob at rob@openskyfitness.com or Devon at devon@openskyfitness.com or you can also leave us a review at www.openskyfitness.com/review, ask a question in the closed Open Sky Fitness Facebook Group and even text OSFreview to 33444 to get the link.
Get Fit with Free Downloads!
To Download Rob's FREE workout templates click below**
Ask Rob a Question or tell him what is working for you: Email Rob@OpenSkyFitness.com
Support This Podcast
To leave a Review for Rob and the Open Sky Fitness Podcast CLICK NOW!  Ratings and reviews are extremely helpful and greatly appreciated! They do matter in the rankings of the show and I read each and every one of them.
Contact our amazing sound engineer Ryan? Send him an e-mail here: info@stellarsoundsstudio.com
Thanks for Listening!
Thanks so much for joining us again this week. Have some feedback you'd like to share? Leave a note in the comment section below!
If you enjoyed this episode, please share it using the social media buttons you see at the bottom of the post.
Do you have any questions (and would like to hear yourself on the Open Sky Fitness Podcast)? Click on the link on the right side of any page on our website that says "Send Voicemail."
And finally, don't forget to subscribe to the show on iTunes to get automatic updates. It's free!
Thanks for listening/reading episode 210 – Machines vs. Free Weights, HIIT, and Functional Movement! We hope you have gained more knowledge on how to be a healthier you.