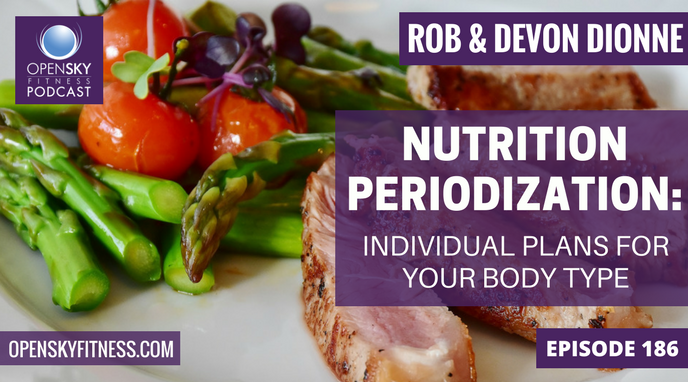 Nutrition Periodization: Individual Plans For Your Body Type – Ep. 186
"A lot of people want to get bigger and be lean at the same exact time. You can do it, but it's a much more difficult process and it takes longer because you have to be incredibly specific about your nutrition. If you're off by a little bit, you're still going to gain body fat. Periodization allows you to break it down into two phases so that you lean down while still maintaining your muscle mass." – Rob and Devon Dionne
Two weeks ago, Devon and I talked about Periodization: Creating A Strategy For Your Next Fitness Challenge in Open Sky Fitness episode 184. In that episode, we focused more the physical fitness aspect of periodization and this week, we're talking about nutrition and how to eat to get the most out of your Macrocycles, Mesocycles, and Microcycles.
Exercise is one way to get into shape, but you won't get the results you want without nutrition either. 
If you're training for a fitness competition, you gotta focus on the amount of macronutrients you intake and it's the same if you want to get into shape with a periodization plan. To learn more about macronutrients and eating right for a fitness competition, you can learn a lot from last week's podcast OSF 185 with Paul Revelia: The Building Blocks of a Muscular Physique in which he explains how to become a natural bodybuilder.
5 Phases of the Periodization Plan
There are 5 Phases of completing a Periodization Plan with nutrition:
The First Phase – Beginning/Transition Phase: Clean Up Your Diet
The Second Phase – Building Up Lean Body Mass: Which Foods to Eat and Which to Avoid
The Third Phase – Leaning Out: Greater Focus on Specific, Nutritious Foods
The Fourth Phase – The Peaking Mesocycle Phase: Preparing for a Fitness Competition
The Fifth Phase – The Recovery Mesocycle Phase: Continuing Your New, Healthy Lifestyle
Why A Periodization Plan?
You don't need to follow periodization workouts and nutrition plans in order to lose weight. This is for a very specific goal that you can utilize to help you design your style of living and how you want to lose weight. If you want to get in better shape, you don't have to be this strict.
If you're not planning to be in a fitness competition, then this can be a great start for you to take baby steps to adding in more fitness, eating healthier, and getting in shape over a reasonable amount of time.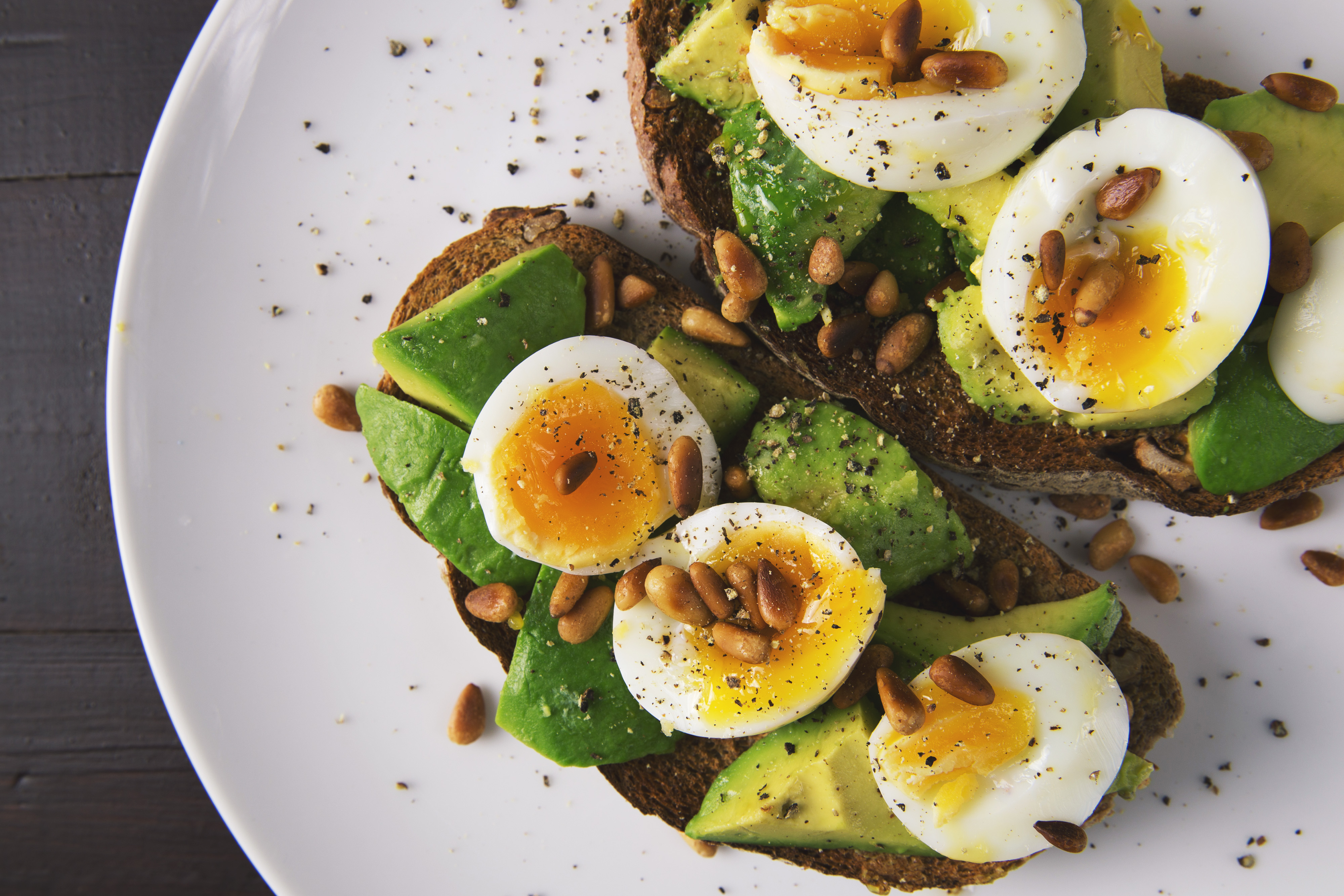 The First Phase – Beginning/Transition Phase
During the first phase, start off easy and focus on cleaning up your diet while starting to do easy workouts. This phase can take either 1-3 weeks or even 2 months if you're out of shape.
When you clean up your diet, you want to get rid of foods that suck the energy out of you or don't make you feel good such as goods that give you gas:
High processed foods
Sugars
Dairy
Beans
Every person's body is different so maybe you can tolerate dairy and beans okay, but we do recommend getting rid of processed foods and sugars. 
Then replace those foods with lots of vegetables and drink plenty of water. Start planning how your nutrition will change during both the second and third phases (building muscle, leaning out). In addition, start paying attention to your body; what parts of your physique do you want to work on the most? chest, stomach, arms?
"You need to consume a high amount of protein throughout periodization in order to keep your muscles." – Rob Dionne
The Second Phase – Building Up Lean Body Mass
The second phase lasts an average of 3 months. During this time, you'll be working on strength and hypertrophy to build strong muscles.
Since you'll be using up more energy building muscle, you'll also need to take in more calories so that your body mass will increase.
You will have to increase your protein from 0.70 grams to 1 pound of protein per pound of body weight. Protein allows you to increase your muscle growth, but it also allows you to lose more weight compared to other diets.
Find the most nutrient dense foods that still give you the number of calories that you need. Yes, sugar and processed foods have more calories, but they're not healthy enough for your body.
You should also increase carbs and your fats will stay moderate, but they're still higher because you want to increase the number of calories overall.
Healthy carbs to help you replace your glycogen storages your muscles grow and recover:
Sweet Potatoes
Plantains
Yams
Potatoes
Tubers
Root Vegetables
Bananas
Dates
Regular, non-starchy vegetables like lettuce and green vegetables are not as important because they have a lot of fiber and take up space in your stomach that you need for higher calories foods.
You also want to make sure you consume enough water, but because it feels you up so easily, you can try to minimize it while you eat so that you fill your entire stomach with the calories you need.
Nutritious, Filling Snacks
If you're in a rush or no time to eat a big, filling meal, you can try out these snacks as well:
Homemade smoothies

Coconut butter, strawberries, bananas blueberries, grass-fed or paleo whey protein like Primal Element or Bulletproof collagen protein.
Freeze your smoothies and save it for later as ice cream with natural sweeteners like maple syrup or honey.

Nuts
Dry fruits
Avocado roll with turkey and lettuce
The Third Phase – Leaning Out
The third phase of leaning out after building up body mass lasts for up to 2 months. During this time, you should continue to keep protein intake high and fat intake moderate but focus on lowering your carbohydrates by eating loss starchy vegetables and more non-starchy vegetables.
Instead of eating fatty meats, you want to eat leaner meats like chicken, turkey, or fish and other lean protein.
"The real key to losing weight is getting rid of carbohydrates." – Devon Dionne
The Fourth Phase – The Peaking Mesocycle Phase
If you are planning on doing a fitness competition, then you will want to keep a close eye on your nutrition intake during the peaking phase which lasts only for 1-2 weeks.
During this time, you still want to have a large amount of protein and very low carb. It's not exactly a Ketogenic diet because you're not adding fats, but it's close.
Drink less water or a diuretic like dandelion root too as well as lower your salt intake. 
The day before your competition, you begin carbo-loading with simple carbs and starchy carbs. The day of competition you consume sugar to get the muscles to pump and kick-in to look jacked.
The Fifth Phase – The Recovery Mesocycle Phase
The fifth and final phase is all about recovery for 1-2 weeks. Just because you're in the final phase doesn't mean you immediately go back to bad eating habits. Instead, gradually start to lower your protein intake and start to increase your starchy vegetable, healthy fats, and water intake.
"Unless you're training for a fitness competition, you've now gotten to a goal where this is now your lifestyle. So, the recovery phase brings you back to a normal diet. Enjoy some treats, but you don't want to drop everything you've accomplished." – Devon Dionne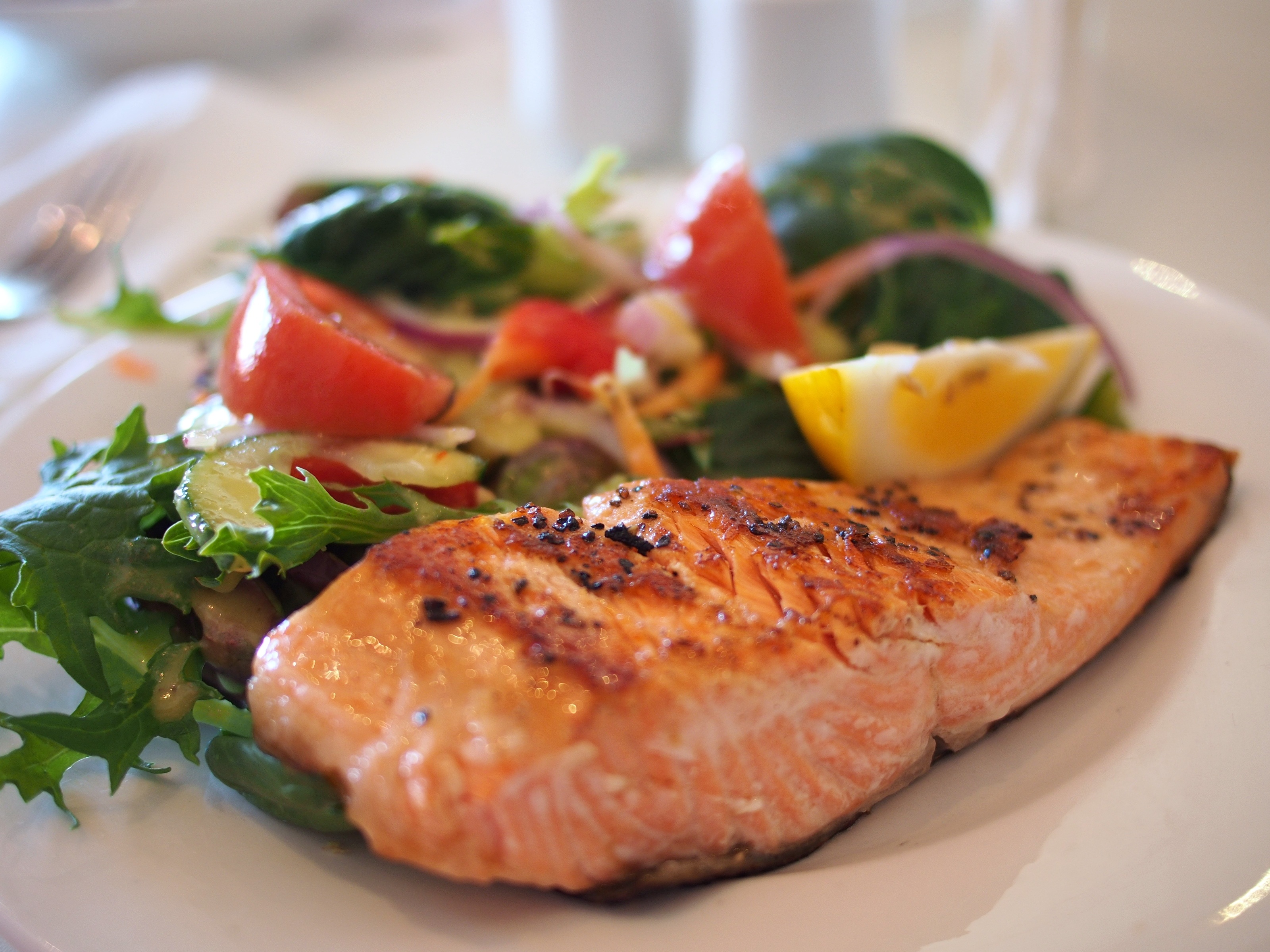 Look Out For Our Upcoming
Throw Back Thursday Podcast Episodes!
We'll be releasing new podcasts episodes on Thursdays that discuss previous episodes we've done, but we need your help! Go to the  Open Sky Fitness Facebook Group and tell us what your favorite episodes are. Then, Devon and I will re-listen to that episode, pick out the best parts and share even more insights on the topic.
We won't just be regurgitating the same information over again. Since we began this podcast, there's so much more information out their on health, nutrition, fitness, and personal wellness. So, each Thursday we'll really just be going deeper into your favorite topics!
Claim Your FREE Bacon + $10 Off
With Our Sponsor – ButcherBox
That's right! By listening to the Open Sky Fitness Podcast, you get the chance to get a free order of bacon plus $10 off your first ButcherBox purchase!!
ButcherBox delivers 100% grass-fed beef, free-range organic chicken, and heritage breed pork directly to your door. Think of them as the neighborhood butcher for modern America.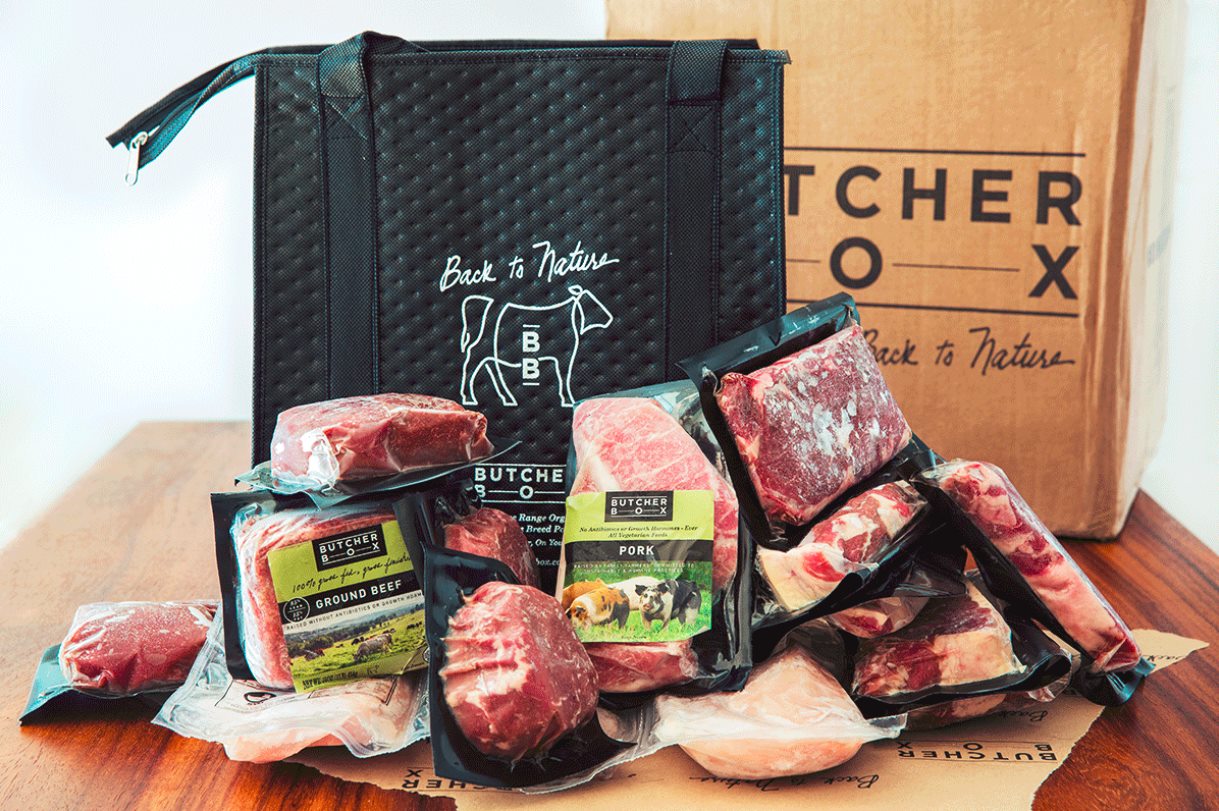 Join The Open Sky Fitness Podcast Group!
That's right! We have a closed Open Sky Fitness Podcast group on Facebook where you and everyone have the opportunity to talk about your health and fitness goals in a safe environment. We post workouts and start discussions about how to be strategic about finding a healthier you. Check it out!
Start Building Your Own Workouts and Meal Plan!
Download Results Tracker here!
Click To Download Home Workout Templates or text the word, "lifting," to 33444 to download the templates. 
Download the OSF Food Journal Now!
Have a Question or Review for Rob or Devon?
We love answering questions and getting feedback from you, our listener! If you have any questions to ask us, want to share a review of the show, or tell us any suggestions for guests/topics that you think would be great to have on the show, just email Rob at rob@openskyfitness.com or Devon at devon@openskyfitness.com or you can also leave us a review at www.openskyfitness.com/review, ask a question in the closed Open Sky Fitness Facebook Group and even text OSFreview to 33444 to get the link.
What You'll Hear on This Episode
00:00 Open Sky Fitness Introduction
1:15  Opening comments with Rob and Devon
1:30 Check out last week's show – OSF 185 with Paul Revelia: The Building Blocks of a Muscular Physique
2:20 Today's topic: nutrition and periodization
2:40 Shout out to our Open Sky Fit Challenge group!
5:00 Apply for One-on-One Coaching with either Rob or Devon!
7:00  Nutrition Periodization: What it is and how it can help
12:30 Why women don't have to be worried about getting bulky from weight lifting.
17:00 How to approach nutrition for your body type.
18:20 The beginning mesocycle/phase – start easy and clean out your diet.
21:10 The second phase: building up lean body mass – which foods to eat and avoid.
27:00 Food replacements to gain more body mass in the first phase.
30:00 Are supplements okay? How do I make sure I get all of my nutrients in?
32:40 Great snacks to eat and add calories, carbs, and proteins
33:20 Additional tips and tricks for nutrition intake
33:50 The mesocycle of losing fat – 3rd phase of your nutrition focus
37:50 Possible different meals you can try for morning, lunch, and dinner.
40:50  The fourth phase: the peaking Mesocycle phase
45:30 The 5th phase: the recovery mesocycle phase
48:50  Closing comments with Rob and Devon
50:45 Open Sky Fitness Closing
RESOURCES MENTIONED DURING THE SHOW:
Get Fit with Free Downloads!
To Download Rob's FREE workout templates click below**
Ask Rob a Question or tell him what is working for you: Email Rob@OpenSkyFitness.com
Support This Podcast
To leave a Review for Rob and the Open Sky Fitness Podcast CLICK NOW!  Ratings and reviews are extremely helpful and greatly appreciated! They do matter in the rankings of the show and I read each and every one of them.
Contact our amazing sound engineer Ryan? Send him an e-mail here: info@stellarsoundsstudio.com
Thanks for Listening!
Thanks so much for joining us again this week. Have some feedback you'd like to share? Leave a note in the comment section below!
If you enjoyed this episode, please share it using the social media buttons you see at the bottom of the post.
Do you have any questions (and would like to hear yourself on the Open Sky Fitness Podcast)? Click on the link on the right side of any page on our website that says "Send Voicemail."
And finally, don't forget to subscribe to the show on iTunes to get automatic updates. It's free!
Thanks for listening/reading Episode 186 – Nutrition Periodization: Individual Plans For Your Body Type! We hope you have gained more knowledge on how to be a healthier you.