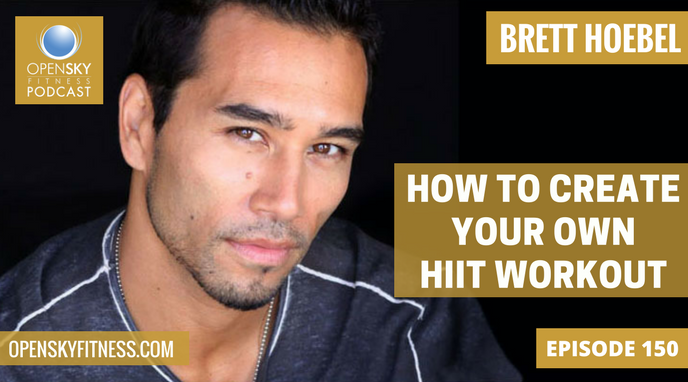 Brett Hoebel: How to Create Your Own HIIT Workout – Ep. 150
Get Your Own
Open Sky Fitness Apparel
by June 1!
Until this Thursday, June 1, Devon and I will be taking orders for Open Sky Fitness apparel in our online OSF Store. We have sweatshirts, tanks, and T-shirts for men and women. Get yours today!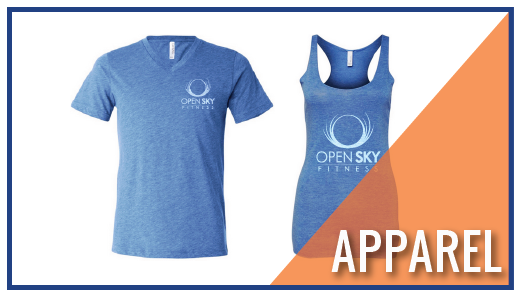 Build a HIIT Workout and a Strong Body
"Working out is not just about your body; it's more than that. Don't work out because you hate your body, go work out because you love your body. There's a deeper side to fitness that comes from within." – Brett Hoebel
On this week's episode of the Open Sky Fitness Podcast, we had  author and creator the 20 Minute Body™ book and DVDs, celebrity trainer on NBC's The Biggest Loser season 11, and the mind behind Sweat with Soul, Brett Hoebel, back on the show to share his tips and advice on creating HIIT workouts for a stronger body.
Brett shared so much great advice and insight as far as how to know if you're ready to do a HIIT workout, what to expect from HIIT, how to create your own HIIT workouts, and when to challenge yourself.
What is HIIT Training?
"If you are seeking results and you want to see the weight loss, calories burn, and the number change on the scale, you're going to have to tax your body and stretch your body to the point where it has to respond. That's called adaptation." – Rob Dionne
High-intensity interval training (HIIT) is a form of interval training that consists of a cardiovascular exercise strategy alternating short periods of intense anaerobic exercise with less intense recovery periods. Rather than committing yourself to one long, 60+ minute workout lifting weights or running on the treadmill to see results, you can complete a HIIT workout in 20-30 minutes to see even better results:
Stronger, more defined (not bulky) muscles
Greater stamina and higher energy
Increased mobility
Constant body adaptation that's up for new challenges
When you complete a HIIT workout, you should feel a little soreness. You shouldn't be so sore that you can't move, but just enough to feel it in your body afterwards.
A little soreness after a HIIT workout is good because it's telling you that your body is adapting and getting more fit.
"Can you burn more calories in a longer workout? Yes, you can. However, the workouts that are the best workouts are the ones that get done. The ones that get done are usually the short ones and especially when we have short attention spans and time commitments." – Brett Hoebel 
Sweet 16 at LAX Airport with Brett Hoebel
What Are Common HIIT Mistakes?
A lot of people want to jump into HIIT training right a way, but you need to know a couple of things first. If you're someone who doesn't exercise frequently, you want to build your heart and make it strong by doing aerobic and cardio strength training workouts first like walking, running, jogging, swimming, or cycling with lots of rest.
Since HIIT is an anaerobic workout, you need to be able to have enough strength, speed and power to be able to tolerate lactic acid that forms in the body. 
How to Warm-Up for a HIIT Workout
Before you get into a full-on HIIT workout, you should prepare the body by doing a dynamic warm-up first. You could run on a treadmill first, but it's just not the same. Running on a treadmill will warm up your body, but it won't warm up your nervous system or prepare your body for different movement patterns and coordination skills.
When you do a dynamic warm-up, you're not just sitting and holding a stretch. Instead, you're moving through each position that you're about to do for the HIIT workout, but at 60% effort. Ease into your HIIT workout by doing simple lunges, slow cardio, or a couple of push ups to get the body ready.
3 Different Styles of HIIT Training
"You can tweak the workout, but if you change up the pattern too much because you're bored, you'll never master the movement pattern and progress. If you never master the movement, technique, and form, you can end up just not putting a lot of effort into the HIIT workout."- Brett Hoebel
It takes time and commitment to really nail down a HIIT routine before you move onto the next one or change it a bit to create a bigger challenge for yourself.
To prepare your body for more advanced HIIT workouts, there are three different styles of training that Brett suggests:
Beginner: 4×4 HIIT
Intermediate: 30 High, 30 Low HIIT
Advanced: Complex HIIT
The 4×4 HIIT Workout
This routine will help you get ready to do a full out HIIT workout and move on to the 30 High, 30 Low HIIT. 
4×4 HIIT workout is for 45 seconds on and 15 seconds off. It includes a combination of 4 exercises for 4 rounds to focus on more cardio strength than explosive movement to ensure that you're focusing on doing a good, quality job for each movement.
Instead of a jump squat, do a regular squat. Rather than an explosive sit up, do a whole plank. The movement patterns are the same, but it's not the same type of explosiveness as the 30 High, 30 Low HIIT workout.
The 30 High, 30 Low HIIT Workout
To do a 30 High, 30 Low HIIT workout, you do a HIIT exercise for 30 hard seconds and then rest for 30 seconds. If you prefer, you can also mix and match 20 High, 40 Low…15 High, 45 Low….10 High, 50 Low etc.
A 30 High, 30 Low HIIT workout can contain a mix of 4-5 movements that usually include the following examples:
A fast body weight movement:

Burpees
Jumping jacks
Running in place
Mountain climbers

A lower body movement:

Lunges
Squats
Jump squats

An upper body push movement:

Push ups

An upper body pull movement:

Bent over rows

An integrated core movement:

Planks
Side plans
Hip bridges
Russian twists
To top it off, do 4 or 5 rounds all out with explosive movements.
"With any form of exercise, but especially with HIIT training, you really have to know how to micro progress yourself. Even just a set of dumbbells can make a huge difference in a HIIT workout." – Brett Hoebel
The Complex HIIT Workout
The Complex HIIT workout is made up of 5 different movement patterns with weights like dumbbells or a barbell. This workout is set up to have 4 rounds with 5 exercises and the goal is to complete everything within 20 minutes.
The Complex HIIT workout is task based in order  to see how fast you can complete all 4 rounds. If you go over 20 minutes, then you go over and that's fine. When you you're able to complete it in 20 minutes or sooner, you move up in weights.
Example workout:
 Dumbbell jump squat
 Walking lunge with the weight on your back
 A dumbbell bench with your butt hanging off of the edge
 A bilateral bench with butt off of the edge
 A bent over row with a straight up barbell
 A Swiss ball crunch with a dumbbell
Sweat with Soul – Walls
About Brett Hoebel
As the author and creator of the revolutionary 20 Minute Body™ book and DVDs, and celebrity trainer on NBC's The Biggest Loser season 11, Brett Hoebel is one of the country's most sought-after experts for fast fat-loss, nutrition and motivation. He was also one of the health and fitness experts on Food Network's Fat Chef, as well as the brains behind the RevAbs® DVDs from Beachbody (producers of P90-X). Greatist named Brett one of the world's "Top 100 Health and Fitness Influencers" with others including Michelle Obama and Jillian Michaels; and has been touted as "Best of New York" by New York Magazine and Allure. His "fitness from within" philosophy and body-mind approach come from his struggles as an over-weight teenager and diverse experiences in different Eastern and Western disciplines, including his martial arts training in capoeira while in Rio De Janeiro, Brazil.
In addition, Brett earned his educational background with a pre-med neuroscience Bachelor degree and has been certified with many organizations including NASM, CrossFit, Yoga Alliance, and the C.H.E.K. Institute for Corrective Holistic Exercise Kinesiology and Nutrition & Lifestyle Coaching. A 15-year veteran in the fitness industry, Brett has shaped-up Hollywood's finest, including Victoria Secret supermodels and A-list actors. He appears frequently on shows like Dr Oz, Steve Harvey, The Talk, The View and the Today show, and is a contributing fitness expert for publications, including Shape, Self, Women's Health, Vogue, and Details.
Brett's passion, knowledge and creativity can be seen in the lifestyle-fitness programs he's created, his company Hoebel Fitness, as well as his Rise Above Bullying campaign where he speaks at schools around the world to inspire and educate children on how inner-strength can turn pain into passion and is the key to overcoming adversity.
Thursday Night Live
Q & A Sessions with Rob and Devon
Each Thursday night at 7pm PST via the closed Open Sky Fitness Facebook Group , Devon and I will be online to answer an questions you may have about health, wellness, fitness, nutrition, lifestyle etc. Ask us anything!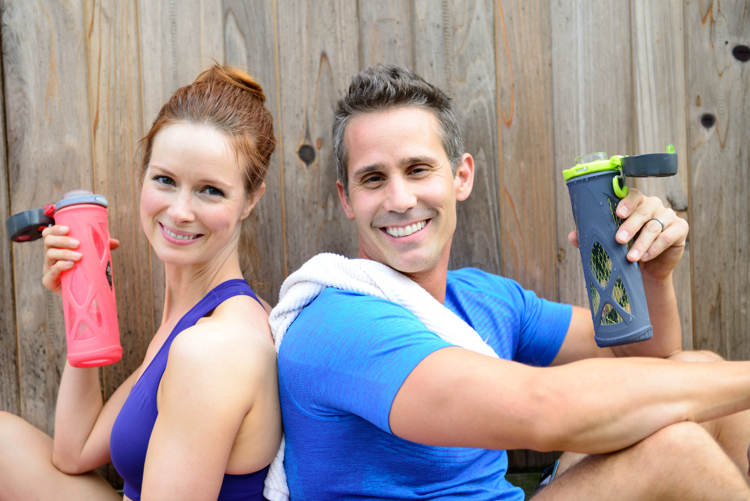 Join The Open Sky Fitness Podcast Group!
That's right! We have a closed Open Sky Fitness Podcast group  on Facebook where you and everyone have the opportunity to talk about your health and fitness goals in a safe environment. We post workouts and start discussions about how to be strategic around finding a healthier you. Check it out!
Start Building Your Own Workouts and Meal Plan!
Download Results Tracker here!
Click To Download Home Workout Templates or text the word, "lifting," to 33444 to download the templates. 
Download the OSF Food Journal Now!
Have a Question or Review for Rob or Devon?
We love answering questions and getting feedback from you, our listener! If you have any questions to ask us, want to share a review of the show, or tell us any suggestions for guests/topics that you think would be great to have on the show, just email Rob at rob@openskyfitness.com or Devon at devon@openskyfitness.com or you can also leave us a review at www.openskyfitness.com/review, ask a question in the closed Open Sky Fitness Facebook Group and even text OSFreview to 33444 to get the link.
What You'll Hear on This Episode
00:00 Open Sky Fitness Introduction
1:15  Opening comments with Rob
2:30  Join us for our Facebook Live event each Thursday at 7pm PST via our closed OSF Facebook group
6:00  How to get healthy when you struggle with willpower.
16:00 Buy your OSF apparel by June 1!
17:00  Introduction to Brett Hoebel
17:50 What's new with Brett since he was last on the OSF podcast.
21:00  The benefits of short, HIIT workouts compared to longer workouts.
23:50  What is HIIT training and how does it help the body?
28:40  Why stressing the body during a HIIT workout is actually a good thing.
30:15  Is equipment necessary for a HIIT workout?
33:00  The importance of micro-progressing and adding weights and bands to HIIT workouts.
35:10  What mistakes can people making when creating a HIIT workout?
36:30  How to warm-up for a HIIT workout.
38:40  How can someone who doesn't exercise frequently approach working out? Can they do HIIT training?
43:00  How to get used to lactic acid in the body during a workout.
45:15  The different styles of HIIT training: 30 High, 30 Low HIIT
50:30  The different styles of HIIT training: 4×4 HIIT
56:00  The Complex HIIT workout with weights
1:08:00  Dan Johns' Complex HIIT Workout
1:09:00  How to integrate simple exercises into your HIIT routine for a challenge.
1:11:00  Brett's final pieces of advice on focusing positively on your body and fitness.
1:14:30  Brett's experience recording workouts on the Great Wall of China
1:22:55 Closing comments with Rob
1:24:00 Open Sky Fitness Closing
RESOURCES MENTIONED DURING THE SHOW:
To Download Rob's FREE workout templates click below**
Ask Rob a Question or tell him what is working for you: Email Rob@OpenSkyFitness.com
To leave a Review for Rob and the Open Sky Fitness Podcast CLICK NOW!  Ratings and reviews are extremely helpful and greatly appreciated! They do matter in the rankings of the show and I read each and every one of them.
Contact our amazing sound engineer Ryan? Send him an e-mail here: info@stellarsoundsstudio.com
Thanks for Listening!
Thanks so much for joining us again this week. Have some feedback you'd like to share? Leave a note in the comment section below!
If you enjoyed this episode, please share it using the social media buttons you see at the bottom of the post.
Do you have any questions (and would like to hear yourself on the Open Sky Fitness Podcast)? Click on the link on the right side of any page on our website that says "Send Voicemail."
And finally, don't forget to subscribe to the show on iTunes to get automatic updates. It's free!
Thanks for listening/reading Episode 150 – Brett Hoebel: How to Create Your Own HIIT Workout! We hope you have gained more knowledge on how to be a healthier you.