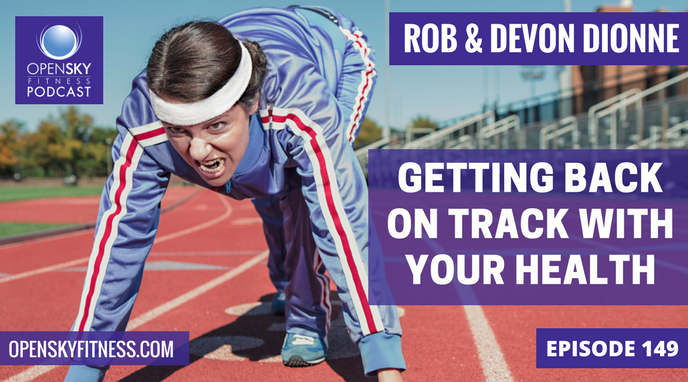 Getting Back on Track with Your Health – Ep. 149
Start to Improve Your Health Today
"Just know that you're doing the best that you can and be kind to yourself. Especially with unpredictable stresses because they can be really emotionally and physically debilitating." – Devon Dionne
On today's episode of the Open Sky Fitness podcast, Devon and I are discussing how we can navigate ourselves through stressful times plus how important it is for us to not be a victim of our situations. Instead, we can rise up and take control of them.
In everyday life, we may face predictable and unpredictable stresses that can throw us off course to living a healthy lifestyle. Listen and learn about our favorite tools that have not only helped other people, but they've really helped both Devon and I get back on track with our health as well.
Predictable vs. Unpredictable Stresses
"Stress is a state of mental or emotional strain or tension resulting from an adverse or very demanding circumstance." – Devon Dionne on the definition of 'stress.'
Predictable stress is when you know something is coming up in the future and you can start planning ahead. When you know that there will be something that's going to throw off your course to staying healthy, getting enough sleep, and fitting in some exercise, you can plan ahead for the following predictable stressful situations:
Vacations
Business trips
Family reunions
Parties
Holidays
Unpredictable stress occurs when you least expect it and you probably didn't plan for it:
Accidents
Injury
A death
A breakup or divorce
Losing your job
A natural disaster
Rob & Devon's Best Tips:
Regain Focus on Your Health
"Getting mad at yourself only creates more emotional stress. You're just human and it's normal that different stresses will come up. Don't try to be a super hero and just forgive yourself for getting off track. " – Rob and Devon Dionne
When you don't plan ahead or the unexpected actually happens, follow these initial steps to focus back on your life, health, and wellness:
Accept that you're off track and forgive yourself.
Get a piece of paper and write down a list of healthy habits that you want that are out of integrity.
Base and create your list of how you're going to get healthy based on the 4 Pillars of Integrity: Fitness, Nutrition, Community, and Lifestyle.
Devon's Routine to Get Back on Track
Everyone has different goals and methods for helping them get back on track with their health. For Devon, the following steps help:
Drink tons of water and eat lots of vegetables.
Cut out sugar completely and eat more potatoes, squashes, and other starchy vegetables to boost energy.
Drink half the amount of caffeine and try to switch to green tea rather than completely cutting out caffeine.
Fit in 1-2 days a week to workout so that it becomes an easy habit to add back to your routine.
Outsource Help to Make Your Goals Happen
If you live with another person or have a family, talk to them about your healthy lifestyle goals and ask them to help you make them happen. For example, if your family tends to have a lot of sweet and salty processed foods around the house, kindly ask them to eat them outside of the house to help you not feel tempted to break your goals.
To make your life even more stress-free, turn to and hire other people to help you:
House cleaners
Personal trainers
Bookkeepers
Personal Assistant
Life Coach
Nutritionist
The list goes on and on as far as the amount of people that are out there who can help you really tackle the problems you want to solve.
You might be thinking to yourself, "Okay, but it's super expensive for me to hire someone like a professional cleaner." Rather than thinking about the money, you can always see it as a way to win back the time you would have lost if you had done all of those tasks on your own.
Thursday Night Live
Q & A Sessions with Rob and Devon
Each Thursday night at 7pm PST via the closed Open Sky Fitness Facebook Group , Devon and I will be online to answer an questions you may have about health, wellness, fitness, nutrition, lifestyle etc. Ask us anything!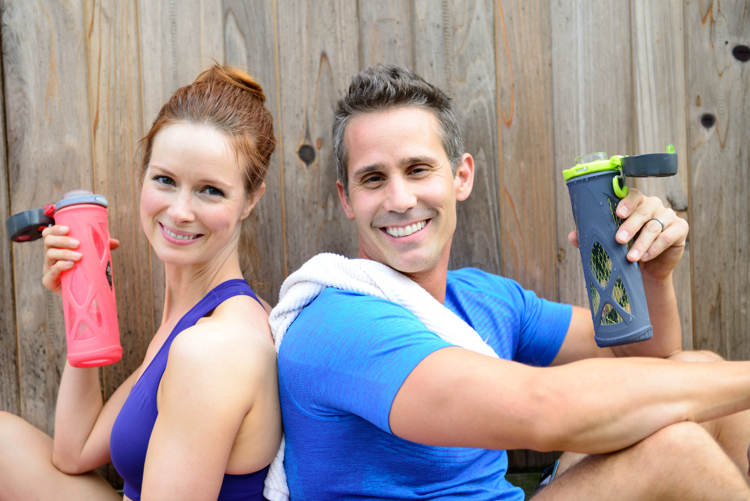 Get Your Own Open Sky Fitness Apparel!
For a limited time, Devon and I will be taking orders for Open Sky Fitness apparel in our online OSF Store. We have sweatshirts, tanks, and T-shirts for men and women. Get yours today!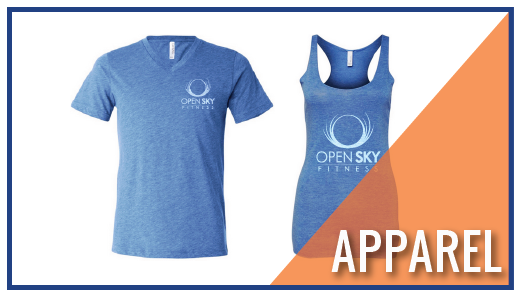 Join The Open Sky Fitness Podcast Group!
That's right! We have a closed Open Sky Fitness Podcast group  on Facebook where you and everyone have the opportunity to talk about your health and fitness goals in a safe environment. We post workouts and start discussions about how to be strategic around finding a healthier you. Check it out!
Start Building Your Own Workouts and Meal Plan!
Download Results Tracker here!
Click To Download Home Workout Templates or text the word, "lifting," to 33444 to download the templates. 
Download the OSF Food Journal Now!
Have a Question or Review for Rob or Devon?
We love answering questions and getting feedback from you, our listener! If you have any questions to ask us, want to share a review of the show, or tell us any suggestions for guests/topics that you think would be great to have on the show, just email Rob at rob@openskyfitness.com or Devon at devon@openskyfitness.com or you can also leave us a review at www.openskyfitness.com/review, ask a question in the closed Open Sky Fitness Facebook Group and even text OSFreview to 33444 to get the link.
What You'll Hear on This Episode
00:00 Open Sky Fitness Introduction
1:15  Opening comments with Rob and Devon
2:10  Don't forget to buy some Open Sky Fitness apparel this week!
4:00  Open Sky Fitness Q& A: Thursday nights 7pm PST via the closed Open Sky Fitness Facebook group
7:00  Questions from the OSF Facebook group: How can you respond to people who tell you, "Oh you're so lucky to have a fast metabolism." But the reality is that you work hard to have a healthy lifestyle through food and exercise.
10:50  OSF Facebook group question: Will doing both cardio and weight lifting in the same session oppose each other?
13:50  OSF Facebook group question: "My biceps are lopsided. Is this normal? Should I be working one harder than the other to even them out?"
18:00  How do you get your health back on track? Is it better to jump right in to it or start slowly?
20:00 How Devon gets back on track with her health.
26:00  What is stress and how does it affect out lives? How can we take control of it?
27:40  The two different types of stress: predictable and unpredictable stress.
31:40 Steps to regain control of your stress and get back on track
40:30  What to do if it's difficult to schedule and fit in healthy changes?
45:00  How to navigate future predictable stress.
49:00  How to stay healthy during vacation, traveling, or over the holidays.
54:00  Navigating unpredictable stresses in life.
58:00  Don't be afraid to ask for help in your mission to get healthy.
1:02:10 Closing comments with Rob and Devon
1:03:15 Open Sky Fitness Closing
RESOURCES MENTIONED DURING THE SHOW:
To Download Rob's FREE workout templates click below**
Ask Rob a Question or tell him what is working for you: Email Rob@OpenSkyFitness.com
To leave a Review for Rob and the Open Sky Fitness Podcast CLICK NOW!  Ratings and reviews are extremely helpful and greatly appreciated! They do matter in the rankings of the show and I read each and every one of them.
Contact our amazing sound engineer Ryan? Send him an e-mail here: info@stellarsoundsstudio.com
Thanks for Listening!
Thanks so much for joining us again this week. Have some feedback you'd like to share? Leave a note in the comment section below!
If you enjoyed this episode, please share it using the social media buttons you see at the bottom of the post.
Do you have any questions (and would like to hear yourself on the Open Sky Fitness Podcast)? Click on the link on the right side of any page on our website that says "Send Voicemail."
And finally, don't forget to subscribe to the show on iTunes to get automatic updates. It's free!
Thanks for listening/reading Episode 149: Getting Back on Track with Your Health! We hope you have gained more knowledge on how to be a healthier you.