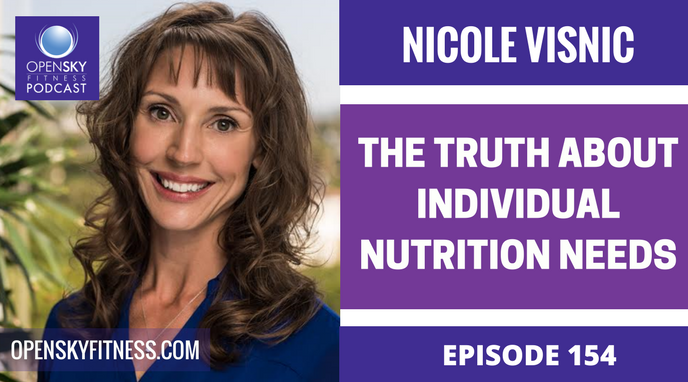 Nicole Visnic: The Truth About Individual Nutrition Needs – Ep. 154
"There isn't just one, universally right system of eating for all people. One type of food that can make one person feel amazing can also make someone else feel terrible." Nicole Visnic on individual nutrition needs.
Discover Your Individual Nutrition Needs
When it comes to health and fitness, one size does not fit all; including nutrition. Some of us might be extremely sensitive to certain foods while others are just fine eating it every day. On this episode of the Open Sky Fitness Podcast, Clinical Nutritionist and the Ambassador of Nutrition at LifeSpan Medicine, Nicole Visnic, shares why certain foods affect our bodies more than others, how to test it, and what to do about it to help our bodies heal.
Nicole also shared why she became so interested in nutrition and human health at an early age and her experiences trying the Atkins and Ketogenic diet.
BONUS! With July 4th coming up, Devon and I are sharing our 6 Tips to Stick to Health Goals! Check them out at the end of this blog post.
Why Do "Healthy" Foods Affect My Body?
"Even some of the most surprising foods that you think are innocuous can actually be very detrimental for an individual. It could be a super food or a food that is considered to be anti-inflammatory. I haven't found a single piece of food that has completely beneficial effects in every single person." – Nicole Visnic
Even if we do eat extremely healthy foods and use anti-inflammatory ingredients in our meals, some might  have a negative affect on certain people.
Different varying factors such as genetic chemistry, medications, age, activity level and more can make people susceptible to bloating, headaches, and brain fog. Even if the food has been cooked or prepared a specific way, some people just don't digest healthy foods like vegetables very well.
If the food doesn't help the individual, then it isn't  a good food despite labeling it as healthy.
Uncovering the Best Foods for Individuals
"A process of elimination can help people learn more about their bodies and it also teaches them to be more observant. They can make associations between what they're eating and what they're feeling." – Nicole Visnic
Nicole has witnessed how so many "healthy" foods from blueberries to chicken to different super foods can actually create health problems. Through a process of elimination, Nicole helps her patients discover which foods they should avoid to improve their health.
After one patient eliminated blueberries and pomegranates from his diet, he noticed the following physical results:
Complete resolution of pain
Hair growth
Natural loss of weight
Not only did that patient have visual proof, but he also had blood work done to have objective proof that his health was better than ever after limiting the amounts of blueberries and pomegranates from his daily diet.
Beginning a Process of Elimination at Home
"It's not rewarding to eat foods that make you suffer. Your body, not someone else is telling you whether or not you should be eating a certain food." – Nicole Visnic
Nicole recommends doing a process of elimination to discover if certain foods are affecting your health. At LifeSpan, they do a test that tells you what foods are anti-inflammatory (green list), okay foods to eat (yellow list), or foods to avoid (red list). However, if you can't afford a service to help you, have no fear because a process of elimination is easy to do.
For four weeks, keep common foods that are inflammatory off the menu. That means no grains, dairy, or nightshades.
Once the four weeks are up, slowly begin to reintroduce your favorite red-list foods back into your diet. It's common to see whether or not they affect your body within 24 hours. However, it may take up to 72 hours to see any results so be patient with adding foods back into your diet.
Reintroduce common inflammatory foods one at a time to see if there is anything different in your health. Always test twice to double check. 
Check for the following symptoms:
Low energy
Brain fog
Bloated stomach
Gas
Acid reflux
Nicole's Top 3 Tips to Live Healthier Today
If you don't have the funds to do testing, at least focus on eating whole foods to the best of your ability and avoid foods that come with an ingredient list.
Ensure that you maintain glycemic control and keep your blood sugars stable.
Eat in a way that really promotes good digestion. Avoid eating on the go and just take your time to sit down to enjoy your food. Be mindful as you eat your meal so that you can chew your food thoroughly.
 6 Tips to Stick to Health Goals on July 4th
Because July 4th is on a Tuesday this year, you might be going to lots of events over the weekend leading up to the event. Try to apply all of these every single day so that you can easily stay on top of your health goals and not get sidetracked.
1) Bring vegetables as your dish (kale salad, coleslaw, butter lettuce salad with various healthy toppings like craisins, almonds, avocado, homemade hummus.
2) Bring grilled options that are ready to go and prepped. Bring salmon, ribs, burgers, teriyaki steak that have been marinated or pre-seasoned to help out your host.
3) Feeling confident in your swimsuit – Get a morning workout in before the event to help boost your confidence.
4) Eat before you go to the event – If you know unhealthy food will be served at the event, eat something healthy and filling beforehand so that you're not hungry or tempted to make bad choices. Plus, bring your own healthy snack like hummus with vegetables that you can snack on.
5) Have a glass of water before each or every two drinks (alcohol or sodas) – Helps you still have a drink you like, but not drinking too much of it and balancing it out with water.
6) Get lots of sleep the night before July 4th to help you feel refreshed and ready to go to splurge a bit.
Thursday Night Live
Q & A Sessions with Rob and Devon
Each Thursday night at 7:15pm PST via the closed Open Sky Fitness Facebook Group , Devon and I will be online to answer an questions you may have about health, wellness, fitness, nutrition, lifestyle etc. Ask us anything!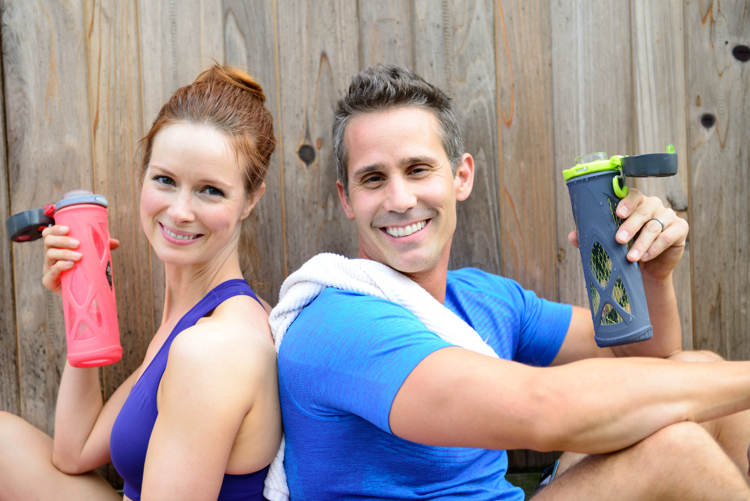 Join The Open Sky Fitness Podcast Group!
That's right! We have a closed Open Sky Fitness Podcast group  on Facebook where you and everyone have the opportunity to talk about your health and fitness goals in a safe environment. We post workouts and start discussions about how to be strategic around finding a healthier you. Check it out!
Start Building Your Own Workouts and Meal Plan!
Download Results Tracker here!
Click To Download Home Workout Templates or text the word, "lifting," to 33444 to download the templates. 
Download the OSF Food Journal Now!
Have a Question or Review for Rob or Devon?
We love answering questions and getting feedback from you, our listener! If you have any questions to ask us, want to share a review of the show, or tell us any suggestions for guests/topics that you think would be great to have on the show, just email Rob at rob@openskyfitness.com or Devon at devon@openskyfitness.com or you can also leave us a review at www.openskyfitness.com/review, ask a question in the closed Open Sky Fitness Facebook Group and even text OSFreview to 33444 to get the link.
What You'll Hear on This Episode
00:00 Open Sky Fitness Introduction
1:15  Opening comments with Rob and Devon
1:30  Recap on last week's episode OSF 153 – Full Body vs Split Training: Pros and Cons
2:10  About Clinical Nutritionist Nicole Visnic
5:50  Get in touch with Rob and Devon for One-On-One Coaching Sessions
7:00  How to approach 4th of July in the healthiest way possible – 6 tips
14:45  Introduction to Nicole Visnic
15:20  How Nicole came to be so fascinated by health because of a Junior High class.
17:00  About the Firm Workout Program that Nicole did when she was younger.
19:50  Can people get a toned body by just working out at home?
21:00  How Nicole got involved in body building while in Junior High and High School along with other sports.
21:35  What Nicole learned from following the Atkins and Ketogenic Diets and competing in sporting events such as running.
23:00  How it is possible for some people to become fat adapted via the Ketogenic Diet.
25:00  What it is like to experience the Keto Flu and try to move around.
27:00  New discoveries or personal knowledge that Nicole has gained about individual nutrition needs.
31:00  Following a healthy diet and why some foods like vegetables just don't work for certain people.
33:50  Nutrition Testing Program and typical clients at LifeSpan
39:00  How Nicole addresses nutrition with her clients
41:35  What "healthy" foods were actually cause health problems in Nicole's clients.
45:40  Nicole's and LifeSpan's take on cholesterol
48:00  For people who cannot afford to go to a clinic, what can they do to understand how food might be affecting their bodies?
49:40  How can a person do a process of elimination diet?
54:15  Nicole's favorite healthy foods to cook for her young daughter.
55:30  How can we help our children eat healthy foods and select those foods on their own.
58:15  Nicole's advice on what we can do today to be healthier.
1:00:00  How Nicole takes care of her health through nutrition
1:05:00  Testing your blood sugar.
1:10:50 Closing comments with Rob and Devon
1:12:10 Open Sky Fitness Closing
RESOURCES MENTIONED DURING THE SHOW:
To Download Rob's FREE workout templates click below**
Ask Rob a Question or tell him what is working for you: Email Rob@OpenSkyFitness.com
To leave a Review for Rob and the Open Sky Fitness Podcast CLICK NOW!  Ratings and reviews are extremely helpful and greatly appreciated! They do matter in the rankings of the show and I read each and every one of them.
Contact our amazing sound engineer Ryan? Send him an e-mail here: info@stellarsoundsstudio.com
Thanks for Listening!
Thanks so much for joining us again this week. Have some feedback you'd like to share? Leave a note in the comment section below!
If you enjoyed this episode, please share it using the social media buttons you see at the bottom of the post.
Do you have any questions (and would like to hear yourself on the Open Sky Fitness Podcast)? Click on the link on the right side of any page on our website that says "Send Voicemail."
And finally, don't forget to subscribe to the show on iTunes to get automatic updates. It's free!
Thanks for listening/reading Episode 154 – Nicole Visnic: The Truth About Individual Nutrition Needs! We hope you have gained more knowledge on how to be a healthier you.